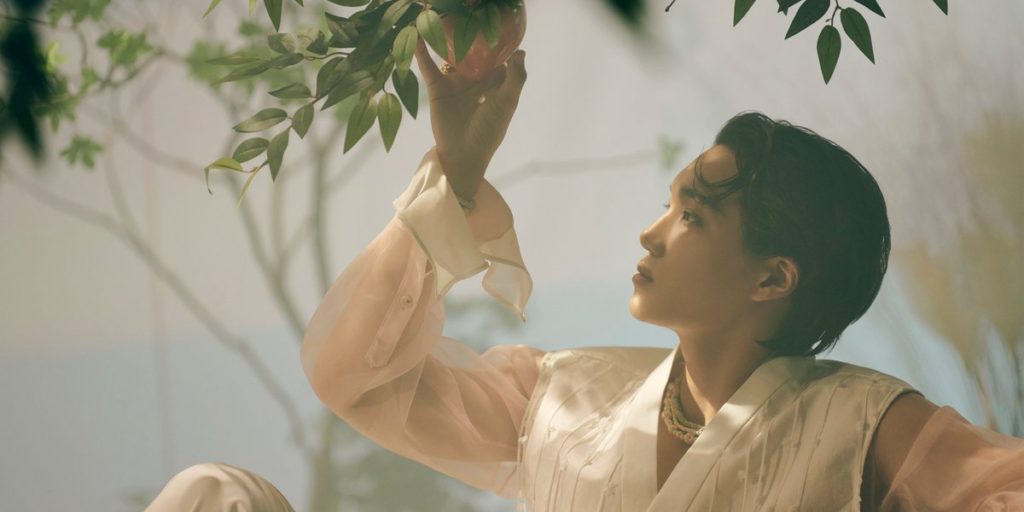 It's time to get sweet with Kai! On November 30, EXO's Kai released his second mini-album, Peaches. Since the official comeback announcement on November 17, fans received teasers encompassing Kai's many flavors. The eye-catching teasers allowed Kai to showcase different sides of himself. As a member of both EXO and SuperM, he continues to bloom in his solo endeavors. 
After the success of his self-titled debut album and lead single "Mmmh," fans' anticipation for what was to come next increased. With nine years in the industry Kai, dubbed by his fans as the "King of Performance", never fails to set a new standard for the world of K-pop. 
The King of Performance 
The title track "Peaches" is a medium-tempo R&B song that compares a romantic time spent with a loved one to a "sweet peach." The song was composed by Alawn, Ryan S. Jhun, and WOLFGVNG. In the music video, Kai is dancing in scenic traditional East Asian imagery mixed with modern fashion. The background dancers complete the story of Peaches, as they enhance the performance elements by acting as Kai's counterparts and love interests. 
KAI 카이 The 2nd Mini Album [Peaches]

🎧 2021.11.30. 6PM KST#카이 #KAI #엑소 #EXO #weareoneEXO#Peaches pic.twitter.com/ZkoEG7F7g7

— EXO (@weareoneEXO) November 19, 2021
Fusion of Flavors 
The mini-album features six songs, including "Peaches," "Vanilla," "Domino," "Come In," "To Be Honest," and "Blue." Kai's diverse range is put on display through Peaches, as each song is filled with multiple combinations of genres. These genres include R&B, trap, house, and pop. 
Vanilla
"Vanilla," composed by Aram Max Vehuni, is an indie pop song that includes elements of guitar, bongo, and synthesizers. The lyrics compare the sweet flavor of vanilla to being deeply in love with a significant other. "A drowsy song lingers on the tip of my tongue / As I'm holding you tightly, I melt and feel giddy." The chorus gives an ethereal and psychedelic feeling to the soft track. 
Me when I heard jongin vocals in vanilla 😍😍 pic.twitter.com/OdO9FoUbIy

— S𝓔k𝒜 I🍑 (@90fours) November 25, 2021
Domino
The next track put together by Space Primates, "Domino," features elements of hip-hop and trap. The lyrics express the careless nature of a domino falling to the mood that he is feeling on the dance floor. "Leave your worries behind / Just move, move your body." The hard bass and soft vocal color of Kai encourage a groovy and exciting atmosphere. 
domino is THAT girl pic.twitter.com/NakEtRkQFN

— 🎸 (@slut4armpits) November 30, 2021
Come In
The house music and R&B-fused song "Come In" was composed by Red Triangle. The track talks about the feeling of getting over the hesitation within a relationship and accepting it as love. "I'll gradually fall for you, I can't fight it / Without you, I wouldn't be able to explain this feeling." The enticing elements of the beat explain the emotions that occur during these exciting, but scary situations. 
jongin has such a beautiful voice and u really hear it on come in pic.twitter.com/Sq5XucPVol

— pacifist czennie (@nctcql) November 30, 2021
To Be Honest
The Blaq Tuxedo-composed track "To Be Honest" expresses the urge to have a crush like you back just as much. There are so many good things that could come out of the relationship, and Kai reassures that in the fifth track of the album. "No matter how much you tap on the calculator / There is no clearer answer than my eyes right now." 
to be honest is unarguably the best song on peaches pic.twitter.com/a4rStdGXZr

— mia ♡ (@DEJUNSBLUNT) November 30, 2021
Blue
The last track on the album, "Blue," is a soft and emotional R&B track written by Ryan S. Jhun, Brady Tutton, Matthew T. Wiggers, and Zachary Wiznitzer. It talks about loneliness and the struggles of trying to get through the day. In "Blue," Kai addresses the lyrics' somber mood and talks about it beautifully. "The 'me' I knew has stopped here / Little by little, everything is becoming cloudy."
BLUE pic.twitter.com/M2pur8dVq4

— kem (@untuckedjwoo) November 30, 2021
Kai in #Cinema 
In celebration for the release of Peaches, a special online concert entitled Beyond LIVE#Cinema – KAI : KLoor will be held on December 12 at 3 PM. As seen on previous Beyond LIVE concerts, 3D graphics and AR technology will be shown for fans of the "King of Performance" across the world. Tickets can be purchased on Naver's V LIVE app at 3 PM KST on December 1, with merch also available on the SM Global Shop website. 
You can listen to Kai's album on all streaming platforms. Be sure to follow EXO on Twitter and Instagram for more content!  
Want more Kai? Check out our coverage on the Peaches Prologue Film here!
Thumbnail courtesy of SM Entertainment.