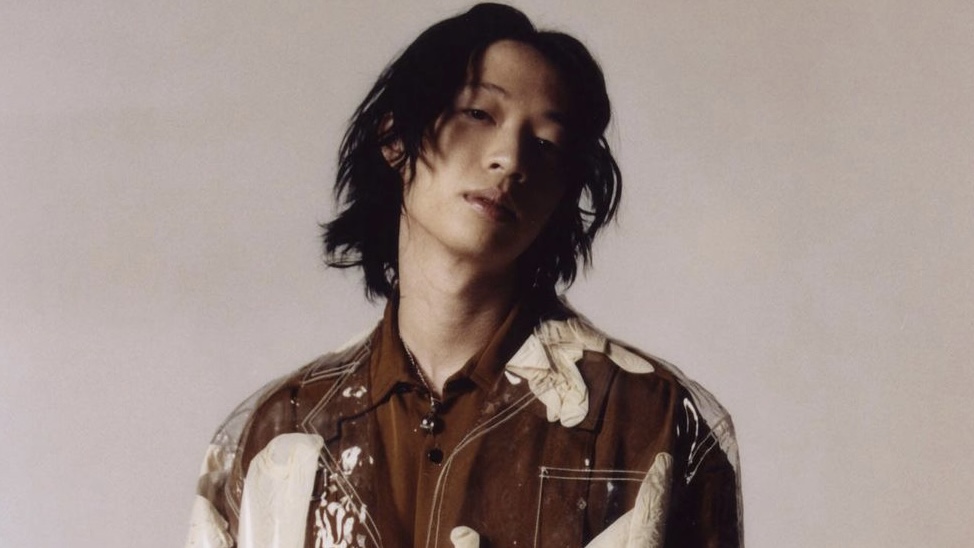 On March 25, Vietnamese-American artist keshi dropped his highly-anticipated and long-awaited first full album, GABRIEL. Co-produced with Elie Rizk, creating GABRIEL was a personal process for keshi. Expressing themes of home, family, success, and his musical career, this album presents the artist candidly.
Born Casey Luong in 1994, the Houston native and former oncology nurse's early music career started when he performed for friends and family. Wishing to expand his reach to new listeners, he created a SoundCloud profile under the name "keshi" in 2017. Before he was known as "keshi," he had been connected to music since childhood and later ventured to play acoustic guitar and pursue songwriting while growing up.
Personal and endearing, his debut album, GABRIEL, introduced the star in a new light as his artistry continues to evolve.
GET IT
Kicking off the album with hip-hop beats and an energetic bass, the first track, "GET IT," celebrates his success in his career thus far. The lyrics put forth experiencing the finer things in life as he advances his journey as an artist. Although the sound and vibe of the song is most definitely new compared to keshi's usual approach, it still incorporates a blend of his old style while balancing the new.
As mentioned in a heartfelt letter about his album, keshi emphasized that the creation of GABRIEL was a means for him to process his transition from private life to stardom. The mix of "GET IT" presented an embodiment of that transition within the hip-hop beats combined with a familiar piano and acoustic guitar. This boastful and hyped song introduces the keshi of now in a powerful way.
SOMEBODY
Following "GET IT," "SOMEBODY" is the single keshi released before GABRIEL. Romantic and sweet like honey, the acoustic guitar riffs fill the song's steamy, yet passionate, lyrics about indulging in physical intimacy. No talking and all action is the language keshi speaks in "SOMEBODY." He sings a story of taking the lead and using the sense of touch to guide his desire for a partner's pleasure. Not hesitating to initiate, keshi also sings with assurance, telling his partner that "I can be that body." The bold lyrics capture the heated fantasy of exploring his partner's body as he shamelessly sings lines like "never give you no rest" and "show me your favorite spots, but you don't gotta say it."
The tension rises just as much in the music video, with scenes of women expressing their sexuality. The sensual movements of the women draw the viewer's eye as their lips sing along to the lyrics with keshi in the antique-filled mansion.
WESTSIDE
Referencing a shift to taking his workspace to Los Angeles more often for recording, keshi expresses feelings of leaving his loved ones back home to pursue his music endeavors in "WESTSIDE." The track begins with the strums of an acoustic guitar which is later accompanied by trap beats and angelic falsetto. "WESTSIDE" is filled with nostalgia, as keshi longs to be close to his loved ones after his switch of environment.
Since his hometown is Houston, Texas, flying away from this place of familiarity to L.A. was a big move for keshi. The lyrics contemplate thoughts of yearning and juggles thinking about dreams, relationships, and time. keshi longs for his connections back home as he sings, "Just don't let me go / Swear you'll keep me close / When I'm flying to the Westside / When I catch another red eye."
TOUCH
As the leading single for the album, "TOUCH" was the first taste the artist gave fans of what was to come with GABRIEL. The song is based on a real, "forbidden" relationship that a friend of his went through. However, they kept coming back to each other because of lust. keshi had gotten the sense that there was not a clear solution to their dilemma and that both partners were at fault. 
The infatuation between these two lovers is shown through the cinematography in the accompanying music video. The "forbidden" aspect of the song is evident in the chorus "Wrong but it feels so right / It don't make sense, but it feels so nice." During the second verse, the theme of lust manifests when he sings, "Can't talk with your tongue in my mouth / I was thinkin' 'bout us when you're runnin' about."
MILLI
"MILLI" focuses on pride, hard work, and success. The lyrics, the chill beats, subtle acoustic, and mixed drum-kick combinations create an interlude feeling. The title "MILLI" refers to keshi garnering millions of listeners and streams on his songs as of date, most notably on his Spotify profile ("I just made a milli, I'ma say it loud"). keshi celebrates a big achievement of his music career while calling out those who "threw [his] name around for status." keshi, however, isn't afraid to remove toxic people who only want to "know" him because of his fame, saying he will "cut ties, I don't mind it." He also will not apologize for it, as he sings, "I like all my vices." 
In his Stationhead stream, he stated that "MILLI" is different from "the newness of keshi," referring that the song's style is a throwback to the production style he used during his SoundCloud days. He has also expressed that he would not care what others would think of the song because he makes music for himself.
PÉRE
One of the themes surrounding this album is family, which becomes apparent through "PÉRE," a title that translates to father in French. Although this track serves as an interlude filled with 48 seconds of monologue, it holds special meaning as it honors his immigrant dad, Eric Luong, and some of the hardships he faced moving to a different country. Just like keshi got his father to speak French in the beginning of "GET IT," he asked him to talk during this song as well.
In "PÉRE, Eric speaks to his 18-year-old self who, at the time, was emigrating from Vietnam to a foreign country. He says, "I would like to reassure myself that all will be well and that one day I'll have a beautiful family and two handsome and intelligent sons." As a first-generation American, keshi expressed that as he transcribed his father's words, he was very moved, and it has become a special track for him.
HELL/HEAVEN
keshi begins the second half of the album with the heavy, alternative track "HELL/HEAVEN." "HELL/HEAVEN" is a wildly vulnerable track, showcasing the darker side of keshi's music and life. The dark beat embodies the feeling of racing thoughts as he goes back and forth with fragments of thoughts throughout the song. The somber song begins with his haunting vocals as he sings about how he would do anything for his significant other because he adores them. These overwhelming feelings are echoed perfectly through the distorted beat in the background, as he mourns that he cannot remember life before the object of his affections. The heaviness in his emotions and thoughts are shown in how he drags out the lyrics, crying out at the end, "Is this hell or heaven?" 
ANGOSTURA
For those familiar with hard liquor or alcohol, angostura will ring a bell. Angostura is a popular cocktail bitter, which are small alcohol-filled bottles infused with herbs and spices. In fact, keshi himself said on his Stationhead stream that he was drinking whisky with angostura in his studio while working on this "easy listen" song. Despite Angostura bitters having a biting and spicy flavor, keshi sweetens "ANGOSTURA" with a smitten and relaxed feeling.
The chill rhythm accompanies the story of drinking and having a good time with your friends and the person whom you are attracted to. keshi also hopes to get intimate with the special person, "I just want a lover for the whole night." The "ANGOSTURA" music video portrays keshi with a woman, surrounded by mirrors and flashing strobe lights, showing the good time he wants to have with her. 
UNDERSTAND
Accompanied only by an acoustic guitar and soft strings, keshi's "UNDERSTAND" is a heartfelt ballad. Many fans of the artist would know of his fiancé, Mai, whom keshi lovingly refers to as his "bestest friend in the world," and this song likely is a tribute to her. He sings in his signature, dreamy falsetto about the feelings of being with someone who feels like home. This sense of safety and understanding by your significant other is complemented seamlessly by the gentle strums of the guitar and the full crescendo of the string instruments by the end.
The quiet production builds up to a beautiful orchestral moment as he proclaims in the final chorus, "Take you by the hand / you're the only one who understands."
LIMBO
The tenth song, "LIMBO," takes a striking turn compared to the preceding track. keshi voices his concerns of feeling like he is going through the motions of his life rather than actively participating. Even years into his career, keshi speaks of experiencing imposter syndrome when he soberly sings, "I am a fraud, I am the shit / Hoping that nobody notice." As he sings about competing with the person he appears to be versus the person he thinks he is, the track builds up along with these overwhelming thoughts.
The chill beat evokes a sense of nostalgia with its hard-hitting drum-kick over the acoustic guitar, keyboard, and synth. "LIMBO" shows what it feels like to be living day by day. However, keshi acknowledges the need for approval as he cries out for his significant other that although "[…] this is all that I am / I only show you the best of me."
ANGEL
Beginning the song with dreamy piano keys, keshi's "ANGEL" is familiar to fans as an unreleased song he had performed when he opened for American pop-rock band LANY. Finally released officially on GABRIEL, keshi revealed on Stationhead that he wrote the song in about two hours before finishing the production with Elie Rizk during the week of wrapping up the album.
"ANGEL" is the embodiment of feeling like you are at the mercy of someone you
adore and love so much. The lyrics especially express this: "I thought you were an angel / And lost myself when I caught sight of you." His guitar solo further captured the warmth of the song and completed "ANGEL" with feelings of adoration one feels for someone they love.
GABRIEL
This dreamy and harmonious song puts a beautiful end to the album as keshi blends his silky vocals behind piano music. Titled after a name he has always been fond of, "GABRIEL" also follows the theme of family with lyrics that explore parenthood. The track has peaceful and dreamlike vibes to it that help tell its story.
In an interview with MTV, he expressed that views "GABRIEL" as a track that describes "what it's like to watch [his] parents grow old." Its evocative melody and bittersweet lyrics close this personal album on a strong note.
Show Opener to Star on Tour
Previously opening for LANY's concerts, keshi now has a spotlight of his own. The European and North American legs of his HELL/HEAVEN tour kicked off on April 7 with the first show in London. His North American tour includes Japanese-American recording artist, rei brown, as a special guest. He has yet to reveal tour dates for Asia, although he teased it on his Twitter.
Listen to keshi's new album on Spotify and Apple Music and follow him on Twitter, Instagram, TikTok, and YouTube. Interested in more? Check out EnVi's article on keshi's set at Heads In The Clouds here!