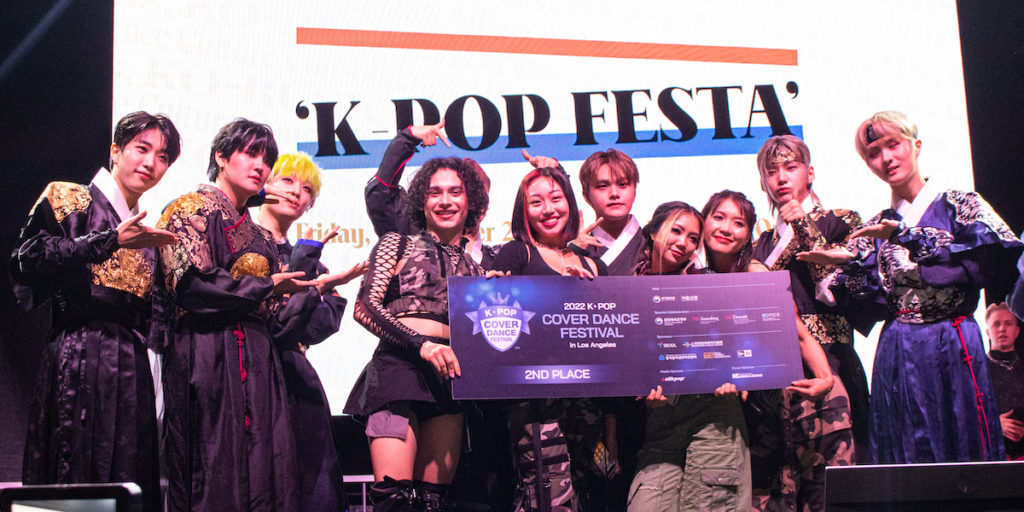 On September 23, the University of Southern California Annenberg School of Communication, in partnership with the Korean Cultural Center in Los Angeles and several other Korean cultural centers, hosted K-pop Festa. The day-long event featured academic and professional conversations, a K-pop cover dance competition, and performances by Kim Sejeong and K-pop boyband KINGDOM.
K-pop Festa was the very first K-pop concert on a college campus in North America. While music festivals have been a mainstay at colleges, K-pop Festa shows how more and more American universities are taking the dive to feature events–and even student run courses–with K-pop professionals and artists. In fact, most recently, EXO's Suho and Lee Soo Man spoke at a Stanford conference about Korea.
In all these cases, fans, driven by passion, are the ones who make these events hugely successful. K-pop Festa was no different and its RSVPs were overbooked, with admission being on a first-come, first-served basis starting several hours before the show.
SM USA and Plans for the Future
One of the Festa's key events was the conversation between Dom Rodriguez, the Senior Vice President and Head of SM Entertainment USA, and Professor Hye Jin Lee. Lee herself is an expert on K-pop, having been quoted in publications like Refinery29, Rolling Stone, and South China Morning Post on a variety of political and social problems within the global K-pop phenomenon.
Dom Rodriguez, a Platinum producer and songwriter, first got into the K-pop scene in 2010 by producing "The Boys" for Girls' Generation. He visited Seoul that same year, revealing that "Seoul changed [his] life." He would continue making songs for a variety of SM artists, like NCT 127, Super M, TVXQ, EXO, and SHINee. Throughout his 12 years at SM, he saw the K-pop fever that was brewing as sold-out shows took place in Paris, Tokyo, and Santiago. In 2016, he began running SM USA and helped develop the success of EXO, Red Velvet, Super Junior, NCT, and aespa. He is also a board member for Global Citizen.
Professor Lee and Rodriguez covered a wide range of K-pop-related topics, from how K-pop coverage has changed throughout the years, what the SMCU means in terms of connecting all SM artists to the company's 26-year-old body of work, to even NCT's concept of limitless expansion. Professor Lee even snuck in a question about NCT's Mark, notorious for his busy schedule, "Does Mark sleep?"
"[He's] the hardest working artist I've ever seen, and shows up everytime," Rodriguez responded proudly.
Rodriguez explained that NCT's concept of "Culture Technology" embeds SM's business model into the group, which allows more opportunities for SM to bring more and more artists into the fold. Most recently, we saw this at New York Fashion Week, with Jeno and other SM Rookies walking for Peter Do, whom SM partnered with. Especially because many idols such as Mark and Jeno were casted at a young age, Rodriguez talked about how rewarding it has been to see them be at the place where they are now, and hopes to continue making this possible for other trainees.
This is a sentiment shared by fans, and Rodriguez said that K-pop is popular now because there is a connection between fans and artists that Western artists don't have. Rodriguez wants to support the linkages between the fan community "who moves mountains" and artists. Rodriguez believes K-pop is here to stay, and it's just getting started.
During the Q&A section, EnVi asked about concepts like NCT Hollywood and how SM artists may continue to expand their presence in Western media such as television or fashion. Rodriguez responded "As far as what the future looks like for NCT, all I can say is, stay tuned." The crowd let out a collective groan. "Well, we know it's gonna expand right?" Professor Lee added.
"Stay tuned. As far as presence in the marketplace, we'll be very present, all the time, everywhere, as much as we can be. When artists can come to market, because artists have a lot of places to be–the ever struggling piece of any superstar, how can I be everywhere?–Luckily it's 2022, and we're all connected digitally. We try to operate from this kind of 'always-on,' omnipresent all the time, and that's why we focus so much on always putting content out constantly frequently for everybody. I wish I could say more about the first half, but stay tuned," Rodriguez said.
As for what K-pop looks like in the future, Rodriguez said that the entertainment industry is changing before our eyes. Music discovery happens on a variety of platforms and CDs are no longer the primary way music is being listened to. In fact, people are consuming content alongside the music, and Rodriguez is still figuring out what that can look like for K-pop.
K-pop has always been ahead of the curve, especially in technology and music. For example, SM's Beyond Live concerts have given people the opportunity to experience shows even if they're not there physically. Rodriguez said that because K-pop has always been meticulous about its visual details, it is the perfect bridge to what is next regarding experiential marketing such as video games, the metaverse, and even AI. In Rodriguez's words, "Stay tuned."
K-pop Dance Cover Competition
Adding to the excitement that the line-up of the K-pop Festa brought, USC also hosted the final round for selecting a US representative to participate in the global K-pop Dance Cover competition event that takes place in Seoul. The K-pop Cover Dance Festival is an international dance competition that started in 2011 with the support of MBC in hopes to both motivate K-pop enthusiasts through enticing winners with an all expenses covered trip to Korea. The judging panel included none other than the performers of the night, KINGDOM, as well as the board members from KCCLA.
The final round for the US chapter concluded with 12 teams that came from all across the US; one team in particular had just landed 2 hours before they had to perform on stage. As the night progressed with incredible passion radiated by the dancers, the audience cheered joyfully along to their favorite songs featuring "Guerrilla" by Ateez, "Fever" by Enhypen, and "Maverick" by The Boys. At one point, there was even a sea of iPhone flashlights in the audience as they danced along with the performers. The night concluded with the winning cover team, PRISM KRU from Chicago!
KINGDOM Dominate the Stage
Following the K-pop dance cover competition, KINGDOM entered the stage in stunning traditional Korean court clothing, transporting the audience back to Ancient Korea. The group gave a sensational performance, performing songs like Black Crown and 담심가, which sent the audience calling for more. Their remarkable stage presence sent many into a frenzy, calling out to their biases in hopes of catching their attention to send a finger heart to their direction while simultaneously converting many members in the crowd to quickly convert into a KINGDOM stan.
Seven-member group KINGDOM debuted early this February, and this marked their first U.S appearance. Their band is based around the concept of "Kings," and each member is named after a historical royal: Jahan, Hwon, Dann, Arthur, Ivan, Mujin and Louis. During their introductions, Dann expressed how excited they were to perform for the first time in the US and shared his love for hamburgers. He highlighted that he could eat five hamburgers in one sitting and expressed that his favorite hamburger is the 'Double Double', which he has yet to try from In-and-Out.
As the group was about to leave, the audience cheered relentlessly in hopes of summoning the 'kings' back on stage. Moved by the crowd, KINGDOM entered the stage again with full energy, performing "Blinder" before leaving the stage. The group will be coming back with their fifth mini album History of Kingdom: Part V. Louis on October 5!
Sejeong's Sweet Closing
Kim Sejeong, formerly of K-pop groups IOI and Gugudan, took the stage with "Warning." Despite the serene song, the crowd was no less hyped to see her grace the stage. She enjoyed her time, expressing surprise that even an act as small as taking a water break could elicit such strong reactions from the audience. Throughout the show, the crowd would chant in unison "Kim Sejeong!" several times.
After a few songs, Sejeong had a short interview with Professor Hye Jin Lee. She expressed how she was a bit worried about if she could sing, as she had not done so for the last six months due to her focus on acting. When asked about a full album, Sejeong said 20 songs had been written since "Warning" was released, but because of her dramas, she had no capacity to promote musically at the moment. Still, she promised to come back to L.A. to sing for her fans.
Sejeong also expressed her surprise that so many fans were able to recognize her from her dramas when she visited Disneyland earlier that day. When asked about her dream drama role, Sejeong responded that she wanted to be a femme fatale. However, that didn't stop her from accommodating the audience's requests for some aegyo.
One of Sejong's ending songs was "Love, Maybe" from the Business Proposal OST, but the hopeful tune could not mask the melancholy the audience was feeling that such an exciting night would be over soon. Before her last song, Sejong made the crowd promise to go home, and with that, K-pop Festa drew to an end.
Interested in more fest coverage? Check out our review of MIK Festival Day 1 here!