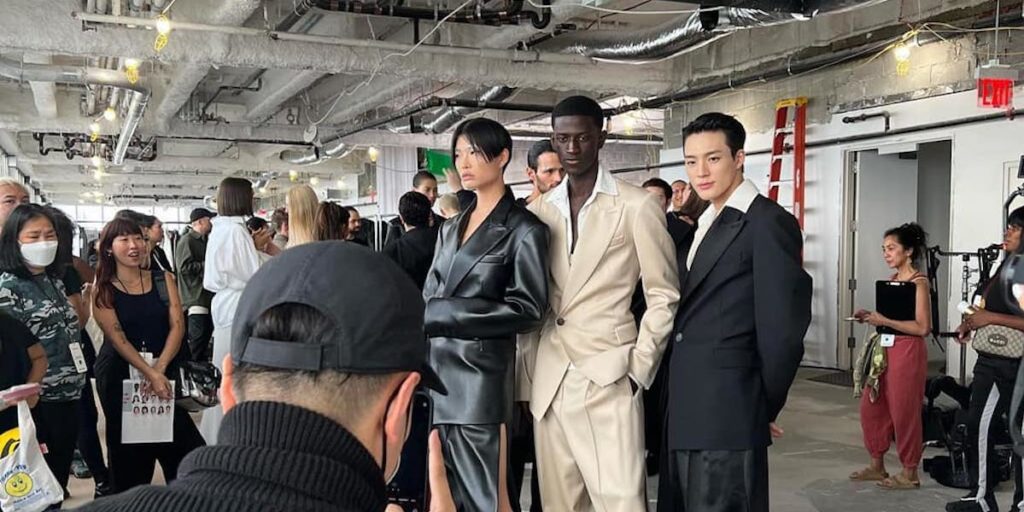 On the fifth day of New York Fashion Week (NYFW), American fashion brand, Peter Do presented its Spring Summer 2023 collection. Held in partnership with Korea's largest entertainment company, SM Entertainment, the brand showcased its latest creations on K-pop stars Shohei, Eunseok, and NCT's Jeno, who had an epic runway moment opening the show.
The Community-driven World of Peter Do
Recognized for the well-informed tailoring and IYKYK status of his brand, Vietnamese designer Peter Do has captivated the fashion industry since 2018. The fashion brand — launched collectively by Peter Do, Lydia Sukato, Vincent Ho, An Nguyen, and Jessica Wu — has reached new heights, season after season. After a New York Fashion Week debut that was received enthusiastically by fashion connoisseurs in 2021, Do went introspective on his sophomore collection, "Foundation" presented back in February 2022.
For his latest runway, however, the Brooklyn-based brand shifted gears. For one thing, Peter Do officially ventured into the world of menswear — although this is not their first-ever foray into designing for men. For another, the American brand exploited its community-driven ethos in a first-of-its-kind collaboration with the K-pop powerhouse SM Entertainment.
The Looks
Building on the foundations from the previous season, Do presented his largest collection yet. Although the brand already catered to different body types and appeared, for the most part, genderless, the debut of menswear and unisex pieces widened the Peter Do design spectrum. On the runway, models walked dressed in Peter Do's uniform: sharply tailored suits, dress shirts, pleated kilts, and jackets cinched with trailing belts.
As in previous seasons, a misleading air of simplicity was present in every outfit. Misleading, I say because, despite the absence of elaborated details — at first sight — Peter Do's designs always flaunt intricate construction details, and the style formula he is acclaimed for: a muted palette, elongated silhouette, and cool accent pieces like platform shoes with metal tips, oversized bags and large belts.
Ahead of the show, Do shared an emotional text by best-selling author Mary HK Choi that served as collection notes. In the text, the designer reflected on the collection's overarching theme of "TIME" and paid homage to his late father.
SM Entertainment Idols x Peter Do
In addition to Peter Do's tailoring genius, a highlight of the show was the casting of models, which included SM Entertainment stars Jeno, Shohei, and Eunseok. Tapped to model the inaugural look, Jeno —a member of SM Entertainment's group NCT—made his runway debut on Peter Do's catwalk. The singer sported one of the brand's signature backless blazers, satin side-slit pants with a contrasting button-down shirt, and a pair of platform shoes. His runway appearance surprised no one. Peter Do had previously announced the idol's participation through a press release.
"It was a natural choice to have Jeno open the show. Jeno embodies the Peter Do man – multifaceted, confident, and a trailblazer," Do wrote in the announcement. He then added, "I have so much respect for these artists because there is so much time put into their craft that people simply don't see."
SM Entertainment up-and-coming artists Shohei and Eunseok also strutted down the runway. Meanwhile, Red Velvet member Seulgi made a special appearance on the front row as one of Do's "guests of honor."
Tapping on the Power of K-pop
Though Peter Do's SS23 show became their first official collaboration with a K-pop company, the brand's co-founders have previously voiced their fondness for the genre and its artists. In an exclusive interview with EnVi, Co-founder Jessica Wu mentioned EXO and Taemin as some of her favorite musicians and named the girl group aespa as the K-pop idols that would best embody Peter Do's DNA. Similarly, when asked about potentially collaborating with NCT in the future Jessica anticipated, "It'd be interesting to explore how they would fit within the brand's aesthetics and the way they are perceived by the public. They're all young, but they have such a strong stage presence, translating that attitude into clothing would be a fun challenge."
Peter Do certainly tackled the challenge a few months later when the brand dressed NCT member Johnny for his Met Gala debut. Sporting a custom-made look, the singer absolutely stole the spotlight and received endless praises for his take on the Gilded Age theme of the event.
In a press release shared with media ahead of Fashion Week, Peter Do explained their partnership with SM Entertainment. "After dressing NCT's Johnny for the 2022 Met Gala, where he was the single most mentioned guest of the event, Do, inspired by the way that SM artists incorporated fashion into music, chose NCT's Jeno to open the historic show." Jeno, thus, became the first K-pop artist to open a show during New York Fashion Week. The collaboration also marked SM's first foray into the event.
Fashion's Top Players
With the world of K-pop and fashion growing increasingly connected, Asian celebrities have become top players in the fashion industry. In 2022 alone, several stars have made waves with their fashion associations, their attendance at coveted fashion events, and marking new milestones in the industry. "As a whole, K-pop stars have always generated tremendous buzz during Fashion Week thanks to their extremely large and dedicated fan base," Launchmetrics CMO Alison Bringé told EnVi exclusively. "[However] recent Fashion Week events have seen a growing prevalence of Asian celebrities and influencers attending runway shows and participating in collection campaigns." It seems we can also add 'walking runways' to the list.
Interested in more fashion coverage? Check out how K-pop stars have become top players in the fashion industry here.