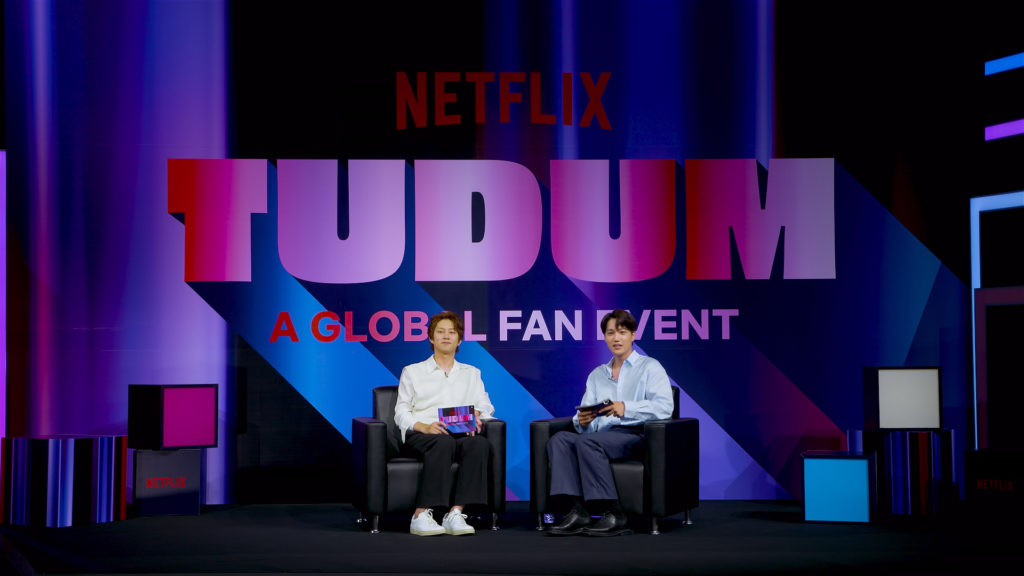 On September 25, Netflix held the first-ever Tudum: Global Fan Event. A three-hour livestream, the event comprised of trailers and news for what fans can expect out of the streaming service. On top of the star-studded panels and exciting trailers, Netflix held a country-specific segment titled "Tudum: Korea Spotlight," focused on the platform's latest claim to fame–dramas. Hosting the segment were two of K-pop's most recognizable faces–Super Junior's Heechul, and EXO's Kai. Check out our recap of the event, and a few of our favorite highlights.
Tudum: Korea Spotlight
In addition to previewing new content, the Korea Spotlight featured fun segments with actors Song Kang (of Sweet Home and Nevertheless fame, among others) and Jung Hae-In.
Affectionately dubbed the "son of Netflix," following his roster of roles in Netflix-produced K-dramas, Song Kang has earned his spot in the hearts of K-drama fans everywhere. His special segment, titled "Sense and Sensibility with Song Kang," took place at the Netflix Korea office. Broken up into four senses-themed Q&As (touch, sight, hearing, and sixth), the actor played around with arts and crafts, treated fans with close-ups of his dazzling visuals, and even had a snack in an ASMR segment. "I'd like to try diverse roles," he said when asked about roles he'd like to play in the future. Song Kang also shared one of his favorite comfort shows on Netflix–US cop comedy Brooklyn Nine-Nine was his choice.
Jung Hae-In, according to EXO's Kai, "has gone beyond being a national boyfriend, and become a global boyfriend." The actor, known for his roles in D.P. and One Spring Night, joined the Spotlight with "A Day on Set with Jung Hae-in." On set for the promotional photoshoot for D.P., Jung spoke about the fun he had filming the detective drama, and the opportunity to bond with them throughout its production. 
My Name
Coming on October 15, My Name stars Han So-hee (Nevertheless) in the lead role in a gritty crime drama. Alongside Park Hee-soon (Seven Days) and Ahn Bo-hyun (Itaewon Class), she plays a revenge-seeking woman who allies herself with a crime boss and joins the police force undercover. Although teasers were shared a week ago, during Tudum, Netflix revealed an action-packed highlight clip. 
Hellbound
Another show that took center stage during the Spotlight was Yeon Sang-ho's recent series, Hellbound. Based on his webtoon of the same name, the horror K-drama stars Yoo Ah-in, Park Jeong-min, Kim Hyun-joo and Won Jin-ah in a show about supernatural angels that appear on earth to condemn humans to hell.
Released on September 9, Hellbound earned glowing reviews at the 2021 Toronto International Film Festival and is available to stream now.
These are just a few of the highlights from Tudum–Netflix Korea has a whole slew of other projects lined up, including The Silent Sea, The Hungry and the Hairy, Paik's Spirit, Single's Inferno, All of Us are Dead, Juvenile Justice, and Love and Leashes. There's no doubt Netflix's foray into the Korean television space has brought the country's media to global audiences–with a promising lineup of projects and a star-studded roster of actors, we can't wait to see what the platform does next.
Want more? Check out our coverage on Netflix's first sitcom here!
Thumbnail courtesy of Netflix.