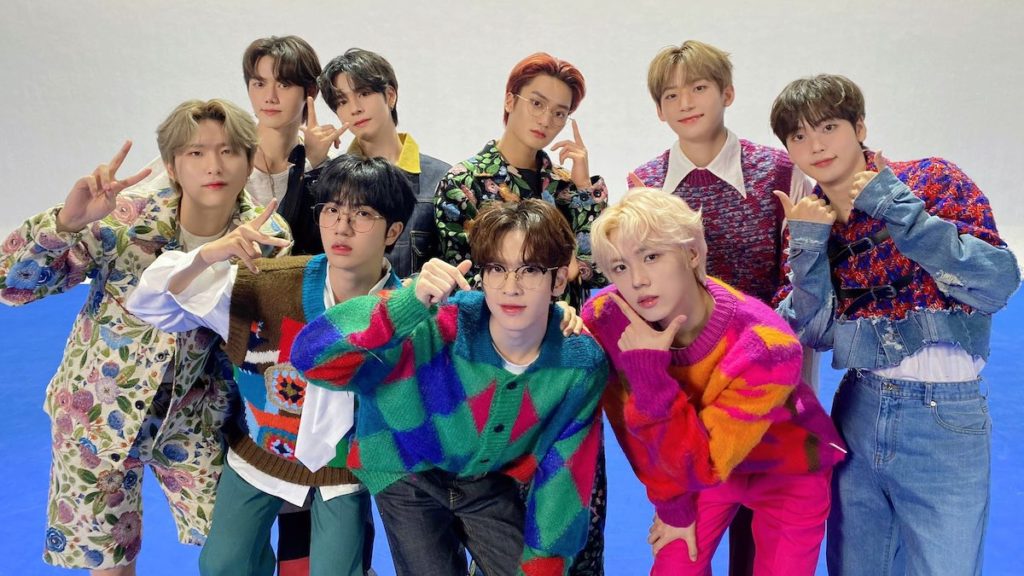 Starship Entertainment's CRAVITY are back with their 4th Mini Album NEW WAVE. Released on September 27, 6PM KST, NEW WAVE comes after the release of the album LIBERTY : IN OUR COSMOS. The nine act group – composed of SERIM, ALLEN, JUNGMO, WOOBIN, WONJIN, MINHEE, HYEONGJUN, TAEYOUNG, and SEONGMIN – brings six new lively and energetic songs. 
CRAVITY Know How to "PARTY ROCK"
The title track of the mini album, "PARTY ROCK," deviates from CRAVITY's powerful and edgy title tracks like "Gas Pedal" and "My Turn." Instead, CRAVITY continue the refreshing and bright sound from LIBERTY : IN OUR COSMOS' "Adrenaline." Youthful and fun, "PARTY ROCK" is an unapologetically pop and upbeat song that touches on themes of breaking free and going with the flow. With lyrics stating "Break it down / Just for today, have fun and break free," CRAVITY channel that the party must go on.
The music video matches the effervescently youthful sound of "PARTY ROCK." Members are seen creating mischief in a vibrant record shop and dancing in basketball courts and abandoned locations. Their carefree energy is also embodied through the casual outfits the members wear. With plenty of denim, layers, and mismatched suits that are paired with cropped shirts, loose ties, and jewelry, "PARTY ROCK" is the perfect representation of the fun and cheerful energy CRAVITY carry throughout NEW WAVE.
The Fun Continues
Compared to the HIDEOUT EPs trilogy and their full length album divided into two parts, NEW WAVE exists as its own entity. With this opportunity, the mini album demonstrates a different side of the group. Contributing to these efforts, WOOBIN, ALLEN and SERIM participated in writing lyrics for some of the album's songs. 
The first b-side from NEW WAVE is the pre-released single "Boogie Woogie." Released before CRAVITY made their way to the United States for KCON, "Boogie Woogie" is CRAVITY's first English single. With a charm of young love, the song conducts the listeners through a step by step of how to "boogie-woogie" dance. 
Continuing the theme of young love with an electronic and futuristic synth production, "New Addiction" compares the feeling of first falling in love to a form of addiction. Offering a change from the lighthearted and cheerful pop that dominates the mini-album, "AUTOMATIC" is a dynamic and up-tempo song with a more powerful and edgy sound. 
A highlight from the mini-album comes in the melodic and feel good "Colorful," a song that addresses emotions through colors – how a monochrome mundane life has become colorful through a special someone. What makes "Colorful" extra special is that WOOBIN wrote and produced it. During the NEW WAVE showcase, Woobin recounted how he even recorded a guide for the members and was delighted to hear the song was much better with all the members in it.
NEW WAVE comes to an end with the b-side "Knock Knock." An anticipated release of the CRAVITY members – SERIM had been spoiling the song for a while now – "Knock Knock" is about knocking on someone's heart and asking them to open up. Though overall a cheerful and bright song, the inclusion of an anti-drop chorus gives the song an alluring and sophisticated feel. 
LUVITY Ready for NEW WAVE
Following six months since their last comeback, CRAVITY's comeback was greeted with love from LUVITY, their fans. 
NEW WAVE highlights how CRAVITY are committed to partaking in the making and shaping of their sound as they continue to grow their discography. Make sure to follow CRAVITY on Twitter, Instagram, YouTube, and TikTok. Listen to NEW WAVE on Spotify, Apple Music, and YouTube!
Want more of CRAVITY? Check out EnVi's exclusive feature with CRAVITY here!