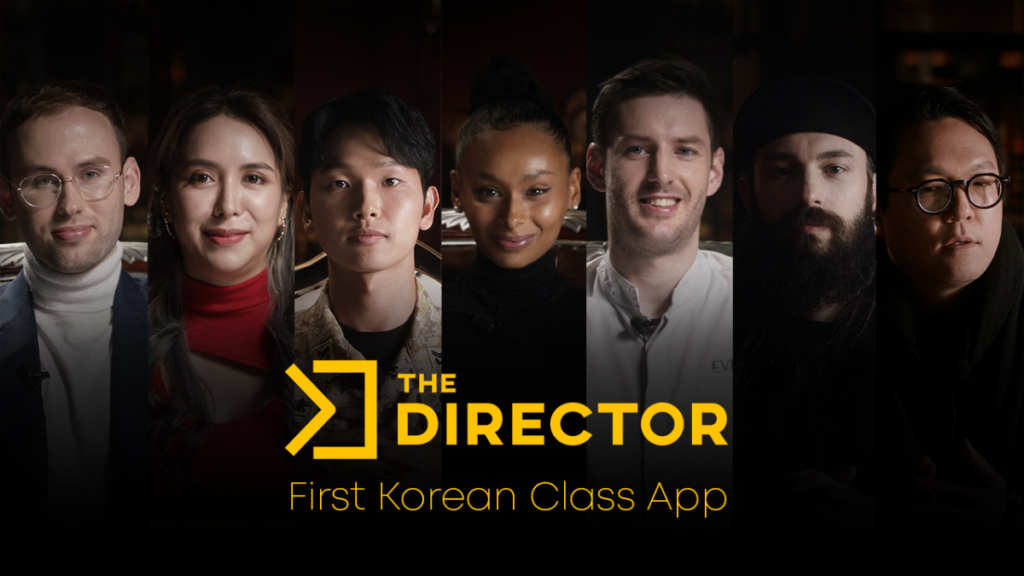 "We've met many people who dreamed of working in South Korea and are very serious about it," Frontrow Global managing director Wook Kim told EnVi via email. Having worked in Australia, South Korea, and Europe, the senior business manager has encountered many Korean pop and drama fans who wish to become industry professionals. However, these fans were unaware of career paths in the Korean industry and struggled to find the right resources to kickstart their career. "The stories of these people motivated the initial concept of our app," Kim added.
Realizing the need for a mentoring program, Frontrow Global, a London-based music data intelligence organization, launched an educational app called The Director. The education platform, launched in May, seeks to provide information and tips for foreigners or English-speaking individuals who plan to work in South Korea. With existing education platforms, The Director sets itself apart from its competitors by offering courses solely in English. In addition, it focuses on cultural differences and language barriers.
The Courses
When asked about the courses on the platform, Kim said, "students can find practical lessons from The Director, who has already gotten through all the difficulties." The Director offers courses under the following categories; fashion, business, creatives, dance, mindfulness, music, TV, and film. Under fashion, participants learn the pros and cons of modeling in South Korea, fashion designing, K-pop art, and style directing. Users of the platform also have the opportunity to sharpen their business skills with lessons on ecotourism, restaurant management, making investments, and K-entertainment.
The music category allows learners to take classes in K-pop choreography, songwriting, rapping, vocal training, music production, and Korean traditional instruments—Gayageum and Haegeum. Other courses include Taekwondo, photography, Korean military training, meditation and mindfulness, and working in the K-drama and movie industry as a foreigner.
The Speakers
The educational app engages pioneers in their respective fields for the lessons. Combining the stories of native Koreans and persons from different countries, participants stand to gain broader perspectives on topics available.
Fashion Inspiration
Modeling in South Korea is taught by Aisha Ba, a model and choreographer of Senegalese and Italian heritage. She has modeled for Samsung, Hyundai, and Nike Korea and participated in Seoul Fashion Week on several occasions. Moreover, the brain behind Taeyang's silver armor in the Fantastic Baby music video, Balko Kim, also teaches K-pop Art and style directing. With over a decade of experience, she has styled several artists such as BTS, BLACKPINK, DAY6, NCT 127, EXO, TXT, and others. Completing the fashion trio is Julien Couston, a French fashion designer who currently works as a senior designer with the South Korean clothing brand Discovery Expedition. The brand is known for its over 120 retail stores in South Korea and has actor Gong Yoo as its model. 
K-pop Music
Having worked as a vocal trainer for over a decade, Youngmin Kim shares his experience with artists like SEVENTEEN, NU'EST, After School, IZ*ONE, fromis_9, and many more. Triple platinum-selling singer and songwriter, Shorelle also has tips for people who want to start a career in songwriting. Her credits include ITZY, EXO's D.O, Taeyeon, CIX, and Oh My Girl, just to mention a few. Lastly, the legendary Shinsadong Tiger comes through with recording tips and insights into producing a K-pop song. Having worked with acts like T-ARA, HYUNA, EXID, APINK, 4MINUTE, MOMOLAND, TRI.BE, and more, he shares his thoughts on the future for K-pop producers and the different approaches to different artists.
Business Skills
Foreigners can expand their knowledge of working in K-Entertainment from the perspective of Thomas Sommer, co-Founder of SG Entertainment, the first Korean entertainment company created by French producers.
For persons interested in managing a restaurant in South Korea, Tasmania-born chef Joseph Lidgerwood has all the answers. Crowned with many accolades like "Winner of 2021 MICHELIN Young Chef Award" and "Modern techniques with the best Korean ingredients," Lidgerwood coaches on cultural differences and hacks for working in South Korea.
Meet the CEO
An alumnus of Ewha Womans University Graduate School of International Studies, where she studied Copyright Management in South Korea and Europe, Monica Hyerim Lee leads the team as a CEO. Lee has served as the Executive Director of the SBS and LiveXLive Kpop Superfest and was a guest speaker at the 2019 Mucon Music Tech. She earned a spot in Welp Magazine's "Top Influencers: 101 UK Founder CEOS To Follow in 2022." Adding to her list of achievements, Lee launched KAACHI, the first UK K-POP Girl Band, and facilitated music collaborations for Yoon Do-Hyun and GWSN. 
Joining The Director's Classes
Three membership options exist for persons who want to undertake courses with The Director: The Dreamer gives access to one device, The Achiever for two devices, and The Director for five devices. Signing up to The Director gives one unlimited access to all the pre-produced online class content without extra payment. The courses are accessible to users from any country and are user-friendly. Despite not awarding certificates in the meantime, The Director has multiple helpful tips from renowned professionals. "You can get so much inspiration and directions for your life; please don't miss out!" Wook Kim said as a closing statement.
Download The Director on Play Store and App Store. For more updates, follow The Director on Instagram and Twitter.
Want to check out more K-pop-themed products? Read all about our spotlight on BTS-inspired jute bags here.