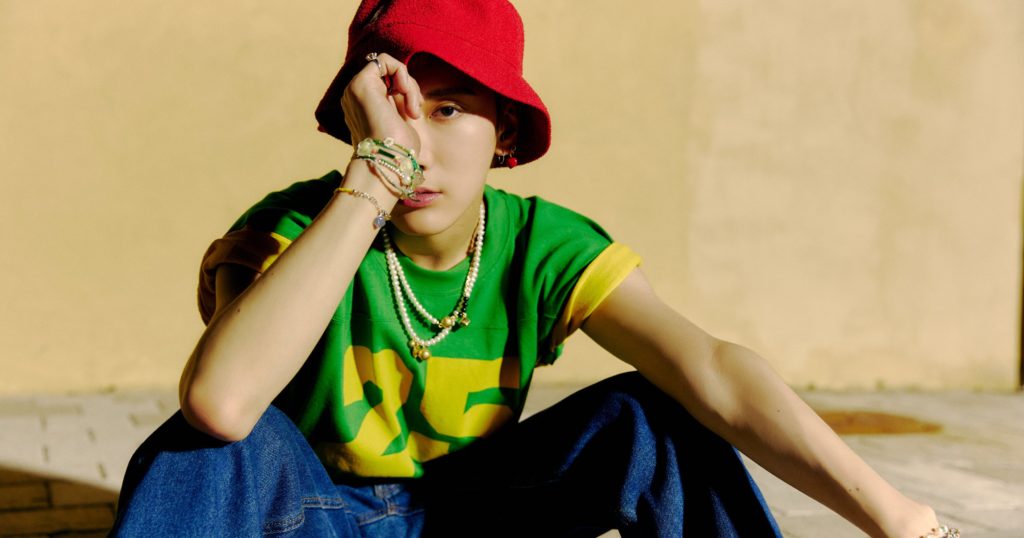 This is an op-ed by Rachel that follows Ten's journey as a dancer and dives into how he is able to captivate fans through his artistry in performances.
With the ability to show emotions through his intricate dance movements, NCT/WayV's Ten attracts fans from different backgrounds to idolize him. They know that anytime he performs, Ten will deliver something they have never seen before. Ten's growth, from his pre-debut days to becoming one of SM's top dancers, demonstrates how much he has developed his craft, and how naturally gifted he is.
Baby Steps
Coming a long way from his days on Thailand's Teen Superstar, Ten (aka TNT) was recognized for his talents even back then, winning the show, along with another female contestant. Although he was presented the chance to sign with Starship Entertainment, he would ultimately find his home with SM Entertainment and become a part of SM Rookies. When Ten visited South Korea for the show, instructor Lee Jung Kwan commented that he had good control over his body despite his young age.
Through the SM Rookies show, NCT Life, it is learned that Ten was inspired to try dancing after seeing the movie Step Up 2. Thanks to his former teachers, we also know that dance was always one of his main focuses while in school. Among the rookies, Ten instantly stands out during many performances. Compared to his dancing on Teen Superstar, he had already improved significantly and was on track to becoming the main dancer he is today.  
When it comes to technique, there is no doubt about Ten's dance skills. This becomes apparent in how he nails every move during performances. His flexibility and physical stature allow him to quickly pick up a routine and perform choreography with little to no fault. However, Ten's dancing goes beyond that. Fans have long alluded to the urban legend of Ten's gymnastics background and beginnings as a breakdancer – he has all the makings of a physically strong dancer. The control he has over every part of his body is outstanding. A great example of his fluidity is shown in dances such as the "Devils" match from his time on Hit The Stage in 2016. Not only do we see that flexibility in action, but it's subtle movements that stand out when watching Ten closely. From the hand movements at the start of the dance and every moment after that, Ten is always in control of his body. These elements combined give his audience the impression he is moving like water or wind.
Hitting the Stage Solo
Hit The Stage not only offers us many examples of Ten's technical skills but his versatility as a dancer. The other performances from the show, namely "Thunder," showcase Ten's quick ability to adapt to different dance styles. Think of the tap sequence at the start of "Thunder" versus the more freestyle and hip-hop movements of the other dances – although very different, he can deliver in both. The performances here are also a great testament to Ten's ability to adapt to any mood or character given to him. Throughout Hit The Stage, Ten introduces three characters: the Conductor from "Thunder,"' the Devil from "Devils," and a flirty partner in "This Love." Three very different dance styles, three very different characters, but Ten embraces each one. 
Hit The Stage was an experience that impacted his dancing, something that Ten discussed during an interview with Thailand's DailyNews: "I learned about performing. When I was in SM Rookies, I once gave an interview about how I had trouble showing my facial expressions when I was performing. I think that if anyone tries, they can become a good dancer, but the most important thing is showing our emotions through our facial expressions," he said, "this is extremely challenging as it isn't something we can copy from someone else. We have to incorporate our personality as well. At that time, I performed and tried to find more of my own personality, and that also gave me more confidence." 
Ten's style becomes more apparent when dancing in groups or duos. While Ten can shine on his own because of his unique approach to dancing, he doesn't outshine others. In his collaboration stage with Shownu of Monsta X, we see the difference in Ten's dance style compared to the more technical Shownu. Both men are exquisite dancers and play to their strengths. This dynamic is similarly seen in "Baby Don't Stop," the NCT U title track featuring Ten and Taeyong. In their 2018 interview with Dazed, the duo compared their different dance styles. "I think the song itself is important. The beat. Next is the contour," Taeyong said. In contrast, Ten said, "I think I speak with my body when I'm dancing. Rather than being technical, I'd like to imagine that I'm like water or wind. That's what I want to express." This thought process when it comes to his dancing is not hard to see. Not only does Ten know the moves, but he flows through them. It appears effortless, although the audience is aware of the skill that it takes to achieve this swiftness. 
Capturing the Audience
It is due to these skills that Ten has the ability to captivate his audience the second he comes out on stage. He has become a master at playing the role he is given in a dance, capturing its mood. He takes the emotions he feels or is meant to be portraying and can show them through the dance. It often results in something beautiful – the choreography to "Dream in a Dream" is an example of this, particularly when live. 
Ten has also demonstrated his ability to hold his own alongside other stellar dancers within SM Entertainment. During early promotions for SM's star-studded group, SuperM, Ten featured in a dance teaser alongside SHINee's Taemin and EXO's Kai, his performance juxtaposed against theirs in a five-minute clip. Ten also demonstrated his skills alongside another top idol dancer, BLACKPINK's Lisa, when the two danced to WayV's song 'Kickback' on his Instagram. 
His duet with groupmate WinWin highlights his versatility, his technical skills, and his ability to express emotion through his dance. It also demonstrates his ability to play off of his partner's movements. While both members are trained dancers, they differ in stature and style, yet come together for a duet that is breathtaking to watch and displays their artistry.
Even for the same song or same dance routine, he offers something different each time he is on stage, showing us his duality and a stage presence that many in the industry strive for. Just take a look at each stage he did for "90s Love" during NCT 2020, especially when the song was performed during the NCT: RESONANCE 'Global Wave' concert. WayV's "Bad Alive" is another example of his captivating stage presence, where Ten shines during his small dance solo.  We see this throughout his entire career. With every comeback, Instagram post, video uploaded onto NCT Dance, and more. We were able to see Ten's creativity shine during "Paint Me Naked," and his collaboration with WayV bandmate Yangyang–time and time again, we are given something different. Even within the same genre, Ten is able to bring fans something fresh and new; it is never dull.
Ten has already proven himself to be an incredible dancer and one of the best in the K-pop industry. Not even at his peak yet, within a few years, we're willing to bet that Ten will continue to make a legacy for himself and be an idol to inspire the next generation of dancers. 
Looking for more Ten? Check out his holiday collaboration with bandmate Winwin for Charlotte Tilbury.
Thumbnail courtesy of SM Entertainment.