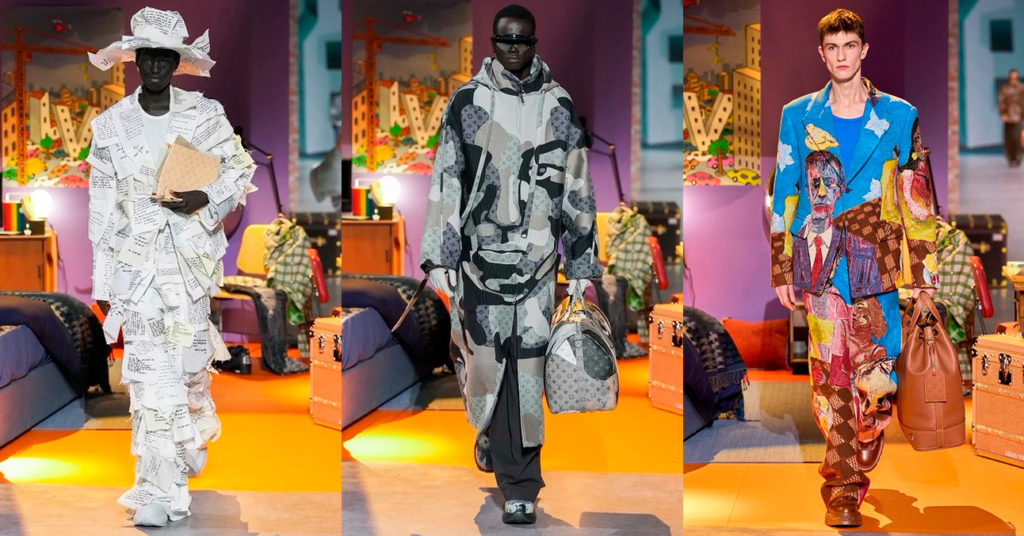 French luxury brand Louis Vuitton welcomed a new chapter of its history with the presentation of its Fall Winter 2023 collection. Guest-designed by Colm Dillane — the founder of the American brand KidSuper — the runway was a captivating display of elevated menswear that remained loyal to the foundations built by the late Virgil Abloh. An A-list front row, featuring stars like Jackson Wang, and BTS' J-Hope, as well as a performance by the global sensation Rosalía turned the event into a giant celebration of fashion and music.
From KidSuper To Just Super
New York's Super Kid, Colm Dillane rose to fashion prominence with aesthetics rooted in American fashion and a clientele that includes Dua Lipa, J-Balvin, and Khalid. On January 19, the designer reached new fashion heights, presenting his first co-designed collection for a grand maison.
A showcase of prints, textures, and rich storytelling, Dillane's first stint at Louis Vuitton — in collaboration with the in-house design team — continued to build on the brand's history of bridging streetwear and luxury fashion, albeit with clearer inspirations and greater cohesion. Cinematic references flooded both the runway and the setting — imagined and designed by filmmakers Michel and Olivier Gondry with Lina Kutsovskaya.
View this post on Instagram
In a harmonious mix of visuals, Louis Vuitton's FW23 collection brought together a myriad of fabrics and patterns. Neon colors and artistic graphics were seamlessly incorporated into traditionally clean items, with imaginative futuristic notes shining through accessories and bags. The full collection transitioned smoothly between tones, bringing both versatile neutral, and colorful hues to the runway — think of green, lavender, and even a maroon that hinted at Pantone's Color of the Year, Viva Magenta.
Classic pieces like trench coats and blazers were reimagined with oversized silhouettes, innovative waistline detailing, and even fringe appliques. The label's iconic LV monogram was embedded into a cool-toned camo print and integrated into denim pieces. Showstopping ensembles, such as one head-to-toe look inspired by notebook paper, positively shattered all expectations for the collection. Closing the show were two looks that appeared to walk straight off a canvas, with artwork coming to life on a two-piece set and shin-length coat.
A+ Guest List
Tapping into the friendship LVMH has built with the Spanish singer Rosalía, Louis Vuitton invited the Grammy-award-winning star to perform at the FW23 collection unveiling. Clad in a total white look, the "Motomami" singer presented a medley of her greatest hits that included "Despechá" and "Saoko." But while the press couldn't get enough of Rosalía's energetic performance, the fan crowds focused on the front row.
With celebrities such as the BTS member J-Hope and fashion darling Jackson Wang in attendance, the show was one of the most anticipated events amidst Paris Men's Fashion Week. The Asian stars made waves online with their stylish appearances and personal takes on menswear fashion. Getting first dibs from the runway, J-Hope sported a camo matching set that consisted of straight trousers and a slightly oversized jacket thrown on top of a silk burgundy shirt. Tying the look together were a pair of chunky Oxford shoes and a gemstone necklace.
Meanwhile, the multihyphenate Jackson Wang wore a full-black look made up of an oversized suit and a mesh top, complemented with a pair of LV Trainer Maxi and reflective shades. The singer, label founder, and fashion designer mingled with other attendants including Tyga and the Japanese actor Shuzo Ohira — who has been jet-setting around Europe this Fashion Week.
View this post on Instagram
The New Era
Though Virgil Abloh's successor is yet to be announced; a year after his passing, Louis Vuitton is now writing a new era in its history. Ready to move forward, the house presented a collection that masterfully explored themes like growth and coming of age. While questions about the creative direction of Louis Vuitton have not completely dissipated, Dillane's contribution has certainly put to rest concerns about whether the brand will go on a complete overhaul or not.
Want more Fashion Week content? Read everything you need to know about Givenchy's FW23 collection.