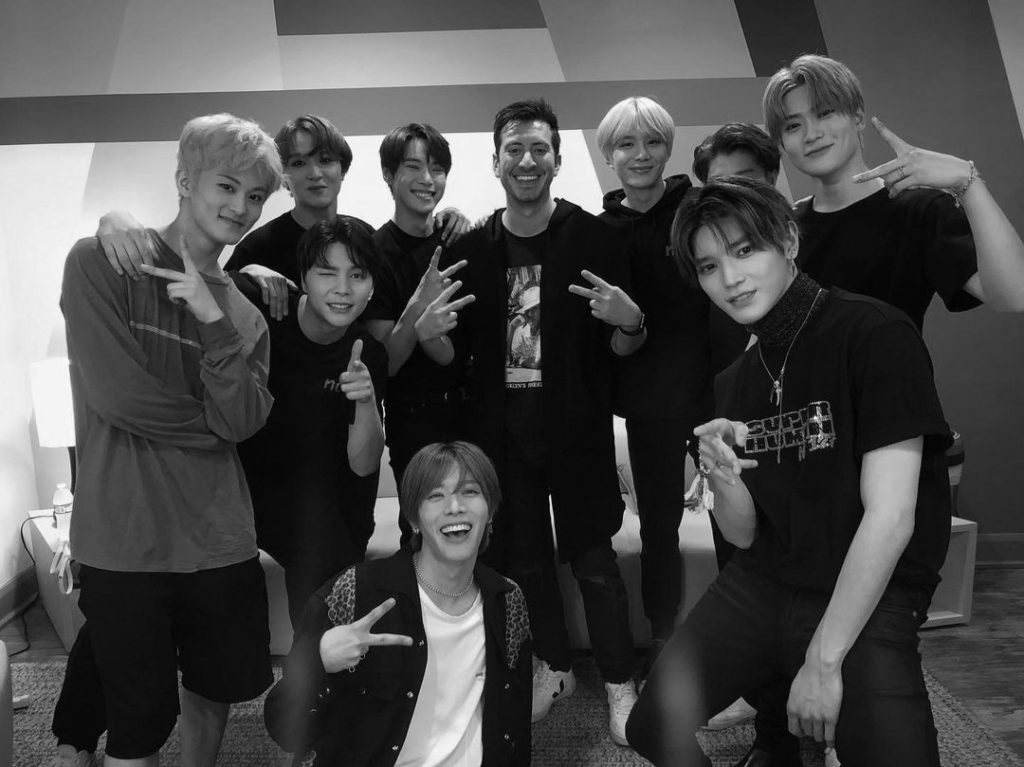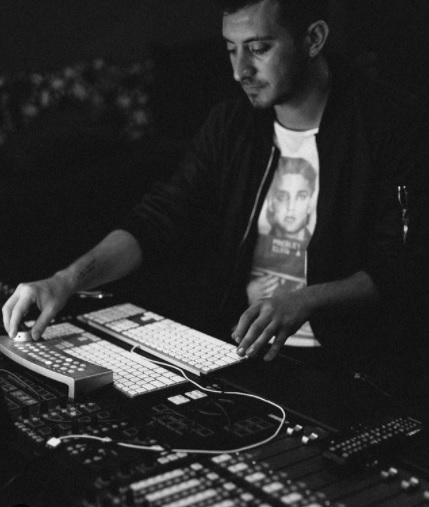 Written by: Ivana E. Morales | @Iv_Morales
In the K-pop realm, producer Mike Daley is akin to an architect who designs unique chart-topping songs around the globe. Creating an alternate reality where musical boundaries are torn down and creativity runs wild, Daley's universe is set in motion, existing in front of the whole world to see as much as it does in the minds and imagination of those who create it.
A Chicago native, Daley grew up in a multicultural household—an Irish American father and Colombian mother— that nurtured his interest in music. Daley said his dad would play rock bands such as U2, The Rolling Stones, and The Beatles contrasting with the music in Spanish that his mom enjoyed.

"Chicago is a big melting pot and it is very segregated," he said. "Everything has its own little area, which is good and bad. Once I started making beats, it was always a little bit hard to make only one type of beat and I was always experimenting with different genres each day."

After briefly attending The University of Arizona, Daley moved to L.A. where he enrolled in The Los Angeles Recording School. Shortly later, he landed an internship with Harvey Mason Jr. and Damon Thomas, the American hit-maker duo famously known as The Underdogs. By then, Daley was convinced about his path as a producer, but he had to step up his game to achieve success.

"I am not going to lie," he said. "I realized how far away I was from being a producer. Just from where I was and where they were, and it almost made me stop producing. I considered getting into the management and executive side of the music industry." Daley's ongoing efforts to improve the caliber of his beats reached a juncture when songwriter Mike Jay started writing to them. That was a turning point, Daley said, because it resulted in his first placement ever and The Underdogs decided to sign him. "My first placement, with Chris Brown, opened everything up," he said. "Without that, I would have never gone to South Korea with Harvey [Mason Jr.]."
Welcome to the K-pop industry
In 2013, Daley traveled with The Underdogs' production team to Seoul for his first songwriting camp. Daley said he found his niche during that trip and, after a successful week, he was able to get his first K-pop placement, the iconic "Mr. Mr."

Released in February 2014, "Mr. Mr." is the title track of Girls' Generation's fourth Korean extended play. The song, which Daley describes as a "super synth-heavy record, with a catchy dirty bassline and a little bit of an 80's vibe," topped on the Gaon Digital Chart and collected nine music show wins. Daley said the record originated from a high-spirited wave of inspiration at the studio.

"We started out basically knitting high energy," he said. "We did not know if it was going to be a single right away but, we knew that was a good record. After we got home, SM was sending information to Harvey [Mason Jr.] and he was telling us that they [Girls' Generation] were getting ready to shoot the music video."

The vibrant music video unravels a plotline where the nine queen-like stars act as doctors who carry out an open-heart surgery on the male protagonist. Daley said it was the conceptualization and the high-budget production that made him get a grasp of the gigantic phenomenon that K-pop encompassed.

"That was the first time I saw the fans talking about all the details and I was like 'wow, this is crazy'," he said. "The song started doing really well and it was a great introduction into the K-pop world. I was hooked after that."

In 2016, SHINee's "1 of 1" became the kickstart of Daley's venture as an independent record producer. In collaboration with Mitchell Owens, Michael Jiminez, Tay Jasper, and MZMC, Daley constructed a track that is a musical convergence of past and present. He said he cherishes that song because of the impact it's had on his career.

"It was another big turning point," Daley said. "When I found out that "1 of 1" was single, I was extremely excited. I remember loving the whole throwback vibe with cassettes and everything when it came out."
Production process and the contrasting ways of Western music and K-pop
Whether he is creating new beats alone on his laptop or working in big studios and vibing alongside songwriters, Daley always finds the perfect ambiance to interweave musical compositions. However, he mentions that because of the contradictory styles of Western music and K-pop, each production process is tackled differently.

"Western music is more minimalistic," he said. "With K-pop, there are so many genres being blended and even in one song can have a couple of different vibes." Usually, in the United States, producers sometimes receive few instructions with changes that the record needs. On the other hand, Korean pop revolves around intricacy, multiple layers, and a lot of post-production. "There is a whole different vibe just being in Korea," he said. "That alone has its own energy that is a lot of fun. I like to separate sounds that I know could work in a K-Pop song. Just to go outside of the box and try different things."

In recent years, Daley has teamed up with composer and multi-instrumentalist Mitchell Owens, a combination that has proven to be successful. Daley said that, once Owens joined him, his production game leveled up. "I'd make a cool beat or something hard and he adds some crazy musical elements to it," he said. "It's a good formula that has worked for us out there [in South Korea]."


Daley and Owens often travel to Seoul to take part in the songwriting camps organized by SM Entertainment. Even though the dynamic is similar, the level of intensity is higher than in American camps. Daley said he barely sleeps because he is always making new tracks. "I am militant when I am there," he said. "We try to do two or three songs a day and we end up with 12 to 15 records in five days."

Due to the contesting nature of the K-pop industry, SM is always looking for the highest quality. Daley said they [SM] don't pick records based on names ("it does help, but it is not everything"), and every year the competition gets fiercer. "I always try to keep delivering better records," he said. "I think now it is more stressful because I have had success and I can't deliver anything mediocre."

The L.A. based Chicago bred producer's successes include big K-pop names such as SHINee, EXO, NCT, Girls' Generation, Stray Kids, and hip-hop legend Yoon Mirae. Most recently, Baekhyun's "Candy"— composed with Owens, Adrian McKinnon, and Deez — turned out to be a massive hit both domestically and internationally.
Building the "NCT sound"
It would not be an exaggeration to say that Mike Daley's role has been fundamental in the shaping of the well-known "NCT sound." His genre-blending ability results in an amalgamation of eclectic beats that feed and expand the originality of each song he creates for the global idol group.
Daley said the concept of unlimited members was something he never heard before, but he was on board and ready to go. "I knew that they were a young group with a lot of energy," he said. "It was just crazy listening that they would have units within the units and how they were going to be evolving. I thought 'this sounds so cool, let's do it.'"
NCT U's "Boss" cemented his position as a producer with SM Entertainment and set a precedent in the NCT-Daley continuous collaborations. He recalls being pleasantly surprised because, even though he knew of that placement with NCT, he was not expecting it to be a title track. "For them to start picking my songs as singles, that opened a door for me," he said. "I've been trying to keep it open since then."
Enter "Regular," the multilingual Latin-inspired track that posed the biggest production challenge for Daley and his team so far. He said they knew beforehand it was going to be an upscale single, so they spent hours and hours trying to perfect the song. "It took a long time and I know there was a lot of writing involved," he said. "There was just the most pressure for that one because it had so many versions."

"Regular" can be listened to in Korean, English, and Chinese and the three versions combined sum up almost 100 million views on YouTube. It also marked the U.S. debut of the Seoul-based unit, NCT 127, and it was the lead single of WayV's first EP, "The Vision." Daley said the song captured NCT's distinctive concept and watching the three different videos was impressive. "I felt the impact," he said. "I was able to see how the idea of Lee Soo-man of NCT being a global group came into fruition."
Due to busy schedules, it is rare when artists take part in the SM's songwriting camps, but Daley said they occasionally visit. He remembers a particular encounter with Ten, where both shared their music taste.

"He pulled out his phone and he played songs that he liked," Daley recalls. "It was cool for me to just see the type of music they [NCT members] are listening to and I try to keep that in my mind when I am making songs for them."

Curiously enough, WayV is the unit that has most songs— "Come Back," "Regular," "Take Off," "Yeah Yeah Yeah," "Bad Alive," and "Nectar"—created by Daley.
"I don't know how that happened," he said. "I think it's maybe the style of my beats and I really like the WayV guys. We are one the same wavelength."

For Resonance Part.1, Daley contributed with "Volcano," which he describes as Boss 2.0, "Music, Dance," and "Nectar." The album, released on October 12, 2020, charted No. 6 on Billboard 200 and has sold more than 1 million copies. Daley said he's witnessed NCT's road into becoming a powerhouse and he's happy to be part of it.

"I didn't get the entire vision the whole time but, they know what they were doing," he said. "I think they are only going to get bigger."


Looking forward
Even though the Coronavirus outbreak brought daily lives to a halt, music remains unstoppable and it has become a place of comfort for K-pop fans. Daley said he's managed to adjust to the new state of the world and continues creating songs, but in the end, it's a challenge to keep focus. "It's been weird," he said. "I haven't been back, back into the studio and I've been working at home a lot. I enjoy it but it is hard to stay motivated."

2020 brought uncertainty, but there is a chance that 2021 will be a little bit brighter. Daley said he wants to work with more artists and is looking forward to next year. "I am nervous," he said. "It's been a little bit challenging trying to send these songs, but, I know I still have new music coming out in 2021."
Be sure to check out the full interview with Mike Daley on NCity's official podcast, Nfinity!