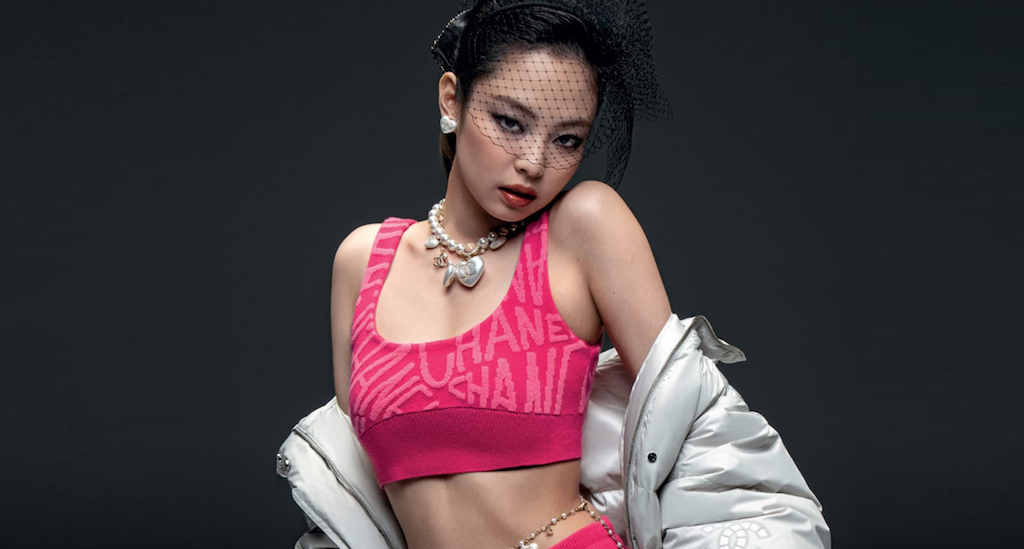 Among fashion partnerships, that of Jennie Kim and Chanel is undoubtedly one for the books. It is no surprise, then, that the superstar traveled to Paris to attend the French brand's latest collection unveil. On the last day of Paris Fashion Week, Jennie proved her status as the ultimate Chanel Princess at their Spring-Summer 2022 show.
JENNIE poses both in front of the camera lens and behind it, revealing a first glimpse of the CHANEL Spring-Summer 2022 Ready-to-Wear collection.
The film of the show will be revealed on October 5th from 3pm, Paris time.
Portraits by Inez & Vinoodh.
Camera Fujifilm#CHANEL

— CHANEL (@CHANEL) October 5, 2021
Gearing Up To The Show 
BLACKPINK's Jennie boasts an impressive list of fashion accolades. Named global ambassador of Chanel, the singer has fronted magazines, lead campaigns and of course, she's grown accustomed to the glamour of Fashion Week. As the fashion cycle returned to in-person events for this season, expectations were high about the presence of celebrities at fashion shows. Jennie was no exception. 
When the star was spotted at Incheon Airport heading out for Paris, fans and press went wild. The member of BLACKPINK was later seen in Paris, hanging out with fellow member Jisoo and friends from the fashion industry. At each appearance, Jennie flaunted her effortless and chic style. 
View this post on Instagram
Jennie, who recently became the face of Chanel's Coco Neige Campaign, also took part in promoting the brand's S/S 2022 show. Alongside other ambassadors and friends of Chanel, the idol starred in a video where she helped model Vivienne Rohner prepare for the runway. In addition, she posed for the "director's chair and behind the lens" series that also included Lily-Rose Depp, Rebecca Dayan, Alma Jodorowsky, and Quannah Chasinghorse-Potts.  
Ambassadors and friends of the House personify roles in a fantasy world of fashion, moments before Vivienne Rohner opens the Spring-Summer 2022 Ready-to-Wear show.
The film of the show will be revealed on October 5th from 3pm, Paris time.
Film directed by Inez & Vinoodh.#CHANEL pic.twitter.com/rbbKoMMYGA

— CHANEL (@CHANEL) October 5, 2021
​​Chanel's Throwback To The Old School 
After the pandemic, several fashion brands have opted for taking inspiration from the past. Chanel followed the same route by staging a show where photographers lined up on the sides of the runway. Just like it happened in the '80s and '90s, camera flashes accompanied the models as they marched through the catwalk. With ensembles that were vaguely reminiscent of the 1993 Spring Chanel show, a slim silhouette with sculpted shoulders was predominant in this collection. From bathing suits to flowy dresses, Virginie Viard played with Chanel staples to make them season-appropriate. 
Talking about the collection, Viard told Vogue "Fashion is about clothes, models, and photographers. Today, I call upon photographers. I love the way that they see Chanel. It supports and inspires me."
Jennie Understood The Assignment
Echoing the retro inspiration of the show, brand ambassador and pop icon, Jennie, stunned in a full red look. Sitting front-row—right next to Whitney Peak and the Editor-in-Chief of British Vogue—the popular singer was the embodiment of "Chanel Princess." In addition to a red crop top and a matching mini skirt, Jennie sported a glass pearl belt, a double C necklace, and a Chanel quilted bag. 
At the show's venue, the member of BLACKPINK was photographed hanging out with model Soo Joo Park and celebrities of the likes of Kristen Steward and Lily-Rose Depp. Talking to WWD Jennie said Chanel's S/S 2022 collection was the "most energetic show" she's ever been to and briefly hinted at new music when the "right moment" comes. 
We Can't Get Enough 
As it is to be expected, Jennie caused a stir at her arrival to Place Joffre in the 7th arrondissement of Paris, where Chanel held their show. Fans and photographers stationed around the venue received her warmly, but the excitement also invaded online spaces. BLINKS clearly couldn't get enough. 
LOOK AT THE CROWD 🤯

JENNIE FACE OF CHANEL#JENNIEChanelPFWpic.twitter.com/dBitvy9aY8

— NJ (@archivedNJ) October 5, 2021
IM FREAKING OUT, jennie's abs

JENNIE FACE OF CHANEL#JENNIEChanelPFW pic.twitter.com/FdKury9WJn

— * (@jnkaptured) October 5, 2021
Jennie selfies with Kristen Stewart! 🥰🤳🏻

JENNIE FACE OF CHANEL#JENNIEChanelPFWpic.twitter.com/pu05YFPuWK

— 𝐽𝐽 (@official_jensoo) October 5, 2021
Jennie from blackpink in Paris fashion week After chanel #JENNIEChanelPFW #jenniechanel pic.twitter.com/GPwVVTjxtI

— NAHMEO (@Nahmeo) October 5, 2021
Making Waves
With Fashion Week coming to an end, Jennie was the last member of BLACKPINK taking over the event. The star's invitation to the Chanel show followed Jisoo's appearance at Dior and Rose's attendance at Saint Laurent. As the girls of BLACKPINK continue to make waves in music, their influence in fashion keeps growing as well. Through their attendance at PFW, Jisoo, Rosé, and Jennie have gathered the attention of the world of fashion and sparked anticipation for their future activities. With each of them representing some of the biggest fashion houses in the world, there's no doubt there's plenty to look forward to in terms of their upcoming endeavors.
In the meantime, you can read a breakdown of the girls' style here.
Thumbnail courtesy of jennierubyjane on Instagram