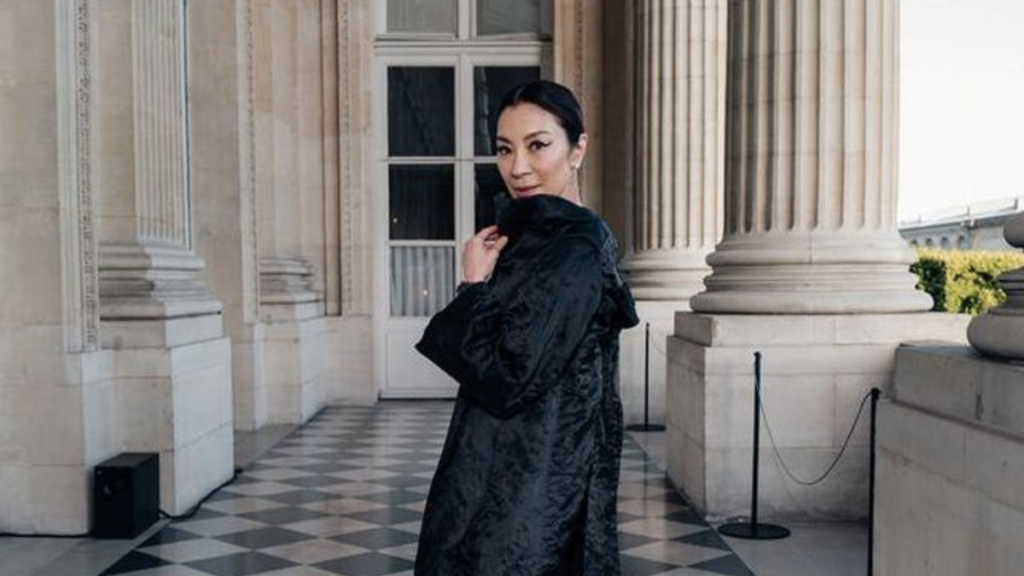 On September 11, 2022, celebrated actress Michelle Yeoh was honored with the Toronto International Film Festival (TIFF)'s Share Her Journey Groundbreaker Award. As its inaugural recipient, Yeoh received the award during the TIFF Tribute Awards at the 47th edition of the festival. To celebrate her award, ACT!ON takes a brief look at her illustrious career.
Rise to Fame
Casual moviegoers may recognize Yeoh from Shang-Chi and the Legend of the Ten Rings (2021) and Crazy Rich Asians (2018). But in the last four decades, the Malaysian-born actress has been across the big and small screens.
After a round of beauty pageant appearances and a commercial with Jackie Chan, Yeoh entered the world of martial arts films. She worked on the sets of films like The Owl vs Bumbo (1984) and Yes, Madam! (1985), where she did her own stunts. Following a brief hiatus from acting, Yeoh returned to the big screen in the 1990s. In 1997, she debuted in Hollywood as a Bond Girl, starring opposite Pierce Brosnan in Tomorrow Never Dies.
Shortly after her Bond film appearance, director Ang Lee recruited her for yet another iconic role: Yu Shu Lien in the wuxia film Crouching Tiger, Hidden Dragon (2000). This role could be considered a breakout for Yeoh, earning her a BAFTA nomination for Best Actress in a Leading Role. Critics praised her grace, and the film became the first-ever foreign language film to break $100 million at the U.S. box office.
Film continued to be Yeoh's medium of choice, and she made her first foray into production with 2002's The Touch. Her other well-known roles include Mameha in the 2005 adaptation of Memoirs of a Geisha and Zi Yuan in The Mummy: Tomb of the Dragon Emperor (2008). However, in 2015, Yeoh started delving into television with roles in Strike Back and Star Trek: Discovery.
Breaking Barriers with Everything, Everywhere, All At Once
Yeoh's most recent role is credited as one of her best performances. The directorial duo Daniels film starred Yeoh as struggling laundromat owner Evelyn Wang. In the movie, the Chinese immigrant connects with her alternate versions to prevent the destruction of the multiverse. The film became production company A24's highest-grossing film. It also offers a nuanced exploration of race, class and gender through a uniquely Asian lens.
Everything, Everywhere, All At Once is a culmination of Yeoh's strengths wrapped into one dark comedy. The actress blends her ability to embody characters with her status as a bona fide martial arts legend. More important for the actress, the film centered on an older woman. "When [people] think 'superhero' …it's always the guys who seem to be first in line for it," Yeoh said in an interview with NPR. "Why is it that we older women cannot be the superhero?"
While longtime fans were excited for Yeoh's leading role in the film, its massive success gained her attention from young moviegoers. "They can relate to me suddenly and I think that's a great achievement," Yeoh told The Independent of her newfound relevance with younger audiences. "I am very grateful that Everything Everywhere…is making a difference in their lives."
The TIFF Share Her Journey Groundbreaker Award
On September 11, 2022, Yeoh became the first-ever recipient of the TIFF Share Her Journey Groundbreaker Award. "Michelle Yeoh is the definition of groundbreaking," said TIFF CEO Cameron Bailey in a press release. "Her screen work has spanned continents, genres and decades. This year she delivered a performance in Everything Everywhere All at Once that shows her limitless abilities. We're so proud to honor her with the Share Her Journey Groundbreaker Award."
The Share Her Journey Groundbreaker Award compliments TIFF's Share Her Journey initiative. It aims to address the gender disparity in the film industry and champion female creatives. This is addressed by Yeoh in her speech. "In addition to needing to be twice as good, [we're] often half as compensated," she said.
What's Next for Michelle Yeoh?
Fans of Yeoh will have no shortage of her on-screen anytime soon. Voice acting work aside, she will soon take the stage as Scian in Netflix's The Witcher: Blood Origin. Yeoh will also play Dr. Karina Mogue in four upcoming Avatar series films. In addition, Yeoh has joined the cast of Disney+'s upcoming project, American Born Chinese. Based on the graphic novel by Gene Luen Yang, the show will follow Jin Wang (played by Ben Wang). The protagonist finds himself tangled up in a battle among Chinese mythological gods. Yeoh will be back to her martial arts roots as one of the gods, Guanyin. At its helm is Kelvin Yu of Bob's Burgers fame, and director Destin Daniel Cretto (Shang-Chi and the Legend of the Ten Rings) is set to direct.
Yeoh's dedication to her craft and her work increasing the visibility of Asian creativity in the film industry make her a perfect fit for the Groundbreaker award. Her legacy as an actress breaks barriers for all women, and women of color in particular, in both Hollywood and on the world stage–and she's not slowing down anytime soon.
Looking for more acting news? Check out our coverage of K-pop star Eric Nam's foray into acting here!