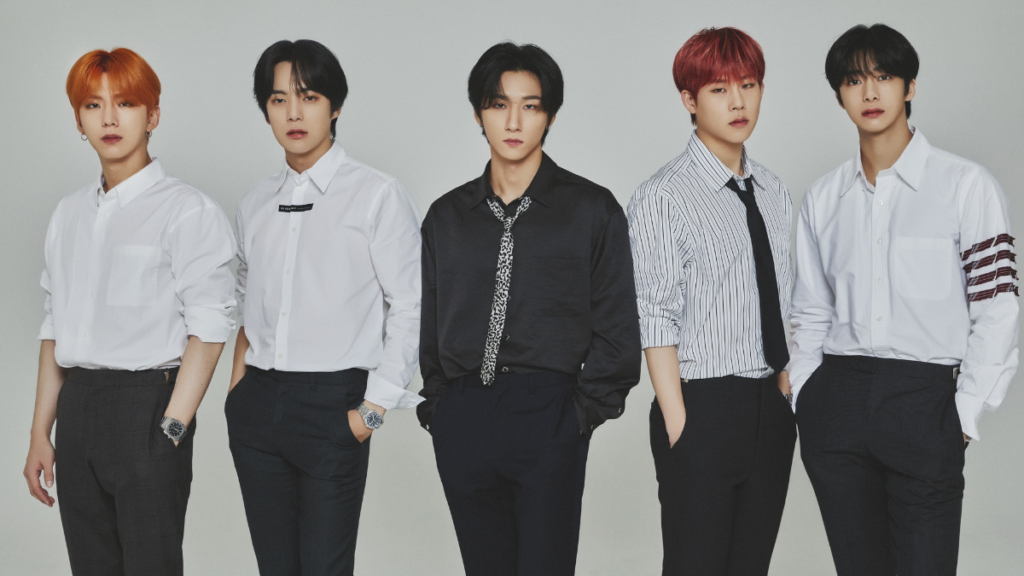 Following the release of their first all-English album All About Luv released in February 2020, Monsta X are finally back with their sophomore all-English album, The Dreaming! The album consists of 10 tracks that showcase the versatility of the group as they grace our ears with beautiful harmonies and uptempo songs that are reminiscent of the boy-bands that had our hearts swooning in the 90's!
#TheDreaming is OUT NOW everywhere!

👉🏻 https://t.co/I8ZqPmlcDY#몬스타엑스#MONSTAX #MONSTA_X#YOUPROBLEM pic.twitter.com/y9XTtZKG9C

— 몬스타엑스_MONSTA X (@OfficialMonstaX) December 10, 2021
Yearning For More
Monsta X gave us a taste of what was to come from the new English album with the pre-release single, "One Day," released on September 10.
The single became the sextext's third Top 40 single, making Monsta X only the second group in history to appear on the chart more than once!  The lyrics leave us feeling their heartache as the group sings about the memories of a past lover. "I tried to forget you, how your body felt. Your head on my chest, the summer in the hills. I wish you the best with somebody new, But they'll never love you like I do." Singing about how maybe 'One Day' the two will cross paths again, this heartfelt track with mid-tempo beats and smooth vocals leaves the listener yearning for more.
PAPER Magazine praised the "heartfelt, soaring ballad," sharing that the track is, "an auspicious introduction to the next chapter in the storied K-pop band's history."
Get Lost In a Romance
With a deep bass line and upbeat guitar rhythm, "You Problem" is a funky track that will have you instantly wanting to dance along. 
This track highlights the complexity of loving someone. Written from the perspective of someone who sees it as natural and simple, they claim their partner's overthinking of their relationship is a "You Problem." Reassuring their lover that they are theirs and only want their love. "I'm only here for your love, I don't need no plan about us," there is no need to overcomplicate a love that comes so naturally. Just as Monsta X says, it's simple, just get lost in the romance!
THIS MV IS EVERYTHING! I HAVE NO WORDS, MONSTA X NEVER DISAPPOINTS ✨

MONSTA X YOU PROBLEM MV OUT NOW!!!#THEDREAMING #YouProblem #MONSTAX @OfficialMonstaX pic.twitter.com/2ADvCNM75k

— 예하ᵔᴥᵔ💭 (@sambakjaa) December 10, 2021
The Dreaming
Debuting December 10th, the album contains a total of 10 songs. Featuring contributions from well-known songwriters such as David Stewart, Teddy Geiger and John Ryan. Writers who have worked with artists such as BTS, the Jonas Brothers, Lizzo and Harry Styles.
Following the two pre-released tracks, "Tied To Your Body" is the third track on the album. The listener is immediately enticed by the Spanish guitar in the beginning, the track gradually evolves into an edgier beat that keeps you listening. A more synth-heavy song with soft pop melodies, "Whispers in the Dark," is an easy listen. Continuing this synth-wave, "Blame Me" provides us an alt-pop twist with their angsty vocals. The next track, "Secrets" shows the versatility of the group with this smooth R&B track. "About Last Night" is a melodious track of funky bass and sharp trumpets that fully immerses listeners, giving the perfect, night-time summer road trip vibe for those who are missing the summer nights. Monsta X's vocals on "Better" leave you in a trance, the construction of this song depicts the raw desperation to get better. The track "Blow Your Mind," pulls various elements from early 2000's pop boy bands with a disco-like chorus that will leave you reminiscing. Lastly, "The Dreaming," solidifies just how talented Monsta X are. This slow ballad shows contrast compared to the other tracks with its lullaby-like feel.
After the release, Monbebe went to Twitter to share how much they love the album.
all about luv the dreaming pic.twitter.com/oY3hagv0Fy

— morgan ~ jooheons gf (@joohoneysbeeee) December 10, 2021
just finished listening to the whole the dreaming album and all i can say is… pic.twitter.com/3v7u6C2xZh

— aly 🐋 (@luvsgo5rae) December 9, 2021
Growth And Confidence
Over the years, Monsta X have significantly grown as artists and performers with each comeback. Once again, this is the case with The Dreaming, anyone can see how their confidence shines throughout the album!
The fact that the dreaming has no artists featuring really shows monsta x power and confidence. This is like saying "this is us, monsta x"

— pooh – MONSTA X NOTICED ME 😭 (@onehoed) December 9, 2021
Each track gives us a chance to witness each member's individual talents as they experiment with various genres. It is safe to say that Monsta X are one extremely talented and well-rounded group.
The Future of Monsta X
Alongside the album release, there is a documentary "Monsta X: The Dreaming" that is available for viewing worldwide on Thursday, December 9 and Saturday, December 11. Rolling Stone shared, "The film will chronicle [Monsta X's] journey over the past few years, with never-before-seen footage, new interviews with each of the members and special presentations of their biggest hits." For more information regarding the documentary and tickets: www.monstaxthedreaming.com.
If you want a chance to see Monsta X perform live, the group will be attending and performing at the iHeartRadio Jingle Ball concerts in Philadelphia, Washington D.C., Atlanta, and Miami! The group will also be headlining their North American tour in 2022, performing in 13 cities including New York, Toronto, Chicago, Detroit, Fairfax, Boston, Atlantic City, Atlanta, Sunrise, Fort Worth, Denver, Phoenix and Los Angeles!
📢
2022 MONSTA X WORLD TOUR IN US/CANADA 새로운 일정 안내#몬스타엑스#MONSTAX #MONSTA_X pic.twitter.com/dtJKZeI9gN

— 몬스타엑스_MONSTA X (@OfficialMonstaX) May 24, 2021
Want more Monsta X? Check out our coverage on their mini-album, No Limit, here!