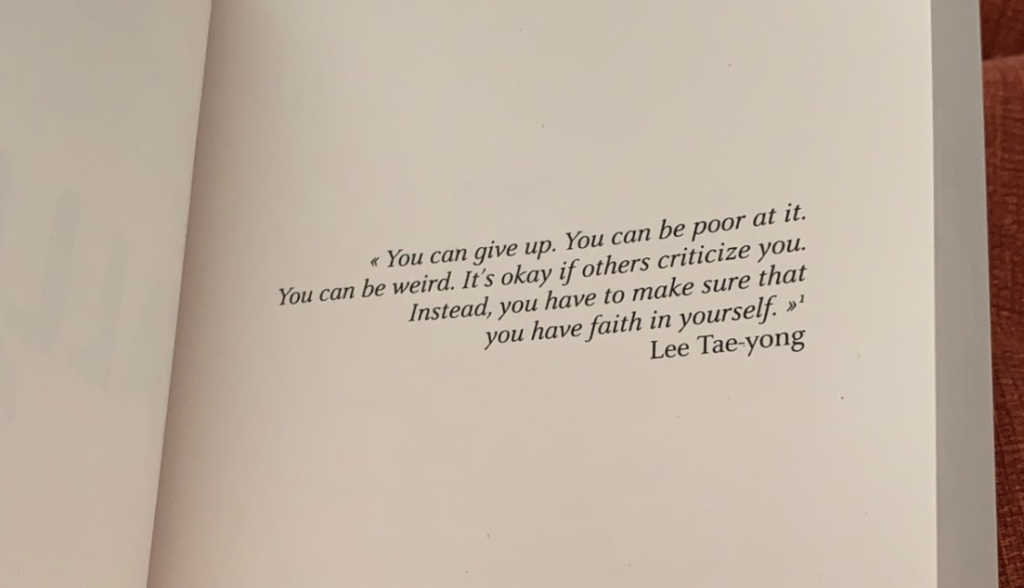 By Mafe Morales | @brekkerxuxi 
"You can give up. You can be poor at it. You can be weird. It's okay if others criticize you. Instead, you have to make sure that you have faith in yourself."  -Lee Taeyong 
I'm sure a lot of Nctzens are familiar with these words, and not so long ago Ncity was reminded of them again and the impact they hold. French author, Morgane Moncomble, quoted these words in her last published book, Falling Again. Fans were both shocked and pleased to see Taeyong was quoted in her book. So, given this special situation and in honor of Taeyong, we contacted the author and had an amazing conversation where she talked to us a little about herself, her writing, what inspires her, and obviously, our dear Taeyong. 
An Early Passion
Morgane Moncomble is a 25-year-old author from Paris. Her first romance novel Viens, on S'aime was published in September 2017 although she had been writing since she was 12 years old—adventuring with fantasy, sci-fi, and dystopias. It was at 18 when she decided to start writing romance, and shared her work on digital platforms. As her stories reached more people, her confidence built up. It was sharing her writing online where her current publishing house found her and offered the opportunity to get her first book published. 
To have the ability to put your thoughts into words and build stories that captivate others is a talent. Growing up, Morgane had a hard time learning how to read and write. At 11, she met her best friend who pushed her to give reading a try and then everything changed. "I was not a reader, but I gave it a try and something just clicked, until then I never stopped reading," she said. "When I started reading I just wanted to write my own characters, my own stories"
Writing became an escape for her and eventually it turned into a voice that could also help others in their struggles. "I feel like as an author you have a voice so you might as well use it, I'm so grateful to have a voice that can be heard, I just want to take advantage of that."
Her books take on the reality of many young adults, a version of romance that is not just the perfect daydream. "I don't enjoy books that are just about romance—I need something more. That's why I talk about these topics in my books. I just really feel the need to talk about issues that are taboo, like controversial things, that we don't talk about enough, especially in romance." 
Inspiration doesn't come easy, but for Morgane, it can be found anywhere, especially in music. "Music is very important to me, I listen to music every day, all day. I just can't get enough of it and I feel a lot when I'm listening to it."
It has become something essential for her and her writing. Her books have playlists in them for readers to listen to while going through the story. She always writes with music and comments on how sometimes a song can help express the feelings of the character better. "I want people to listen to the music that got me in the mood to write this novel. I want people to be in the same mood as I was when I was writing it. Also, when I struggle to put words on a feeling, I know that some songs can do it better than I can, so I'm just like, okay listen to this playlist, it says everything about the story and I think it's cool." 
Non mais ?!?? https://t.co/xpNwWXJt1N pic.twitter.com/xtQ6iwxvF3

— Ibtissam? (@Tissammmm) February 10, 2021
The Language Barrier
Like other writers, Morgane wishes her stories were available for more people to read, but the language barrier makes it complicated, her books are written in French and they currently have German translations, but she it's difficult getting English translations published. "It's very hard because when you are French I feel like other countries and especially the US, the UK, and others don't really care about French authors. It's pretty hard but I would really want it," she said. Since it's not her choice whether her books get translated or not, she can only hope publishing houses get interested.
Even now, her publishing house is trying to get her work translated in Asia, but the waiting can be hard. Especially since she came into the radar of Nctzens that showed interest in reading her book, Falling Again. "I would love to (have the books translated), especially since the whole thing on Twitter and Taeyong a lot of people asked me oh 'is it available in Asia?' 'is it available in English?' and I was like I'm sorry, no. I'm so sad, I wish it was."
Taeyong and Self Confidence
Morgane has been into K-pop for 2 years. A close friend introduced her to SHINee and she fell in love with Taemin, not long after she started listening to NCT. NCT U's "Baby Don't Stop" was the first song she listened to from the group. "It's so good! I didn't know that something could be this good!" she said. After that, NCT quickly became one of her favorite groups.
Falling Again is Morgane's last published book. "Every chapter has a name, and the chapter's name is a cliche that you can find in K-dramas. For example, the guy has to be rich and the woman has to be poor, the car accidents, the stepmother who is really bad and mean things like that—that you know are very predictable, but you love it and you're just addicted."
As for including Taeyong's quote, the reasons behind it are meaningful. "He is such an inspiration in my life and I think that he is so smart and the things that he says, I'm always like 'oh my God, I need to write that because it is so good and I want to read it every day,'" she said.
Morgane credits Taeyong to a lot of her self confidence too. "When he said that [quote] it just touched me. It made me very emotional because that's what I was feeling at the moment, I was really sad and cried and thought, 'oh my God he's so right, damn.' I wrote it in my journal because I wanted to really have it on my mind every day and when I was writing Falling Again, the main character Fleur, she's a lot like me. She doesn't have any self-confidence, she doesn't think she can do it, she cares a lot about what other people think and she shouldn't—and that quote is about that. I really wanted to thank him for this in my book." 
Morgane has a new book coming out this May and is preparing for another one in September. This is her first time publishing two books in one year. "Next year I also have another novel planned that I started in English actually, but I have to translate it in French for some reason, I'm excited." 
If you wanna know more about Morgane and her books you can check her website and her Goodreads as well as follow her on Instagram and Twitter.
Be sure to check out the artist Taeyong shared on Bubble here!