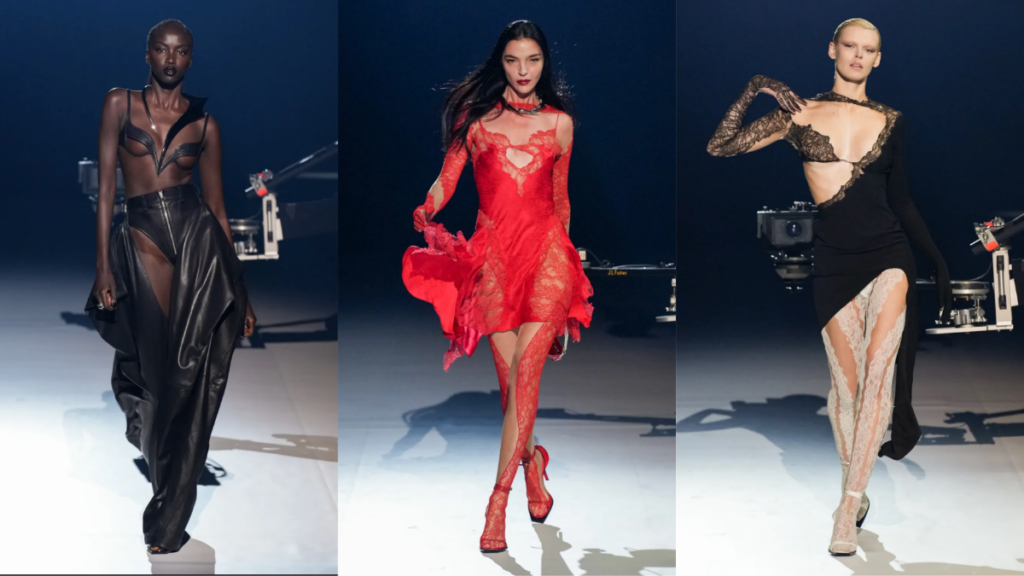 There's no denying that Mugler has become one of fashion's buzziest brands in recent years. After Casey Cadwaller took the helm of creative director, the house underwent a resurgence as a brand for a new generation of femme fatales. Over the pandemic, the brand has risen to viral fame for its fashion-forward film presentations to showcase new collections, with the likes of Megan Thee Stallion, Bella Hadid, and other women starring in them. Now after three years of absence from the physical runways, the house of Mugler is back with a show to remember.
The Catwalk Collection
The collection itself was a bang with cutouts, sheers, and paneling becoming a consistent touch throughout. Of course, it wouldn't be a Mugler collection without a sense of sensuality. Cadwaller tastefully added plunging necklines, figure-hugging illusive curves, and plenty of leather. However, the designer puts in an extra touch of gentle feminine essences by incorporating lace into some boudoir-esque looks. One notable piece was the one-piece bodysuit, sported by Arca, where lace seemed to be crawling across her skin, with sleek slabs of ruffles trailed off its bottom. The brand also pulled off some more casual pieces with denim pieces, button ups, and puffers appearing on the show.
Overall, it was a true-to-Mugler collection, with architectural silhouettes and a futurist aesthetic being the red string that connects every look. A stand out piece amongst the lineup of looks was the fiery red lace camisole that burnt bright amongst the sea of noir black pieces, with lace detailing creeping onto the model's skin, scaling up all across her arms and legs. Also worth mentioning is the head-turning look 23. The look was a paneled nude bodysuit with diamante fringes draping down its neckline and sleeves, paired with a pair of cut-out zipped-up leather pants that is sure to be a favorite amongst A-listers alike. Look 3 was also memorable, in which Cadwaller referenced Mugler's 1992 motor-corset in a much more minimal way with bike handle-like silhouettes jutting across the model's bust.
A Show of Stars
Anok Yai kicked off the show by gliding into view on a platform dragged across a camera track, striking dynamic poses before stepping onto the actual runway. Dominique Jackson, who has been a constant walker for Mugler, also stole the show in a theatrical strut down the flight of stairs. Also walking the show were familiar faces like Irina Shayk, Adut Akech, Ziwe, and Mariacarla Boscono, to name a few! Throughout the show, models were introduced to the audiences one by one with unexpected thrills. Whether it's in powerhouse walks or teasing entrances, in true Mugler spirit, the models played a great part in selling the looks as no deadbeat monotone walks were seen. In fact, the show was filled with strong sensual struts reminiscent of runways of the past.
Runways of Mugler's Past
Mugler has always been the name to look out for when it comes to fashion shows with Thierry Mugler reinventing what a runway show could be. Let's take a look back to Spring 1992. It was theatrical, rambunctious, and innovative, especially when it came to the iconic Harley Davidson bustier where the designer turned automotive hardware into a couture piece.
Of course, there was also the Fall 1995 extravaganza where Mugler released a plethora of looks exploring the feminine mystique. The runway was a momentous one as Mugler turned the catwalk into a festivity with models performing in their looks and James Brown putting on a performance.
Lastly, we have to look back at Le Chimères, which to this day is still considered one of the most important couture shows to have ever happened. Mugler designed a lineage of looks where he imagined his women to be divine supernatural deities, a caricature of all sorts of women around us. Fun fact: the closing look is one of the most expensive couture creations in history, with artists and corsetieres collaborating for two entire years to make the piece!
Constantly Innovating
Pieces from the show are already available for purchase online and in-stores, taking the term 'ready-to-wear' quite literally. Cadwaller kept Mugler's innovative spirit close to heart as the runway implemented a new 'see-now, buy-now' concept which also became an "immersive experience across all channels, and in front of a live audience." Cadwaller has also announced their first bag release, the Spiral Curve, which takes inspiration from Mugler's signature swirls. Produced from embossed calf leather, the bag is available in multiple sizes, colorways, and finishes.
The show also ended with a party-like atmosphere as guests and models turned the runway into a nightclub, embracing the wild carefree spirit that has always been present in a Mugler show. Mugler continues to redefine a physical runway into a platform for performance, showcasing their latest conceptual endeavors as wearable art.
Looking for more shows from this year's Paris Couture Week? Check out our coverage of Miss Sohee's debut in the exhibition here.