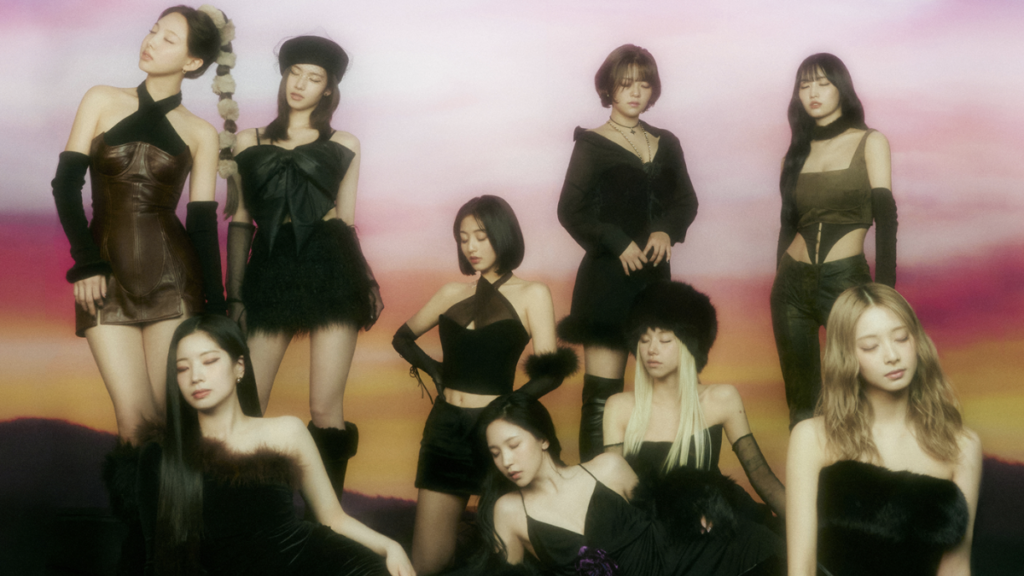 It's never a slow day for K-pop powerhouse TWICE, who started the year strong with the English single "Moonlight Sunrise." Released on January 20, "Moonlight Sunrise" acts as the pre-release for their 12th mini album "Our Youth," due in March.
"Moonlight Sunrise" is TWICE's second English release following 2021's hit "The Feels," which brought them their first entry into the Billboard Hot 100.
Heating Up
"Moonlight Sunrise" is a distinct sonic departure from "The Feels," however. Where "The Feels" was the quintessential TWICE sound: cheerful and bubbly with a retro spin, "Moonlight Sunrise" is a more sensual, sleek R&B approach.
Lyrically, "Moonlight Sunrise" is one of the more confident versions of TWICE we've been privy to: a persona that they've diligently been building as they've matured as artists. "Moonlight Sunrise" takes this growing confidence further. From lines like "It's 'I need you' o'clock right now" and Chaeyoung's bold rap "Loving undefeated / on your knees pleading / Baby, you can hit up my line when you need it," it's a much more daring and sultry TWICE than we're used to.
It's not unwarranted boldness though: TWICE are seven years into their career. Moving beyond the days of asking "What is Love?" or describing feeling hypnotized by love in "Fancy," TWICE's last few comebacks have shown them taking more agency in their feelings. Both 2022's "Talk That Talk" and 2021's "Scientist" show a more confident TWICE, demanding honesty and seriousness from their partner. It only makes sense that with their next step, they would grow even more.
The song is written by earattack, a frequent TWICE collaborator who has worked on previous songs like "Trouble," "TURN IT UP" and "HELLO;" Lee Woo Hyeon, who has credits on BamBam's "Look so fine;" and Citizen Queen members Nina Ann Nelson and Kaedi Dalley.
TWICE's large and passionate fanbase, ONCE, was particularly excited about Nelson and Dalley's involvement, praising their lyricism in the song, thanking them for their hard work, and hoping for future collaborations with TWICE.
Heating Up (The Charts, Too)
Although the Billboard Hot 100 list is not out yet, TWICE and ONCE have already accomplished so much with this song. It charted at #2 on U.S. iTunes, debuted at #1 on the global Spotify chart, and featured TWICE's largest streaming debut on Spotify USA to date, at #39.
TWICE have a busy year ahead, with the release of their 12th mini album "Our Youth" in March, followed by the debut of their Japanese subunit and plans for their fourth world tour. To keep up with TWICE, give them a follow on their Instagram, Twitter, or Spotify.
For more updates on K-pop releases, check out our coverage of Cignature's "AURORA" or NewJeans "OMG."