2022 is here, and so is NATURE. The nine-member girl group will be making their long-awaited comeback since their last release, "Girls," in June of 2020. To commemorate the event, NATURE dropped a mockumentary series on January 8. Titled NATURE Can't Go Down Like This, the show follows NATURE's effort to put together an entirely self-produced album. Fans of NATURE, LEAFs, can see the conceptualization of the album from production and choreography to stage outfits and more. Their single "RICA RICA" is set to drop on January 24.
NATURE members SOHEE, CHAEBIN, LU, UCHAE, HARU, LOHA, AURORA, and SAEBOM starred in the four-episode mock documentary. Two episodes are being released per week, each episode spanning 15 minutes. EnVi Media had the opportunity to interview the girls on their series and upcoming comeback. Here is what they had to share!
NATURE 101
NATURE debuted in 2018 with the bubbly pop song, "Allegro Cantabile," and Girls and Flowers EP. Since then, they have released various singles and extended plays, dipping their toes into various genres of music and concepts. They released the empowering pop track, "I'm So Pretty," in 2019 and dove into EDM girl crush with "OOPSIE (My Bad)" in the same year.
Their most recent single, "Girls," is no different. The song is a vocally centric song with a haunting music video inspired by the horror film, Two Sisters. It is their most streamed song to date, gaining traction for highlighting NATURE's impeccable vocals and its chilling video.
Since then, NATURE have not had an official comeback, but they have released music. In November 2021, NATURE dropped "Delivery" as part of the Delivery original soundtrack. More recently, on December 29, NATURE member SOHEE released the dreamy ballad, "Foolish."
Although they have not promoted in over a year, they are hopeful that 2022 will be a year of growth for them. They will return with "RICA RICA."
"There isn't an ending. There are a lot of fans who have waited for us for so long, and we would like to show everyone that it ain't over till it's over," SAEBOM told EnVi.
To connect with fans once more, NATURE decided to create their own album and document the process. Through NATURE Can't Go Down Like This, LEAFs are able to learn more about NATURE and the work that went into the production.
On The Short Series
The mini-series goes over the entire self-produced comeback process. Each episode gives a glimpse of different aspects of NATURE's days as they prepared. Fans will get a peek at their music video shooting, vocal training, choreography, and more. LOHA also teased that they had the opportunity to create eight versions for the album, one per member.
"I remember making the sound of a goat-like 'Moo~' for vocal training with composer Myung-Sun Yoon! It was my first time meeting him, but he gave us so much encouragement and I truly appreciated him," SAEBOM shared.
Out of everything, NATURE expressed extra enthusiasm for their unique choreography.
"I remember Aurora's cool improvised choreography when filming the music video for RICA RICA. I was amazed and couldn't help but appreciate it," LU said.
While the show focuses on the work, they also had time to play. When asked about her most memorable moment on the show, UCHAE stated that she enjoyed exploring Itaewon with her members. Similarly, SOHEE shared that one of the most memorable moments while filming was when she visited a well-known fortune teller.
"It not only motivated me to perform harder, but also gave me the great hope that we can succeed more as NATURE. That's why I remember it clearly," SOHEE said.
Taking on A New Style
Through their upcoming release, NATURE aims to display a new side of themselves in terms of choreography, concept, and song. When asked for spoilers, SOHEE told EnVi that the song is inspired by a place they wish to see. NATURE also described it as addictive and refreshing.
AURORA's lasting impression was an "infinite sign that lingers in my mind."
NATURE's spoiled that the choreography was also refreshing and new to them. Their goal was to show a new, cool style of dance. SAEBOM teased that the style has a traditional feel to it.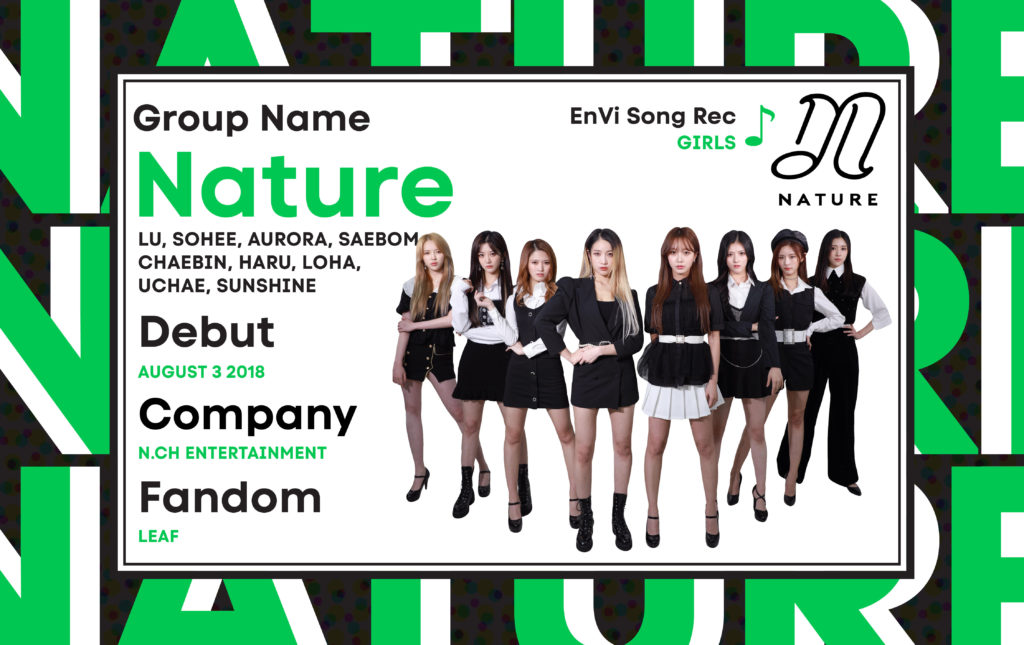 Messages for Fans
Through the show, NATURE is more than eager to share new music and memories with LEAFs. AURORA coolly asked fans not to "get too surprised with our change this time."
In addition to expressing excitement for LEAFs to see the content, NATURE were sure to convey their gratitude and appreciation for fans. Additionally, CHAEBIN was sure to wish fans good health.
In a letter for fans, SOHEE wrote:
"Dear LEAFs, I feel sorry that all I could say was thank you for waiting for us. We will become the best group to return all the love you gave us. Whatever adversities and sorrow you face, I'm always with all the LEAFs. Don't hesitate to look for me whenever you need me."
Each member of NATURE expressed thanks for the fans' patience. They are thankful fans stayed beside them through the tough times. They aim to make up for the lost time in the upcoming year.
Wishes for 2022
In addition to presenting new content to fans, NATURE shared some of their goals for the upcoming year. HARU hopes that NATURE will get their first prize in a music show. UCHAE, who recently became an adult, wishes to go on a trip with the members and drink. All members of NATURE have a strong desire to meet and perform for fans in 2022.
"We wish to make many memorable moments so that 2022 can be known as the year of NATURE and LEAF," LOHA said. "For me, the New Year means a new start. 2022 as the background of my new movie, I'll fill up the storyboard with many good episodes!"
Be sure to watch the first episode of NATURE Can't Go Down Like This here, and keep an eye out for their single set to release on January 24.
Follow NATURE on their official Twitter, Instagram, YouTube, and TikTok pages for more updates!
Want more exclusive interviews? Check out our chat with EVERGLOW here.
Photos courtesy NC.H Entertainment. Graphics by Nevi.