Almost three years since their debut, Yuehua Entertainment's EVERGLOW has painted the K-pop industry with their glimmer and unique flair—in other words, their "glow." This time, they're back with the fiery and rambunctious "Pirate," which, like its title track predecessors, shows the group's effortless cool girl charisma.
Ahead of the release of the group's third mini-album, Return of the Girl, EnVi sat down with the six members to get the lowdown on their new album, gratitude toward fans, and all the bits in between.
The Start of Their Voyage
It's early afternoon in South Korea where the six members of EVERGLOW—E:U, Sihyeon, Mia, Onda, Aisha, and Yiren—sat, giving enthusiastic waves over Zoom. Dressed in sequined tops, the girls smiled, relaxed in their seats.
"I was actually holding a knife," Onda said, making a motion in the air. "It looks really thin and kind of light, but when you hold it, it's relatively heavy, so I actually got muscle aches from it." She gave a play-by-play of the scene, gripping an imaginary object midair. This is in reference to the group's "Pirate" music video, which dropped the first of December, and shows the girls of EVERGLOW as pirate warriors.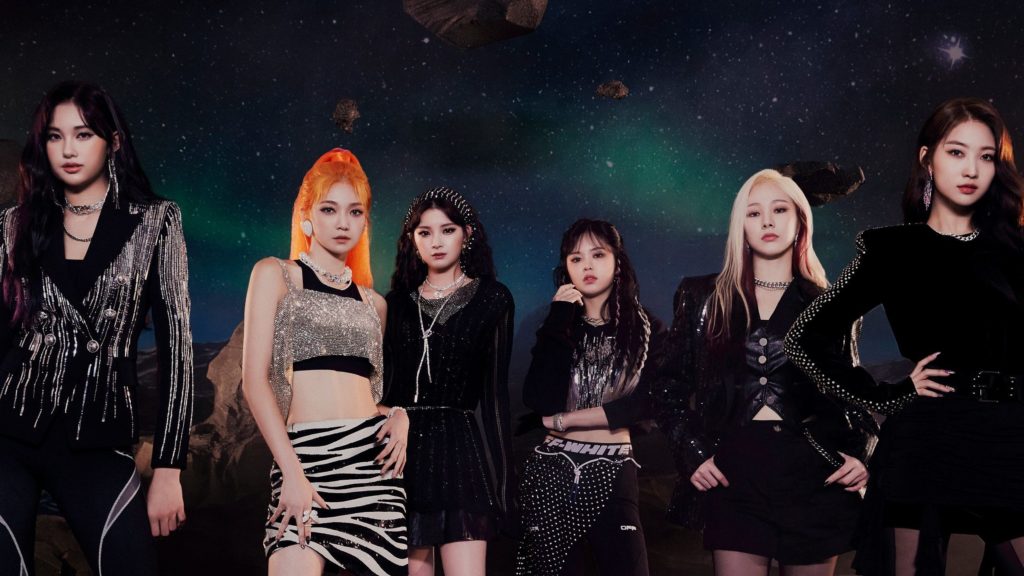 It's hard not to be awestruck by this group. Since their introduction in March of 2019, they've released a series of timeless anthems. The group's first title track, "Bon Bon Chocolat," was hugely popular, accruing 100 million views to date and debuting at #5 on Billboard World Digital Song Sales Chart. This early success did not dull their momentum in the slightest. With "Adios," "DUN DUN," "LA DI DA," and "FIRST," EVERGLOW has consistently provided their dedicated fanbase, named Forever, with hit songs.
On a Heart-Stealing Quest
"Pirate" adds to the group's already flamboyant discography with its nostalgic EDM beat and bass-pumping sound. The fun track delivers the girls' message of empowerment, bolstered by main vocalist and leader, Sihyeon's melodic pre-chorus. "Girls all over the world / Dance tonight / And we could be anything," as she takes center stage. The song continues in its promise through its powerful chorus ("All the way, all the way, all the way / The riot we made") and the ever-catchy refrain, "'Cause I'm a pirate, yeah, yeah." Sprinkled into the song is a continuum of pirate metaphors, the most iconic being E:U's perfectly delivered "Well, shiver me timbers (Aye-aye)," at the start of the second verse.
The song is theatrical, high-spirited, and fun—a triple threat matched by the out-of-this-world music video. From intergalactic pirates perched on a burnt orange terrain transitioning to the sleek interior of a spaceship, the production captures the energy of the song. The members are dressed as bikers with gleaming silver weapons and chains that promise both savage and style. Then they're in dresses. Aisha commented, "I really like the dresses." This is unsurprising; Aisha's wavy hair and corset dress is a stunner. She continued, gesturing to the other members, "They showed off each member's individuality."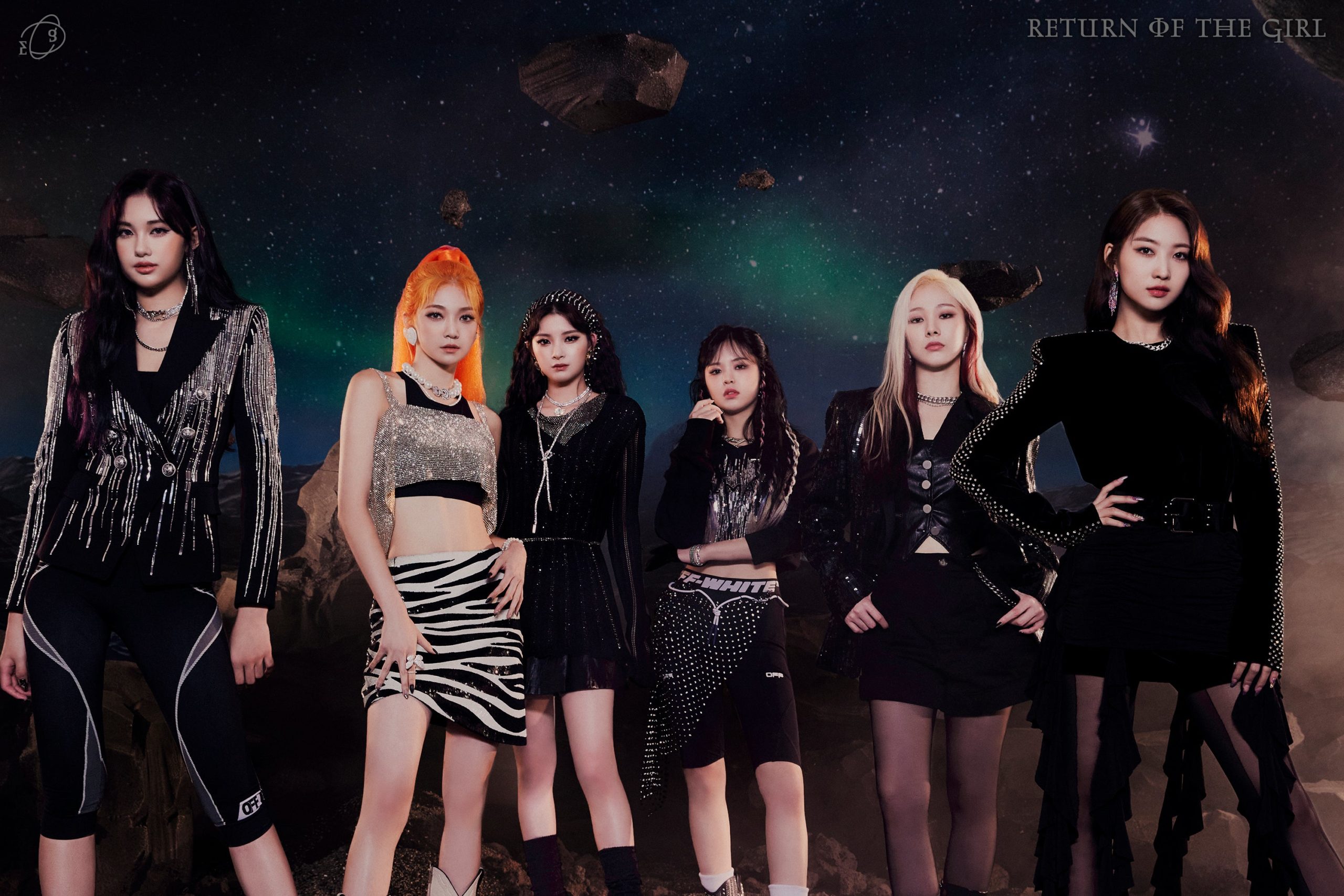 As EVERGLOW has grown in both discography and fandom over the years, their success serves as a testament to their artistry and enthusiasm.
And they do. Mia's donned in a bedazzled eye patch, Onda's got orange bubble braids, Sihyeon is wielding a flag in knee-high red boots, E:U's got a lace dress with black leather gloves, and Yiren's dressed in heaps of tulle. The punk rock styling tastefully suits the sci-fi theme, and the entire ordeal had fans speculating. Fans have hinted at "Pirate's" potential place in the EVERGLOW universe, a theory-filled lore of six girls from the future tasked with healing the world. With sly gleams in their eyes, EVERGLOW chooses to leave theories up to the fan's interpretations.
With tight dance formations and sassy feminine energy, the members revealed the origin of "Pirate's" dance. E:U told EnVi, "For 'Pirate,' there are so many different [key points,] like maybe ten." Collective nods and hums of agreement for the fresh memory ensued. "In this case, it wasn't decided until the day of the actual music video filming, so on the morning of that day, we saw the choreo that was gonna be the main key point, we practiced it together, and then we filmed."
In all its splendor, "Pirate" is only a piece of the treasure within Return of the Girl. The five-track mini-album is an explorative effort of various sounds for the girl group. "Back Together" is an emotive ballad with warm, honey-laced vocals and airy falsettos. The funky and fun "Don't Speak" is an immediate retro-pop earworm, complete with its bubbly chorus and iconic line, "Hush baby baby." Next comes the oozing confidence and femme-fatale energy one can expect from EVERGLOW in "Nighty Night." The album closes with "Company," a velvety song demanding grandeur attention only fit for EVERGLOW.
"Return of the Girl is actually our third mini-album and for this one, we're coming back as space pirates," E:U spoke thoughtfully. "With the theme of space pirates, we want to show FOREVER and everybody else how we're going to [come on a ship and] steal people's hearts." Aisha added, "I'd like to compliment all the members. There were many schedules and we were very busy with things going on preparing for this album, but no one got hurt and I'm so thankful for that. Everybody worked really hard for it."
Thankful for the Journey
As EVERGLOW has grown in both discography and fandom over the years, their success serves as a testament to their artistry and enthusiasm. Throughout the interview though, it was the group's earnestness that took center stage.
Securing their second-ever music show win with "FIRST" in June of this year, the members were seen crying in their acceptance speech. "For the win for 'FIRST,' I want to thank FOREVER because we worked so hard for so long, it felt like people were finally acknowledging and seeing our effort." Onda looked to the side. "For the whole day, I just felt thankful for everything."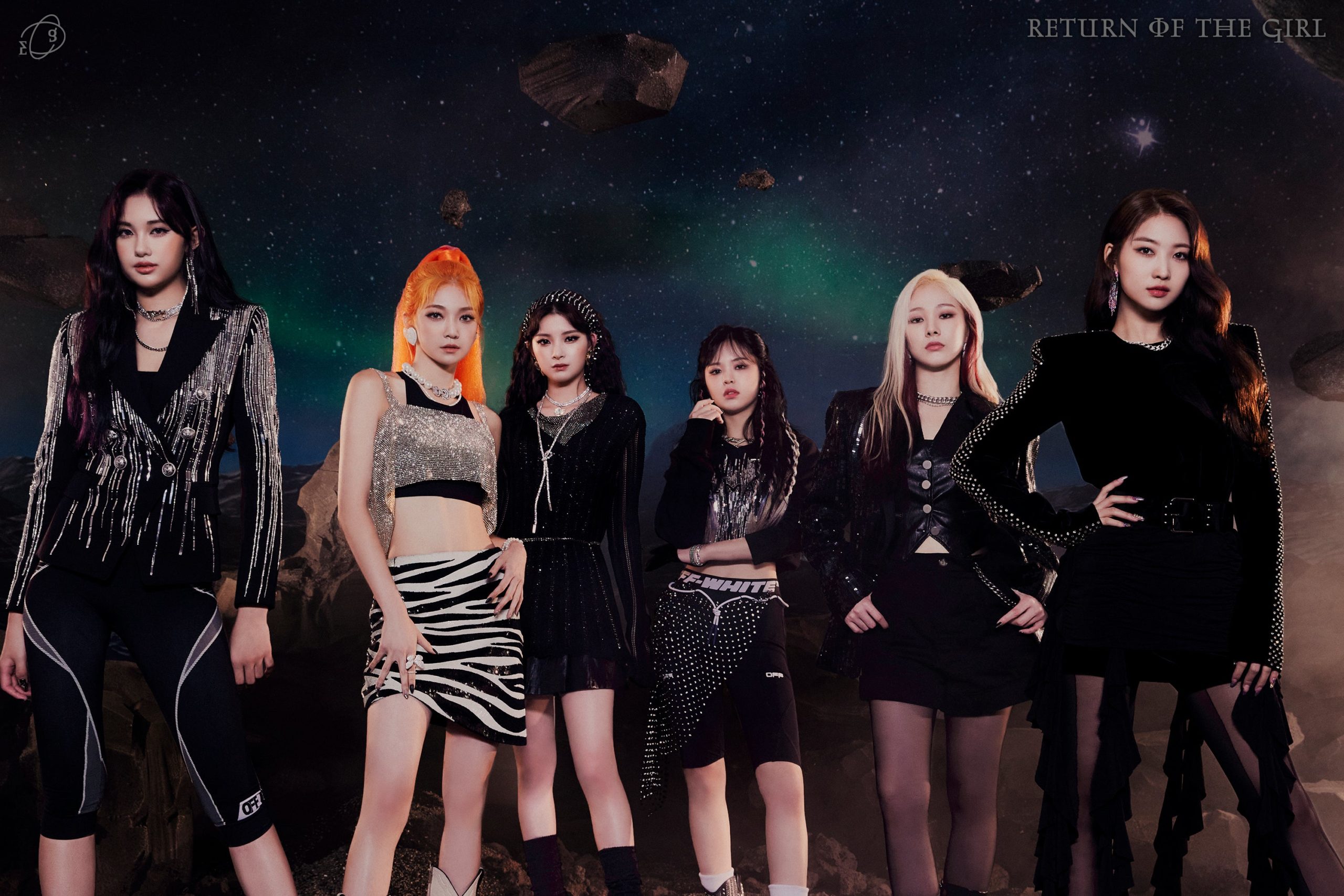 As early 20-somethings with an undeniable influence, EVERGLOW uses their unique position for good.
As early 20-somethings with an undeniable influence, EVERGLOW uses their unique position for good. It can be seen in their summer campaign with UNICEF —the Promise Campaign—where the group came together to advocate for a peaceful world for children. In the three-minute single released as part of the campaign, the members are surrounded by nature and sing the sweet melody of a peaceful world.
Although being at the frontline in this way can be intimidating, Yiren stated, "Rather than any burden or anything like that by our position of influence, we are just so thankful and honored to have this opportunity to work with a charity like UNICEF." The other members voiced affirmations of their own. "We feel we should work even harder by the fact that our small efforts could lead to bigger things and help other people. We're also impressed with K-pop's power itself in partnering with this." Hearing the positive reception their campaign received in America, the girls grew brighter, Yiren even letting out a small, shocked, "Oh my god!"
When in Rough Waters
Whether in work or play, this sentimental value of gratitude is a key point of EVERGLOW. It attests to their desire to do more and bring more to their Forever, who have likewise stayed by their side. "Something that I always hear from fans, it's the idea of 'always being with you' or 'always with you,'" E:U reflected when asked what gives her strength during tough times. She looked toward the Zoom screen. "The words themselves are easy to say, but if you think about the action behind the word, it's really hard to stay by somebody's side like that. For the fact that fans are willing to stay with me, since the action is harder, I feel moved. I want to repay those actions." Yiren piped up, "I agree."
Mia shared another viewpoint. "I like the words 'don't mind' or 'never mind such things.' Paying attention to all the bad things or small things that really bother you is really stressful." It's a good defense against the little worries of life that can build up. To this, Yiren added, "When I'm really feeling down and feel like I have no confidence in myself, it makes a difference when the person next to you acknowledges you and says, 'Hey, but you're actually really doing well.'" From this point, it became clear these mindsets are complementary—an amalgam of EVERGLOW's values again. By this time, Yiren had finished her thought. "In that moment, in that time, those words give me a lot of strength."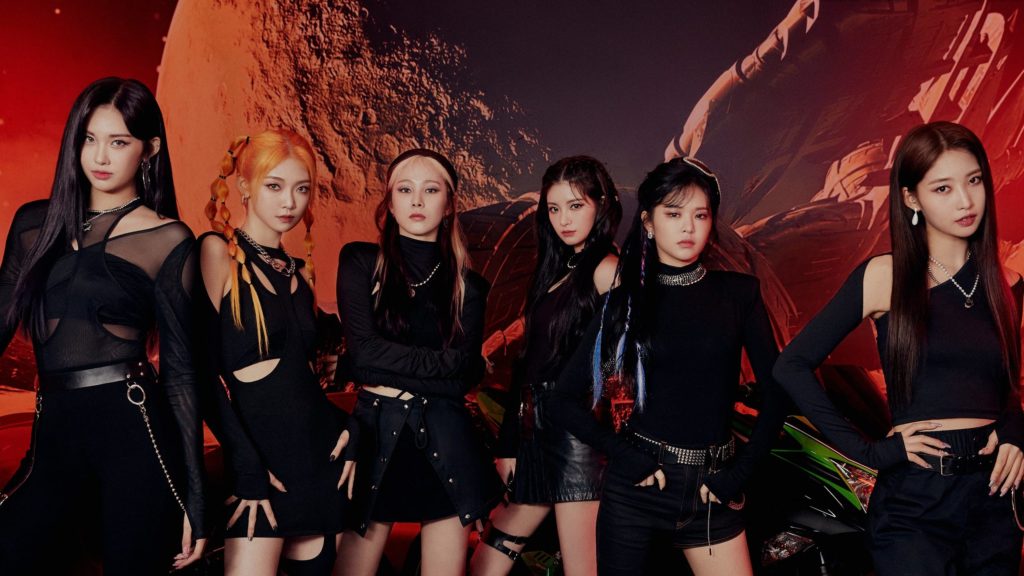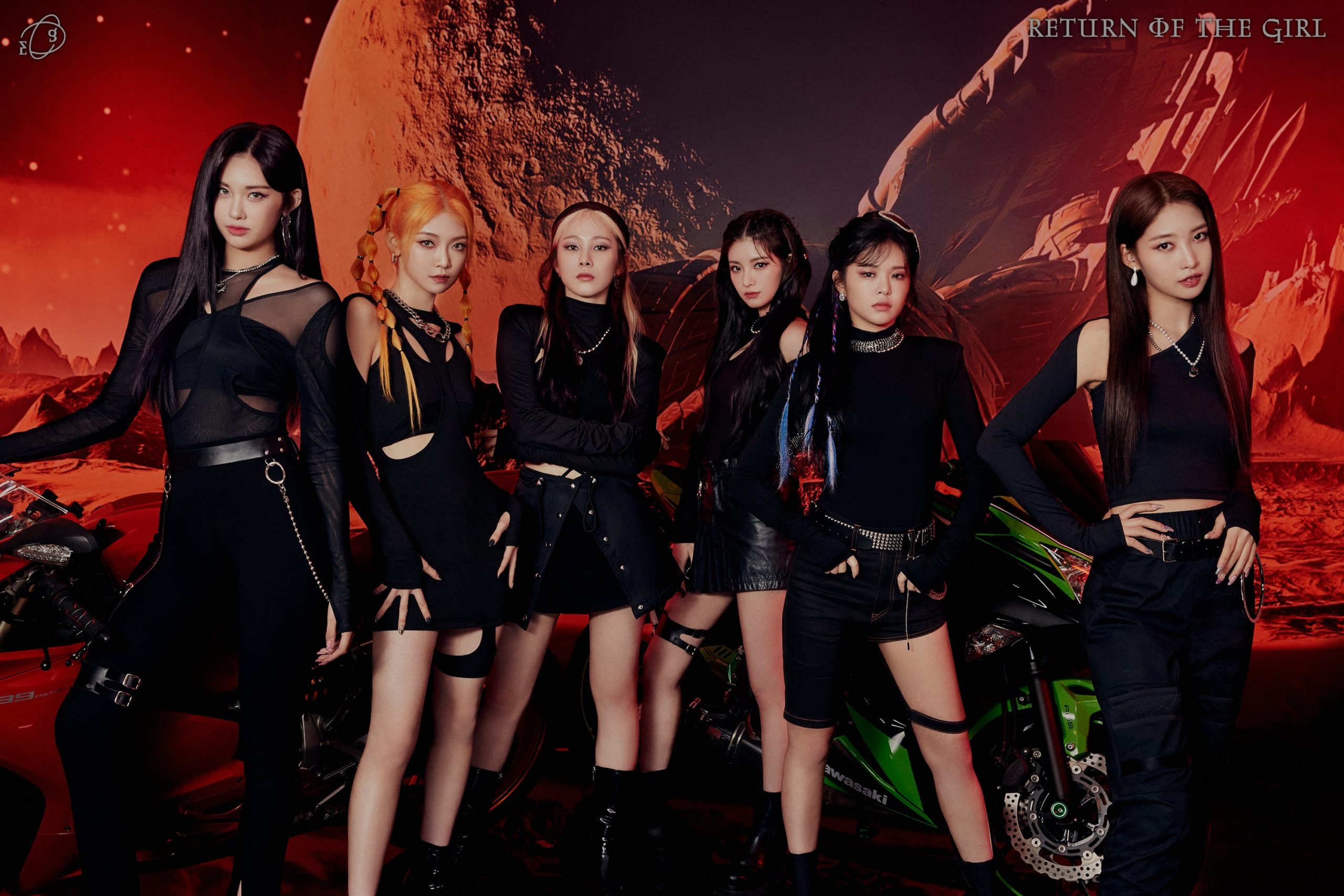 "We feel we should work even harder by the fact that our small efforts could lead to bigger things and help other people."
When EVERGLOW do find themselves with time to unwind, their dorm activities are as normal as any 20-somethings you'd expect. Asked their favorite thing to do in the dorm, quick-witted Mia responded without hesitation. "Sleep," she answered with a laugh. Aisha likes to watch movies together. Sihyeon watches YouTube. Yiren mentioned 3D puzzles. "I like just doing things together," Onda says, an answer the other members found themselves nodding to. "Whether that's watching things together, eating together, anything like that together is pretty nice for me."
For other interests, EVERGLOW are, of course, constantly listening to music. On their YouTube channel, this love is showcased in the dance and singing covers they consistently put out. From Sihyeon's vocal cover of Ariana Grande's "Almost is Never Enough" to Mia's cover of "Dancing With Your Ghost" by Sasha Sloan, the group has a wide palette of musical influences. Onda, E:U, and Yiren danced to their favorite songs as well – "Lemonade" by Danity Kane, "Keep On" by Kehlani, and Summer Walker's "Stretch You Out."
When asked for their current favorite, Mia mentioned Christmas music; to this, all the members spoke up enthusiastically in agreement.
On Board with Fans, Forever
From their inception to now, EVERGLOW has set sail with their fans, Forever. With "Pirate" and Return of the Girl, they approach a new set of waves. However, guarded with both their self-assuredness brought on by the group's unity and an admirable sense of humility, it is safe to say they tread on good land.
EVERGLOW envelop themselves in the support from fans and aim to return the love through their efforts. It's what keeps the members going as they navigate through demanding schedules and long practice hours. "Being confident in ourselves and trusting ourselves is very important, especially because others have to love us, trust us, and believe in us," Aisha comments. "For that to happen, it starts with us first."
Nearing the end, Sihyeon glances thoughtfully at the other members. "Even though we haven't been able to see our foreign fans and everyone around the world yet, there will be a time when things get better for us to meet, eat together, and hold hands." This is EVERGLOW's message in a bottle to fans. "Until things get better, don't feel down, things will get better eventually."
You can listen to EVERGLOW's third mini-album, Return of the Girl, on Spotify, Apple Music, and check out the "Pirate" music video on YouTube!
Want to get an inside look on another favorite group of yours? Check out our interview with K-pop boy group AB6IX here!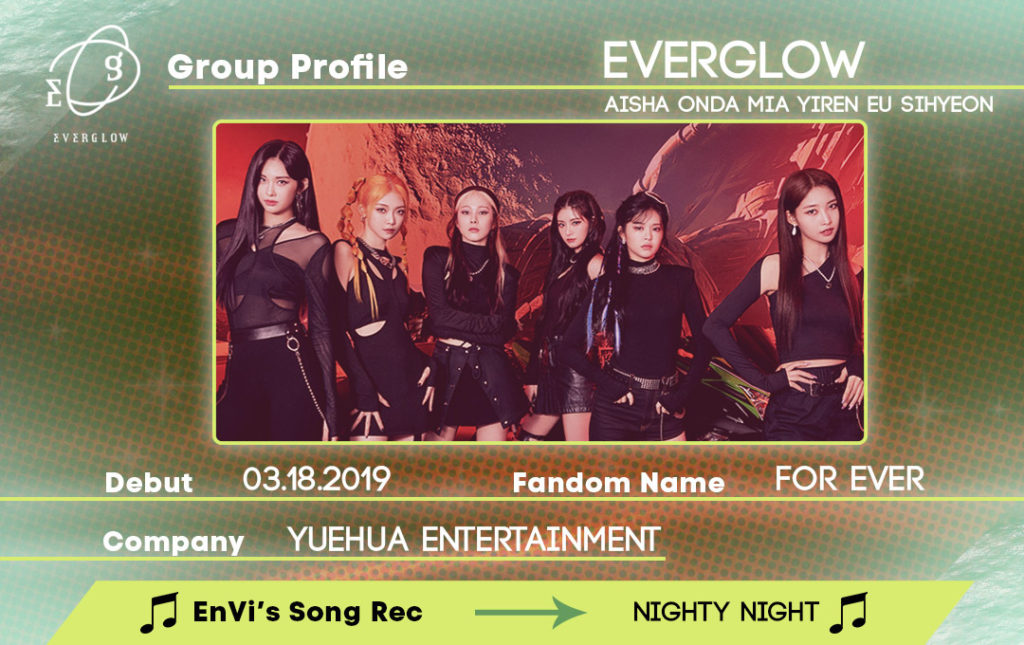 Thumbnail images courtesy of Yuehua Entertainment. Graphic by Jenessa.