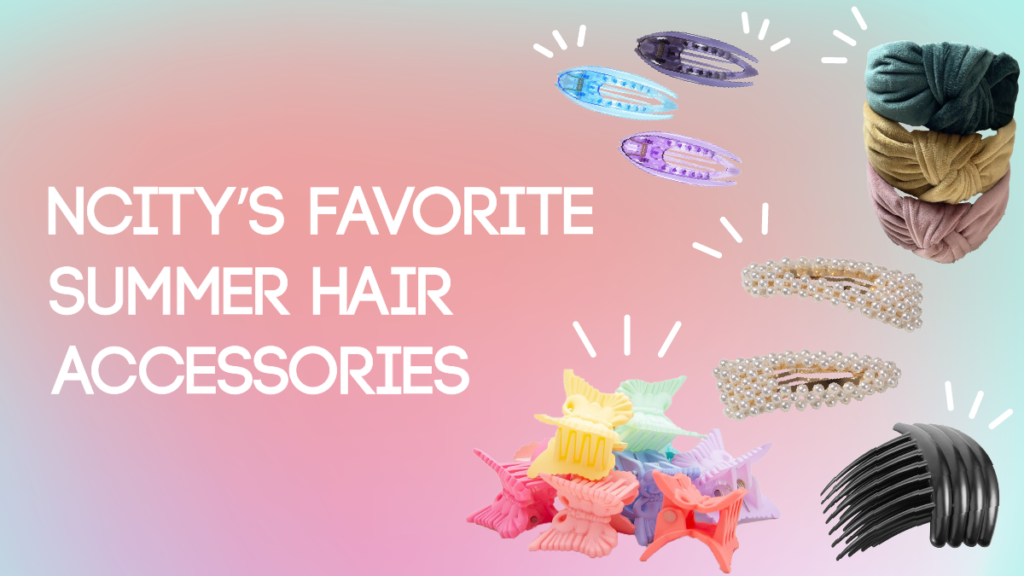 Before we say goodbye to summer, EnVi's Beauty team rounded up some of our readers' favorite hair accessories of the season! EnVi's Beauty Team compiled a list of hair goodies straight out of NCity, so you won't miss out on looking super stylish and trendy. 
Cult Classic Clips
Perfect for keeping your hair out of your face during the heat, or just to add some sparkle, clips are one of the easiest ways to spice up your do.
Handle: @ifyuno_yuno
Pronouns: She/Her
NCT bias: Jaehyun
Accessory: French Twist Clip
Why is it so great? This style of clip is great for those with a lot of hair. Our reader loves it specifically for its ability to hold her thick hair back whilst she does daily activities, like teaching yoga, and even sleeping. It is comfortable, less damaging than hair ties, and comes in various colours, so you can match it to any outfit.
How to wear: "During the day I'll put my hair up into an easy french twist and use the clip. At night, when I sleep, I'll pull all my hair up on top of my head into a bun and use the clip. I'll sometimes use the smaller size of clips to do a half-up style."
Handle: @markyeoltiny
Pronouns: She/Her
NCT bias: Mark
Accessory: Butterfly Clips
Why is it so great? If you're looking for smaller hair accessories, our reader suggests opting for butterfly clips. These small, claw-like grips are adorable, bringing a feeling of "nostalgia to any outfit." This style of the clip comes in an array of colours and finishes, as well as being extremely affordable, showcased by MAMAMOO's very own Moonbyul.
— moonbyul pics (@archivemoonbyul) December 19, 2019
How to wear it: The best part about butterfly clips is that their size allows them to be placed in virtually any hairstyle. One style suggestion is to "put two little ponytails in the front of your hair and clip them by the hair ties".
Other popular suggestions among our avid clip users were colorful bobby pins, like this set, and large, decadent clips, similar to those seen on BLACKPINK's Rose.
Headband Heaven 
Popular amongst idols, and fans alike, are headbands. Easy and comfortable to wear, this hair accessory is able to add something special to any style.
Handle: @juliacomh
Pronouns: She/Her
NCT bias: Just cannot choose!
Accessory: Headbands
Why is it so great? Headbands, sometimes known as Alicebands, are seemingly timeless. These have risen in popularity over the last few years, but did they ever really go out of style? Our reader has worn them since [they were] a kid," and highlights that "the right color of headband can give a whole new vibe to an outfit." Much like butterfly clips, headbands can be nostalgic to many, making them a classic hair accessory. 
How to wear it: Although there is no single way to wear a headband, we recommend sporting one with soft waves, as seen by BLACKPINK's Jennie. 
‼FINALLYY!! JENNIE POSTED‼
.
.
.
.
Been waiting for these photos?
She looks so beautiful !! I can't even@ygofficialblink #JENNIE #nini #JENNIEKIM #jennierubyjane #CHANEL #BLACKPINK #BLACKPINKJENNIE pic.twitter.com/ApdE3VHKWu

— nini (@BP_NINIKIM) November 30, 2019
Super Scrunchies
Coming in a multitude of colours, sizes and prints, there's a scrunchie out there for everyone. These cute oversized hair ties are much softer on hair and cause less damage than their smaller, tighter counterparts. 
Handle: @MinaSea1995
Pronouns: She/Her
NCT bias: Mark
Accessory: XXL Scrunchies
Why is it so great? We trust our reader when she says, "The scrunchie designs are a beauty". Further selling them, she explains they, "go well with all outfits and securely hold thick curly hair." The XXL scrunchies are from a small brand, which our reader loves to support!
How to wear: These XXL scrunchies can be styled as any normal scrunchie, with the recommendation of a ponytail or a low bun. For a smaller scrunchie alternative, we recommend these from Zara. Their smaller size makes it easier to style space buns, braids or for those with shorter hair, like Red Velvet's Yeri.
[OFFICIAL] 200515 #YERI Instagram update#REDVELVET @RVsmtown https://t.co/OvSn9pPjNq pic.twitter.com/wD7QsQ3Dmu

— 5REDVELVET (@5REDVELVET) May 15, 2020
There are many ways in which you can add a flourish of style to your locks, with the above just scratching the surface. Make sure to let us know if you try out any of these hair accessories by tagging us with #EnVi on socials!
If you're looking for more beauty tips and tricks, check out EnVi's roundup on products to help you beat the heat when styling your hair this summer!
Thumbnail by Andreaa.