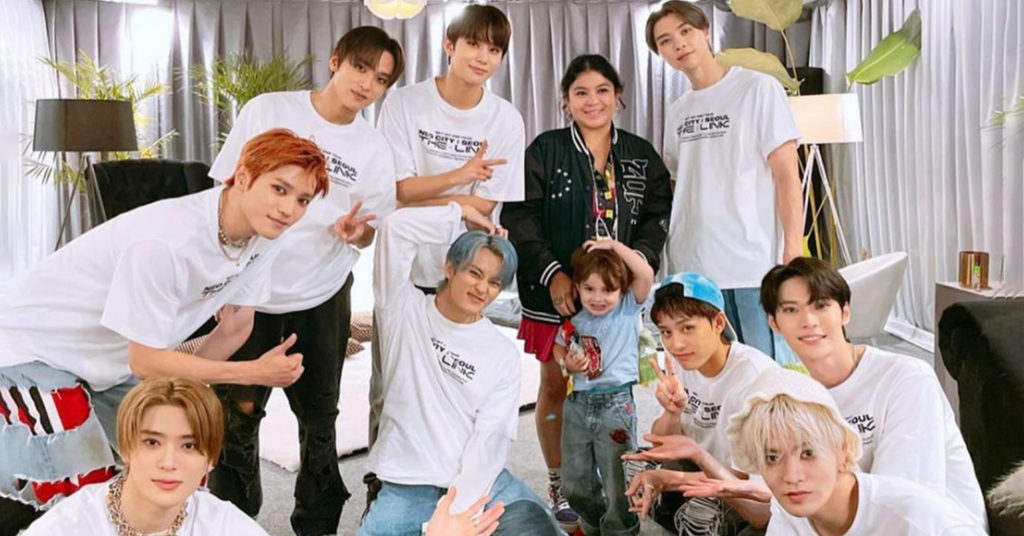 Last fall, NCTzens hearts were saved by four year-old superhero named Malachi Hardy Bullen, or Mali. NCT's Mark Lee posted a video on his instagram of Mali dancing to his group's song, "Sticker," and commenting on how he wishes to meet "Mark Lee Spider-Man." To the surprise and joy of many, Mali and his mother Devie were able to meet NCT 127 at their Indonesia stop for their world tour, The Link.
In an exclusive interview, Mali's mother, Devie Bullen, spoke with EnVi Media over email about his reaction to being shared on his favorite superheroes story. EnVi was given the pleasure to speak with her again about how meeting NCT 127 came to be.
View this post on Instagram
EnVi: To start, How has life been for the family since we last talked? The content you and your family have been making has reached a whole new level of popularity! How are you all dealing and processing it? How does Mali feel about being the superhero of NCity? 
Devie: Life has been good, thank you! We left England and are currently staying in Jakarta. It's been really fun so far meeting NCTzens. Mali doesn't really know why people know his name and why they keep saying "Hello" to him, but he seems to like it so he [always waves or says] hello back! 
EnVi: How did meeting 127 come to be? 
Devie: Meeting NCT 127 was unexpected. We were contacted by SM Indonesia and got invitations to the concert and they told me that we were gonna meet NCT 127 backstage! 
EnVi: What was Mali's reaction to meeting 127? 
Devie: Mali's reaction was kinda cute, he was so nervous at first because maybe he thought "Wow, they're real people!" He normally sees them on the screen or posters. After a few minutes, he was relaxed with the members [and it was] probably because the members were so nice and warm to him.
EnVi: What was Mali's reaction to meeting THE Mark Lee Spider-Man? How did you both feel afterwards? 
Devie: Mali told me he was going to pretend to faint when he sees Mark in real life and I didn't think he would actually do it but he did! I thought he fell but then I realized he was doing the fake faint! Afterwards, Mali was so excited to tell his papa. I was just over the moon and couldn't stop smiling.
View this post on Instagram
EnVi: We saw a snippet of Mali wanting to show something to Mark in the videos 127 posted on Instagram? What was it? 
Devie: It was a backflip that he practiced with his papa and honestly I forgot he was going to do that but he remembered and decided to show it to NCT 127.
EnVi: How was it meeting 127 for you? I know you are a big Johfam as well! How was it finally meeting him?
Devie: It was a dream come true for me. To be that close to them and talk to them was just amazing and I feel super lucky! Talking to Johnny face to face was making me so nervous but I thought I only had this one chance so I need to keep myself together. He was so sweet, friendly and super nice!
View this post on Instagram
EnVi: Any funny moments that happened during meeting them? 
Devie: I would say when Mali told Mark that his top three biases were 'Mark Lee, Mark Lee and Mark Lee' and it made them laugh and Mark [was] happy. Mali [also] told Yuta his nickname was 'Maci' and Yuta believed him even though it's a made up nickname! 
EnVi: How was the concert? What were some of you and Mali's favorite performances? 
Devie: The concert was amazing!!! My favorite was when they performed Love Song, Focus and Johnny's solo. Mali's [favorite] was Sticker and Mark's solo.
EnVi: Anything you want to say to NCTzens? 
Devie: I want to say thank you so very much to NCTzens for the support towards Mali and our family and honestly we wouldn't be here right now if it weren't for them and their constant support so thank you, NCTzens!
EnVi: Anything you want to say to NCT 127? Any plans to meet them again soon?
Devie: Thank you to NCT 127 members for taking the time to see me and Mali after the show and for being so kind to us, especially Mali. You guys have been a big inspiration to us and we hope we can meet you all again one day. I think the next [concert] would be in Bangkok but the tickets are sold out so we will probably see NCT Dream in Jakarta in March 2023! 
We are so happy to hear that Mali and Devie had such an unforgettable experience meeting NCT 127, and we can't wait to see what adventures awaits "Mark Lee Spider-Man!" 
For more Mali content, follow his mother on Instagram, YouTube, and TikTok! Be sure to check out our first interview with Devie here!