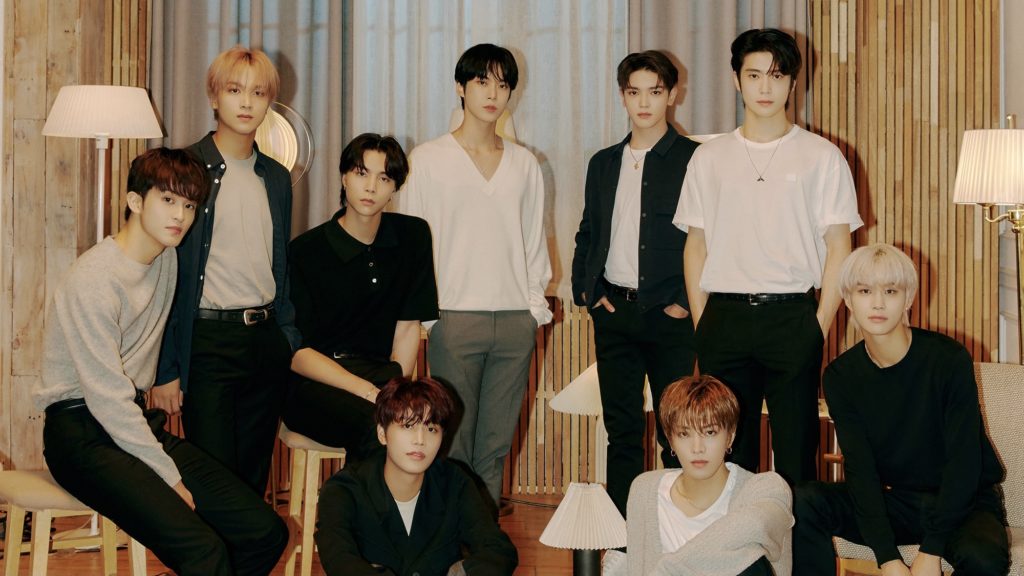 Back from their festive train ride in "Dreamer," NCT 127 have chosen a new method of transportation. On September 6, NCT 127 slowed down teasers with their latest R&B single "Magic Carpet Ride." The nine-member group invited fans to their home in their latest track music video. "Magic Carpet Ride" is one of eleven songs from their upcoming album STICKER, to be released on September 17. 
'Magic Carpet Ride' Track Video
Image Teaser #NCT127

NCT 127 The 3rd Album 'Sticker'
➫ 2021.09.17#NCT127 #MagicCarpetRide#NCT127_Sticker #Sticker pic.twitter.com/t3NKSP0hLG

— NCT 127 (@NCTsmtown_127) September 4, 2021
A Passionate Journey to the 90s
"Magic Carpet Ride" is written by Cho Yoonkyung and composed by Harvey Mason Jr., J.Que, Britt Burton, and Dewaine Whitmore. NCT 127 took fans on a trip to the 90s with this new song. 
This track is a vocal-centric R&B song about the dream-like intimacy between two lovers. The lyrics are poetic and give subtle allusions to Disney's Aladdin. The song suggests that a night with one's partner is an experience as beautiful as flying on a magic carpet ride. The passionate lyrics are accompanied by NCT 127's expressive vocals and soft raps, completing the overall romantic ambience of "Magic Carpet Ride." 
A Breathtaking Video
To suit the slow jam, NCT 127 shot their video for "Magic Carpet Ride" on a cozy home set. The overall video is minimal— all nine members sit in various locations of their house gazing off as they do mundane tasks. However, the simplicity is not unwelcome as each person is singing with passion, allowing the viewer to truly listen to the music and enjoy the performance.
With a name like "Magic Carpet Ride," it is not hard for the audience to expect something magical. Even so, this is not a short-coming. The overall calm of the video allows fans to appreciate NCT 127's natural beauty. Perhaps, it is their visuals that are mystifying, or the magic of love. Regardless, the video matches the feel of "Magic Carpet Ride."
Adoration for the Track Video
NCTzens took to social media to discuss the drop. Fans expressed their love for the song, the members, and their capabilities as artists. 
#NCT127 vocals on slow emotional songs are SO powerful. Already imagining the range of songs we're going to get on this album and so excited!#NCT127_Sticker https://t.co/Pv4Le0Aog7

— NCT in LA – NCT is 23 (@NCTinLA) September 5, 2021
the way jaehyun starts it, then yuta's voice right after that johnny's vocal flexing then jungwoo's heavenly voice and haechan's angelic voice enter 😭😭 ✨nct vocal✨ right after that taeil, haechan and doyoung hitting the notes plus taeyong's slow rap and jaehyun ended it 😭😭

— dani (@najaemscoffee) September 5, 2021
you don't understand jaehyun opened knock on and white night and then followed by yuta and now same with magic carpet ride pic.twitter.com/MdSQV6EwmW

— ina (@nayuculture) September 5, 2021
Doyoung got so emotional and gave his best into this song, no wonder he likes it! He loves it when he's able to show us his full capabilities and he succeeded 🤍 pic.twitter.com/oZVw41ZKcl

— B 🧸 (@tydybear) September 5, 2021
can't help but admire haechan's ability to convey emotion so effectively like you can clearly hear him singing his HEART off and the facial expressions and the gestures??? just wow pic.twitter.com/RyStPQhQfZ

— twin fi ☆ (@twinhck) September 5, 2021
🆕 정우 목소리 (Jungwoo's voice) trending #9 on South Korea trends now~ ☺️ pic.twitter.com/SEQlh1Ck63

— ㅈ☺️ (@jungwooallday) September 5, 2021
taeil's voice healing my depression 😌

— an (@mooniback) September 5, 2021
https://t.co/PIOqZ3NeDp pic.twitter.com/P52eHDWyxq

— Ny❦ (@Nyiamaraj) September 5, 2021
What's Next?
With just under two weeks until STICKER drops, "Magic Carpet Ride" and "Dreamer" have both lifted fans' expectations. Just as they have done in the past, NCT 127 are sure to wow fans with diverse music releases. There are two more track videos to come this week, teasing some of the other songs on the album. Be sure to stay up-to-date with their drops, and enjoy "Magic Carpet Ride" on Spotify!
For more NCT 127 news, check out our coverage of "Dreamer" here.
Thumbnail courtesy of SM Entertainment.