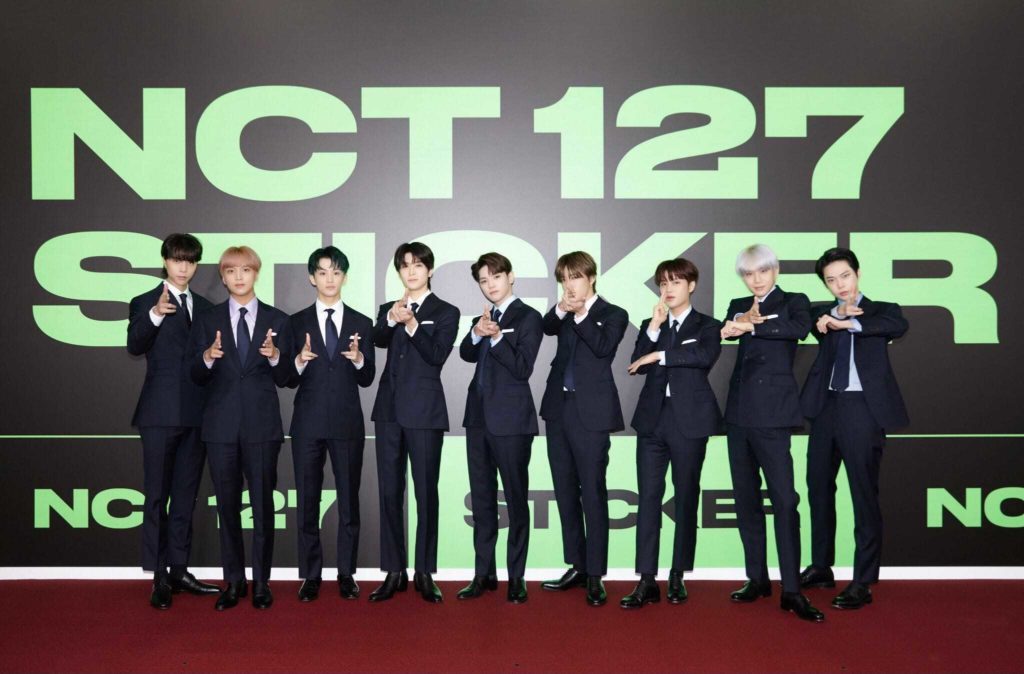 Global group NCT 127 made their long awaited comeback with their third full-length album STICKER, on September 17. The album comes a year and a half after the release of their second full-length album, Neo Zone. A few hours before the release, the nine members gathered for their press conference in Seoul. Select members of press around the world were invited to learn more about STICKER, ask a few questions, and preview the much anticipated music video.
Taeil, Taeyong, Johnny, Doyoung, Yuta, Jaehyun, Jungwoo, Mark and Haechan walked in dressed in slim fit suits. Matching their dark navy outfits with ties of the same color, the boys flaunted a polished style as they greeted the MC, Sunyoung Park.
In their introductions, the members expressed their excitement about the comeback and thanked journalists for joining remotely. Noting how long it's been since their last promotions, Jaehyun mentioned the group has spent a lot of time preparing for their return. While his bandmates echoed his words, Taeil anticipated, "We are back, better than ever."
Hits that Stick
The press conference opened up with previews of four of their B-side tracks "Lemonade," "Focus," "Bring the Noize," and "Promise You." Introducing "Lemonade," Johnny described it as a track that's more powerful than the title song, a musical embodiment of the saying "when life gives you lemons, make lemonade." The song expresses that when life gets rough one should make the most out of it. Following "Lemonade" was "Focus," a love story set in the ocean. An R&B groovy track, it expresses the feeling of "falling deeply into each other's eyes as going underwater. The deeper you fall in love, the greater your love becomes," Yuta shared.
Produced by Hitchhiker, "Bring the Noize," is the track that gives off the most "neo" vibe, as leader Taeyong expressed, hoping fans enjoy the song as much as the members do. "'Promise You' is a mid tempo pop track with lyrics that speak on the inner heart one has to meet a loved one again," Doyoung described. The song reflects the feelings of the members for their fans, NCTzens. With expressively emotional lyrics, the members await until the moment they're reunited with their fans.
🔊 NCT 127 'Sticker' is out!
Listen and download on your favorite platform 💚

👉🏻 https://t.co/ro9wdCqmXR#NCT127 #Sticker#NCT127_Sticker #오후1시_NCT127_컴백

— NCT 127 (@NCTsmtown_127) September 17, 2021
Sticking to the Neo-Vision
The third full-length album, consists of 11 songs, including the title track "Sticker." The track shows off the artist's growth since their last comeback, illustrating the neo-sound NCT 127 has perfectly cultivated for themselves.
When asked what the meaning behind title track "Sticker" is, Taeyong said that at first listen the members originally thought the song would be similar to their brighter track, "Touch." However, as soon as that flute started playing they realized the song was meant for them. "Yoo Young Jin also gave me the chance to participate in the rap making to make it a bit more NCT 127's color, so Mark and I worked on that." Working alongside Yoo Young Jin, Mark mentioned him and Taeyong discussed wanting to show off NCT 127's colors—and hope fans will like it too.
"I know a lot of people liked our title track 'Kick It' from our second full-length, so we were a bit worried whether or not we'd be able to bring something even better and show an even greater performance," added Taeyong. "But in the midst of all that, is where we found 'Sticker.' We've worked hard to show how much we've grown, and we've all come together to find a track that really shows our colors well."
"We were worried when filming because there was actually a fire! And the staff said this was going to be a good sign, so yes, we're really excited," expressed Taeyong when asked about the "Sticker" music video.
Adding a signature neo-twist to a Western-style movie, the music video opens with an Old West showdown between Taeyong and Jaehyun, dressed in black leather outfits with red and yellow flame designs. A canvas of visual and special effects, the focus is on the futuristic atmosphere and the members' synchronized dance sequence.
NCT 127 Stick With NCTzen
If there is one thing distinct to NCT 127's brand, it is the experimental nature of their music. The group constantly releases music that shows off their variety of skills as unique. In a sweet turn of events, Doyoung thanked fans, sharing that a lot of what went into the album was based on what they thought fans would enjoy. NCT 127 tried out something new to show off new colors to fans.
Although the press conference was for their new album, NCT 127 shared the spotlight with fans. When asked about what mentality the members would like to keep even after five years, Jaehyun opened up, saying, "I think without everyone around us that's been helping, and all our fans as well. It would've been difficult for us to become who we are today, and really grow into the individuals we are."
During the pre-order period for STICKER, NCT 127 sold over 2.12 million copies of their album. Taeyong's immediate response was to thank fans. "This is all possible because our fans have been constantly showing us support. We were really nervous as said in the beginning, but we're excited and we're going to work hard to continue becoming even better. So thank you!"
In his farewell, Doyoung took another second to share his feelings and dedicate the album to NCTzen. He said, "We're making a comeback after a year and a half. We hope this moment and this album becomes a gift to fans. One that makes them look back later on and realize this was one of the best from NCT 127."
Read all about the STICKER teaser HERE!
Thumbnail courtesy of SM Entertainment.