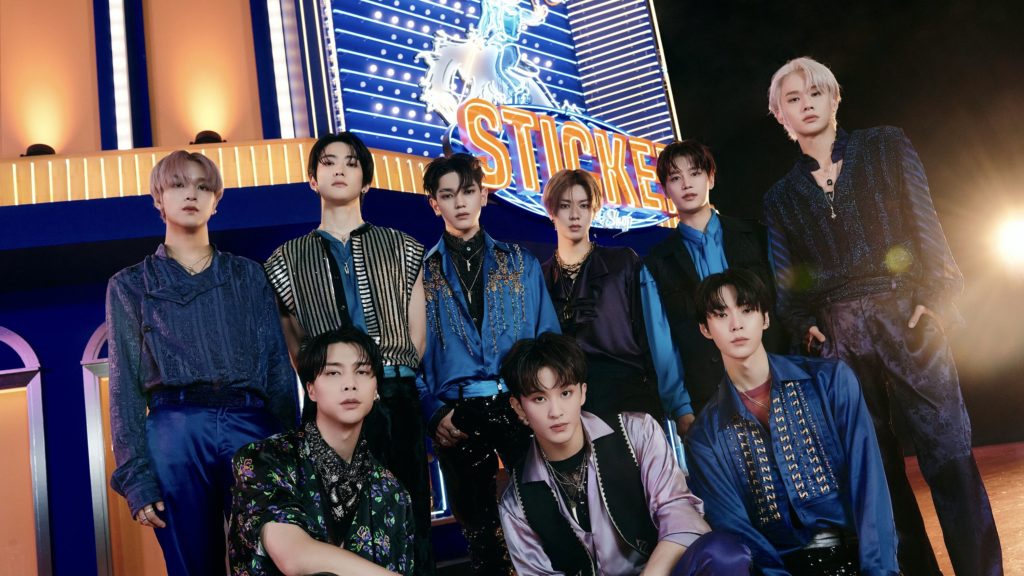 Over the last couple of weeks, the members of NCT 127 have proved their undying dedication to music. Leading up to their return, the nine members of the group have shared varied content that includes their own college-themed sitcom and previews of their new songs. Now, with their comeback date fast approaching, the group has finally unveiled a first look at the music video of "STICKER."
Neon Cowboys
On September 15, after weeks of building anticipation for their comeback, NCT 127 released a video teaser of their new material. Through varied scenes stitched together, NCT 127 offered a sight to behold and showcased a cowboy-inspired concept. The 22-second video captures the unrivaled charisma of the nine-member act, soundtracked by EDM and catchy flute sounds. 
'Sticker' MV Teaser

NCT 127 The 3rd Album 'Sticker'
➫ 2021.09.17 1PM (KST)#NCT127 #Sticker#NCT127_Sticker pic.twitter.com/gB4J1JDAq5

— NCT 127 (@NCTsmtown_127) September 15, 2021
The short clip is a reinterpretation of the Western movie genre and highlights a never-explored-before thematic in NCT 127's lore. Though the reveal of the teaser caused havoc among fans, the concept had been previously hinted at during a VLIVE broadcast. In one of the segments, the members played a relay drawing game with the task of presenting cues of their upcoming music video. The group drew what appeared to be a "cowboy," next to a green vehicle. Later, Yuta teased fans and caused his fellow members to laugh nervously by sharing that one film set had a cowboy-themed.
NCT 127's MV spoiler drawn by NCT 127 pic.twitter.com/Yie1buqEoq

— 링 (@nctdaoying) August 24, 2021
​​Igniting Fans' Excitement
As one of the most awaited comebacks of the season, attention has been centered around NCT 127's activities. Needless to say, the clip dominated the online conversation and quickly became a trending topic on Twitter. After months without promotions from the unit, fans were overjoyed with the clip.
#NCT127STICKER_MVTeaser is currently trending #1 Worldwide! 🎉#NCT127 @NCTsmtown_127 pic.twitter.com/VXc7cLtK4c

— NCT 127 Fan Union (@NCT127Union) September 15, 2021
Current worldwide trends 🌎:

NCT 127 STICKER MV TEASER@NCTsmtown_127 pic.twitter.com/SZCiXXZGYV

— NCT 127 States Station ⚛️❤️ (@NCT127_States) September 15, 2021
Despite the short duration of the video, NCTzens have already picked their favorite moments. Comprising essential elements of the Western genre like guns, ropes, and a wardrobe bestowing of a movie, the video is a feast for the eyes. From Taeil's fringed jacket to Yuta's rope tugging, the teaser has undoubtedly ignited millions of emotions among fans. 
Cowboy Yuta on a motorbike 🤠 #YUTA #유타 pic.twitter.com/ZGdyfdYMHw

— 영원히유타⁰⁷ 🦋 (@eternallyuta_) September 15, 2021
guys i can't even put in words the feelings i'm experiencing right now this is literally the most important moment of my life i couldn't die before this moment pic.twitter.com/4U6BxO4Vyz

— ؘ (@geniusinger) September 15, 2021
We finally got those neon pink hearts pic.twitter.com/S9gTyVEmd0

— 🍭 (@jujutsucas) September 15, 2021
what a sequence i love to see everyday

NCT 127 STICKER MV TEASER#NCT127STICKER_MVTeaser#NCT127_Sticker @NCTsmtown_127 pic.twitter.com/kNd3qohVSE

— ☼ia (@woowoo_woowoo) September 15, 2021
I really love this part!! No wonder why the members said the choreo is quite hard, this is looks stunning already!

NCT 127 STICKER MV TEASER#NCT127STICKER_MVTeaser@NCTsmtown_127

— fabs 🐶 (@fabszeuss) September 15, 2021
It is Mark's gunplay, however, that offers arguably the most memorable moment. Fans couldn't help but swoon as he delivered yet another iconic line in the preview of "STICKER." 
🔫 like a sticker 🔫#NCT127STICKER_MVTeaser pic.twitter.com/rwVB36nZpd

— nctmarkarchive (@nctmarkhive) September 15, 2021
mark's spoiled his sticker part 😂

vlive: "everyone, you'll notice it right away when the song got released"
ig live: "i'm sorry but i spoile the important part (of the song) i gave it all to them!!"

🎵 stickerrrrr~ pic.twitter.com/JC3n8b1eRk

— 마끄리 (@0802lees) September 15, 2021
mark lee literally went from 'we go resonante, resonate' to 'like a sticker, sticker' 😭 pic.twitter.com/rEtkoAtigI

— rica (@watermeiiilon) September 15, 2021
Coming from a fandom as creative as NCT's,  edits and fan-made videos also flooded Twitter, flaunting NCTzens' unrivaled humor.
ทรงเหมือนเจ้าหนูอะตอมจริงๆ แล้วหน้าจ๋องๆเหมือนกันด้วย555555555 pic.twitter.com/C63cb9XNMl

— ยง (@tingtangtyong) September 15, 2021
"like a sticker, sticker, sticker" pic.twitter.com/r2MAz3Et0I

— ²⁹A.NEØ👾 (@ANeoMulti) September 15, 2021
— 📀 (@miffyisland) September 15, 2021
Je vais taper mes meilleurs edits NCT 127 x Little Mix! Merci STICKER 💚✨ #NCT127STICKER_MVTEASER https://t.co/w5eAHS1J0u pic.twitter.com/KSTxn5lDjd

— HONEY DAY 🍯 (@mixermoo_v) September 15, 2021
Jungwoo on Sticker mv pic.twitter.com/GagTnmgiO4

— ☁️ (@zeusperior) September 15, 2021
What To Expect
NCT 127's forthcoming album has proved to be one of the most awaited returns in the Korean music scene. Racking up more than 1.32 million pre-orders within a day, the group broke its previous records and fixed its place as one of the leading acts in K-pop. NCT 127's third full album contains 11 tracks that highlight the group's unique performances and musical style.
The hype surrounding NCT 127's comeback is not fading anytime soon. Fans can look forward to the group's first performance of "STICKER," on The Late Late Show with James Corden. Set to be aired on September 17 at 12:37 AM EST, NCT 127 will kick off their promotions on the American show. The group will also hold a Comeback Show on SBS MTV, on September 18 (EST time).
Want more NCT 127 Sticker coverage? Click here to read about NCT 127's Lemonade track video!
Thumbnail courtesy of SM Entertainment.