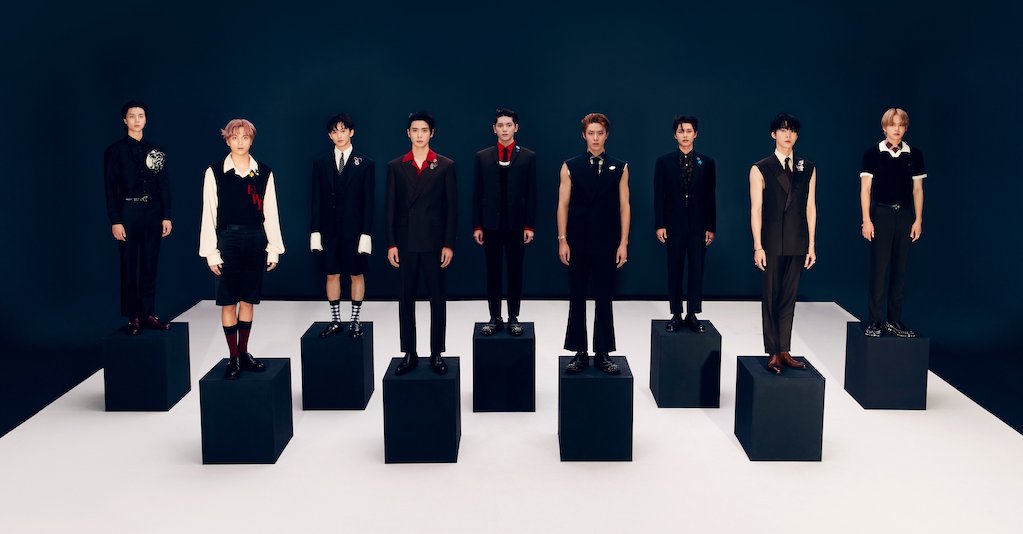 After the release of their most successful album to date, NCT 127 has shown no signs of slowing down. With a top-selling album on Billboard 200 and a coveted "all-kill" on South Korean music programs, the nine-member group is gearing up toward another comeback.  The Seoul-based unit of NCT has revealed details about their upcoming work, Favorite, including a teaser schedule and a mood sampler. Here's all we know about NCT 127's new project, so far.
CLASSIC #NCT127

〖 NCT 127 The 3rd Album Repackage
'Favorite' ➫ 2021.10.25 〗#NCT127 #Favorite#NCT127_Favorite pic.twitter.com/7jmx3l0sNQ

— NCT 127 (@NCTsmtown_127) October 11, 2021
Favorite
Following the success of Sticker, NCT 127 announced a repackage album. Set to be released on October 25, the album is titled Favorite and contains 14 songs. In addition to the 11 songs from Sticker, the repackage will include three new titles: "Favorite," "Love On The Floor," and "Pilot." Although no further details about Favorite have been revealed, the album is currently available for pre-order and it has already surpassed 800,000 orders on Ktown4u alone.
Furthermore, NCT 127 revealed a teaser schedule that opened up with the unveiling of a mood sampler (Classic version). In the 30-second video, the members of the group flash some iconic looks. Decked up in sleek suits, Taeil, Johnny, Yuta, Taeyong, Doyoung, Jaehyun, Jungwoo, Mark and Haechan, have set expectations high for Favorite.
NCTzen's Favorite
The first sneak-peek at "Favorite" has been received positively by NCT's fandom. The internet was thrown into a tailspin with fans quickly taking to Twitter to welcome the Favorite Era. The excitement has been palpable online, where fans keep gushing about NCT 127's return and making guesses about the concept of the title track. Naturally, there have been some humorous takes and beautiful artwork too.
I now know what reminded me of classic taeyong, it's open the door taeyong 🖤❤#TAEYONG #태용 #NCT태용 #NCT127_Favorite @NCTsmtown_127 pic.twitter.com/RtPIVFzYxI

— taeoxo ☆ TY ☆ #NCT127 (@taeyong1st) October 11, 2021
NCT 127 FACE CARDS NEVER DECLINES pic.twitter.com/9pyQPn9d6W

— ً (@hrjdery) October 11, 2021
—poppin' your head like kingsman chip

Kingsman trilogy | NCT 127 Favorite Classic mood sampler pic.twitter.com/4oBjNqnT7R

— 힐러 우재 (@SEASONBLUES) October 11, 2021
We got a new manifestation picture I guess pic.twitter.com/vvcSaUQCLT

— B 🧸 (@tydybear) October 11, 2021
why do I feel catharsis version and classic version is eventually gonna be pic.twitter.com/UpYF32oHqY

— yuniverse¹²⁷ DAESANG WINNERS NCT 127 (@doyutiful) October 11, 2021
favorite ✿

; #NCT127_Favorite pic.twitter.com/sowswBODRl

— ronlee⁷⁷(slow) (@nrspcpttx) October 11, 2021
There's no way they are the same person…

FAVORITE ERA IS COMING#NCT127ClassicSampler#NCT127ClassicTeaser1 #JOHNNY@NCTsmtown_127 pic.twitter.com/iaNOQUMcFT

— Lele🌻 (@Lelelichy) October 11, 2021
CLASSIC 'Favorite' ♡ #NCT127 #NCT127_Favorite #nctfanart #โมจจิfanart pic.twitter.com/ATsY8Qa81O

— โมจจิ. (@bbyedec) October 11, 2021
Favorite will be released on October 25. Though there are no available details yet, it is safe to assume that NCT 127 will continue its winning streak and set new milestones. With their popularity at an all-time high, fans can look forward to yet another exciting cycle of promotions. 
Want to read more about NCT 127? You can check out how the group achieved an "all-kill" with their Inkigayo win.