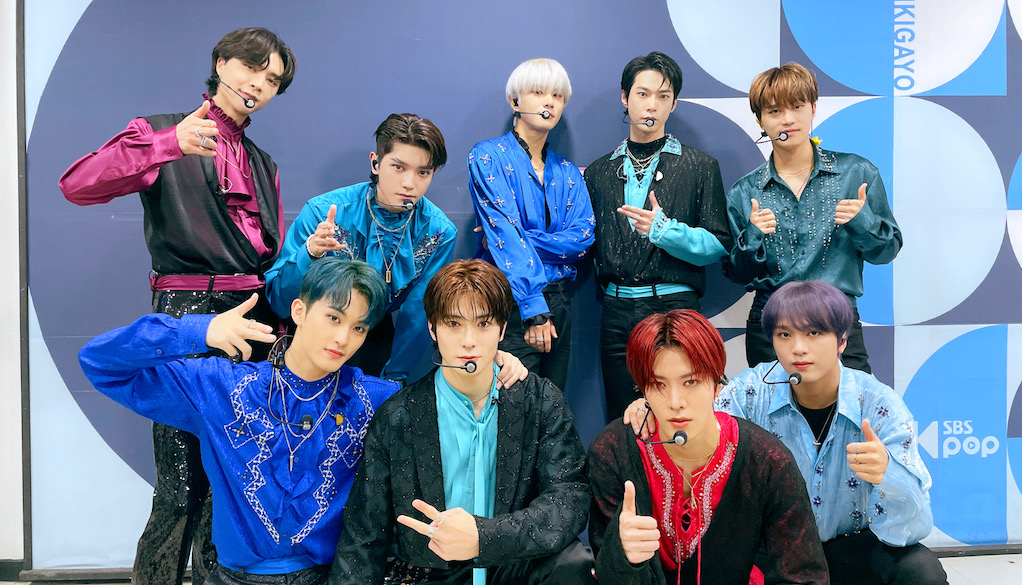 NCT 127's third full-length album has proven to be the group's most successful release to this day. Adding to the important accolades collected during the promotions of "Sticker," NCT 127 earned the first place on SBS' music show, Inkigayo. The nine-member group, thus, became the first boy group to achieve an "all-kill" on music programs, since 2017.
💚🏆💚#NCT #NCT127 #SUNGCHAN pic.twitter.com/nT8CktJk7e

— NCT (@NCTsmtown) October 3, 2021
Soaring To New Heights
After more than a year without promoting new material to the world, NCT 127 raised expectations for the release of their third album. Sticker and its homonymous title track were unveiled on September 17. Since then, NCT 127 has not stopped reaping the rewards of success. The group's double-million selling album debuted at number 3 on Billboard and reached several music charts around the world. 
Sweeping All Music Charts
In addition to album sales, "Sticker" received its first win at Korean music shows on M Countdown, during the national holidays. In barely two weeks of promotions, the group earned first place on The Show, Show Champion, Music Bank, and Show! Music Core, adding a total of eight trophies until October 2. 
With multiple broken records under their belts, the members of the NCT 127 set a new milestone on October 3 when they took home their first-ever win on Inkigayo. Through this accomplishment, NCT 127 became the first boy group, in four years, to collect a win in all music shows airing in South Korea. This "all-kill" was last achieved by a boy group in 2017 when the uber-popular Wanna One swept first place on six music shows with their debut single "Energetic."
NCT 127 wrapped up their promotions of "Sticker" with their performance on Inkigayo. Upon receiving their ninth and last win, Taeyong took to Twitter to thank fans. "Thank you so much to our Czennies who made us win 9 trophies and thank you for always giving us courage and happiness. I love you," he wrote.
9개의 트로피를 거머쥐게 해준 우리 시즈니 여러분 너무 고맙고 항상 용기와 행복을 불어넣어줘서 고마워요 시즈니가 우리에게 해준 것 처럼 저희도 더 많은 모습 더 좋은 모습 많이 보여드릴게요 !!! 사랑해요 ~#TAEYONG #Sticker9thWin#NCT127 #Sticker #NCT127_Sticker pic.twitter.com/gXEiDvcB02

— NCT 127 (@NCTsmtown_127) October 3, 2021
Fans Can't Be Happier
Following NCT 127's Inkigayo win, fans flocked to Twitter to gush about the group's massive feat. Fans left comments congratulating them and stating how proud they are.
NCT 127 broke a 4-year-old record with #Sticker9thwin ‼

127 is now the first boygroup to get Music Show All-Kill since Wanna One's 'Energetic' (2017)#NCT127_Sticker #NCT127 @NCTsmtown_127pic.twitter.com/KtxLFwofMY

— eri (@peachqin) October 3, 2021
@NCTsmtown_127 creating a new record! NCT 127 is the first boy group having an ALL-KILL in Music Shows with 'STICKER' after Wanna One's 'Energetic'. pic.twitter.com/GuEFYPzc7j

— NCT Global Team (@NctGlobalStream) October 3, 2021
NCT 127 'Sticker' :
– the first SM Music Show All-Kill since Red Velvet's 'Umpah Umpah'.
– the first boygroup Music Show All-Kill since Wanna One's 'Energetic'.
– 1ST GRAND SLAM OF 2021🥇
– THE FIRST INKIGAYO WIN SINCE DEBUT!! #Sticker9thWin 🏆 pic.twitter.com/A2iLic8SJR

— ᴸ réna FAVORITE kinda ia (@chillingnajaem) October 3, 2021
9 wins and 9 trophies for 9 men 🤍#NCT127 #Sticker pic.twitter.com/ny8vaOjJK6

— vics (@neotyongg) October 3, 2021
🥇 211003 [Inkigayo] Winner

WOW, That's 9 wins for 9 members this era when MC #Sungchan handed the first Inkigayo trophy to #NCT127 👏

Congrats to @NCTsmtown_127 & #NCTzen, your hard work has paid off as the only artist to achieve a "GRAND SLAM" this year#Sticker9thWin 👑🏆🎊 pic.twitter.com/rmYTFLHkRe

— KPOP Music Show Analysis (@KshowAnalysis) October 3, 2021
NCT 127 Music Shows win all-kill

The Show : 🏆 (Sept 28)
Show Champion : 🏆 (Sept 29)
Mcountdown : 🏆 (Sept 30)
Music Bank : 🏆 (Oct 1)
Music Core : 🏆 (Oct 2)
Inkigayo : 🏆 (Oct 3)

👏🏻👏🏻👏🏻#Sticker9thWin

— #LoveTheory (@foryouTY_) October 3, 2021
NCT 127's Greatest Results
Just like Mark had anticipated in the press conference ahead of NCT 127's return, Sticker has achieved "greater results" than the group's previous albums. Since the unveiling of their new record, NCT 127 has diligently promoted their latest song through interviews, YouTube content, and countless performances. Although the group's Inkigayo performance marked the end of the "Sticker" era, fans still can look forward to more of NCT 127 as they've confirmed a repackage album is in the works. 
Want to read more about NCT 127's success? You can read about the group's debut at Top 3 on Billboard 200 here.
Thumbnail courtesy of SM Entertainment on Twitter