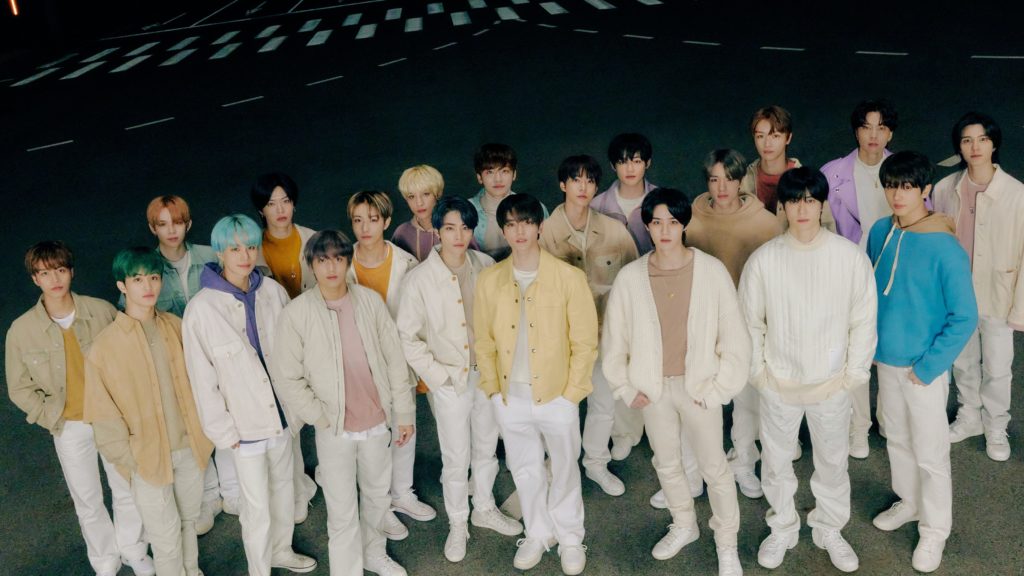 The new year wasn't fully greeted until NCT 2021 arrived at the SMCU station on January 1st, 2022. NCT performed "Universe (Let's Play Ball)" and "Beautiful" for ​​SMTOWN LIVE 2022: SMCU EXPRESS @KWANGYA.
Let's Play Ball
NCT kicked off their night with a "Universe (Let's Play Ball)" performance by Doyoung, Jungwoo, Mark, Xiaojun, Jeno, Haechan, Jaemin, Yangyang, and Shotaro. Dressed in streetwear with a red-focused palette, the rotational unit actively put in their all into the set.
Simplicity goes a long way when it comes to NCT. The set design was mostly digital, relying on the technological aspect of "Neo Culture Technology." Without props to avert the eyes, NCT U heavily emphasized the visual aspect of their performance through fluid movements.
Beautifully Greeting 2022
The members paused their performance with a brief break for quick statements. Mark led the greeting and Doyoung added how while holidays are meant to be spent with family, SMTOWN is their family. This set them up perfectly for their next song; NCT 2021 began the second portion of their setlist with the double title track "Beautiful."
Sporting pastel colors, all participating members filled the stage with the performance of the refreshing hit. After the song ended, a VCR marked the end of NCT's performance for the concert.
Shotaro is the Only One
In addition to his NCT 2021 performances, Shotaro gave fans a new year gift. He featured on BoA's "Only One" set as a dancer. Dressed in a navy blue colored matching pants and jacket and sneakers, Shotaro blended with the dreamy theme of BoA's beloved hit. The duet between the pair flowed naturally, as if it was a position meant for Shotaro.
Shotaro is one of NCT's two newest members who debuted in 2020. While he may not be permanently placed into a unit yet, he has created a brand for himself. In 2021 alone, he was featured in Vogue Korea and posted his solo dance video "Wake Up," which now has over 2 million views on NCT's Official YouTube Channel.
Ending 2021 With NCT
NCT has grown exponentially from their debut in 2016. Now fostering a total of 23 members, NCT never fails to surprise the fandom with its limitless combinations and wins. NCT 2021's album, Universe, ended the year on Billboard's Weekly Top Selling Albums chart with a top 5 position.
With a new year on the horizon, there is no doubt NCT will be back with more treats for fans in 2022. 
Looking for more content on NCT? Check out how NCT has ascended in the fashion realm!
Thumbnail courtesy of SM Entertainment.