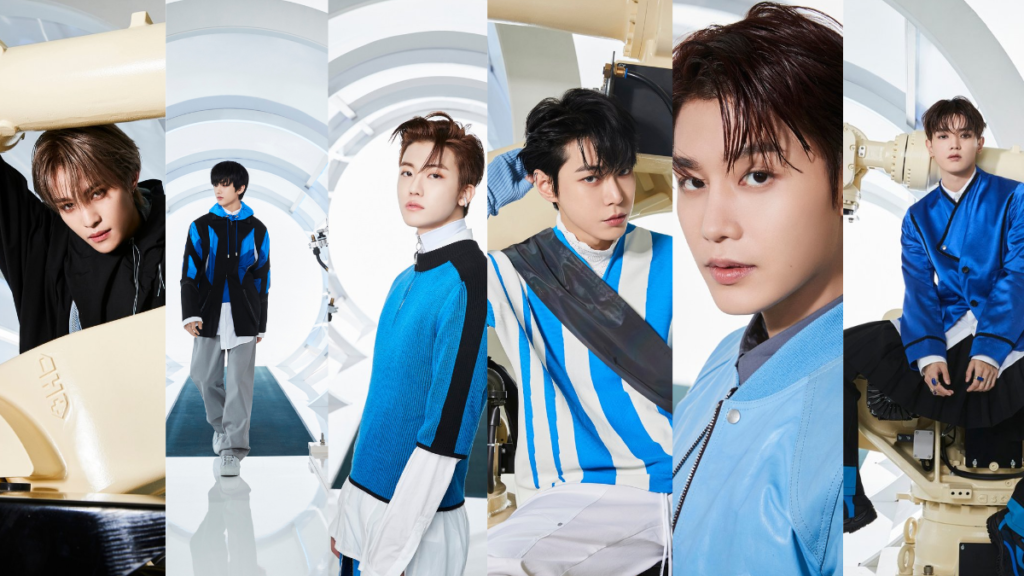 November marks the start of a new era for NCT. On November 13 at 12 AM KST, NCT dropped the first concept teasers for their third full-length, full-group project album, dubbed "NCT 2021." NCT subsequently dropped their first set of member teasers for their upcoming album, Universe, on November 17.
The Neos in White
On November 17, fans went into a frenzy after NCT dropped the first six member teasers, including YangYang, Taeyong, Doyoung, Taeil, Jaemin, and Jisung before an all-white background. Each member sported their outfit from the escalator teaser, a unique combination of blue, white, and black.
Like NCT 2020's elevator images, NCT's Universe teasers have the members in the middle of two metal rings resembling an axis. However, each set of rings are at a different angle for each member.
The second images are of the members between two cream-colored machine arms before a cylindrical tunnel.
Fitting the "axis" rings, members Jisung, Taeyong, and YangYang have "NEW AXIS" written across their faces with a blinding light.
The NCT Concept Teasers
The member teasers matched the previous teasers that showed the participating members on one giant zigzagging escalator on November 16.
The image is still yet dynamic, capturing the essence of the "moving walkway" from the concept teaser dropped the previous day. The video resembles the conveyor belts you would find at the airport but with a twist to make it shaped like a triangle. This unique contraption is called a "penrose triangle," which has no clear start or end.
The theme of movement in the new teasers was hinted at in the first teaser released earlier this week. The image showed a conveyor belt with many gears, aligning with NCT's theme of time and technology.
What's Next?
With more teasers on the way, NCT is sure to drop more hints about what is to come in NCT's "Universe." Pre-orders for the album begin on November 22. Be sure to follow NCT's official Twitter account to stay up-to-date on their teasers!
Want more on NCT 2021? Check out our article on the NCT 2021 announcement here.
Thumbnail images courtesy of SM Entertainment.