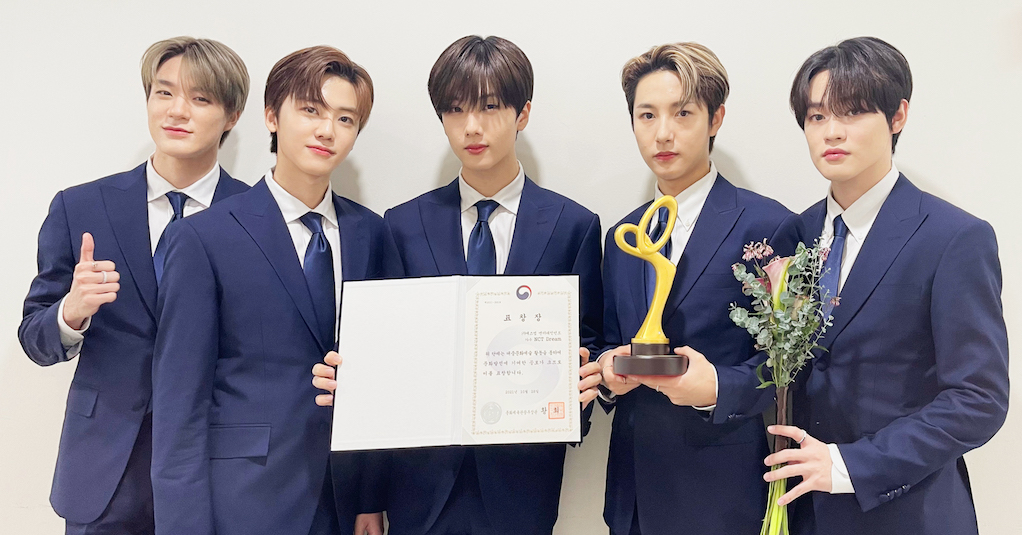 Following an exponential rise of popularity, a successful comeback, and multiple broken records, NCT Dream has become one of the most talked-about groups of 2021. After racking up several career milestones this year, the seven-member act has added another feat to their list. Recognized for their contribution to pop culture, the group was awarded by the South Korean government at the Korean Popular Culture and Arts Awards.
🏆2021 대한민국 대중문화예술상 문화체육관광부장관 표창🏆#대중문화예술상 #NCT #NCTDREAM pic.twitter.com/6H4cUjQano

— NCT DREAM (@NCTsmtown_DREAM) October 28, 2021
Honoring Cultural Contribution
The Korean Popular Culture and Arts Awards is an annual ceremony founded in 2010. Hosted and organized by the Ministry of Culture, Sports and Tourism and the Korea Creative Content Agency (KOCCA), it honors remarkable people in culture and arts. The prestigious state-run award is granted in four different categories: Order of Cultural Merit, Presidential Commendation, Prime Minister's Commendation, and the Minister of Culture, Sports and Tourism Commendation. The winners are selected after evaluating their contribution and accomplishments in their fields, as well as their popularity among the public. 
2021 Winners
This year, a star-studded list of award recipients was honored at the Korean Popular Culture and Arts Awards. Notably, veteran actress and Oscar winner, Youn Yuh-jung, was given the highest-ever order of Cultural Merit. With a new order created last year, the Minari actress became the first star to receive the "Geumgwan" (Golden Crown) Award. In addition, folk singer Lee Jang-hee, late film producer Lee Chun-yeon, actor Park In-Hwan and screenwriter Noh Hee-kyung received the Cultural Merit Award in the second and third class. 
Youn Yuh-jung was awarded with the Golden Crown Order of Cultural Merit, a medal which is the highest honor, given by the Ministry of Culture, Sports and Tourism at the the 2021 Republic of Korea Popular Culture and Arts Awards!#윤여정 #YounYuhJung pic.twitter.com/mWShWvagqQ

— ً (@hndmaidenonfire) October 28, 2021
Meanwhile, the singers Kim Yon-ja and Lee Juck, actors Jung Woo-sung and Kim Yeong-cheol screenwriter Park Jae-Bum (Vicenzo), producer Kim Tae-ho, and voice actress Choi Soo-min received the Presidential Commendation. 
Awarded the Prime Minister's Commendations were the actresses Han Yeri (Minari), Lee Jeong-eun, music director Kim Moon-jeong, musicians Woong San and Jeong Won-yeong, voice actress Ahn Gyeong-jin and choreographer Kim Seol-jin.
Finally, the Minister of Culture, Sports and Tourism Commendation awardees were actors Lee Jae-hoon and Oh Jung-se, musicians Seo Young-do and Koh Sang-ji, groups NCT Dream and Oh My Girl, model Choi Sora, comedian Ahn Young-mi and voice actress Choi Duk-hee.
NCT Dream On The Global Stage
At the award ceremony that took place on October 28, the Ministry of Culture, Sports and Tourism acknowledged NCT Dream's "great contribution to the development of culture through pop culture." The NCT subunit was introduced as a "representative group" of K-pop, receiving worldwide attention and taking Hallyu to the "global stage." 
In a short, but sweet acceptance speech, Jaemin expressed how grateful the group was for the recognition and took time to thank fans for their support. "We'd also like to thank our Czennies who played the most important role, for allowing us to receive this award," he said. NCT Dream later performed their hit song, "Hot Sauce". Other performers included Oh My Girl and the musician Woong San. 
#JAEMIN's speech for nct dream's commendation from South Korea's Ministry of Culture, Sports, and Tourism at the KPCAA pic.twitter.com/XFFzxPUFEj

— jaemin pics (@najaeminpics) October 28, 2021
To The World
NCT and its subunits have found a new level of success over the last couple of years. Reaping the rewards of their hard efforts, NCT Dream continues to captivate people around the globe. With a growing fandom and unprecedented popularity, the group is set to continue spreading Korean music around the world. 
Want to recall some of NCT Dream's best moments? Check out EnVi's Top Dream Moments here. 
Thumbnail courtesy of NCT Dream on Twitter