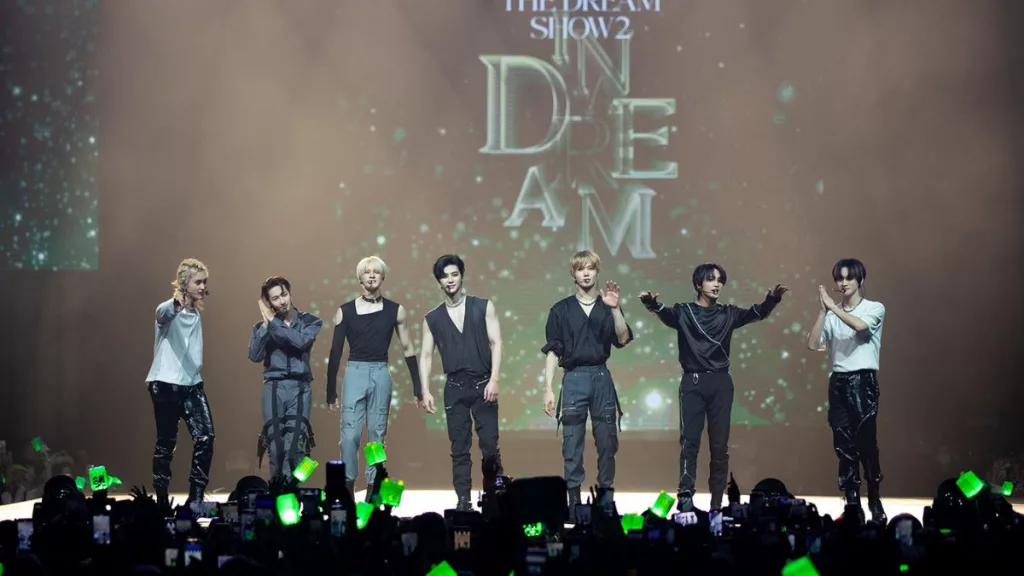 K-pop group NCT DREAM started their European leg of The Dream Show 2: In A Dream tour on March 28th, 2023 with their first stop at the OVO Arena Wembley London. Selling out the 12,500-capacity venue, 7Dream as they're affectionately called—united for their first concert together in London, and members MARK, RENJUN, JENO, HAECHAN, JAEMIN, CHENLE, and JISUNG were shown the contagious energy of UK NCTzens.
In Your Dreams
The show began with a countdown as the growing excitement was palpable in the air. Soon after, the intro video played of the members waking JENO to discuss "The Dream" and showcased each member featured in videos representing nostalgic past music videos. The concert presented on-brand staging with neo-green lighting in every direction and a large stage with vibrant colors and effects. 
One by one, members appeared on stage from the shadows to deafening screams and cheers. Hilariously, the youngest member, JISUNG, accidentally walked out at the wrong time but managed to sneak back off for his proper entrance. 
The sound of the electrifying 2022 single "Glitch Mode" from the album of the same name started the show, with the members continuing without a pause through fan favorites "Countdown (3, 2, 1)" and "Stronger." These high-energy performance blocks were frequent for the duration of the show, but despite the breathless performances, the group took it in stride and kept smiling throughout.
Certain tracks were creatively remixed and mashed together to allow the group to perform as many songs from their expansive discography as possible. Though it was their first performance in London, NCT DREAM brought a fiery energy that matched the fans who waited years to see them in concert and provided a night full of nostalgia and high spirits.
In typical NCT fashion, the audience was greeted with playful performances. The members made sure to have fun anytime they were onstage, like when MARK spun RENJUN around in "Trigger The Fever" or when started RENJUN and HAECHAN play-fighting during "Candy." JAEMIN flirted with the crowd by throwing a wink and shushed finger to fans' excitement for "Dreaming." MARK, as always, provided amusement as well when he attempted a British accent and even shared that he learned a new word whilst in London: "Blimey!"
Before the encore, MARK entered the stage solo after a short intermission, beatboxing. A slight switch up from their previous shows, the OVO Wembley Arena was chosen as the first venue to see the new English version of the group's 2022 hit single, "Beatbox." Described as a special treat to honor the tour's European and North American legs, London fans had already memorized lyrics to the week-old track just for the concert. 
Teamwork Makes the Dream Work
One of the night's many standouts was the fans for their enthusiasm and passion. UK NCTzens waited patiently in line for hours, handing out fan banners, and were dressed head to toe in the official NCT color — Pearl Neo Champagne. A wave of NCTzens gathered outside the arena with bright green braids, berets, hand-painted jeans, and their neobong lightstick. Select NCTzens dressed like NCT DREAM's previous music videos: some fans even stunned in full "Hello Future" costumes while others wore members' jerseys from NCT U's "90's Love."
In anticipation of the show ahead, fans sang along to NCT DREAM songs while seated in the arena waiting for the group to come on stage. At multiple points, NCTzens demonstrated their love for the group by being louder than NCT DREAM in some of their songs like "We Go Up," "Quiet Down," and "Hot Sauce" singing every word in mixed Korean and English.
Notably, fans would also stomp their feet in support of the group during their speeches, to the members' surprise, which had to be shushed as it reached a fever pitch. NCT Dream seemed to be so impressed with UK NCTzens selling out the concert and providing a great environment that they promised to come back to do two nights next time.
Friend and fan alike, HRVY, also attended the show to celebrate NCT DREAM. The group reunited with their former collaborator backstage to catch up and take photos. Additionally, the group shouted him out in the audience while they sang an impromptu acapella version of "Don't Need Your Love," the song NCT DREAM and HRVY released in 2019. Although UK fans anticipated a full on stage performance, the interaction was enough to satisfy their expectations.
Dream On
NCT DREAM showcased their growth and versatility during the concert, switching between hard-hitting performances and emotional ballads. The four-song series fans saw play out over several albums came to life. "My First and Last," "Bye My First…," "Love Again," and "To My First" tell the story of a roller-coaster first love with a bittersweet ending.
Distinct performances of fan-favorite "Dive Into You" wowed with its whimsical under-the-sea staging and choreography. While more recent releases like "Better Than Gold" and "Saturday Drip," a favorite of the group's to perform, demonstrated NCT DREAM's showmanship.

As the concert came to a close, the members gave their sincere thanks to the crowd, who could not stop frantically waving their lightsticks in excitement. Soon after, plushies and other mementos were thrown onto the stage as the group played with the fans they had waited so long to see. The show ended with the group's ever-popular "Walk You Home," as usual.
But surprise! A twist was added as they came back onstage with their rendition of H.O.T's classic K-pop song "Candy," blending old and new alike.
For many who have been with NCT DREAM since their "Chewing Gum" debut in 2016, this concert was proof of their maturity. It is no coincidence that the landmark show coincided with the first anniversary of their record-smashing album Glitch Mode. Now seven years into their career, 7Dream continues to grow alongside their fans and expand their horizons globally with no signs of slowing down.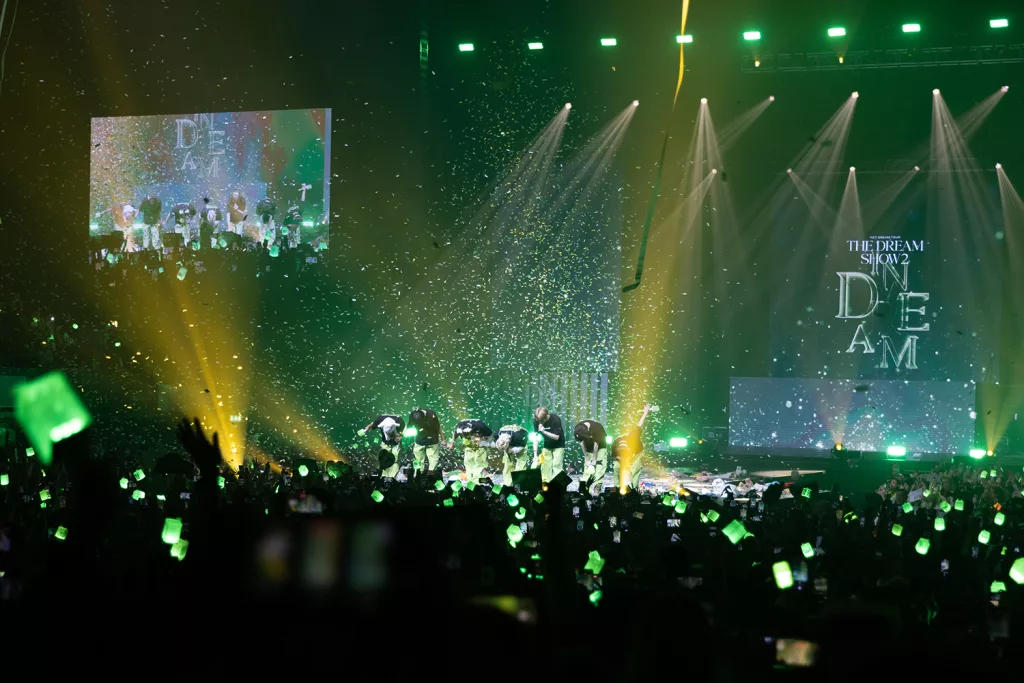 To catch an NCT DREAM show near you, look for concert tickets here. And listen to their latest release, "Best Friend Ever" here!
For more concert recaps read all about our time at MAMAMOO's My:Con show in Jakarta here!