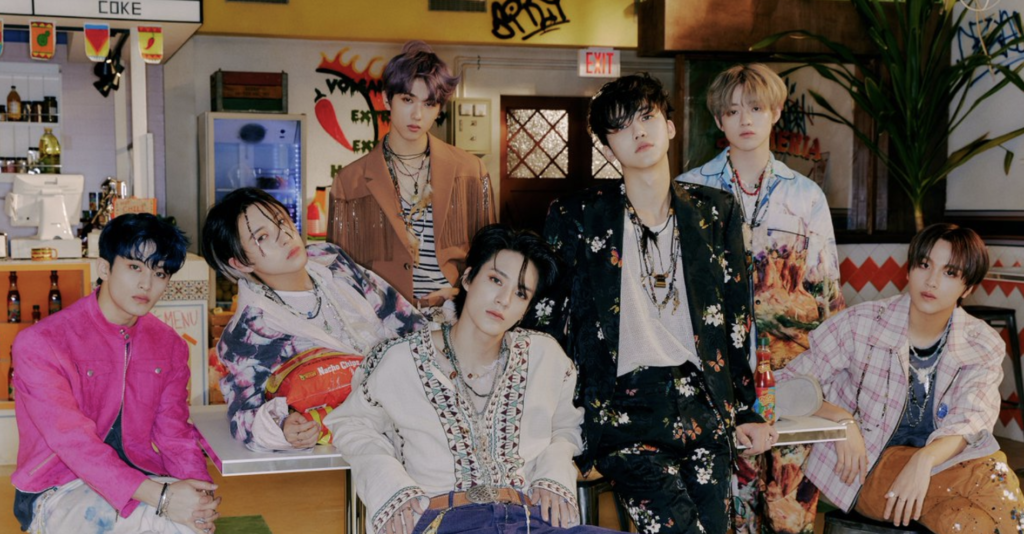 By Arushi Tandon | @arushiwrites
NCT Dream's first full album 맛 (Hot Sauce) was released worldwide on May 10 at 6 pm KST. NCT Dream is a septet subunit under SM Entertainment's NCT brand consisting of members Mark, Renjun, Jeno, Haechan, Jaemin, Chenle, and Jisung. A much-anticipated project by fans, the album had an exciting rollout over the past two weeks with concept photos, track videos, and more being released every day until D-Day.
The album release was accompanied by the music video for the title track "Hot Sauce," which gave us colorful visuals along with an energetic and catchy beat.  
From Chewing Gum to Hot Sauce, The Neo Roots Remain
As an album itself, 맛 (HOT SAUCE) is nothing short of genius at work. Comprising various electro-pop sounds and mixing genres, NCT's signature experimental style is seen at its best with this album.
The title track, "Hot Sauce," gives fans a fun, upbeat, and ridiculously addictive sound that feels like the perfect evolution of NCT Dream. From their more teenage-oriented roots between 2016-2018, we can now see a mature yet funky persona they have embraced.
The pre-chorus has a groovy guitar sound and the song itself has a major afrobeat influence to it. One of the producers of "Hot Sauce" is Pip Kembo, a Zimbabwean-born, Grammy-nominated record producer who has previously worked with Dua Lipa, Jason Derulo, and Sean Paul.
The music video for "Hot Sauce" is a compelling journey of the seven members as they take over a taqueria. With vibrant visuals, a captivating instrumental that hooks you almost instantly, the music video delivers with a dynamic choreography in true NCT style.
The album then moves onto "Diggity," a high-energy hip-hop-heavy song that is reminiscent of Dream's previous releases "119" and "Drippin." The song's track video which was a part of the pre-release rollout had the members donned in outfits similar to that of construction workers performing this high-energy song in what seemed to be a construction site.
"Dive Into You" slows things down with a chill synth-pop sound. This song's track video has the members on a road trip and makes for the perfect feel-good track since this is NCT Dream's first comeback with all seven members since Mark's return to the unit.
Following "Dive Into You" is "My Youth" which feels like the soundtrack of a coming-of-age indie film. The song embodies Dream's youthful energy with an electro-pop sound and a strong build-up to the chorus coupled with whistle-like sounds that make it anticipatory. Renjun and Haechan's line Remember our youth at the end of the first two choruses and Renjun's You and me shining youth truly embody the essence of this song perfectly.
"Rocket" comes next and lifts the mood instantly as it manages to encapsulate the summer energy that they were going for. The song with its buoyant dance-pop vibe takes you back to some of NCT Dream's older records like We Go Up and We Young. A relatively shorter song as compared to the rest of the tracks on this album, "Rocket" definitely leaves you wanting more once it's over.
"Countdown (3, 2, 1)" follows "Rocket" and brings NCT Dream back to their neo roots with a more hip hop-based sound. The chorus breaks into a chant-like verse and the song sounds as animating it possibly could. Renjun, Haechan, and Chenle's harmonies in the bridge tie the song together along with Haechan's effortless high note and run.
NCT Dream returns to their characteristic nostalgia yet youthful vibe with "ANL" which stands for All Night Long. "ANL" has a distinct house sound that dives into tropical reverberate throughout the song. Coupling an upbeat vibe with a slower sound, "ANL" adds to the summer release aspect of this record.
"Irreplaceable" has an almost retro feel to it yet sticks to NCT Dream's contemporary neo sound. The song is reminiscent of Dream's "My First and Last" with its evocative chorus. "Irreplaceable" makes you want to jive with it. Jaemin, Jeno, Jisung, and Mark's rap verses before the bridge leading to Haechan's high note ad-libbed while the rest of the members harmonize makes this song memorable and complete.
As we near the end of this exemplary record, "Be There For You" is a ballad sung by members Renjun, Haechan, and Chenle. The song is heart-warming and affirming with lyrics that express acceptance and love for the person (or people) they are singing to.
Concluding this album is "Rainbow" which was co-written by members Mark, Jeno, Jaemin, and Jisung. This song also had a pre-release track video of the members at a beach which ties well with the lyrics reinforcing NCT Dream's nostalgia about growing up together with lyrics like Lean on each other at the end of the breathless day and Though it's soaked through, think I've seen it before / the rainbow that rises clearly. It's easy to ascertain that this song is a culmination of this album and NCT Dream's journey so far. 
With producers like Moonshine, Deez, Kenzie, and minGtion who are veteran producers for SM artists, this album feels as experimentally cohesive as NCT's records come. Each of the songs has title track potential yet "Hot Sauce" retains its crown rightfully while the full album delivers as a whole.
NCT Dream's Exploding Success
A much-anticipated release by the NCT subunit, 맛 (HOT SAUCE) was met with an overwhelming response across digital charts and physical sales.
Before the album and music video came out earlier today, it was announced that 맛 (HOT SAUCE) had broken NCT's previously held record of the highest preorders under SM Entertainment. With a whopping 1.71 million preorders of the physical album across online retailers, NCT Dream has had a 243% growth since their last comeback.
To further add to the incredible pre-order numbers, post 6 pm KST today, NCT Dream's success was unstoppable.
"Hot Sauce" became the fastest song to surpass 10,000 likes on MelOn within one minute of its release. The song was also #1 on Korean music charts Bugs and Genie within one hour of its release. Along with this, NCT Dream achieved a MelOn all-kill with the album too. 맛 (HOT SAUCE) reached #1 on iTunes US along with 34 other countries.
Safe to say, this has to be the most successful comeback of not just NCT Dream, but any unit under the NCT brand up to this point.
You can listen to the album on Spotify and Apple Music!
The promotions for this comeback were spicy! In case you missed them, take a look at the Jalapeño! (Scoville 274) teaser recap!
Thumbnail Courtesy of SM Entertainment