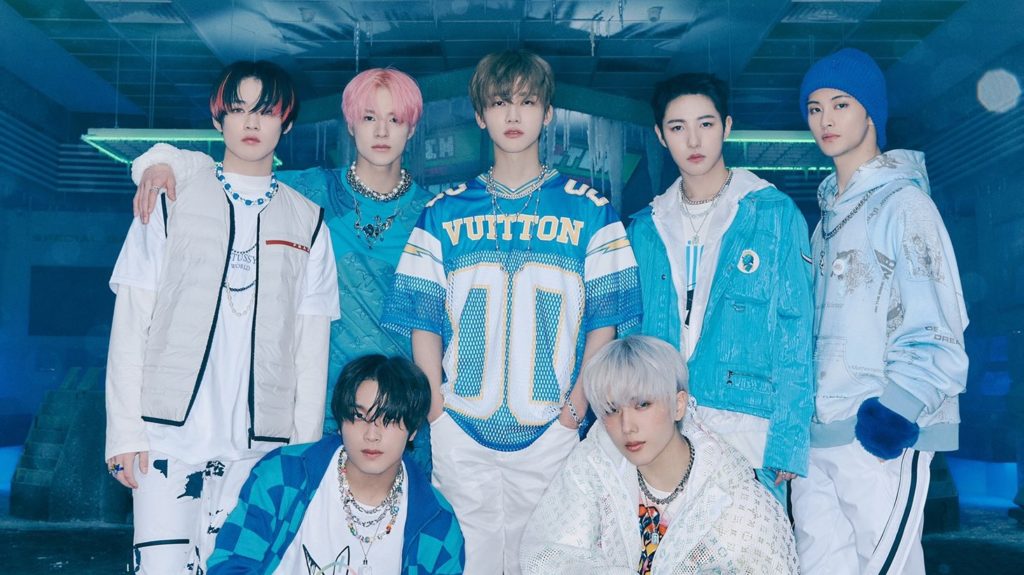 Back and submerged in the digital space, NCT DREAM began a new musical chapter last week. On March 28, NCT DREAM released their second full-length album, Glitch Mode, leading with a single of the same name. The project has 11 diverse songs that highlight NCT DREAM's limitless potential as artists.
Anticipation for the album was at an all-time high. With over 2 million pre-orders, NCT DREAM's latest album sold over one million copies on the Korean Hanteo Chart within three days of release, becoming one of three artists to reach this accomplishment in the chart's history. The septet now have the fifth highest first week sales of all-time on the Hanteo Chart. They also topped their previous sales record with Hot Sauce and surpassed the two million sales within seven days. This is their second consecutive year with a two-million-selling album.
With record-breaking sales, it is no surprise that the album fared well on both domestic Korean and global charts, topping iTunes charts in 28 countries. Glitch Mode even landed on the Billboard 200 chart at number 50— their first entry on the chart. NCT DREAM also debuted at 5 on the Top Album Sales Chart and 2 on the World Albums Chart. The song topped charts as well and reached over 30 million views in 24 hours on YouTube. The "dream team" is always at the top of their game, and their "Glitch Mode" era is clearly no exception.
A Grand Entrance
The album starts with a bang with the hype track, "Fire Alarm." The opener is arranged by Bleu and written by Rick Bridges, Bleu, Brooke Tomlinson, and Jesse Saint John. Exactly as you would expect, the song has a strong bass beat with equally strong raps. There are occasional vocals switch ups to keep listeners on their toes. At the chorus, there is a sudden beat drop that leads into a segment that sounds like a synthwave beat. It's the type of rhythm you would hear in a Sonic the Hedgehog SEGA Genesis game.
Throughout "Fire Alarm," there is also a ringing alarm and the members singing the song title that is hard to miss. It is the perfect combination of trap, retro wave, and R&B that feels like a convergence of time, which is a perfect representation of NCT's overall "neo culture technology" concept.
Getting Neo With "Glitch Mode"
The next song is the main event, "Glitch Mode," written by JamFactory, Mark, Benjamin 55, Alony 55, Sam SZND. Inspired by 90's hip-hop, the lead single is a love song about how nervous a partner makes you feel. At large, the song has a constant push and pull feeling as the septet alternates between striking rapping and chanting, and serene vocals. This sort of mood whiplash perfectly encapsulates the "glitch mode" vibe as you freeze before a crush or lover. Additionally, the instrumentation of "Glitch Mode" stands out for the heavy 808 bass and the sample of Ohio Players' "Funky Worm," which creates the 90's hip-hop feel while also making the song seem futuristic. Another call-out is the song's dance break, which is an epic electric guitar moment.
To suit the theme of time and technology, NCT DREAM's track begins with a robotic voice saying, "Welcome aboard. Welcome. Calibrating systems. Control. Neo culture technology." This is their first name drop as a unit and the perfect start to a song with many references to computer operations and errors. While the lyrics may seem dorky due to their references to technology, the song has a sweet metaphor comparing nervousness with entering a state of "buffering." It has a catchy chorus with the rappers chanting, "scratch that, bring it back," which has been loved by fans and parodied within days.
The Intersection Between Technology and Nature
To suit the "Glitch Mode" single, NCT DREAM released a music video that captures the high-tech theme. The members hang out in a "Glitch Mode" gaming shop while another version of NCT DREAM takes surveillance of them in the "DREAM LAB." The shop group wears a green color scheme, while the DREAM LAB group adorns pinks. Just before Mark sends a heart to his nameless lover, "B," the connection interrupts.
Chaos ensues in both the DREAM LAB and the shop in the form of a musical number with controlled choreography. The chorus choreography is known for the stiff glitch-like movements, which inspired NCT DREAM's TikTok dance challenge.
The game shop fills with flowers and butterflies around Renjun's computer set up as he reads texts— a visual representation of "butterflies in my stomach." This imagery is fitting for Renjun's innocent stage persona. The nature imagery also suits the sweet vocals from Renjun and Chenle.
As the video progresses, they remain stuck in this buffering state. There is an error that neither the DREAM LAB onlookers nor the shop members can fix. Ultimately, the septet's glitching state inhibits their ability to meet B and causes the environment to freeze over. Their intense feelings match with the strong dance break in their cool winter-themed Louis Vuitton outfits.
A Nostalgic Trip
The nostalgic atmosphere of the album doesn't stop with the opening tracks. "Arcade" also has a throwback feel. The track is arranged by JeL and Dem Jointz, and composed by JeL, Alawn, and 153 Joombas. Starting with a distorted voice, "Arcade" is a R&B song with a playful instrumentation. The chorus has an '00 boyband feel that highlights NCT DREAM's harmonies. In the track, NCT DREAM compares life to a game that they are winning due to their ability to get back up.
NCT DREAM returns to the romantic theme from "Glitch Mode" in "It's Yours." This track is co-written by 153 Joombas, Mark, Jeno, Jisung, and Jaemin, and arranged by HighSquad. While they are wildly different genres, "It's Yours" is a pop R&B song with a catchy guitar tune. The vocals are central in this song with lots of seamless harmonies and emotive runs by Haechan, Renjun, and Chenle. Jisung also gets to showcase his unique tone. The lyrics are full of smooth lines like, "'Cause you're my world" and "it's yours."
Next is the dreamy song, "Teddy Bear." It is a slow, romantic song written by JamFactory and Mark, composed by Xiso, Kwon Dok Geun, Big Kyu, and Senji, and arranged by Kwon Dok Geun. NCT DREAM sings about supporting their partner through their daily worries in a late night intimate lullaby. The monologue at the beginning helps develop the '90s R&B atmosphere created through the instrumentation. Overall, "Teddy Bear" has a chill and healing mood which is brought to life by the reassuring lyrics and airy vocals from Haechan, Renjun, and Chenle. At the end of the track, vocalists passionately sing variations of the phrase, "I just wanna be with you."
A Fun Segment
The pace changes once more with the funky and funky jam, "Replay." The track is composed by Ludwig Lindell and Gregory G Curtis II. The lyrics, written by Mark, Jisung, Jeno, and Hwang Yubin, in "Replay" are mature and have a sensual yet playful nature. At one point, Jisung calls for "lights, camera. Action," and Jeno even references NCT U's "Baby Don't Stop" lyrics. Throughout "Replay," the members compare physical intimacy with magic and play.
NCT DREAM continues to keep listeners on their toes with "Saturday Drip," Mark's favorite track from the album. The song is composed by Rick Bridges and samUIL. Starring Jisung, Jeno, Jaemin, and Mark, this track flaunts each of the rappers' individual abilities. It is a trap song with a chic style and video game-esque noises. Through "Saturday Drip," they brag about how charming and cool they are every day of the week. The addictive beat and smooth raps are topped off with raspy vocals by Jisung.
The septet keeps the mood alive with "Better Than Gold." Created by JamFactory, Kyler Niko, Scott Russell Stoddart, and Ryan Jhun, it has a vibrant mood that is established by its upbeat, retro beat and fun lyrics. "Every Monday we play, every Tuesday we dance," they sing. "Better Than Gold" is a party anthem with a cowbell that helps maintain the energy.
Ending Sentimental
The album begins to slow down with the nostalgic, acoustic pop song, "Drive." By Noak Hellsing, Robert Habolin, and Markus Sepehrmanesh, it has a natural instrumentation brought to life by guitar, piano, and drums. However, it is elevated with intricate sounds such as the car beeper that occasionally rings. The soft song is about reminiscing about the past. The touching lyrics are written by Cho Yoon Kyung.
The second to last song is "Never Goodbye," a personal favorite by both Jaemin and Chenle. Members Jeno, Jisung, Jaemin, and Mark helped write the lyrics with Hwang Yubin. It is arranged and composed by Zayson and Kim Jihu. NCT DREAM discusses how breakups don't always have to be so bad. In the sweet breakup song, the septet's gentle vocals help shed a positive light to a sad situation.
Glitch Mode concludes with "Rewind," written by JUNNY and minGtion. NCT DREAM delivers an upbeat pick-me-up song to cheer listeners up from the bittersweet emotions expressed in "Never Goodbye." "Rewind" appears to be a song directed towards both fans and the "7DREAM" with references to their memories, including their debut date. This is the perfect note to end the album on– a promising one.
Through Glitch Mode, NCT DREAM illustrates their ability to create neo music with songs that take influence from older genres. The members got to show off their "upgraded" image through their diverse 11-track album.
Beginning A New Era
NCT DREAM began their new era earlier this week. Released on March 28, Glitch Mode was the unit's second full-length album, and second album as a seven-member group. As described by Jeno, their comeback served as a show of what the seven members are capable of. Following the album's drop on Monday, they began promoting their music on music shows, including MCountdown and Music Bank. Boasting their all-around entertainment skills, the septet has also been featured on numerous YouTube shows, including K-pop veteran Rain's "Season B Season."
NCT DREAM will continue to flaunt their variety skills and music in the coming days. Their next major schedule is their upcoming DREAM STAGE concert on Tuesday, April 5.

Want more music news? Check out our review of Red Velvet's The ReVe Festival 2022 – Feel My Rhythm EP here.