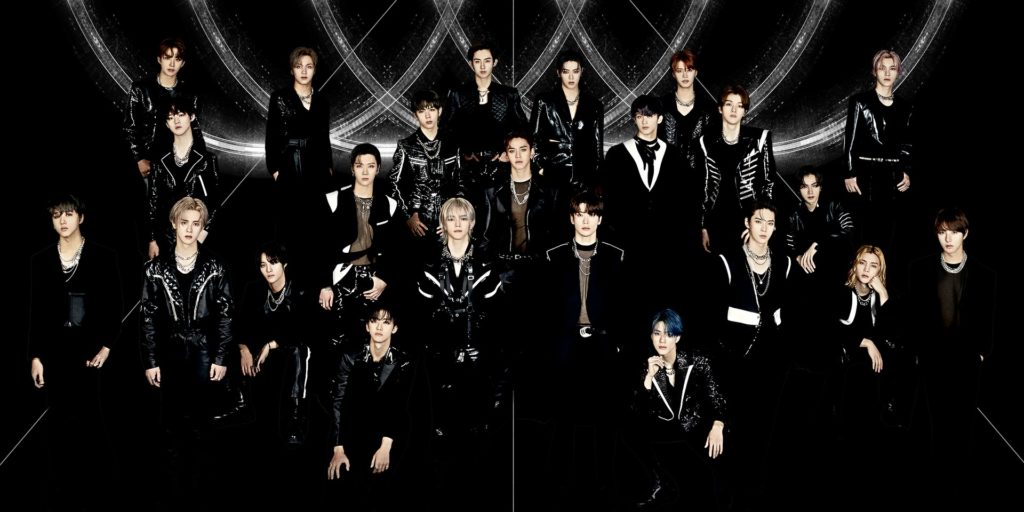 By Annie Bourbonnais _@whoisannie | Veronica Espinal @minionyuta_
December 27th, 2020, in Seoul, South Korea the 23-member worldwide group NCT, made their final appearance of the year together for their online concert Beyond Live- NCT: Resonance (Global Wave) via the V-live app. NCT delivered outstanding performances despite the absence of leader and center Taeyong, who due to a relapsed injury was unable to participate. Nevertheless, the members did their best to give Nctzens a memorable performance, with newly added members Sungchan and Shotaro, along with Jaehyun, Johnny, Jeno, Yangyang and Yuta covering Tayeong's parts throughout the show.
Before the concert, the members took to Twitter to express their excitement and show czennies the various stages they'd prepared, declaring their hope fans would join them as well. Shotaro and Sungchan also shared similar sentiments, as it was their first concert, and they hoped fans also looked forward to seeing them perform.
NCT U's "Boss," unit opened with main vocalist Jaehyun's riveting entrance, all eyes were on him as he made his way towards the main stage to join the other members. The performance was a bittersweet moment for Sungchan, who covered "Boss" a lot during his trainee days and now had the opportunity to actually perform it as he took on Taeyong's parts. Though it was heart-rending to see the song performed without Taeyong, Nctzens praised Sungchan for doing justice to his parts, a very well deserved praise.
Following the performance of "Boss" and the energetic stages of "90s Love" and "Work It," the members welcomed Nctzens with a few words. "Sadly, we can't meet in person, but through Beyond Live we can connect with fans around the world like this!" said Yuta, as members greeted the fans in seven languages—English, Korean, Spanish, Japanese, Indonesian, Cantonese, and Thai.
WayV leader Kun then announced the very much awaited "Nectar" stage, saying it was something WayZenNis really wanted to see. Up next, a powerful "Ridin'' stage, with maknae Jisung sadly performing while sitting down, still recovering from his knee injury. To everyone's surprise, Ten performed fan favorite "Baby Don't Stop" accompanied by two back-up dancers and music video cuts of Taeyong's parts. Ten showed his skills carrying the stage by himself, while always reminding us that the song was made for the two of them.
The hit ballad "Faded in My Last Song" performance was presented in an enchanting setting. Probably one of the most interesting NCT U units with a diverse combined range of talents—specifically Johnny and Yuta, who've had the opportunity to showcase their strong vocals during the performance. Ten and Renjun showed how well their voices blend together, while main vocalist Taeil had the chance to show a little bit of rapping.
In what was one of the most anticipated stages of the night, "The 7th Sense" unit blew fans away with a stellar performance of the song in spite of Taeyong's absence. Newcomer Shotaro stepped into the leader's impossible-to-fill shoes, and in only two days of learning the complex choreography, shocked fans with how well he did in covering Taeyong's intricate parts. Shotaro's no newbie when it comes to dancing, with his dance resume already filled with competitions, showcases, and performances in concerts alongside Japanese artists such as GACKT. Though Taeyong's impact can't be forgotten or replaced, there's no questioning Shotaro's ability in doing justice to Taeyong's parts.
Welcoming the next stage with a warm performance of "All About You," the members carried their own cameras where they recorded themselves around the stage while singing the sweet words of the song. As the song finished, Jaehyun led the way to the following performance, joining Doyoung, Taeil and Kun for a "Without You" Korean version. The four members performed together again for the first time since the "Empathy" era. Closing off the stage with the soft ballad stage of "My Everything," featuring a main vocalist from each unit.
The introduction of the next stage, surprised Nctzens as it was a song being performed for the first time on Beyond Live. The first notes to "Light Bulb" were heard, leading to another bittersweet stage, where Yangyang showed off his rap skills in Korean while standing in for Taeyong. The source of this song can be traced back to the SM Rookies days, where Taeyong and Doyoung performed the original version of the song called "Switch Off" alongside Kun, written by Taeyong himself during his trainee days, this song is meant to be raw and personal to them.
In true NCT fashion, members of the "From Home" unit switched up the ambience of the night with their performance of the song's rearranged version—which was first presented during the Mnet Asian Music Awards. The performance was beautiful and heartfelt, featuring a video recording of NCT's days as trainees, along with a set replicating that "homey" feeling of the music video. Perhaps the most captivating part of the stage were the powerful vocals, where members such as Renjun, and Yuta sang in their native language. They touched fan's hearts with their heavenly stage performance.
The concert followed through with amazing performances by the fixed units, with Dream performing "GO" and "Dèjá-vu" as seven members; WayV's "Bad Alive" English version, and 127's "Touch," along with their 2020 hit "Kick It." Wrapping up the concert before the final performance, the rappers took over the stage with a fun and hype rendition of "Misfit," with Johnny and Sungchan covering Taeyong's lines.
During their ending ments, the members shared their personal feelings on their performances, sharing words of comfort for czennies as 2020 comes to an end. Kun said that he really missed czennies and wayzennis and couldn't wait to see them in person, while Xiaojun hoped to meet everyone soon and added, "You guys are my everything!" in English. Sungchan pointed out that this was his first concert with NCT (between chants of "Don't cry!" and "Cry!" from the members) and that he was happy they completed the stages well. His fellow rookie Shotaro said in Japanese that he was nervous, but happy to spend time with the fans and told everyone to take care of their health.
"Actually, lately, it's been really hard since it's difficult to go outside, so we wanted to comfort the fans through this concert. Even though it's a bit regretful we couldn't meet the fans in person, we received the energy from czennies," Doyoung said, adding that until they meet again with the fans everyone should take care because their health is the most important thing right now. Jisung finished it off saying he felt a bit sad he was seated during the stages, and he can't wait to get better and show cool stages for the fans next year.
With one final surprise for Nctzens, NCT finished off the two-hour concert with their "Resonance," performance along with a surprise live after where the members shared their favorite stages, answered fan questions, and expressed their goals for the coming year. The members shared their goal of wanting to meet czennies again, with Haechan sharing his wish to go on tour to meet Nctzens around the world, and make memories together. Sungchan wished to meet the fans for the first time as Shotaro and him haven't yet.
What was perhaps an intimate reunion for fans, was also a bittersweet moment, as NCT was incomplete with the absence of Taeyong, but the members made sure to honor Taeyong's presence in the group, wishing for his full recovery. During their ending ment, Haechan expressed that seeing them all gathered together has him thinking of his "hyung," even more, (cue Johnny's "TAEYONG-AHH") he heartily asks Nctzen to wait a little for Taeyong to join them again. The members ensure that though Taeyong couldn't be there physically, he's watching the concert alongside czennies.
Team EnVi wishes for Taeyong's full and safe recovery. We hope he takes the time that he needs to take care of his health, as it's the most important thing. We'll be patiently waiting for his return, with love.