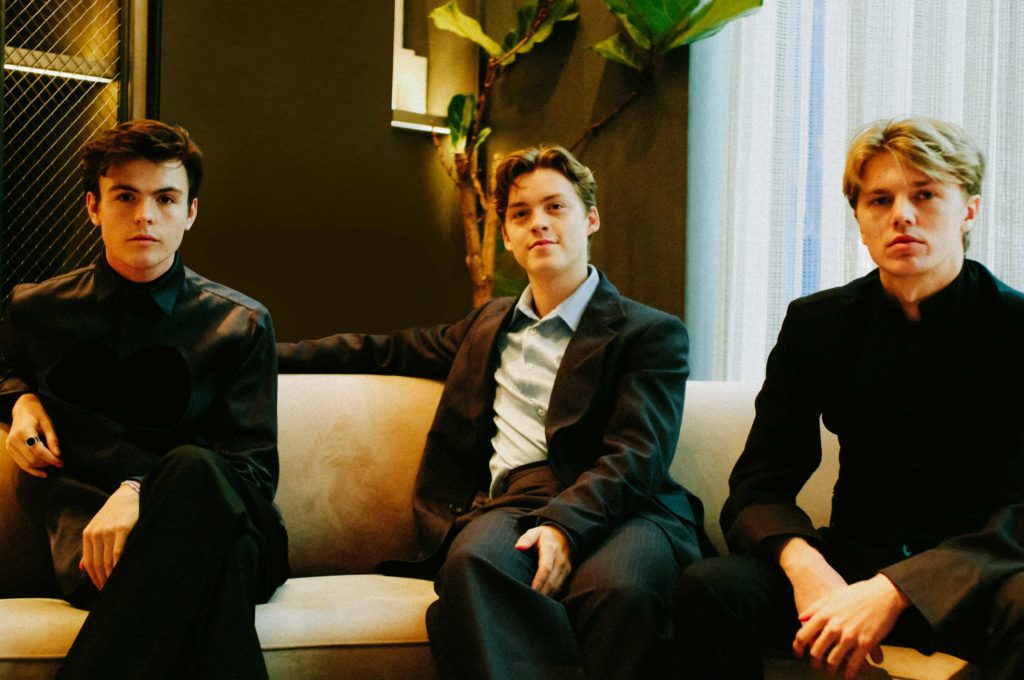 With a sincere smile and compelling energy, Blake, George, and Reece, the members of the New Hope Club greeted the media through a Zoom call. Much can be said about New Hope Club's journey as musicians and their accomplishments over the past three years. After the release of their first studio album, New Hope Club in 2020 and touring around the US, Europe, Latin America, and Asia, the trio has built a name for themselves within the industry. Yet, as we dived into the zoom meeting, the members didn't hesitate to showcase their familiar energy, unique sense of humor, and easy-going personalities.
Held a couple of weeks after the release of their latest singles, "L.U.S.H" and "Walk it Out," New Hope Club filled the room with laughter as they sat down to talk about their growth as lyricists, their upcoming album, and tour experiences.
Behind New Hope Club
Born and raised in Northern England, Blake Richardson, George Smith, and Reece Bibby have had a long journey with music. The trio formed New Hope Club in 2015 and started uploading music covers on Youtube, leading them to sign with Steady Records the same year. In 2017, they released their debut EP, Welcome To The Club, and since then, they have been exhibiting their passion for music and incredible synergy.
The band, which have known each other for several years, demonstrated how comfortable they are with each other through the Zoom call. "[When we started] we lived in a hotel room that was so small, with only three small beds in the room. We know each other inside out. We are the luckiest, you know, that we actually get along so well, and I think it's probably quite rare," Blake said.
Dressed in blue and green, the boys are all about finding a balance between their hectic work life and their personal life while showing their sense of humor whenever they can. "We don't take ourselves very seriously," Blake said. Despite that, when asked about music, the group showcased a deep sense of passion and gratitude.
From "Getting Better" to "L.U.S.H"
In anticipation of their upcoming album, New Hope Club has been releasing multi-track singles over the past six months. The first pair of songs, "Getting Better" and "Girl Who Does Both," came out on June 15, marking the start of the band's new chapter. Two months later, in August, they dropped another multi-track record, "Call Me a Quitter" and "Whatever," and more recently, on October 26, they released "L.U.S.H" and "Walk it Out."
Each pair of singles are symbolized by color, embodying the different concepts and emotions of the group. "Getting Better" is represented by yellow, "Call Me a Quitter" is red, and" L.U.S.H" is painted blue. "'Getting Better' represents the message we want to give out. The color that fitted was yellow. It was kind of bright and new, the start of a new day," said Blake. "Red for 'Whatever' and 'Call Me a Quitter,' especially 'Call Me a Quitter' was a bit more personal. The song is so personal to us. Red is represented a lot with love whether that be heartbreak or romance. And then 'Walk It Out' and 'L.U.S.H' with blue is like cold, a deeper blue, autumn and fall, it felt good."
Although each multi-track single represents a specific theme, "L.U.S.H" and "Walk It Out" are the most energetic and upbeat among the six other releases. For "Walk It Out" they recalled feeling inspired by the soundtrack of a FIFA video game and recounted how that made them think about their distinctive sound and energy when performing on stage. "We have always been big fans of the soundtrack [FIFA]. We had that in the back of our minds when writing it. I think that on the first album we didn't have many songs that represented how we sound live and the energy we give, so it was really important for us to write some songs that showed that," Blake admitted.
When asked about the process behind "L.U.S.H," George recalled jamming and playing with the instruments in the studio and stumbling upon the track's opening rhythm. "For us, when we start working on music, we kind of jam out together, we experiment a lot, and we try new things," George said.
As we dived into the first half of the Zoom call, the group surprised the press by playing a special music video for "Walk It Out." The video was a collection of the most memorable moments of their trip to Asia, showcasing their performances in Indonesia, Thailand, the Philippines, Singapore, Vietnam, and South Korea.
Once the video concluded, the trio, which became headliners at the Haus Of Wonder Festival in Seoul in August, were quick to tell the press how surreal it felt to be able to perform at the festival. "We were the last act, so anyone who already came to see what they wanted to see could go home. The whole day we were thinking like 'maybe they don't wanna see us,' …' but we walked out [to the stage], and we definitely haven't been on a stage so big since like a support tour really, so it was a very important show for us, and we were able to play our new songs" Blake admitted.
The Next Chapter of New Hope Club
New Hope Club took a "step forward" approach when working on their upcoming album by challenging themselves. As a result, they admitted that the album focuses on solidifying their sound, how they have grown as musicians, and how it represents the message the trio wants to portray as a group. For them, creating the album was all about evolving, as well as finding new styles in their music. "I think what's important to us it's that we don't put ourselves and our sound in a box," Reece said. "For us, music is about creativity and having fun and at the end of the day, we're doing this because we love music. So, I don't think it would be good for us to say 'Okay this is our sound, this is how every album is gonna sound.' We are always going to be developing, figuring out who we are and what we want to sound like, so I think we are constantly learning and changing along the way."
Part of the creative journey behind the album was diving into songwriting. In the past, the group often worked with several lyricists and producers. With this second record, however, the members wanted to have their hands on every aspect of the creative process. Which according to them, helped develop a more honest and authentic project. "This second record is completely written by us it's more real. I think the only change in the new era is that is more real, is more personal than ever. We just decided to be very open and let people hear what New Hope Club really is," Reece shared.
Even though there's not an official album release date yet, their growth and improvement as musicians are evident. The sounds on their newest releases are more experimental, varying from synth-pop to retro-pop and soft rock. The lyrics, on the other hand, showcase the band's most introspective side. With lines such as "She's becoming part of the furniture / And if I take a seat back and ask myself / If I am doing enough, then I'm probably not" from the track "Call Me a Quitter" and "It's getting better all of the time / I got no pressure to weigh on my mind" from "Getting Better," each song incorporates the trio's vulnerable emotions and genuine thoughts.
The subject of vulnerability prompted a question about the importance of showcasing raw and honest storytelling in their music. With a friendly smile, Reece immediately pointed out how they draw inspiration from stories and their own experiences, and that simple actions, such as stepping out of a train, can become a much-elaborated story in their minds. "From a personal side, [storytelling] is the easiest way to write. I think you have the most content to write about with your own life," Reece said. "You know as a listener and fan of bands, I love it when I can do or hear a real story. I just think it's so cool to get that inside of the artist, but through a song not just through an interview."
Going on Tour and Thoughts on the Future
Being able to perform live is a special part of being a musician, most artists dream about going on stage and hearing the audience sing their lyrics. For New Hope Club, having the chance to perform in different parts of the world has been a blessing. The band, which recently did a tour around the U.S. and Asia, expressed their enthusiasm about being able to go on stage after three years due to Covid-19, "The tour was amazing we weren't able to play shows in the U.S for three years, so it was so good to come back and see all the fans again," George shared. "We were so far away from home, and there were people that wanted to come and see us, listen to our music, and have stuck with us through such a strange period and we are very thankful for them for still supporting us."
As the trio recalled their favorite memories, they were asked which artist they would love to jump on a tour with. The trio excitedly reminisced about their time in Korea, and how seeing K-pop acts perform made them want to go on tour with one of them. Blake was quick to admit how fun it would be to go on tour with BTS or Enhypen, and confessed that New Hope Club is open to learning from each of them.
The group concluded the long-hour video call by pointing out their gratitude and love toward their fans all over the world. The boys didn't hesitate to confess that being able to see the crowd sing, even when their first language is not English, is an honor. With laughter, they shared that coming from a small town in England and having the opportunity to go abroad to perform feels like a dream that they won't take for granted. "It's crazy, the fact that a lot of these places, obviously English is not their first language. So the fact that we are able to still connect all around the world when that's the case, I think it's so amazing, and [it] shows what music can do, how we can make people feel inside. We do it for that reason. It's an honor honestly, like a dream come true for us," Blake said.
New Hope Club's upcoming album is just around the corner. In the meantime, you can listen to the band on Spotify, Apple Music, and Youtube. Stay tuned for their latest releases and performances on Instagram and Twitter.
Interested in more releases? You can read all about it here!