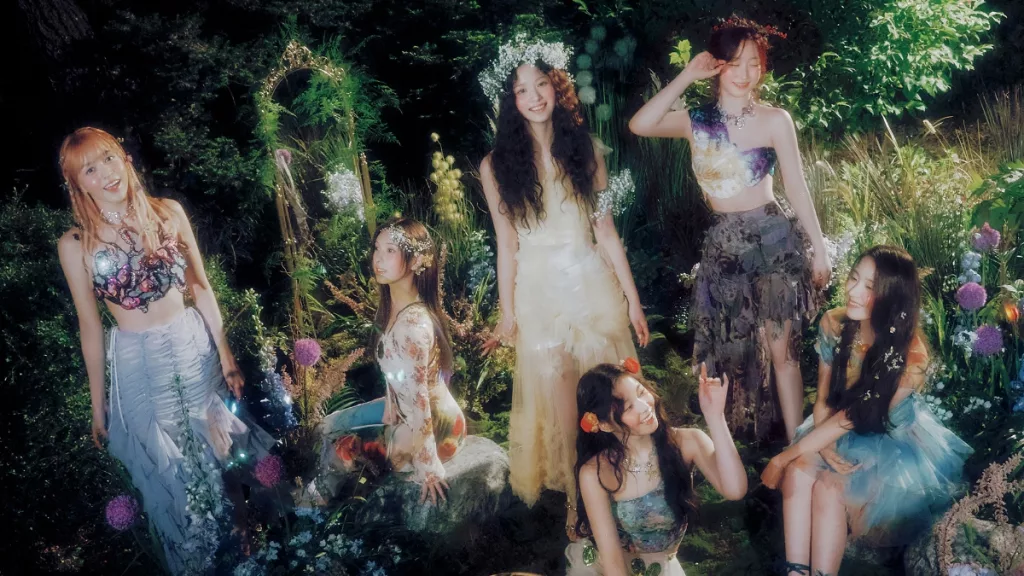 The summer solstice marks the beginning of midsummer in the Northern Hemisphere, and NMIXX are here to celebrate with "Party O'Clock!" On July 11, the six-member girl group made their third comeback with A Midsummer NMIXX's Dream. NMIXX, consisting of members Lily, Haewon, Sullyoon, Bae, Jiwoo, and Kyujin, showcase their unique way of celebrating this vibrant, rejuvenating season in the two-track release.
It's Not a Party Without You
A Midsummer NMIXX's Dream brings the members together for an intimate feast. From the "Party Invitation" teaser schedule to the concept video "A Midsummer Night's Phantom," NMIXX invite fans to enjoy the season with them. Through three sets of teaser images, NMIXX transform themselves from girls-next-door invitees to fairy-like forest dwellers.
"Party O'Clock" pays homage to these concepts, both visually and musically. True to NMIXX's MIXXPOP formula, the song is a fusion of house, dance music, and hip-hop. Alongside the track's bass- and percussion-heavy beat, the members showcase their rapping and singing skills. The lyrics reveal NMIXX's playful side as they invite their listeners to join them on a night of fun, creating their own party. And as their bright and mystical music video shows, NMIXX are able to make the most out of it.
An Incredible Ride
The second track, "Roller Coaster," was released ahead of the single album on July 3. It was composed by Justin Reinstein, Suhyppy, and Anna Timgren, with lyrics by Seo Jieum. "Roller Coaster" combines deep house with R&B, giving it a dark, ethereal feel. It begins with member Lily's vocalization layered with a muffled effect and peaks during its upbeat choruses.
Lyrically, "Roller Coaster" compares embarking on a new relationship to riding the titular ride. The adrenaline rush heightens their joy, and they eagerly anticipate the surprises that await them along the way. Filled with euphoria, NMIXX wish to keep this special moment in memory: "It feels like a beginning, it's hard to adapt / Like a black hole, it swallows me / Remember our special moment today."
Stay updated on NMIXX's activities by following them on Twitter, TikTok, and Instagram, as well as subscribing to their YouTube channel!
Looking for a new K-pop girl group to stan? Check out our coverage of KISS OF LIFE in our 7 Things series here!