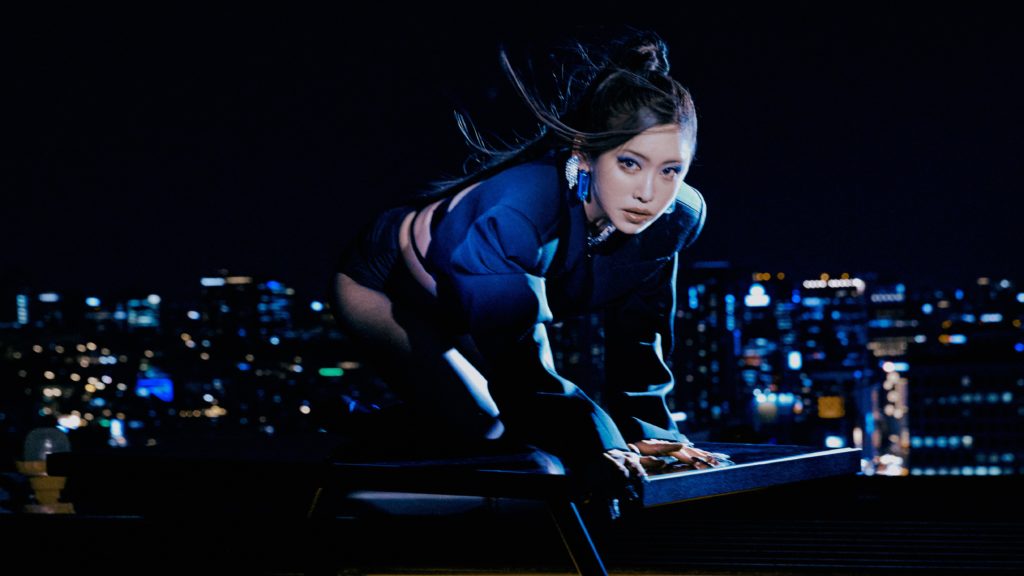 After seven months, Korean solo artist SURAN is back with a new single and music video. The singer-songwriter teamed up with rapper Dok2 to release "Devils in the City" on February 22. This is her third single since founding her own label, S-TASY, last year and releasing her angelic piece, "Sunny."
A Message from SURAN
At 6 PM KST, SURAN's latest single, "Devils in the City," came out on various global streaming platforms including Spotify and Apple Music. She participated in the writing and production process for this single alongside producer Zayson and Dok2. The track possesses a thoughtful message in English from the singer.
"Devils in the City" is a slow, synth-infused track that serves as a warning about society's dark side. Sometimes people can be near negative influences without noticing.
SURAN eases listeners into her song with a question: "If all that I got won't change my fate, will my heart stray further and further from the light?" It is both serious and calming as SURAN continues, sharing her personal struggles through song.
The pre-chorus is simple and effective: SURAN repeats "Devils in the City" and "Don't make no mistake, girl." Her chorus is a bit more complicated as she reminds people, "Don't ever settle for illusions." The song has a nostalgic atmosphere thanks to the melancholic lyrics, SURAN's unique vocal tone, and the feel-good synth instrumental.
The song momentarily loses its synth sounds as Dok2 enters the track. However, it does not take away from the song. Dok2's perfectly enunciated yet chill rap meshes well with SURAN's voice as well as the overall tone of the song.
A Chilling Visualizer
The music video for "Devils in the City" is a one-man act starring SURAN. She stands on a roof that overlooks the cityscape. It is a visualizer with shots of her, the roof, and the sky as she reminisces about the "devils" in her song.
She adorns vivid blue eyeshadow and elaborate nails with black and blue clothing. Her choice of clothing feels numbing as an outlooker— she stands near a helicopter pad on a rooftop with lots of wind and snow at the end wearing a one-piece suit. It is fitting for the dark atmosphere of "Devils in the City."
Creating Fantastical Worlds Through Music
While "Devils in the City" certainly pulls from real experiences, there are still fantastical elements in the track. It has a storyline that you can follow with SURAN as the main character as she discusses "devils." While these devils are certainly real people you encounter daily, the song possesses an ominous mood that feels grand and fictional to some degree. Perhaps, it is just the language or the wow-ing shots of the roof.
Her previous singles also have a sense of fantasy and imagination. "Sunny" has a more ethereal, fairy-like feel to it, while "Blanket" has the daydream sort of imaginative fun. This lines up with her vision for label S-TASY— the name a mix of SURAN and FANTASY.
What's Next?
While SURAN's latest endeavor began in 2021 when she founded her own label and released "Sunny," she has been in music since her debut in 2014. She is a veteran in her craft, and it shows. With her self-led projects, she has consistently put out something new that highlights her unique vocal tone and character. "Devils in the City" only further shows her storytelling and music-making abilities. 
While not much is known about her album, she has mentioned that it has been a work in progress since last year. Each single SURAN has released thus far has been promising— they only boost anticipation for her album.
Want more? Read up on SURAN's collaboration with WONSTEIN here.