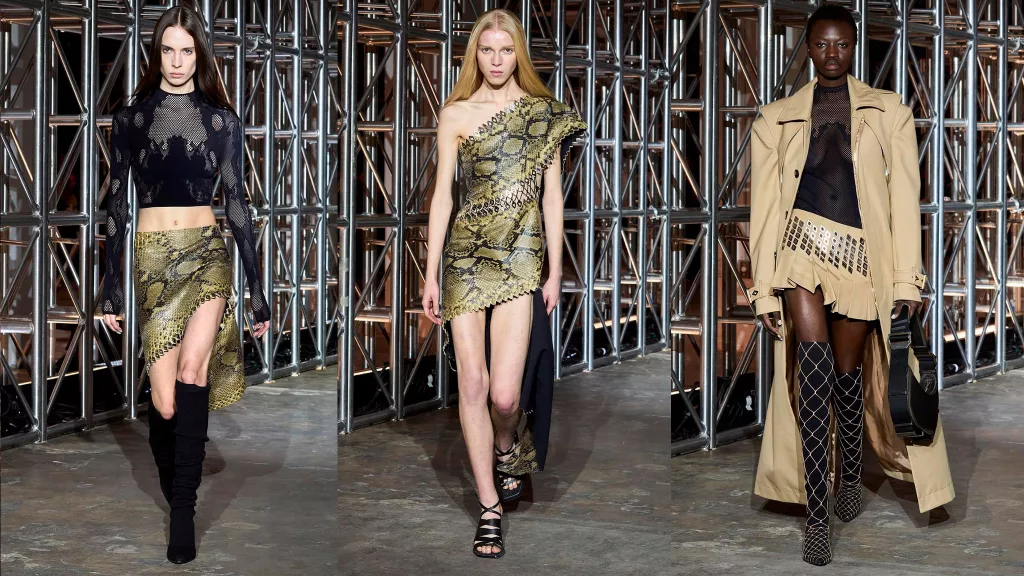 With pandemic restrictions loosening up, young people around the world are back to living their nights out. This means that the party and nightlife scene is back and livelier than ever. And thankfully, we have Dion Lee, the go-to brand for all the it people in the clubs, which recently presented its Fall Winter 2023 collection at New York Fashion Week.
All About Dion
Dion Lee started its journey by targeting its local audience in Australia which eventually led to its debut at Australia Fashion Week. The brand later furthered its horizons by presenting its collections in London. With the presentations successfully catching the eye of New York fashion insiders, Dion Lee then found a new home in the Big Apple and shows regularly in the city during fashion season.
Since its inception in 2009, the fashion brand has slowly become a source of sculptural yet sensual clothing; fancy for event attendance, yet free-spirited enough for a night out in the town. "Technical, yet sensual" — as described by Dion Lee himself — the label is engineered with a consciousness of ease and wearability. "Within each collection, there is a focus on innovative construction, combined with traditional tailoring."
Presenting a Second Skin
Finding musing in nature, Lee looked into the world of reptilia for his latest Fall Winter 2023 collection, "Second Skin." In the show notes, the designer explained that the collection is built upon keywords such as snake, serpent, scale, reptile, shedding, and ouroboros — to name a few. "My last collection was really looking at patterns in nature and this idea of biomimicry, so it shifted from that leaf and nature motif into something that was more reptilian, the designer shared backstage on show day.
Lee interpreted these inspirations through different textiles, textures, and techniques. Deconstructive and distressing methods could be spotted on several pieces, including the denim section. The collection also used sheer materials draped in fluid downward motions to give the illusion of shedding when models walked down the runway. Experimentation in technique was also present in this lineup of looks, as the designer placed and collated square tiles of fabrics atop different materials to give a scale-like effect. In addition, the traditional Japanese method of shibori dyeing was implemented onto pieces to create slithering snake-like prints.
Give These a Second Look
Considering the popularity of the brand among young people, it is no surprise Dion Lee's latest collection has quickly become an internet favorite. The second look, in particular, is a definite head-turner as Lee played with layers of netting atop a bustier base, creating a subversive villainous look. With structure as one of the designer's fortes, in a following look, Lee reinterpreted the classic little black dress using a lineage of buckled belts and a scale-like pattern made of silver hardware. 
As the show progressed into its middle chapter, a model strutted through wearing a beautiful gray matching set. The look showcased just how skilled Lee is when it comes to manipulating fabrics, adding paneled tailoring, and draping. The garment construction was mapped out to resemble the scale motifs found on the underside of a reptile and the look was fittingly styled with a snake-print bag and thigh-high boots. Towards the end, the mood slightly shifted from tough edgy pieces to more subtle and subversive styles. Another look worth noting was an elegant bustier and long skirt ensemble, that gave off a shedding-like effect while remaining empowering and classy in equal parts.
Dion Lee's most recent collection is a testament to the designer's ability to approach his audience — he seems to know his niche very well as the night ended with an after-party featuring Azealia Banks. From this latest presentation, one could easily see why Lee is such a hit:  an experimental approach to craftsmanship combined with imaginative interpretations of his object of musings and topped by the designer's ability to continuously stay on the nose with what young people are digging now.
Want to read more about the latest runways? Read everything about Thom Browne's show here.