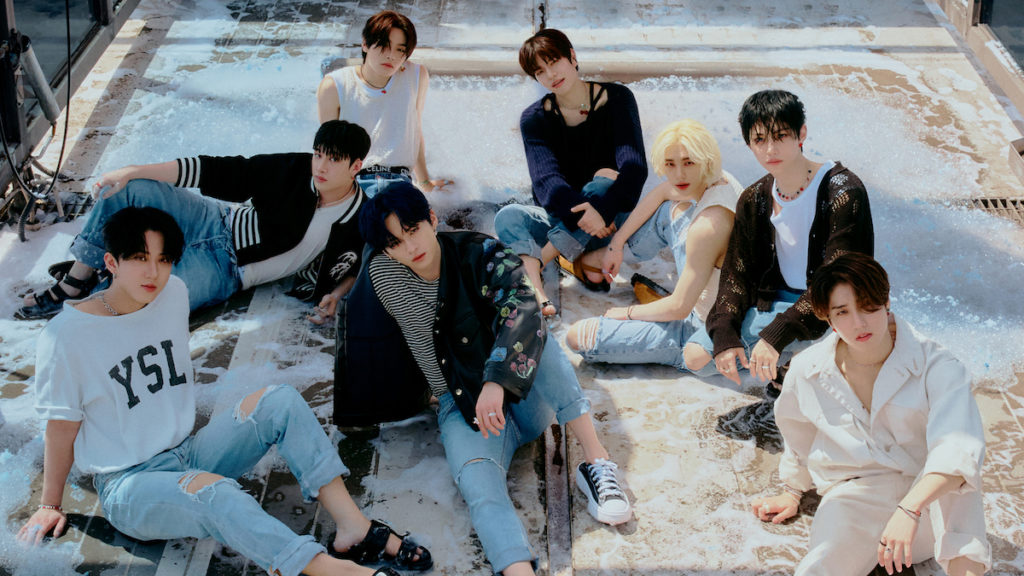 Over the past four years, Stray Kids' discography and involvement in the creative process of their music have cemented the group as a powerhouse within the fourth generation of K-pop boygroups. With two studio albums, three compilation albums, and various EPs, the eight-member group has explored hip-hop, trap, pop, and EDM.
 They have successfully established their loud, potent, and unique sound within the industry while exploring a wide range of themes in their lyrics, such as youth, coming-of-age, success, and love. While their latest album ODDINARY may have achieved massive success, topping Billboard 200 Album Chart and Top Albums debut on Spotify, the group's vast musical catalog does not end there. 
To celebrate the arrival of their album MAXIDENT, EnVi shares some of our favorite Stray Kids' B-sides that should be on every Stay's playlist.
"Chronosaurus"
Stray Kids' hype music is loud and energetic, like the powerful "MIROH" or the explosive "God's Menu," and this b-side is not the exception. Re-released in their first compilation album, SKZ2020, "Chronosaurus" offers a vulnerable side of the group with a powerful bass and drum sound, as they feel conflicted between pursuing their dreams and feeling like time is running out. With lines such as, "I just dash out even if I get out of breath / I run constantly / Why does time run to me so fast?" the track is raw and honest, exploring the fear of not being able to catch your breath and pause for a moment.
"Maze of Memories"
Re-released as the twelfth track in their compilation album, SKZ2021, this b-side reflects on the hopelessness of feeling lost in your worries while trying not to let them suffocate you. Written by 3RACHA (Bang Chan, Changbin, and Han), the producing unit of Stray Kids, the record is haunting from the first verse, conveying the idea of being consumed by conflicting thoughts, "time is running / It's like my dreams, day and night / For a moment, burn away my thirst / My memories are thrown out." In true Stray Kids fashion, the song goes from a mellow-tempo rhythm to a more upbeat tone, transcending from a delicate piano melody to a steady bassline that resonates until the end of the record.
"Another Day"
Released in 2020, "Another Day" is the sixth track on Stray Kids' first full studio album, GO LIVE. Composed by Bang Chan and Han, the pop ballad mixes a calm guitar sound with mellow rhythms. With soft vocals and low rap, the song explores the frustration of being tired of daily routine. In the introspective and melancholic lyrics, the group wonders whether they are the only ones who struggle with finding their life repetitive and meaningless while feeling like each day comes with the same inexplicable bitter emotions of loneliness and regret. "Is everyone happy except me? / I'm so curious about it / Or am I the only child who doesn't know how to hide it yet?" they sing.
"Any"
In the hip-hop track "Any" from their repackaged 2020 album, IN LIFE, Stray Kids convey the frustration of being unable to find a definitive path. Stray Kids, who are no strangers to voicing their inner hardships and thoughts through their music, use "Any" to open up about the struggle to find answers when things are not working in your favor, while feeling like no matter what you do is not enough. "There's so many different things but nothing feels right/ There's so many different things / but I drop it all /I end up dropping it all anyway." Produced by Bang Chan and Tele, the record mixes trap with EDM elements and offers a raw and honest vision of being uncertain in life. 
"Sorry I Love You"
In their second studio album, NOEASY, released in 2021, Stray Kids opened up about the ups and downs of life. However, this b-side tugs at heartstrings as it dives into the ups and downs of ruining a friendship with romantic love. In less than three minutes, the medium-tempo R&B track, written by Changbin, is an anthem of regret. The record conveys the complex fear after not being able to suppress feelings for a friend. As the song unfolds, the group ultimately feels sorry for those uncontrollable emotions. "Sorry that I like you so much, I'm sorry / I tried to hide my feelings, but I guess it was too obvious / I'm sorry, I'm sorry that I like you," they conclude.
"The View"
Featured as the fifth track on NOEASY, the upbeat and energetic rhythm of this b-side makes it a fan favorite. With an emphasis on synth-pop mixed with EDM tones, the track's refreshing dynamic provides the listener with a sense of freedom and comfort. Portraying the idea of letting go of your worries, the lyrics allude to a person moving forward and looking hopeful for what's next to come, "The rough and tiring typhoon has passed / Now I can see a thousand miles in front of me." As Stray Kids continue to grow and move forward, "The View" reminds listeners that even if the road seems dark, it's better to focus on what is right in front of us.
"Winter Falls"
In 2021, Stray Kids released Christmas EveL, a special holiday EP gift for their fans, STAY, with a theme of "The Bad Boys of Christmas." While the title track, "Christmas EveL," embodies the classic loud and potent Stray Kids sound, this b-side dives into the consuming emotions of a relationship that ends once winter approaches, "Will the season / when I held you in my arms ever return again? / I have to let you go now, but it's too hard." As the song unfolds, the group concludes how difficult it is to forget those conflicting and exhausting thoughts.
"Waiting For Us"
Released as a sub-unit between Bang Chan, Lee Know, Seungmin, and I.N for their 2022 EP, ODDINARY, "Waiting For Us" is all about missing someone and waiting for them for a long time without letting go of your feelings. The soft rock ballad explores the concept of a cold winter and a blooming spring, describing how they'll wait for the flowers to bloom in order to reunite with their lover. In the heartfelt lyrics, the members showcased how they will wait forever for their loved one. "The light at the end of the winter is coming closer / Let's hang in there for just one more day / You and I," they sing.
As Stray Kids continue to showcase their versatility and passion for creating with every release, there is no telling what the future holds in store for the group. For now, you can listen to their discography on Spotify, Apple Music, and YouTube.
Want to read about the latest K-pop releases? Read all about September's latest releases here!