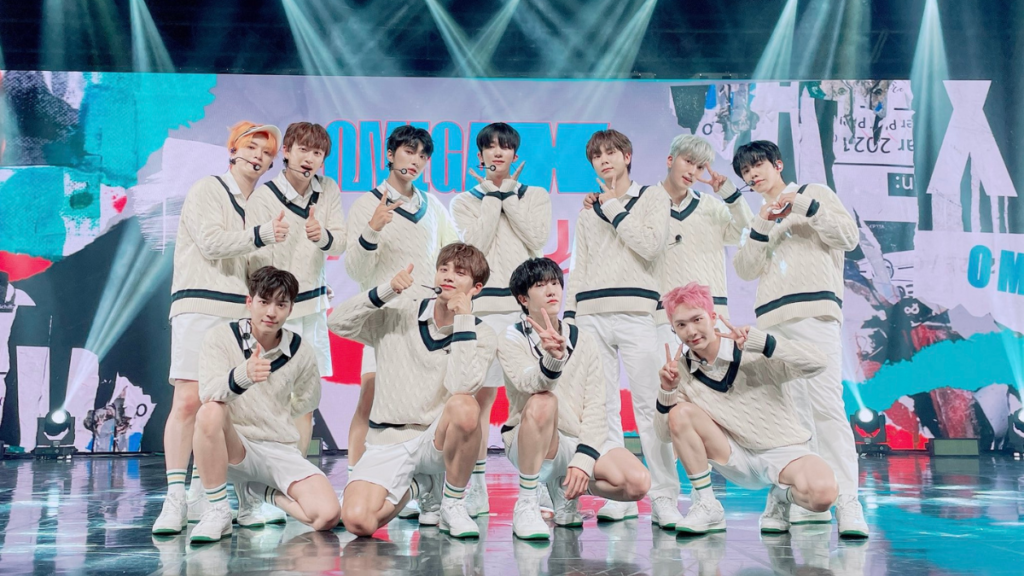 OMEGA X are going on tour! On July 15, Spire Entertainment announced that their 11-member boy group will embark on their first world tour in September. This news follows in the wake of the group's June 15 comeback, 樂서(Story Written in Music), which features the title track "PLAY DUMB."
[📰] 오메가엑스, 첫 번째 월드 투어 확정…美 12개 도시까지

🔗https://t.co/LRtCBY8pUC#OMEGA_X #오메가엑스

— OMEGA X Official (@OmegaX_official) July 15, 2022
A World Tour Full of Possibilities
This will be the first tour since OMEGA X's debut on June 30, 2021. Known as a "New Refreshing Idol" group, the 11 members—current leader JAEHAN, HWICHAN, SEBIN, HANGYEOM, TAEDON, XEN, JEHYUN, KEVIN, JUNGHOON, HYUK, and YECHAN—gained attention as an "Avengers-class" K-pop supergroup ahead of their debut. All of the members used to be members of now inactive or disbanded groups, while some participated in survival shows such as Produce 101 Season 2.
Since they burst onto the K-pop scene just over a year ago, OMEGA X have been steadily building their discography. From their powerful debut song, "VAMOS," to the sultry "LOVE ME LIKE," to the summer-infused "PLAY DUMB," the 11-member group has proven their ability to tackle a variety of concepts and performances.
OMEGA X will kick off their world tour by performing in six cities across four Latin American countries starting with a show in Guadalajara, Mexico on September 16. They will also make stops in 12 cities across the United States in October to meet their American FOR X.
Everything FOR X
After the tour news dropped, OMEGA X's fans, called FOR X, took to Twitter to share their excitement.
OMEGA X WORLD TOUR.
THIS IS NOT A DRILL !
YOU'RE TELLING ME THERES A CHANCE I CAN SEE JEHYUN IN REAL LIFE. I WILL *CRY* pic.twitter.com/PgDsaOVkqd

— london. (@steezebag_) July 15, 2022
Omega X world tour too?! I must have done something right in a previous life✨

— -ˋˏ ᴊᴀɴɴɪ 🌻ˎˊ- The Future is perfect~🎤 (@YouresoBaeby) July 15, 2022
OMEGA X WORLD TOUR pic.twitter.com/E7LBeg7Vrh

— kia🦊gwanghyun luvr (@suncobs) July 14, 2022
While OMEGA X gear up for their world tour, the 11 members are also preparing for their Japanese release, Stand up!. Expected to drop on August 24, Stand up! is the group's debut Japanese mini album.
Like their name denotes, OMEGA X is a group of infinite possibilities, despite the unknown. As the 11 members embark on these next adventures, there is much to come for OMEGA X. Vamos!
Want to keep up with OMEGA X? Follow the group on Instagram, Twitter, YouTube, TikTok, and Facebook!
Want more OMEGA X? Check out EnVi's review of their first full-length album, 樂서 (Story Written in Music) here!