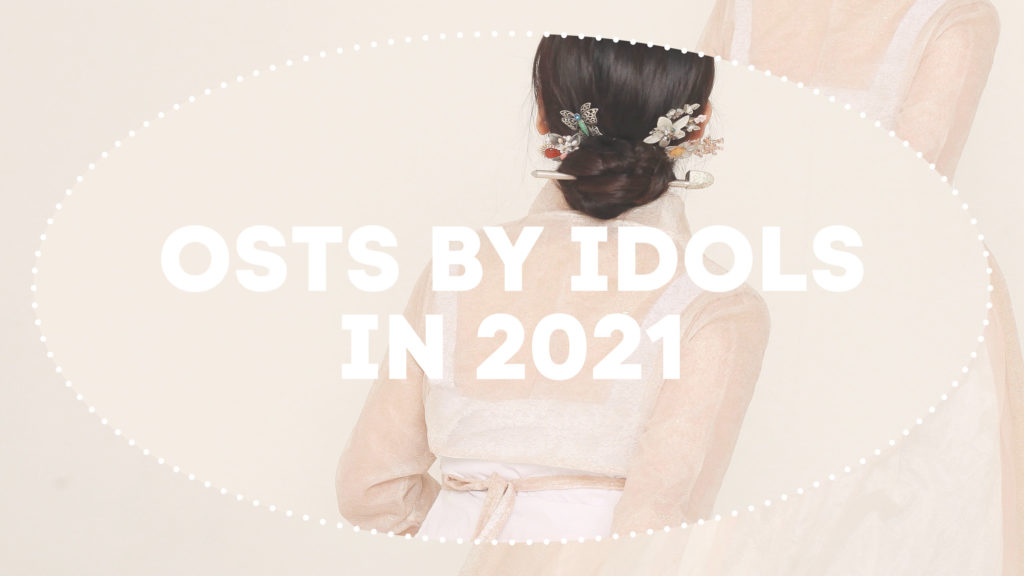 Original soundtracks (OSTs) by idols are nothing new, having become a prominent category in music and the Korean drama space. A good OST can make a great series even better as beloved fans can go back and enjoy the music that accompanied their favorite moments from the show. In fact, OSTs play such a large part in the music industry that some tracks have even become iconic songs from the year they released – topping the charts and snagging awards left and right. Artists like Gummy, Punch, and Gaho have made names for themselves through their OSTs, since the tracks reach audiences beyond regular Korean music listeners.
With such a great opportunity, it's no surprise idols who branch out from their respective groups often start out featuring on OSTs for dramas. Although award season is still a while away, check out the first part of our list of OSTs released by idols so far in 2021. Place your bets on what you think should be the stand out winner, but keep your eyes out for a part two, coming soon!
1) "Night Air" by Doyoung for Cafe Midnight Season 3: The Curious Stalker (2021)
Cafe Midnight was Doyoung's first time gracing the screen in a lead role as Son Jinwoo alongside actress Kim In Yi. The main vocalist of NCT was also given the opportunity to sing an OST for his drama. The emotional track has lived up to its name matching well with the sentimental mood and yearning between the different couples of the drama.
2) "Everytime" by WayV for Falling Into Your Smile (2021)
WayV sings about overcoming difficulties along with words of encouragement in their first group OST. The motivational EDM based track encapsulates the competitiveness of esports and romance in the drama.
3) "So Not Worth It" by Youngjae from GOT7 for So Not Worth It (2021) 
In his first drama, Youngjae not only got to act as the always-bluffing Sam but also sang the OST for this wacky sitcom. The catchy melody almost makes you forget how morbid it is to happily sing "I hope the world ends tomorrow."
4) "Love Sight" by TXT from Doom at Your Service (2021) 
This fantastic soundtrack is a perfect backdrop for this fantasy romance between a dying woman and Doom himself. The lyrics speak of a love that inspires hope which just might be what our main leads need the most.
5) "Beginning of Our Drawing" by Yoo Yeonjung from WJSN for My Roommate is a Gumiho (2021) 
Yeonjung sings in her latest track the wonders of love just starting out. The lyrics remind us that although love can invoke doubts, it's the impending beautiful journey that outweighs the cons.
6)"The Reason" by Seungkwan from Seventeen for Lovestruck in the City (2021)  
Seungkwan's honey-like vocals conveyed the bittersweet emotions of the main leads' love. When the ballad track would play in the background it accentuated Lee EunO's conflict as she contemplated and thought back on her relationship with Park Jaewon.
7) "Priority" by The Boyz for Run On (2020)
In their first OST, Sunwoo from The Boyz participated in the song's production – writing his own lyrics in his charming rap part. The sweet song's guitar combined with Hyunjae and Chanhee's vocals are a perfect fit for the sweetness of Run On.
8) "Will Be" by The Boyz for Racket Boys (2021)
The Boyz bring a refreshing energy that completely encapsulates the upbeat youthful energy that is the cast of the Racket Boys. It's the perfect theme song for these underdog badminton players and their journey to the top.
9) "To My One and Only You" by Xiumin for Mr. Queen (2020) 
This soft ballad by the EXO member explains the difficult love story of the two leads. Although they try to resist attachment, their respect and admiration for one another grows through the trail they face.
10) "My Day" by Taemin for Navillera (2021) 
Taemin's vocals in this track combined with the gentle strumming of acoustic guitar expresses the hopes and dreams of 23 year old Lee Chaerok and 73 year old Shim Deokchul. It's a moving reminder that dreams have no expiration date as he sings "Give me a dream, So I can fly without regrets."
11) "Loveable" by SinB for A Love So Beautiful (2021) (Cover) 
SinB sings an updated cover of Loveable originally sung by artist Kim Jongkook. The up-tempo track fits right in with the youthful high school romance that is also a remake of the popular Chinese drama of the same name.
12) "You & I" by Youngjae and SoYeon for My Roommate is a Gumiho (2021) 
Youngjae has been on a streak this year from OSTs to acting with him once again singing a track for tvn's latest fantasy romance alongside Laboum's Soyeon. The duet sets the perfect mood for those cheerful sweet moments between the main couple.
13)"Adrenaline" by Solar for Vincenzo (2021) 
It's hard to imagine Vincenzo (2021) without this iconic theme song. The powerful, sultry track's lyrics are a great characterization of Vincenzo who struggles with overcoming his past and enjoying the present.
14) "Wake Up" by Weeekly for Hello, Me! (2021)
The bright rookies sing the energetic anthem for this comedic drama that follows an older Bahn Hani who suddenly meets her 17 year old self. The track could be said to be Hani's own theme song as it explains her feelings of being out of place and her journey to find herself again.
15) "I Love You More Than Anyone" by TWICE for Hospital Playlist Season 2 (2021) 
TWICE highlights their vocals in a sweet song that represents a pure love for another. The lyrics compare the joys of discovering the beauty of little details in life through rose colored glasses.
Team EnVi has also curated a playlist with all the OSTs mentioned above, and more for the year of 2021! We'll continue updating it with additional tracks as they continue to be released. Stay tuned for the second part of our round-up of OSTs!
Can't get enough music and drama related content? Check out K-Pop videos inspired by famous movies here!