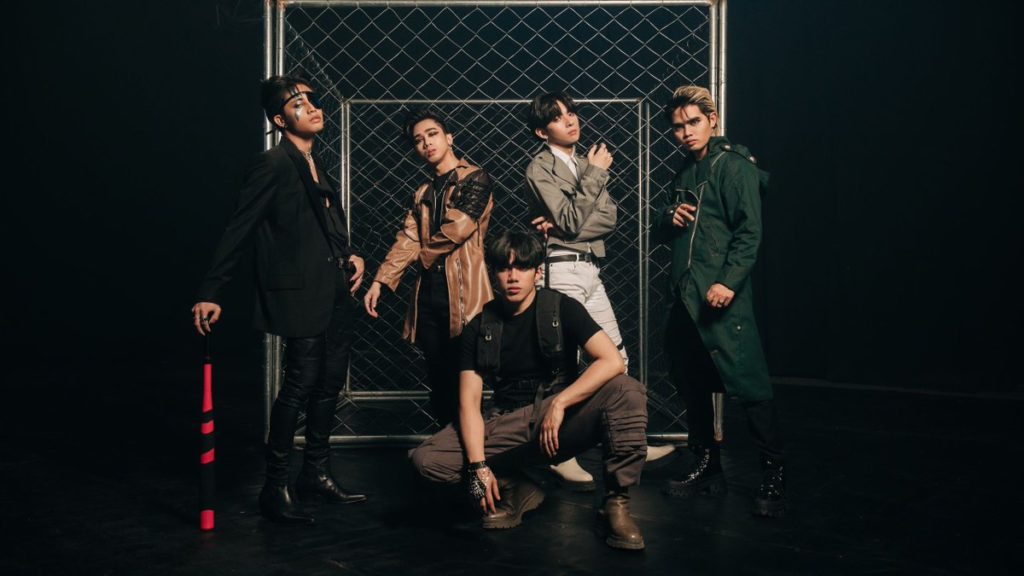 Ground-breaking P-Pop leaders, SB19 are back with another music video for "Bazinga", a song from their July EP, Pagsibol which includes six tracks. Pagsibol also features the inspirational title track  "What?", which touched upon their hardships throughout success, and "MAPA", a warm ballad dedicated to their parents. 
The group consists of five members—Pablo, Josh, Stell, Ken, and Justin. The boys of SB19 have captured the hearts of fans worldwide and have become a recurring sensational topic on social media. Thanks to their fans called "A'TIN", SB19 were nominated for Top Social Artist at the 2021 Billboard Music Awards joining big named artists like BTS and BLACKPINK. Recently, they've also been nominated for the 2021 MTV Europe Music Awards for the Best Southeast Asia Act. SB19 have also achieved recognition in their home country, the Philippines, winning awards at major award shows such as Myx and Wish Music. SB19 also became the first Filipino group to land on Billboard's Next Big Sound Chart in 2019.
The quintet is known to self-produce their works ranging from video direction, choreography, concept, music production, and song-writing. SB19's originality and authenticity bring true inspiration and pride for Filipinos and people all over the world. 
"Clown! Who's The Boss Now?"
"Bazinga" is a diss and ode to their haters that is meant to combat the challenges and hate they've faced while gaining fame and being in the spotlight. The word itself means, "an interjection used to rub a good joke in someone's face or cheer yourself on after a personal win." SB19 uses the expression to let haters know they are stronger than the negativity that comes forth. The leader of the group, Pablo, wrote the lyrics for the song, consisting mostly in English and some Tagalog, along with production help from Simon Servida. One of the members, Ken, embodies a hard and lingering Tagalog verse, with subtle Japanese language adlibs ("urusai": be quiet!, "wasurenai": don't forget!) to add even more power to the already energetic song. The instrumental completes the momentum of the song with hard-hitting beats, loud horns, high tension, and energy as it fits their "ready for battle" concept in the music video's story. Their choreography and fashion continue to complement the liveliness of "Bazinga."
The vibes of the music video begin with dim lighting and an overall dark theme. The members are shown plotting and preparing for a fight against their enemies in a street fighter-like, combat video game. Aesthetics in "Bazinga" include cage fighting, high-quality CGI, classic video game effects, and the color red which brings more fire to the music video, which reflects the line "I'm fire I linger" growled in the chorus. They also express powerful emotions by making even more bold statements in the lyrics for example, "told you that I'm always ready. Come on and test me, you know nothing's gonna stop me",  which proves they are unstoppable and can get through anything. 
Lastly, the release of the music video also coincides with the end of Filipino American History Month. SB19's "Bazinga" is the perfect ending to close off the month strong, igniting the Filipino pride that will carry on forever. 
📸 [D-DAY] #SB19BazingaMV Group Photo

<Release Date>
2021.10.29 | 19:00 PHT#SB19 #SB19GroupTeaser pic.twitter.com/2qwDimDeut

— SB19 Official 🇵🇭 (@SB19Official) October 29, 2021
📸 [D-1] #SB19BazingaMV Teaser Photo

<Release Date>
2021.10.29 | 19:00 PHT

In frame: #SB19_JUSTIN x #SB19_JOSH pic.twitter.com/ELQQ4IOp3D

— SB19 Official 🇵🇭 (@SB19Official) October 28, 2021
📸 [D-5] #SB19BazingaMV Teaser Photo

<Release Date>
2021.10.29 | 19:00 PHT

In frame: #SB19_STELL x #SB19_PABLO pic.twitter.com/TuWKxuGFr2

— SB19 Official 🇵🇭 (@SB19Official) October 24, 2021
📸 [D-4] #SB19BazingaMV Teaser Clip

<Release Date>
2021.10.29 | 19:00 PHT#SB19KenBazingaTeaserClip pic.twitter.com/ehFaMa5ppO

— SB19 Official 🇵🇭 (@SB19Official) October 25, 2021
SB19's Origin: From Malls to Big Stages
A nationwide talent search in 2016 brought hundreds of young hopefuls to audition and undergo a K-Pop training system for ShowBT Philippines, a Filipino subsidiary of the South Korean entertainment company, ShowBT Group. Five of the boys ended up being the only trainees left to form the company's first Pinoy idol group, SB19, and among them were John Paulo Nase (Pablo), Stellvester Ajero (Stell), Josh Cullen Santos, Felip Jhon Suson (Ken), and Justin De Dios. The "SB" in SB19 stands for "ShowBT" like the company, and the "19" comes from adding the single digits of South Korea's area code (82) and the Philippines' area code (63). The group name commemorates the intercultural connection between both countries. 
The members trained for three grueling years before releasing their debut song titled "Tilaluha" in 2018. The group's early promotions consisted of mostly small local stages, such as shopping malls and schools. Even if their audiences were small, the boys of SB19 continued to persevere. Their passion for music and performance allowed them to connect with fans no matter the venue size. 
Although they were actively promoting, the group's second single, "Go Up" would be their last chance, as they had plans to disband if there were no signs of success. It was not until one day, their dance practice video for "Go Up" went viral on Twitter where the video garnered attention and interest across many fandoms. 
Since then, SB19's recognition has greatly increased, gaining them attention and appreciation from many Filipinos, as well as audiences worldwide. Since their first full-length album with Get In The Zone in 2019, the boys have performed on big Philippine channel networks, award shows, and held a successful nationwide concert for Get in The Zone, as well as online concerts, such as Back in The Zone and recently, FORTE: A Pop Orchestra Concert. The boys didn't lose hope in their dreams and now, SB19 became the fastest-growing leader for the new era of P-pop. 
Ready for the International Stage
With SB19's recent international nominations, it goes to show that the boys are very much ready and capable to perform in front of worldwide audiences. This level of recognition has led SB19 into becoming an established household name in P-Pop. Through many breakthroughs, the group's artistry and music continue to lead a path for themselves in the Pop music scene. Recently celebrating their third anniversary on October 26, SB19 has announced their upcoming online anniversary concert dates for late November. Tickets will be available soon, so be on the lookout for any updates on their social media!
Ready to become an A'TIN? Check out SB19's music on Spotify and Apple Music, as well as their YouTube, Instagram, TikTok, and Twitter! 
Want to discover more new artists, click here to read about the newly debuted group Bugaboo!