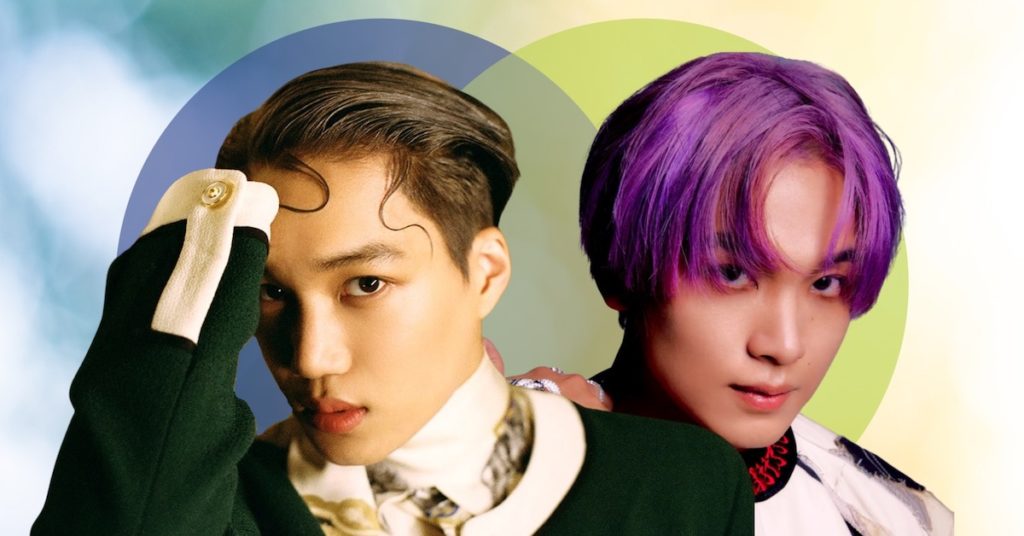 The world of K-pop is no stranger to parallels. From similar concepts and visuals explored in music videos to art featuring idols interacting with their designated counterparts, similarities crop up all over K-pop. As a casual consumer of the genre, these similarities may seem very basic and common on the surface, but how deep can they really go? Moreover, do they have the potential to build something almost cinematic-like in nature?
Kai of EXO and Haechan of NCT are often included in conversations regarding the best dancers in K-pop. They often execute difficult choreography with great precision and grace. The pair exudes a charming charisma, and knows just what to say to make fans' hearts flutter. Chances are, if you're a fan of one, you'll probably become a fan of the other. However, these two idols have more in common than one may think.
Rather than simply comparing one to the other, EnVi explores the ways these two artists choose to express themselves and contemplates the possibility of them crossing paths on stage one day.
Childhood Ballerinos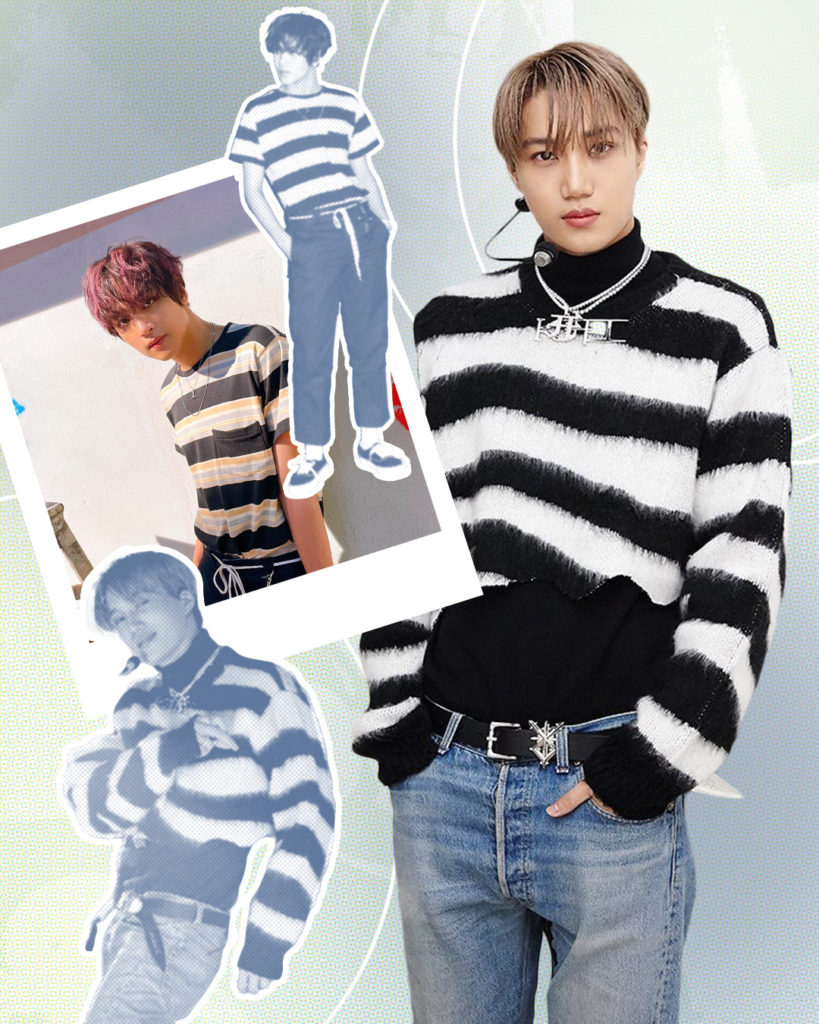 Kai developed a love for ballet in his childhood after watching The Nutcracker, and hoped to become a ballerino. In an interview with The Celebrity, Kai noted that after watching the film Billy Elliot in his teen years, he wanted to rekindle his passion for this style of dance. Kai was mentored by Lee Jae Woo of Korea's National Ballet Company and was a very perceptive student of his in 2014. Not only did Kai take ballet classes from a young age, he also incorporated it into various choreographies at EXO concerts and performances, like "ICU," "Baby Don't Cry," and "Power." Other ballet techniques have also been brought to EXO concert stages, such as tour en l'air, soutenu turns, and chaines turns.
Aside from ballet, Kai is more than highly revered in the world of dance. Dancers and non-dancers alike from all corners of the internet have praised him for his advanced skills on different shows such as Knowing Bros and Amazing Saturday. 
The essence of Kai's dancing comes from many factors such as fluidity, control, and grace. When he is deeply immersed in his choreography, his passion is so intense that you can see it in his eyes and feel it through the screen. During his own personal, slower-paced performances, he has the potential to hypnotize audiences with his sensual fluidity.
Haechan has similarly been praised for his skills in ballet by fans, experts, and idols alike. Along with jazz, contemporary, and sports dance, he learned ballet as a child. Like Kai, he practiced ballet before and after becoming an SM trainee. Haechan briefly spoke about his experience in ballet in KBS Kpop's 2020 video featuring NCT 127, where they interacted with young children. Though he doesn't frequently talk about his experience as a ballet dancer, Haechan occasionally stands in the third position. In the performance for "Love Sign," he executes a soutenu turn, and can even be seen practicing his pirouettes in the background of dance practices on occasion.
Ever since Haechan debuted with NCT in 2016, he has delighted fans with his phenomenal dancing skills. From his smooth movements, to the immense control he's able to have over his body, Haechan continues to exceed fans expectations. His talent and dedication are hard to miss, as he spends a lot of time practicing for multiple units and releases. In his groups' behind-the-scenes dance practice videos, he's always pushing himself past the point of mastery.
Similar to Kai, Haechan depicts his confidence and skill through dance while on variety shows. In every episode of Weekly Idol that Haechan has been on, he's participated in the "Random Play Dance" segment, where idols dance to releases from other artists and groups. Haechan often goes viral for these moments, as he's able to memorize not only complex dance moves, but the corresponding facial expressions as well. Since these two have mastered very similar skill sets, it wouldn't be farfetched to see their dancing styles as similar too. Kai's and Haechan's ability to execute such precise movements with grace is always a joy to watch!
Fashion in Their Forms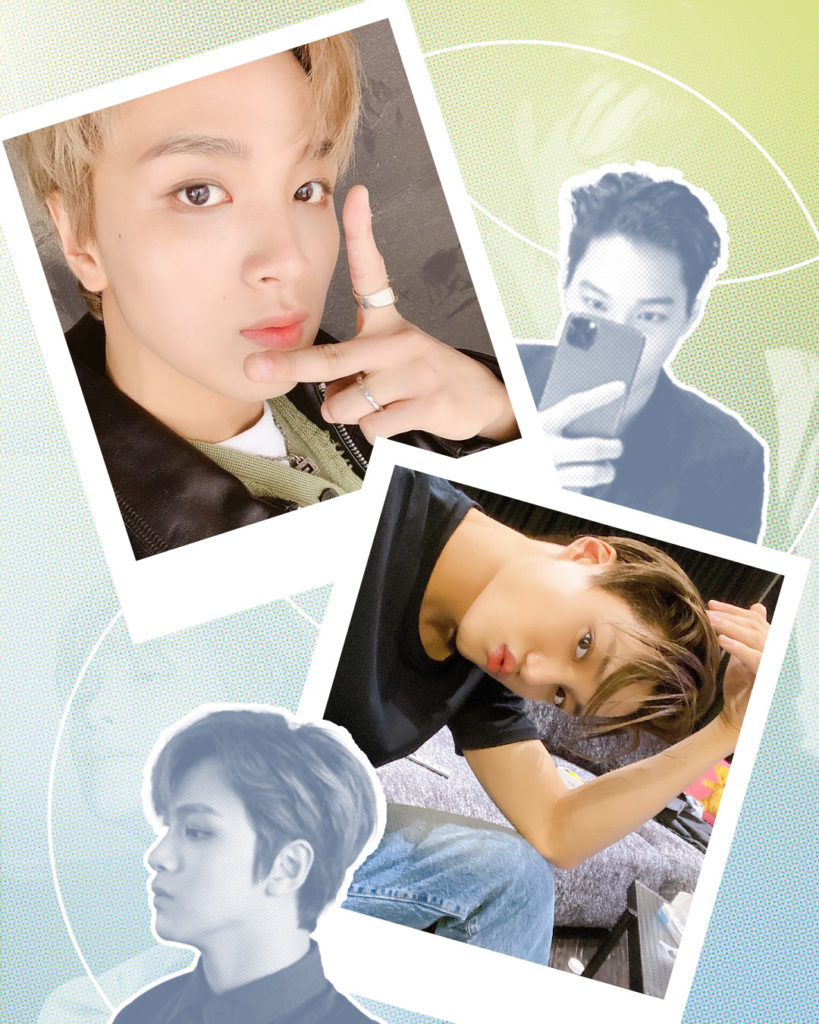 Haechan and Kai are also similar in the way that they're styled, as well as how they style themselves. These two seem to thrive in comfort. Whether they're in the practice room, hanging out with their members, or catching flights, you'll likely see Kai and Haechan in neutral pairing items, such as leather jackets, denim, bucket hats, or white t-shirts.
Another the reason these two are so popular is their stellar visuals. Their collective beauty shines through even the haziest of photos. Haechan and Kai have been praised for physical traits such as their complexion, body proportions, and lips.
Kai chooses to style himself with great attention to detail. He tends to focus on color, length and comfort, with careful consideration of his destination. Additionally, he's been known to add garments containing shades of brown, or teddy bear accessories as the finishing touches to his outfits. As a diligent performer, Kai also makes it a point to choose each outfit with care. When it comes to dancing, he makes sure to pick clothes that he can move in, and still show off his body at the same time.
As the brand ambassador for one of the world's top fashion lines, he is often styled in a way that accurately reflects his personal style. In his many magazine editorials, Kai is shown in either dark, muted, or pastel colors, as his skin, body, and posing skills work together in harmony. Even though he's often styled in Gucci, the comforting and soothing aesthetic never strays far from him. This stands true for his styling as far as EXO and airport fashion, as he's commonly seen in darker clothing. Fans can't get enough of his appearance, with many dedicating art to his good looks alone.
As a member of NCT127, Haechan has lent his physique to a number of fashion lines and publications, such as Slow Acid, star1, and Elle Japan. Like Kai, muted, pastel, and dark tones are Haechan's friends. Haechan appears to prefer to be comfortable on the go, so he's usually dressed in warm garments and hats while attending various schedules. He seems to have taken a liking to leather jackets in particular, and he has a number of them in his possession. It has also become common to see him styled in racer-themed attire, complete with chains and thick jackets.
With his graceful versatility, Haechan fits each unique concept well. He's been praised continuously for his "boyfriend vibes," as well as his ability to look like a real college student both in NCT's school-based concepts and even off-stage. There are numerous threads and posts across social media dedicated to showcasing the different vibes he portrays – from princely to westbound cowboy. Thus, many are inspired to create fanart of Haechan in his highly-favored outfits. As difficult as it can be to portray different auras and concepts, Haechan has proven the ability to embody each with stylish elegance.
Hyung Love
We've also seen similarities between the admiration and love these two have for their older members. The oldest and youngest members of a group often build a relationship built on comfort, strength, and common interests. Such is the case for Kai and Haechan with D.O. and Taeil, respectively. No matter the video or era, this type of companionship has become a comfort for many fans to watch. 
Despite their respective statuses as maknae and mathyung, Haechan naturally gravitates to Taeil, even if he's the least talkative person in the room. Not only does Haechan praise Taeil for his general cuteness and talents, he physically displays this affection through hand-holding, hugs, and spontaneous kisses/cuddles. Taeil, who is usually on the receiving end of Haechan's passionate affection, exhibits his appreciation for him during their time spent hanging out or eating together. 
This cute friendship can be further explored on NCT's "WELCOME TO SUN&MOON" interview series, as their caring bond adds a refreshing tone to their collaborations. Their love is also on display during certain NCT concert performances, such as "Love Sign" (a collaborative song between the two), and "Baby Don't Like It." Seeing these two convey their mutual affection towards each other is a true testament to how understanding and appreciative they are of each other.
Kai emphasizes his love for D.O. in a similar fashion. While Kai and D.O.'s relationship doesn't usually take on a physical form like that of Haechan and Taeil, this isn't to say that the two aren't appreciative of one another. Kai even emphasized this himself during SuperM's Friendship Test, when he exclaimed, "I really love D.O. Whenever I look at D.O., I always think I would like to be like him." 
D.O., like Taeil, embodies the "strong, silent type" trope, so he isn't always the first to be expressive about his love for his fellow members. However, he still returns Kai's fondness through their mutual love of food and cooking. They are often seen cooking or sharing food together on EXO's reality show, as they both enjoy this activity. While we rarely get to see D.O. and Kai interact for extended periods of time, whenever they do, it's obvious how deep their connection goes.
Bear Love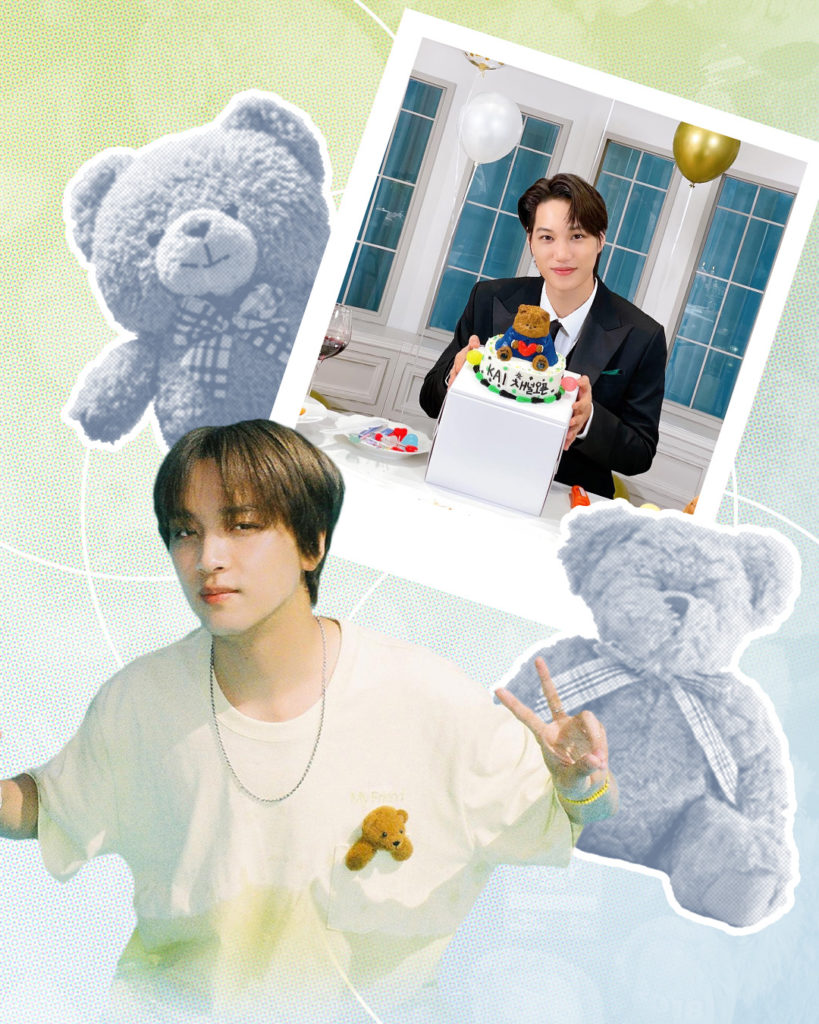 For both Haechan and Kai, their attachment to bears seemingly transcends the idea of idols having assigned animals. While animals are nothing more than an assigned emoji for some idols, Kai and Haechan embody the bear in multiple ways and have taken this connection to the next level.
It's become customary for Haechan to be represented as a bear in NCT's content, either through emoticons, text, or actual teddy bears. His emulation of a bear is heavily influenced by the staff, so you can probably spot a variation of this symbol ( ʕ•ᴥ•ʔ ) around or near Haechan at any given moment!
From his signature Sanrio character being Tiny Chum (a teddy bear), to being paired with giant stuffed bears in photo shoots, bear-ness has become an established part of his image. He's been shown to enjoy bears just as much as fans like to see him represented as one, bearing (no pun intended) teddy keychains, pajamas, and mini plushies. Fans have even made edits comparing him to different cartoon bears, especially when his hair is dyed in brown or darker shades.
"If I were to be born as an animal, I would like to be born as a bear." These are the words of Kai in reference to his various bear fashions. Like Haechan, Kai is often united with bears through various brown tones, soft fabrics, and teddy-bear patterns. This association dates back to EXO's early debut days. After hearing from fans early on that he looked like a bear, he began to adopt the bear image as his signature and even brought this interest deep into the world of fashion.
Kai's 2021 capsule for Gucci, features him fully immersed in his soft, teddy bear-like persona. Bears have appeared alongside him in campaigns for Gucci, Vogue, and GQ. Kai also likes to incorporate bears into his daily life. He's donned bear-printed/toned items (such as backpacks, headbands, caps, or keychains) from fans at concerts, and has even displayed a collection of them in his own home! In his first Instagram live back in 2018, he sat with one of these bears in his bed as he spoke to fans. His attachment to bears complements his "gentle giant" vibe.
A Similar Vision
Idols with similarities don't always need to be compared to one another. They can just be different, making them incomparable and thus a joy to explore. Kai and Haechan seem to have crossed paths aesthetically more than physically, providing fans with an unexpected link between the two, both on and off camera. Though it can be difficult to capture these two in the same frame, fans can continue to hope to see them in a duet stage one day!
Interested in more K-pop content? Read all about Lapillus' first mini album here!