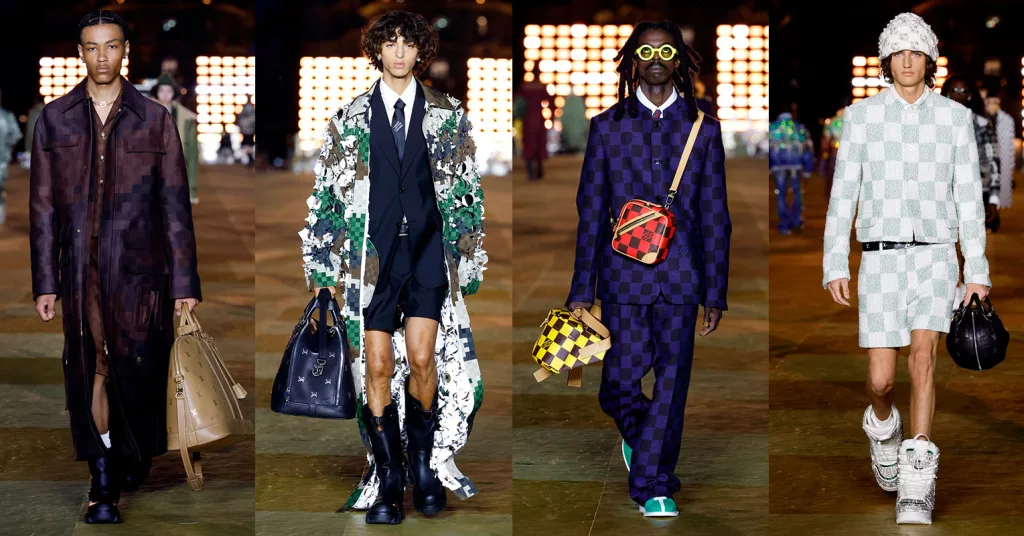 Closing off the first day of Men's Paris Fashion Week, Louis Vuitton presented its Spring Summer 2024 collection at Pont Neuf, one of the city's oldest architectural landmarks. The runway generated great expectations as it marked Pharell Williams' debut at the helm of the French brand's menswear branch. Gathering an A-list of Pharrell's famous friends and industry peers, the event showcased the new creative director's cultural capital and welcomed a new chapter for Louis Vuitton.
The Show at a Glance
The show kicked off with a video of two men sitting at the banks of the Seine, discussing the internal conflict that unravels from wanting something badly. The focus then shifted to the set — a historic stone bridge turned into a stream of gold with Louis Vuitton's Damier tiles covering the floor. At the top of the runway, members of an orchestra were seated and ready to set the mood for the night.
In the first section of the show, models walked out in looks featuring one of Pharell's innovations for Louis Vuitton, the "Damoflage." The pixeled camo print that reinterprets the Damier pattern was emblazoned onto boots, distressed coats, suits, trunks and all sorts of items. The palette was consistently earthy and played on the spectrum of greys and camo greens. In some pieces, the colors were mapped out across clothing to create a pixelated look. Other looks were subtler, with the glitch effect displayed through different shades of the same color.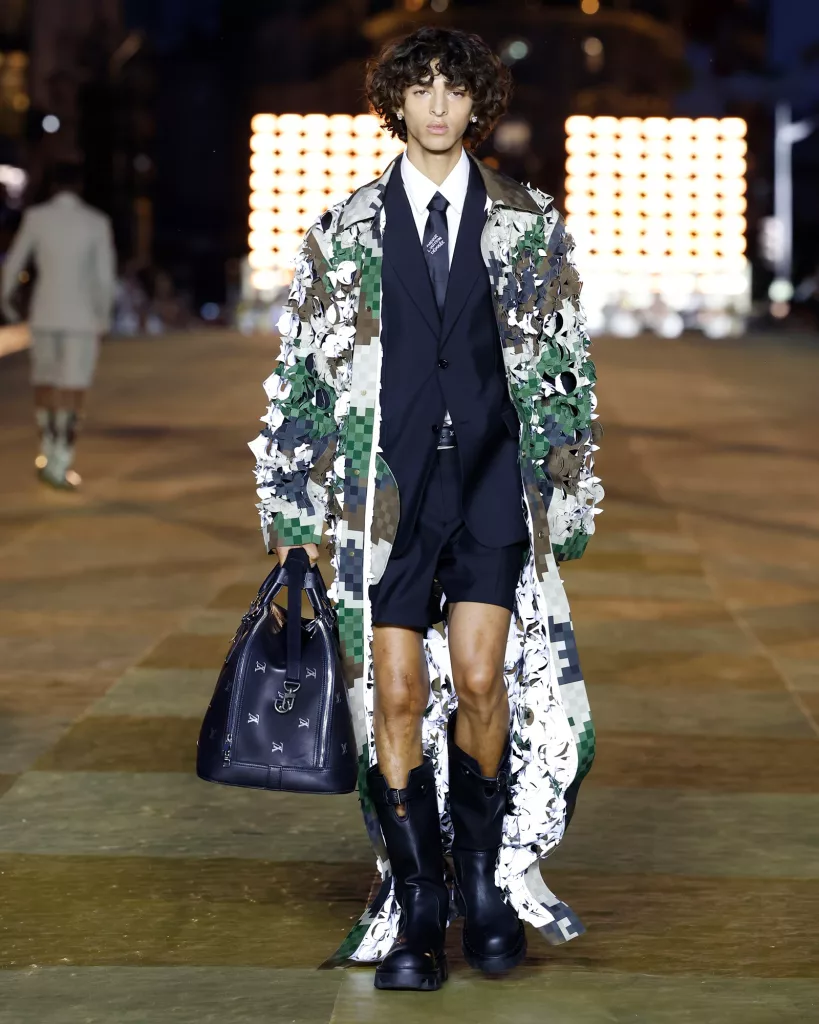 Although an array of tailored suits was present in the collection, Pharrell still tapped into the streetwear and lightheartedness that Virgil Abloh brought in during his tenure at the brand. Pharrell didn't shy away from exploring different forms of outerwear via oversized bombers, fluffy parkas, tiled-leather varsity, and checkered motorbike jackets. A notable silhouette addition to Louis Vuitton's roster was outerwear resembling the round-neck jackets and cardigans Pharrell regularly sports. Throughout the show the new creative director also introduced a youthful take on dapper dressing, upgrading contemporary pieces with fine textile choices and masterful tailoring.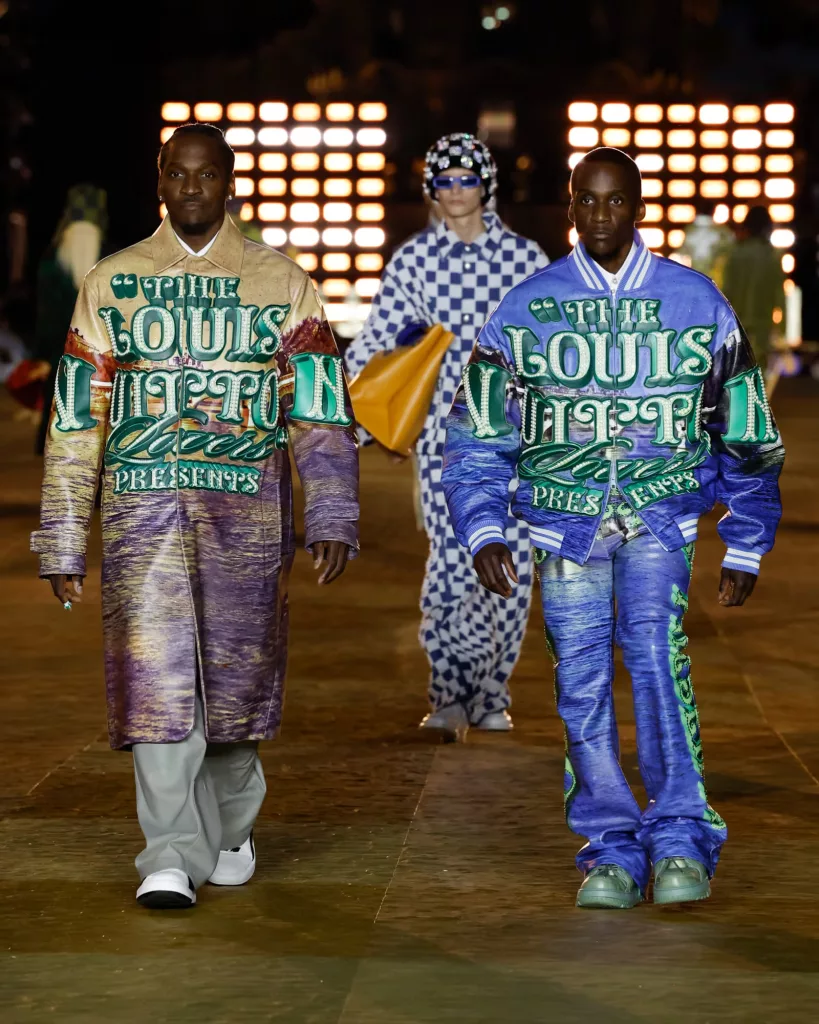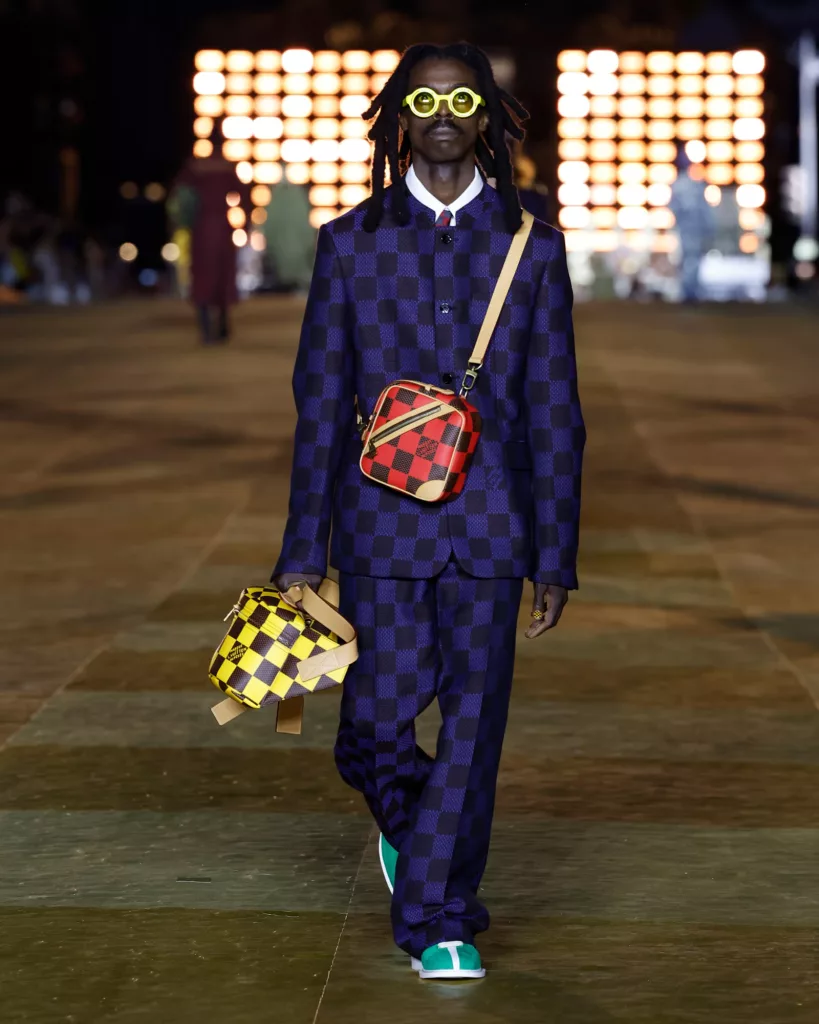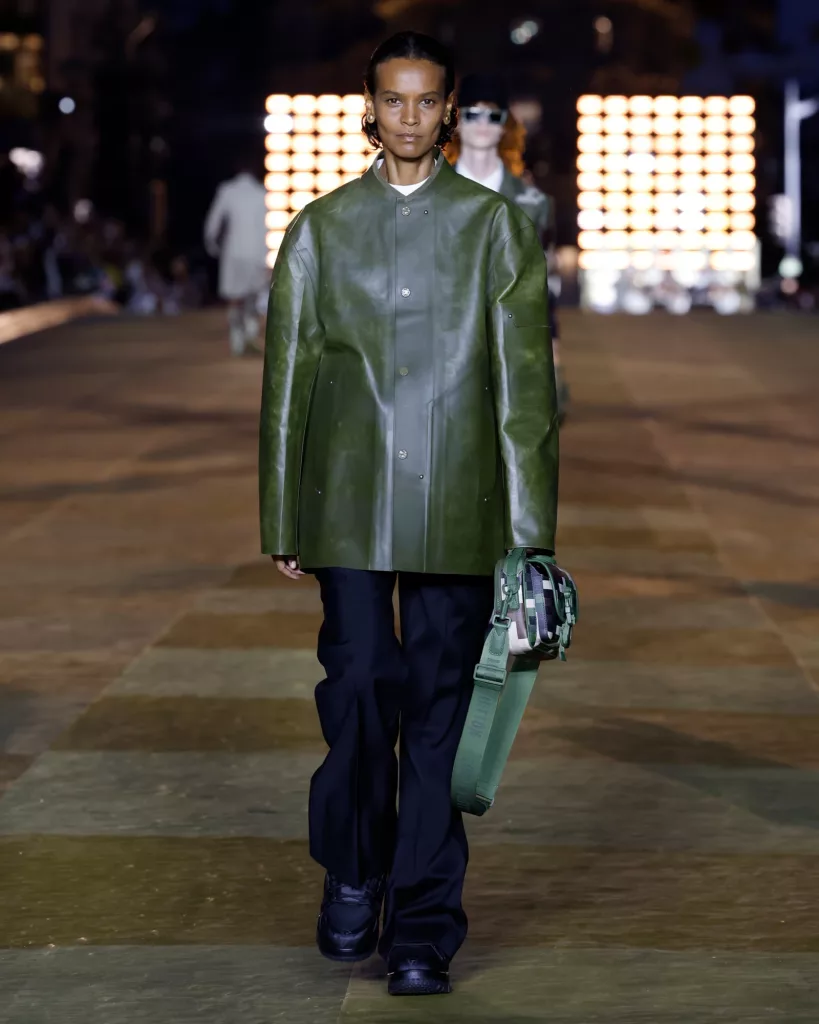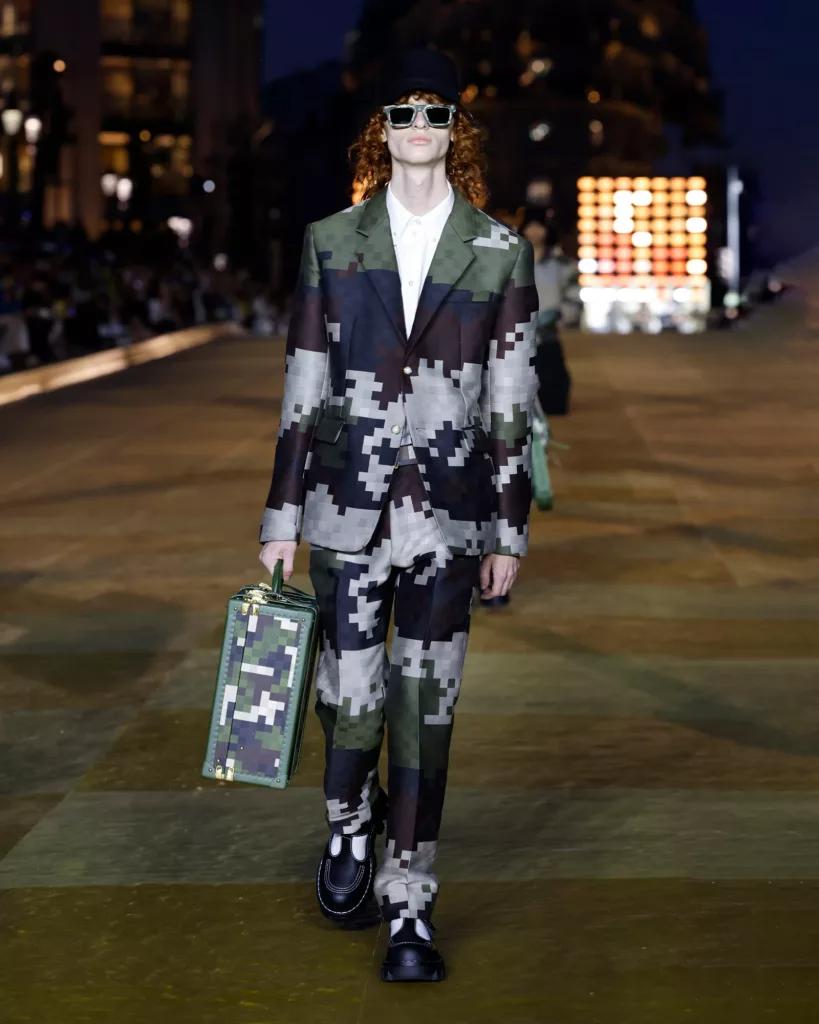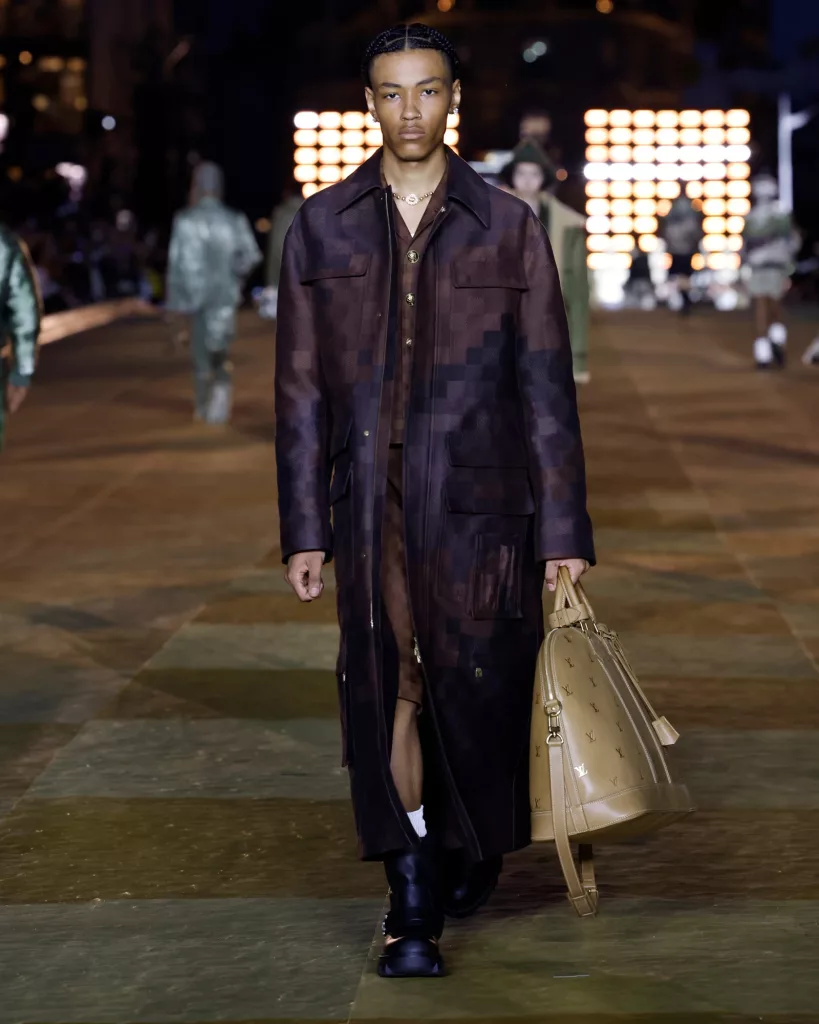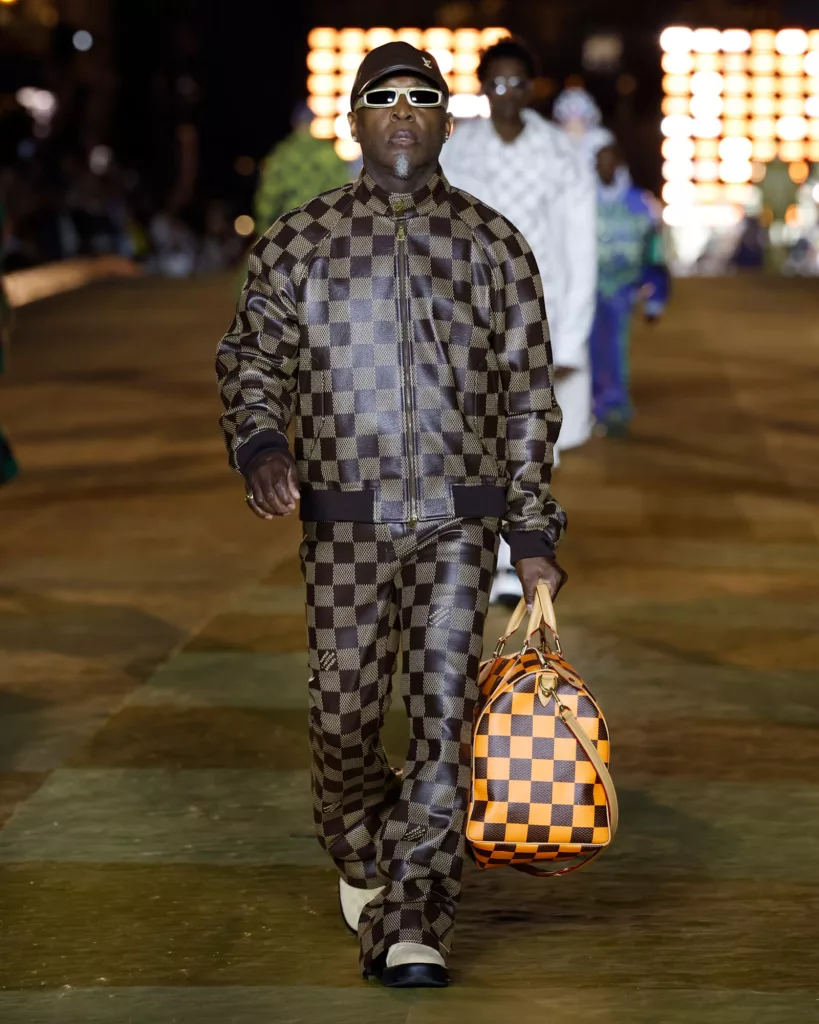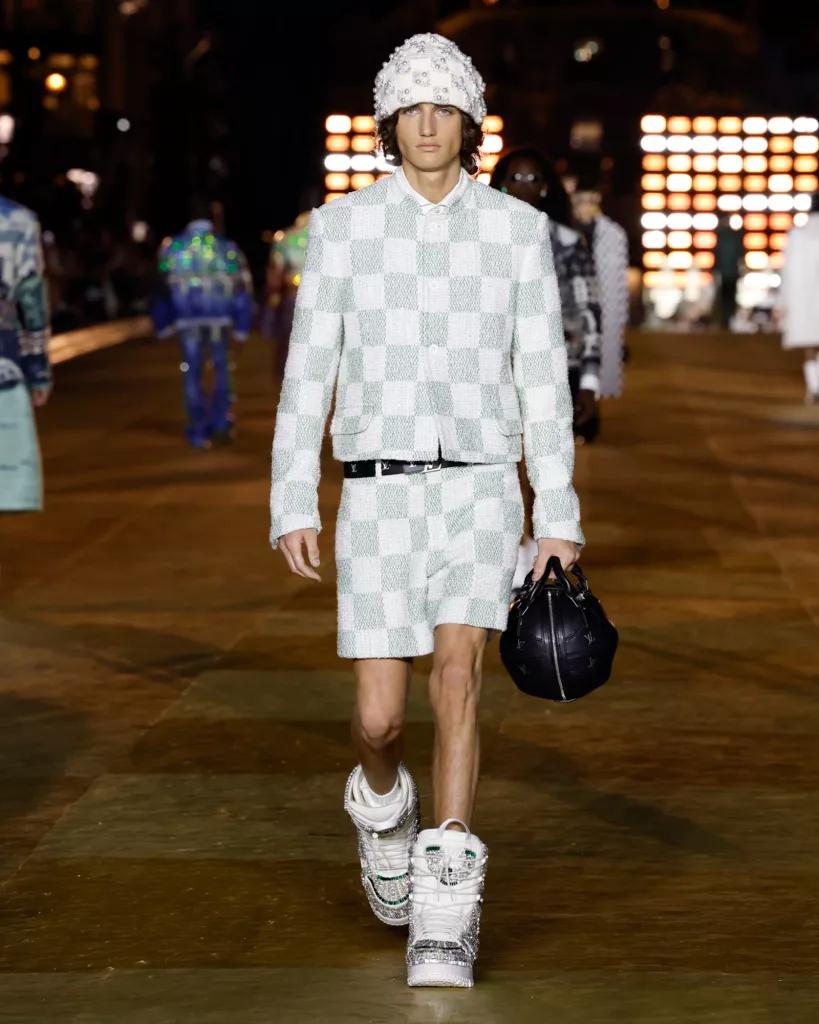 Photos courtesy of Louis Vuitton
A Love Letter to Vuitton
Although the Damoflage patterns appeared to be a new take on a classic Louis Vuitton signature, the print was reminiscent of Pharrell's previous work for Billionaire Boys Club. This methodology of referencing and sampling brand and personal projects was a common denominator in this collection. Pharell combined elements from past Louis Vuitton creative directors and collaborators — the artistic and architectural sense of Virgil Abloh, the preppy and cleanliness of Kim Jones, and the denim and berets of Nigo.
In this love letter to his predecessors at Louis Vuitton, Pharell brought his forward-thinking creativity and streetwear sensibilities to meld past and future. Towards the end, models sported full-on metallic bags, in a reference to Louis Vuitton's Marc Jacobs era — perhaps a thank you to Jacobs for being Pharell's first gateway to the brand. In another homage to the house's roots, a simulation of luggage delivery took place when models drove trunk-filled carts down the runway.
Pop Culture Royalty
Pharrell's highly anticipated debut at Louis Vuitton gathered la crème de la crème of the fashion and entertainment world. A melting pot of pop culture referents, the front row was filled with A-listers, from icons such as Rihanna, Beyoncé, and Megan Thee Stallion to brand ambassadors and fashion event regulars Zendaya, Jackson Wang, and Willow and Jaden Smith.
Latin American stars Anitta, J Balvin, and Maluma posed together in matching neon and green looks. Meanwhile, the likes of Korean actor Song Joong Ki — one of Louis Vuitton's newest ambassadors — and Japanese multihyphenates Yuta Nakamoto and Shuzo brought Asian star power to Pont Neuf. Yuta, in particular, stood out from other attendants — who opted for mostly matching sets and suits — with his take on dopamine dressing.
Another Asian star making headlines was GOT7's BamBam, who attended the show in a checkered oversized suit. The Thai singer attracted online attention as he reunited with fellow GOT7 star, Jackson Wang. The K-pop bandmates offered a wholesome interaction for fans as they hugged each other in front of the cameras.
The list of high-profile guests at the event also included prominent artists, sportspeople, designers, and celebrities such as Tyler the Creator, Kelly Rowland, Jay-Z, Lewis Hamilton, Coi Leray, Quavo, Lenny Kravitz, Nigo, Kim Kardashian, LeBron James and more. The parade of A-listers was undoubtedly an indicator of how Pharrell's tenure at Louis Vuitton will continue Virgil Abloh's legacy by exploiting cultural capital and bringing together fashion and entertainment.
Bridging Worlds
After Abloh's sudden passing and Pharrell's surprising appointment as creative director, audiences couldn't help but wonder what would be next for Louis Vuitton. In his long-awaited debut, the star presented a collection that was, in a sense, the evolution of what Abloh left behind, enhanced with Pharell's vision and personal golden touch. Now as the brand enters its next era, audiences can rest assured that Louis Vuitton is in good hands.
Pharell's debut at the helm of the French luxury brand checked all the boxes for a history-making show, from the star-studded guestlist to the impressive venue. In fact, Pont Neuf, the oldest standing bridge crossing the Seine River, might've held symbolism on how Pharell is reinventing one of France's oldest fashion houses and bridging worlds with his new role.
Interested in the latest runway news? Read about JW Anderson's fashion show at Milan Fashion Week here.