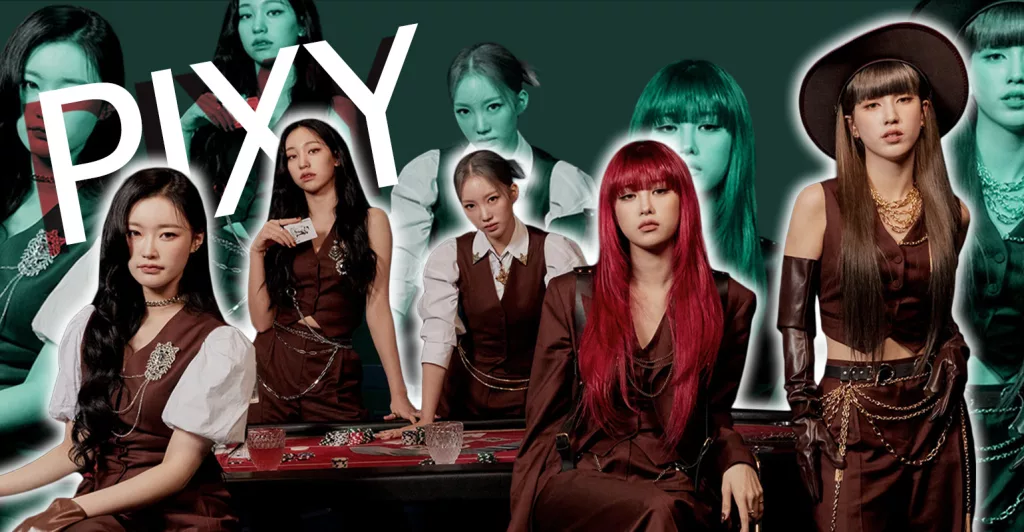 In an exclusive interview with EnVi, PIXY sat down for a Zoom call to discuss their thoughts on karma, music, and the message they want to share with their fans—WINXY—all over the world.
Introduction to PIXY: CHOSEN KARMA
PIXY's distinct, conceptual storyline is intertwined through each of their releases, as is common in the newest generation of K-pop. In-between preparations for a new chapter, the girls reflected on their most recent release and what it meant to them, as stated by the group's leader Dia. "Our mini album CHOSEN KARMA marks the end of the story unveiled in our previous album REBORN," she explained. "There are two karmas, one set and the other one chosen, and we unleashed the karma that was predefined onto the forces of evil, while showing that we have the special, chosen karma." Member Dajeong further added, "That's the story of our album. It's a story about PIXY deciding the fate of the evil forces."
CHOSEN KARMA is the beginning of a new era not only for PIXY's music but for themselves, as a new door has opened for the girls to show more of their talent. With the addition of Rinji to the group, PIXY is preparing for more. As the new member, there are a lot of expectations set on how she will merge with their concept. However, Rinji showed determination as she told us what she thought about the mini album. "It [CHOSEN KARMA] has the meaning of 'the start of moving forward.' For me, it was the first album promotion activities with the members as a new member of PIXY." Looking out to their future, Rinji hinted at exciting things to come for WINXY. "As the Dark City Episode 2 storyline has been concluded on our latest album, we will be able to try various concepts and genres in the future!"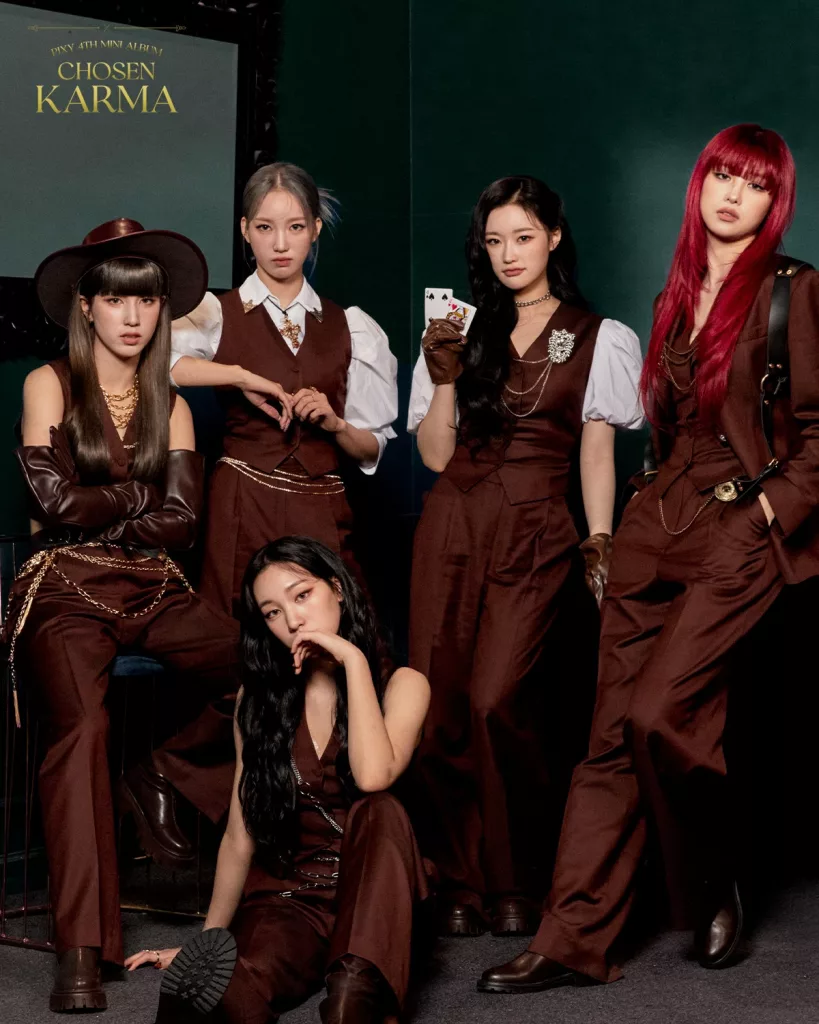 In CHOSEN KARMA PIXY explores different genres, experimenting with melodies contrasting to their title track. "KARMA," which is a mashup of "Hide & Seek" and "Flip a coin," features strong lyrics and high energy. In contrast, tracks like "Whisper" and "Falling" are songs with a slower tempo that showcase their voices in a softer way.
In addition to their musical evolution, the members shared their thoughts of the meaning of karma and whether or not they believed in it. Eager to answer the question, each of them had different takes on it. "Rather than believing in karma, I think we decide our own fate, just like the story of our latest release suggests. I think we create our own fate and value," said Dia.
Emphasizing how people can be the creators of their own fate and destiny, Sua and Dajeong opened up about what it meant for them. "I think our fate is decided to some degree. But what matters is that we can make our own decisions along the way, and this has a greater effect on our destiny," said Sua, while Dajeong reflected more on how it would impact oneself. "You get what you give. The main point of karma is that what goes around comes around. And I think if I do good things, it will return to me," she said in a determined tone.
The key word "karma" has played an important part on the album, but can also be a representation of their journey as artists, as they choose to redirect fate to benefit them. Exploring such concepts reflects PIXY's own desire to shape their own destiny while also promoting important messages to WINXY.
"I'll choose your destiny / I'll be your Μοῖραι"
As an album CHOSEN KARMA's unique concept bleeds throughout the tracks and the story. However instead of villains—as they are referred to in the concept of the mini-album—the word "anti-heroes" seems to fit them better. The group's positivity and assertiveness emanated in the call as they spoke about this new chapter. The story shows them fighting evil, choosing to play with the destiny of these evil forces like they are their marionettes.
"On our previous album we were reborn as villains. It's a story of villains punishing the evil force. This is why we've chosen marionette as a keyword for this album, (as) we decide the fate of evil forces and marionettes," said Dajeong.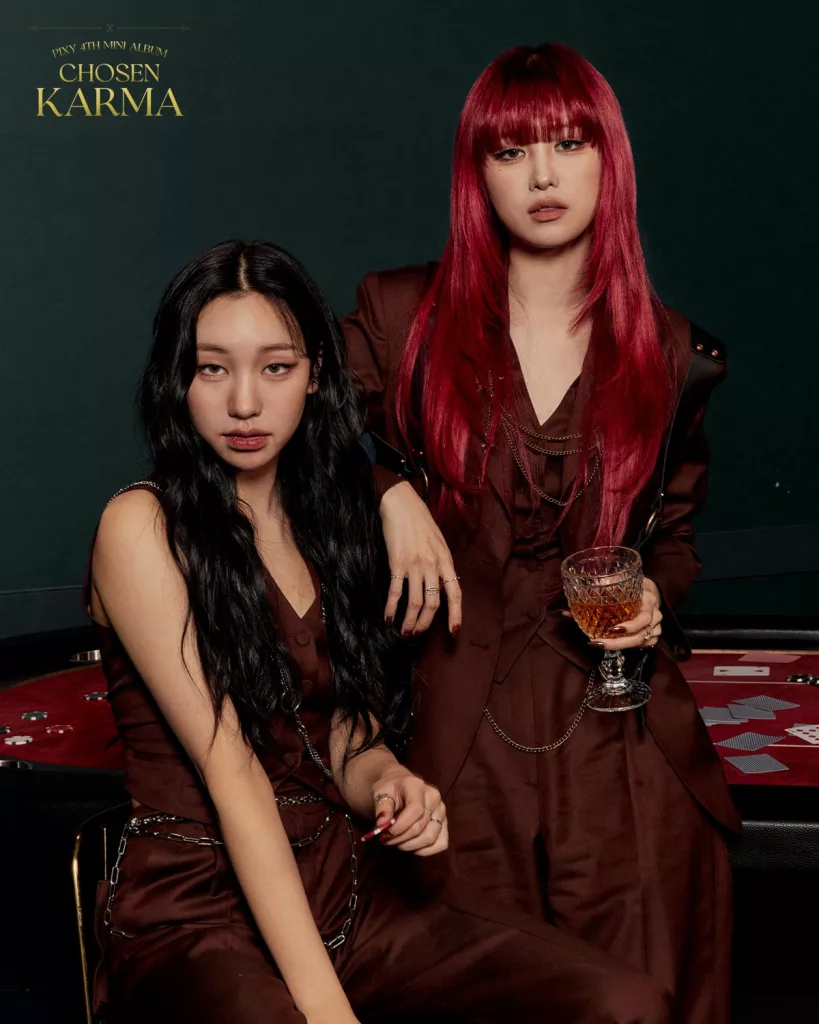 Their Own World With Music
The members reflected on the time preparing for the comeback since their last release in July 22 with REBORN. As their comeback date got closer, with Rinji added to the mix, PIXY was excited to be able to show new sides of themselves. "It's always fun to prepare for a comeback album, but with this album, we tried to show something new since we came back with a new release after a long break. We wanted to show something amazing, so we tried many new features in our MV, and this album was full of new experiences and challenges. It was a lot of fun," Sua said.
The new album shows a new side for the whole group. Each member shared their own favorites from CHOSEN KARMA. Lola chose "KARMA." For her, the song is all about performing with the utmost confidence. The rapper is not afraid to show her charm and hypnotize the audience as she does on the video of the title.
The leader, Dia, did not hold back. She chose two of the songs,where she feels the most confident on her visuals and dance. This included "KARMA" and "Whisper," songs that are different genres. "I love singing this song, I also had a lot of fun recording it and I am very proud of the result. So I would name these two since these are two different categories," she explained.
Dia was not the only one thinking about "Whisper," the R&B track enamored Sua as well. She called it her "favorite" after falling in love with it from the first listen, having chosen it for portraying her lively personality. "I loved the vibe of the song. I'm also very happy when I sing this song, and if you listen to it, it makes you happy no matter when you hear it or where you are, which resembles me!"
For Daejong, "KARMA" encapsulates the vibe and feel of all the members as a unit, highlighting the charm of the group. However, she chose "Falling" as her personal favorite. "I think the enchanting and mysterious vibe of 'Falling' suits my character well. So I choose 'Falling,'" she said. Rinji took on a bolder choice as she picked "Flip a Coin." This song showcases her abilities as a rapper in PIXY. She said, "The song's vibe dramatically changes from the second verse into a powerful hip-hop genre, and I think the rap part is very cool and charming!"
A Heartfelt Message to WINXY All Over The World
As the interview came to a close, PIXY sent sweet messages to WINXY. As the girls sat in their practice room, the message was clear to them: be better and be grateful for everything their fans have given them. The first to speak was Lola, who eagerly thanked WINXY. "Because of WINXY, we can always cheer up whenever we are preparing for the comeback, performing, or just going about our day. Only WINXY can give us the energy. I would like to tell WINXY that we are so grateful. For WINXY, we will try harder to be a group that can give hope and energy to people. So please keep sending your love and support! And we will always try our best!"
PIXY did not hesitate to send their greetings to all WINXY, expressing how excited they are to meet their fans everywhere. "Even though there are many WINXY overseas, whom we haven't had the opportunity to meet yet, I'm so thankful that they keep supporting us and giving us energy. So we will keep trying to visit any place where our WINXY are waiting for us, and make great memories with as many WINXY as possible," Sua said. Daejong replied, "Wherever you are, PIXY is ready to go. If WINXY are waiting for us, our lovely WINXY, let's meet soon."
What's Next For PIXY?
After their first U.S. tour, PIXY is excited to show more sides of themselves. As the group begins to leave the rookie stage, ambition is clear and energy is high. Dia gave us their resolutions for the coming months. "We've tried many different concepts until now, and we will continue to try even more new things. As Dajeong and Sua said, we will try our best to meet WINXY all over the world. In regards to music and visuals, we will always try to show an improved version of PIXY, and we will keep getting better!"
It's safe to say that WINXY has a lot to look forward to as the girls prepare for a new chapter of their story. In the meantime, PIXY's latest album CHOSEN KARMA, is available on streaming platforms, and you can stay updated on more of the group on social media.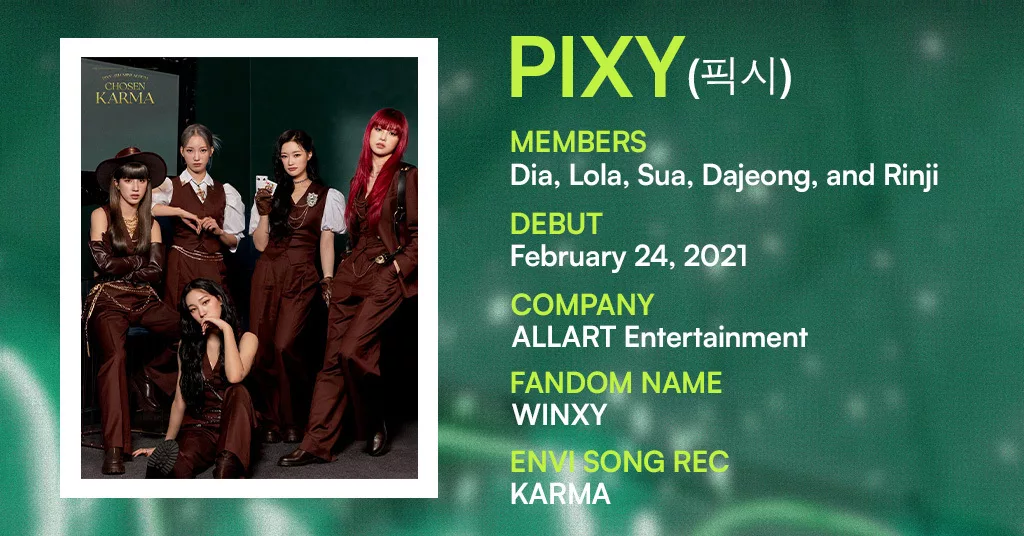 Want to read more about fourth generation K-pop? Check out our article about how Gen Z is changing the industry here!