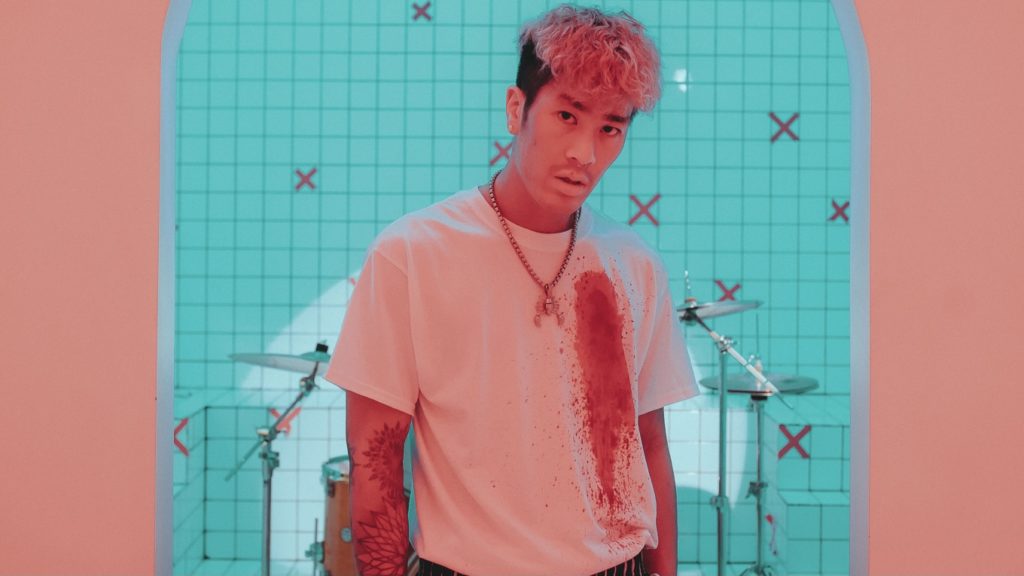 Amid his nationwide tour with pop sensations the Jonas Brothers and Jordan McGraw, pop-punk artist Bobo.Xx is living the life. No, he's not opening up for these heavy hitters just yet, but he is working as their trusted tour photographer behind the scenes. When he's not capturing Jordan or the JoBros' amazing sets, Bobo is steadily working on his music, as well.
Luckily, EnVi caught up with the artist in New York ahead of his second single, "Scar," and how it helped him release his inner demons.
View this post on Instagram
Behind the Scenes of "Scar"
Running on two hours of sleep, Bobo had just hopped off a plane from Syracuse earlier that morning. Despite his exhaustion, he ordered a coffee as he sat down, and couldn't wait to dig into the meaning behind his pop-punk creation. 
"The song pretty much represents a broken heart that's just bleeding out because I've given so much of my soul to other people," Bobo told EnVi. "I feel like this is the first time I'm finally doing things for myself and not what everyone else wants me to do."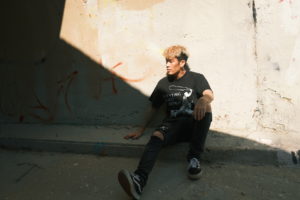 Inspired by the anime Demon Slayer, "Scar" is an electrifying track that represents the doubtful voices in his head. With the help of some friends, including writer and producer Benji Bae from NCT 127's "Lemonade," Bobo was ready to dive deep into the punk genre.
"We all got together to watch Demon Slayer and we're like, 'Let's just make a track for the opening scenes,' because usually, all the opening scenes for anime are pop-punk," Bobo smiled. "So after we finished making the song, we played it over the Demon Slayer intro and it just worked so perfectly." And from his animated hand movements, you can tell the rush of its concept excited him to the core.
However, he felt inspired to rename the song after a special event transformed his outlook on life. "The reason why I renamed the song 'Scar' is because one of my best friends just had a baby named Scarlet, and it's the closest I've been to a baby being born," he said. "It's super trippy, but I wanted to dedicate this moment in my life to her."
Why Pop-Punk?
During the pop-punk phase of the early aughts, the genre and its loyal followers were largely considered outcasts and misunderstood. And a lot of times, they were. Bobo is the first to admit he didn't always feel like he belonged. But when he discovered the rage and fire of punk, he knew this was his crowd. As Bobo ordered his food, he unrolled his silverware, dropped the knife, and endearingly apologized for the clumsiness before speaking. 
"The reason why I'm doing pop-punk is because I look in the media, and there's no Asian-Americans really chasing this shit right now," the artist explained. "Everyone's an R&B singer or rapper—no shade to any of those at all. But who the fuck is doing real punk rock shit? Where is the fucking biggest Asian-American rock star? We can't name anybody."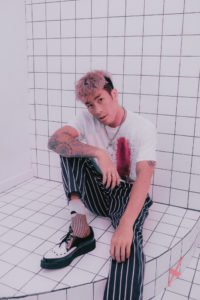 It's a common sentiment among people of color in the U.S., including Asian-Americans. For years, the AAPI community was either shut out of the industry or stereotyped into culturally "acceptable" categories. As unfair as this reality sounds, it's a reality that young Asian kids have lived with their entire lives.
"I wish I had someone to look up to," Bobo confessed. "I was always told to not cause controversy or attract too much attention, but when I shine, it's going to help the next person shine, and I hope to be that inspiration for other Asian-American kids who have that angst in them."
Insecure Peers & Staying True To Yourself
One thing that many creatives learn early on is that not everyone is here to see you win. Unfortunately, with success comes jealousy, and even your closest friends, partners, and mentors are susceptible to toxic behavior. It's a life lesson that Bobo has had to learn the hard way.
"In the path of Los Angeles, everybody wants you to express yourself and be successful, but not more than they are," he said. "I've had people in my life who were chasing the same dream, but along the way, they gave up and tried to make me believe I wasn't cut out for this."
Initially, the negativity affected Bobo and his strive towards a more fulfilling dream. But, that didn't stop him from realizing his true potential and the path that awaits him. "I found my strength through punk because it's all about the attitude and not giving a fuck about what people say about you," Bobo said. "It's helped me heal and let the rage out from my hurt and channel it into something creative."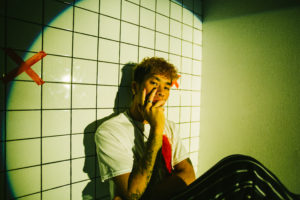 After the self-projection of his past mentors and girlfriends, Bobo has overcome the pessimism and instead, focuses on what makes him happy. "It's interesting to reflect on it and see where hate will get you versus what love will get you," he said. "That's why I'm going so fucking hard now… a lot of this artist shit is just self-belief that you can do it; it's all a risk."
As Bobo breaks away from expectations and stereotypes, he's reminded of why he started making art in the first place. "I just want to inspire people to be honest and raw with their emotions; not just make music that's cool, but make music that resonates with them." And in true Scorpio fashion, the naysayers are the fuel to his fire.
A Chaotic Mess, But Part of the Brand
With only a few months left of 2021, Bobo reflects on his adventures thus far but is also stoked for the future. "This tour has been pretty fucking insane—I wake up every day with some of the best people in the industry," he said. "As a self-made or community-made photographer, I'm putting that same energy into my music now and keeping that grind mentality."
It's a testament to his ambition since Bobo stays busy and describes his tour persona as a "chaotic mess." But, with two singles under his belt and a couple of new tours in the works, he's taking every opportunity to level up. "Pop-punk was like, the un-coolest thing back in 2006, but I like it so why the fuck not?"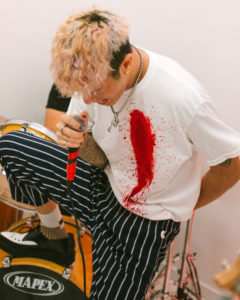 Click here to check out "Scar" by Bobo.Xx — available now on all streaming platforms.
For more info on Bobo, check out his Artist Spotlight with EnVi here!
Photos courtesy of Bobo.Xx