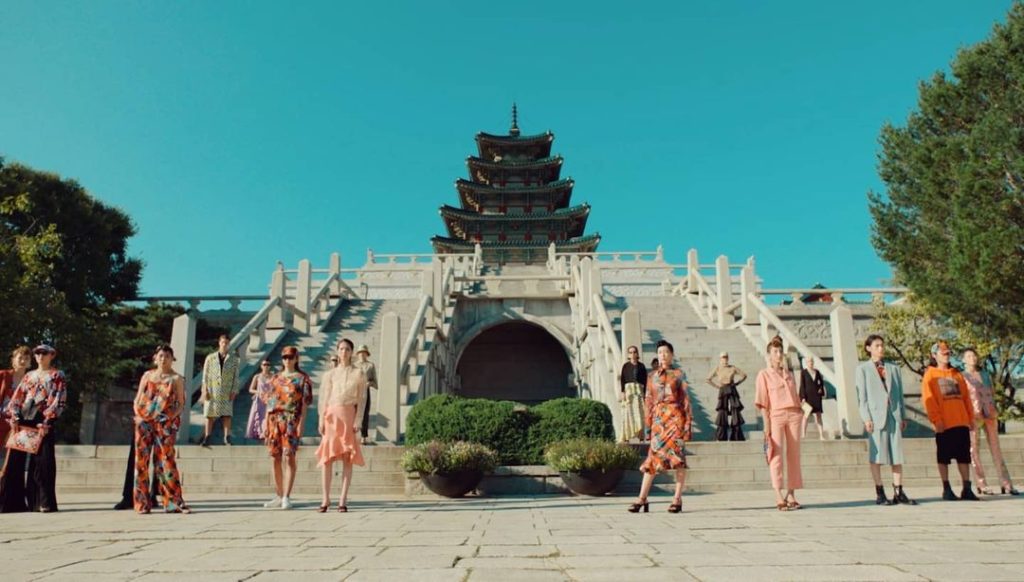 October 7, 2021 marked the first day of Seoul Fashion Week. The week kicked off with an opening performance by DPR LIVE. He performed his hit songs "Laputa", "Martini Blue", and "Hula Hoops" in front of the Gyeonghuigung Palace. For the opening song, the artist wore a black Korean Leather Trucker Jacket, made by the brand VEGAN TIGER. The designer of the cruelty-free brand, Yang Yoon-ah, will be showcasing her new collection on the last day of Seoul Fashion Week, October 15. DPR LIVE was also seen wearing pieces from designer Yoon Seok-woon's newest collection. The collection was unveiled later the same day along with other designers, including NOTKNOWING, PARTsPARTSs, and more. Here is our recap for Seoul Fashion Week day one.
#DPRLIVE | behind the scenes of the SFW performance! pic.twitter.com/r7B6viO4lD

— dpr archive (@dprarchive) October 7, 2021
NOHANT
The first brand to walk down the runway was NOHANT, a contemporary fashion brand created by designer Noah Nam. The "Morning Routine" collection was heavily influenced by brunch attire, inspired by the team's routine of going to brunch with family and friends. The collection consisted of crew necks, sweater vests, and knits that correspond with an upper-class lifestyle. It also featured breathable button-downs, styled half tucked-in jean shorts, and khaki pants, suitable for daily summer outings. 
View this post on Instagram
NOTKNOWING
Following NOHANT was NOTKNOWING, a brand created by designer Kim Si-eun. The brand's aesthetic takes inspiration from sports and the sub-culture city look. The new collection was called "Streetfighters Sunday," and as the name suggests, it consisted of edgy streetwear pieces that are reminiscent of thrilling nightlife. Inspired by the long history of London's ACE CAFE, the pieces echo the biker, petrolhead style. Paisley patterns, torn-up denim, and leather were some of the common elements found in the collection. A staple in biker style, the collection showcased black and white checkered motifs as well. 
View this post on Instagram
GREEDILOUS
Park Yoon-hee, creator of the brand GREEDILOUS, channeled pop-business chic with her newest "Atlantis" collection. Colorful patterned fabric that featured sea life and pearls was used in blazer/skirt ensembles, simulating typical office attire. To advocate for the protection of sea life, Park used organic cotton and environmentally friendly materials for her collection. The collection consists of many bold patterns, pairing the busy fabrics with denim or sequined jackets. The use of summer colors like teal, yellow, and lilac make this collection ideal for the brighter seasons.
View this post on Instagram
PARTsPARTs
PARTsPARTs is a brand that takes pride in its zero-waste practices. The sustainable brand, created by designer Im Seon-ok, conveys hope through the "Reliable Time" collection. The dynamic pieces portray a lightness that Im said may be difficult to find in the "reality of darkness and despair due to COVID-19." The collection showcases clean, uniform silhouettes that have a comfortable fit. Through this collection, Im embodies the feeling of recovery into his work. 
View this post on Instagram
SEOKWOON YOON
To close out day one, designer Yoon Seokwoon showcased his collection "Artificial Intelligence (AI)." The collection features futuristic silhouettes, involving traditional as well as new-age sewing techniques. Pairing natural fabrics with android-like patterns details, the looks depicted the coexistence of life and innovative technology. Oversized pockets and bags that turn into shirts are only a few of the design elements found in Yoon's modern, high-tech collection.
View this post on Instagram
Ready For Day Two?
As Seoul Fashion Week day one closed, designers and fashion enthusiasts alike were excited to see what came next. Throughout the week, various designers and musical artists will be featured. R&B artist Heize performed at the semi-opening on October 11. 
To find dates and times for the upcoming shows and performances check out the SFW schedule for the rest of the week.
View this post on Instagram
Want to read more about Seoul Fashion Week? Read about their global ambassador, EXO's Kai.
Thumbnail courtesy of GREEDILICIOUS, via Seoul Fashion Week.