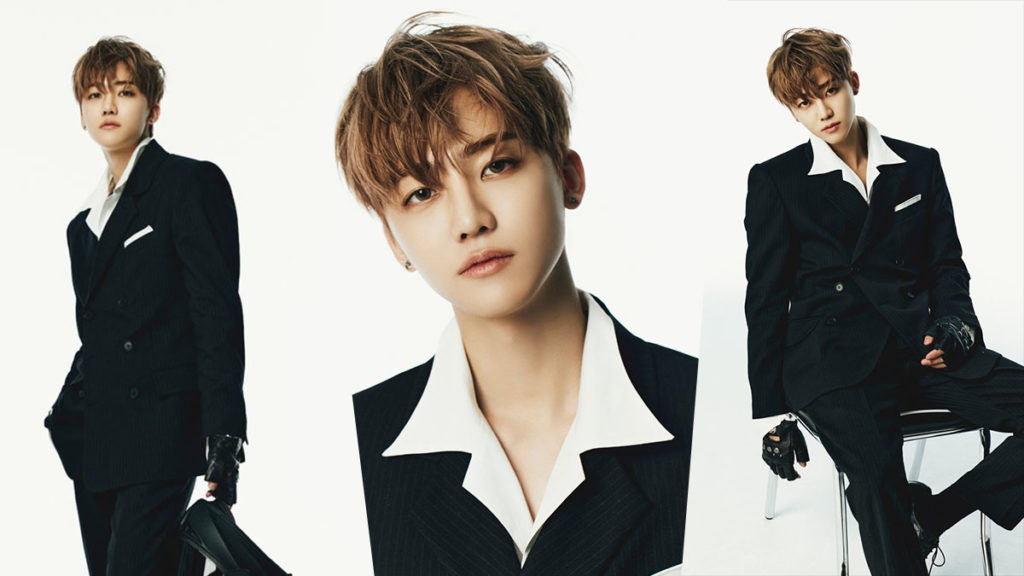 NCT DREAM's second full-length album, Glitch Mode, will be released soon. After the success of 2021's Hot Sauce and its Hello Future repackage, the group is set to show off a new image in the upcoming era. To celebrate, EnVi is reflecting back on each member's individual growth and evolution. With the comeback just around the corner, let's explore Jaemin's various individual accomplishments and talents.
All Around Entertainer
Jaemin's official positions in NCT DREAM are center, lead rapper, lead dancer, and sub-vocalist. With his deep vocals, charisma, and undeniable stage presence—the positions are well deserved. Jaemin was meant to be on the stage and it shows in his performances with his captivating voice and dance precision. Jaemin proves himself to be an "all-around entertainer," as he is also known for his songwriting, acting, modeling, and photography.
Heartfelt Lyricist
Jaemin has accrued songwriting credits on four NCT DREAM albums. On We Go Up, he participated in writing for "Dear DREAM," alongside members Jeno, Mark, and Jisung. This track is full of heartfelt lyrics that speak of the group's time as seven members and can be considered a farewell letter to Mark as he was the first to "graduate" from NCT DREAM. Jaemin is also credited on three songs for the We Boom album—"119," "Bye My First…," and "Best Friend." Compared to its sentimental counterparts, "119" is a trap song that speaks on the free spirit of the youth. This track displays his capability to work in various genres.
He also wrote lyrics for "Puzzle Piece" on DREAM's Reload album. The lyrics express deep gratitude for friendship that fills the parts of you that you weren't even aware were empty. This same tenderness is seen on a track from the Hot Sauce album, "Rainbow (책갈피)." The track is dedicated to the DREAM members as they continue their story as seven members.
Idol Actor
Jaemin made his acting debut with his cameo appearance in the A-Teen (2018) drama series. In the next year, he would land his first lead role in the web drama series 너를 싫어하는 방법 (How to Hate You) (2019). The drama tells of a cliché manga story about college campus romance. Jaemin takes on the role of a cold-hearted bad boy with a surprising soft side. He received much praise for his first acting project. Jaemin won Best Actor at the Seoul Webfest Awards in 2020. NCT's fans, named NCTzens, have continued to express their hope for more acting gigs for him in the future.
Breathtaking Visuals
As the visual center of NCT DREAM, Jaemin's beauty never goes unnoticed. Fans described the idol as 'truly' breathtaking. There was even an article headlined, "NCT DREAM Jaemin, a visual that can't be covered even with a mask." The DREAM member has been featured in several magazines with other members since 2016. Jaemin's first solo feature was for Nylon Korea in 2019 for their May issue. The following year would grant him his second shoot for Allure Korea's March 2020 issue. In 2021, Jaemin had his first magazine cover with WWD Korea for a Special Edition.
Sentimental Photographer
During an Allure shoot, Jaemin shared that he picked up photography for fans—with a camera he is able to take a picture and show it to fans right away. He believes that a picture is able to capture the essence of a single moment in time, which is why Jaemin loves to take photos of the other members. "There aren't [many] pictures of me, because I usually take them," he's told fans a few times before.
When it comes to photography, The DREAM member also expressed his love for Adobe Photoshop. So, it was not too surprising when it was revealed he collaborated with Adobe Korea. In a YouTube video called, "Nana's Joyful Day #1," Jaemin is shown using Adobe Photoshop to edit scenic photos. He even has his own page on the Adobe Korea website that is headlined, "Photo and vlog with vibes completed with Adobe Photoshop and Premiere Pro! Try it together with pro idol NCT JAEMIN." The videos went viral on social media as fans were eager to get more insight to Jaemin as a photographer.
Volunteer Work
Jaemin has been doing volunteer work since before he became an idol. He was actually cast while volunteering at an event with his mom. Even with his busy idol schedules, the artist continues to find time for volunteer work. Jaemin teamed up with UNICEF Vietnam to help bring awareness to and end school violence and bullying on World's Children's Day in 2018. During a field visit to Vietnam, he was able to personally meet with high school students and exchange how peer violence in schools is impacting students. He also attended the Korean youth meeting with UNICEF Korea Committee in Seoul to discuss the effects of climate change on the youth.

Jaemin and fellow DREAM member Jeno appeared on the program Good Neighbors in 2019. The program showed the two volunteering in Indonesia to help children in poverty. The Good Neighbors organization has a mission to improve the quality of life and education for children. In the episode, Jaemin and Jeno helped 9-year-old Pudori and 14-year-old Slamet with their daily activities so the two could attend school. The DREAM members also purchased stationery and other items the children needed. Jaemin even took to Twitter to encourage fans to also sponsor a child to help them receive an education.
He Just Has So Much Love To Give
One important thing to note is just how loving and caring Jaemin is. He has always been extremely vocal about his love and admiration for NCTzens. From his infamous long heartfelt messages on LYSN's Dear U bubble app to picking up photography for fans—the list goes on. Jaemin never hesitates to remind fans just how much he appreciates them. Whether it be on LYSN's bubble, V-Live, or during fansigns, he constantly reminds fans to take care of themselves and makes sure that they are eating and drinking properly. This is why fans gifted him the nickname "fansign boyfriend," for how sweet he is to fans during fan meetings. NCTzens even said that he has messy handwriting during fansigns because he focuses on the fans instead of what he is writing.
What's Next?
With the new Glitch Mode album release, NCTzens are left in anticipation for what is to come for Jaemin and the rest of NCT DREAM. As 2021 gifted the group success and opened new doors, fans are looking forward to what the new year and era brings DREAM and its members.
If you want to stay up to date on Jaemin, you can follow him on Instagram, as well as the official NCT DREAM Twitter and Instagram accounts. You can also find NCT DREAM on Spotify and YouTube.

Want more NCT DREAM content? Check out our previous DREAM Week piece on Chenle here!