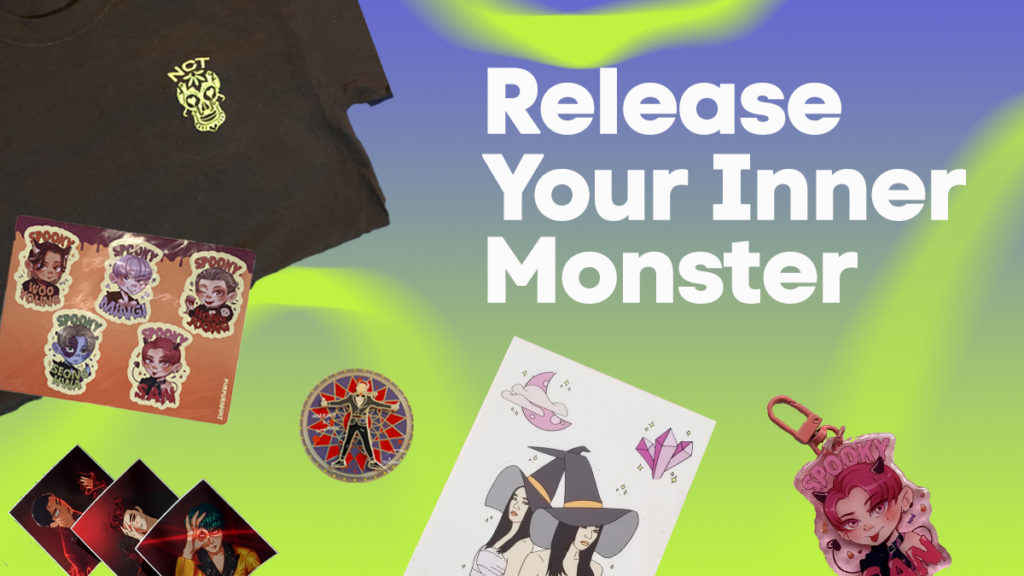 Happy Halloween, EnVi readers! This year, the EnVi Advertising Team compiled a list of Halloween-themed K-pop fan-made merchandise for you to enjoy. Get your shopping carts ready and let's fill them up–not with candy, but with K-pop merchandise!
SHINee "Married to the Music" Pins
Get into the Halloween spirit with pins inspired by SHINee's "Married to the Music." The spinning pin from 5HINeeByTori recreates one of Key's looks from the iconic horror-themed music video. 
Based in Norway, 5HINeeByTori makes a variety of SHINee-themed pins and jewelry, shipping worldwide. The hand-made pin is available for pre-order now. 
ATEEZ Spooky Halloween Charms, Stickers, and Tape
Spread the spooky spirit with adorable ATEEZ Acrylic Keychain Charms, Stickers, and Washi Tape from Purpurnight. The Spain-based store features designs by a fine arts student and delivers internationally. Shipping ranges from 1 week to 4 weeks, depending on the location. 
Red Velvet Retro Psycho Shirt
Feel the Halloween vibe while wearing this shirt inspired by Red Velvet's "Psycho." With its retro duo tone art style, it evokes a similar feel to the grim but sophisticated vintage fashion outfits on the music video. This shirt by Yesulbang is only available for specific pre-order periods, so keep your eyes peeled on their social media accounts! Check out their other cool items on their Shopee account.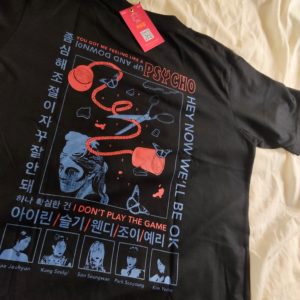 Irene and Seulgi Monster Witchy Sticker Sheet & Charm
Celebrate with the Red Velvet duo with witchy stickers and charms. You can decorate and accessorize with these reimaginings of Irene and Seulgi's "Monster," sold by KMosCharmShop. Located in Michigan, USA, the Etsy store ships worldwide.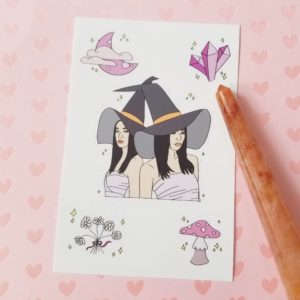 EXO Obsession Mini-Prints and Stickers
If you're looking for something supernatural, these EXO Obsession prints and stickers feature the X-EXO characters from the group's "Obsession" music video. The hand-made glossy prints from the UK-based artist, Tayba Batool, are available for international shipping. 
NCT Halloween Goods
Couldn't get enough of NCT's Horror Nights? Mochi Land has got you with their NCT Halloween goods! This Mexico-based online shop released a collection consisting of a Puffy Neon Green Jacket, a personalized shirt, and a glow-in-the-dark cup. The design is inspired by El Día de Muertos, or also known as the day of the dead, a holiday originating from Mexican heritage and observed during November 1-2.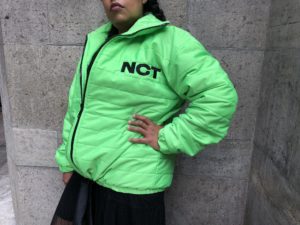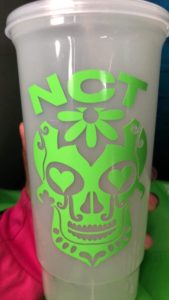 Did any of the Halloween K-pop merchandise we've shared catch your eye? Treat yourself and buy them now! If you're looking for more fan-made merchandise to add to your cart, check out our recent feature here.
Thumbnail courtesy of Mal.