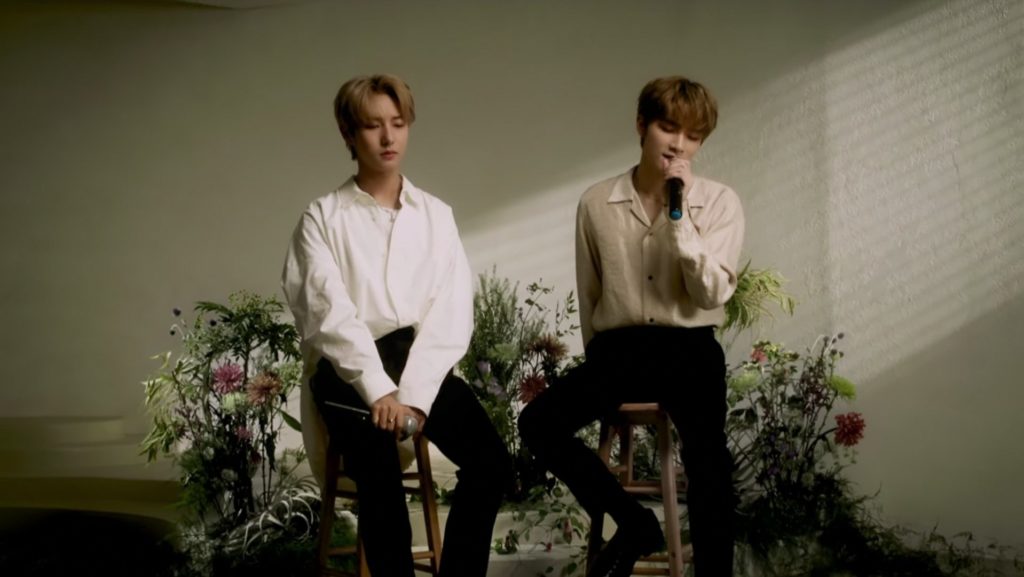 On August 2, NCT Dream's Renjun and WayV's Xiaojun joined forces to captivate fans with a new cover! The clip, published both on Weibo and YouTube featured the two vocalists performing an emotional rendition of Eric Chou's "Unbreakable Love." Each singer crooned a verse of their own, before blending their voices seamlessly in a series of runs and harmonies. Dressed in neutral tones and surrounded by greenery, Renjun and Xiaojun perfectly conveyed the feelings of a deep, never-ending love. 
Building Anticipation
The cover may not have come as a total surprise for some. Back in April, keen fans noticed Renjun singing a few lines of "Unbreakable Love" during an episode of NCT Dream's 7llin' in the DREAM series, and hoped he would perform a full version of the song someday. 
renjun singing 永不失聯的愛 (unbreakable love) by 周興哲 (eric chou) but only for six seconds :')) pic.twitter.com/PQzLrS9jax

— ? (@plantsprout) April 21, 2021
During a recent episode of Akdong Seoul, the radio show hosted by groupmate Chenle, it was also revealed that Renjun and Xiaojun were huge fans of the song! Seventeen's Jun, who told the story, shared that the three of them often sing together whenever they meet. 
-c- he added that #RENJUN and #XIAOJUN also like this song a lot & whenever the 3 of them meet up or call one another, they will sing the lyrics from the song ? (why can i see this happening HAHAHA) jun said its a good song to listen to before sleeping & hopes we'll like it too!

— 玉玉的乐乐窝 ? (@ZCLRADIO) March 26, 2021
A Warm Reception
The release was well received, garnering over half a million views within hours and trending on multiple platforms, including Weibo and Bilibili. 
"huang renjun and xiaojun's unbreakable love" trending at #44 at the entertainment category on weibo and rising?? pic.twitter.com/zmV7anWCkR

— ً (@xiaodonghuli) August 3, 2021
#RENJUN & xiaojun's unbreakable love cover trending at #9 in the music category on bilibili and is on the front page as well in the hottest/popular category as well! pic.twitter.com/KzVFVfdrDd

— ً (@xiaodonghuli) August 3, 2021
Both Renjun and Xiaojun took to SNS to express excitement at finally being able to share their cover with their fans, and asked for lots of support.
[OFFICIAL/TRANS] 210803 #RENJUN's Weibo update

"Renjun and Xiaojun's "Unbreakable Love", hope everyone will give it lots of support! ?"#NCT #NCTU
Translated by @meltIips – SM_NCThttps://t.co/QzyRHHTOY7 pic.twitter.com/Bx8Icwz5Bb

— SM_NCT (@SM_NCT_BACKUP) August 3, 2021
[OFFICIAL/TRANS] 210803 #XIAOJUN's Weibo update with #RENJUN

"Finally the wait is over, Renjun and I had a hard time hiding this!"#NCT #NCTU
Translated by @meltIips – SM_NCThttps://t.co/zY5nc53kXE pic.twitter.com/Qbdszx4rlD

— SM_NCT (@SM_NCT_BACKUP) August 3, 2021
See what fans on Twitter have been saying about the cover!
the lyrics were so good this cover has me in shambles it's so perfect thank you renjun and xiaojun pic.twitter.com/E9cHqrvkf9

— jc ? (@imsoxuxi) August 3, 2021
pov : you're listening to renjun & xiaojun's cover pic.twitter.com/Eq2DLuVIr1

— liza༉‧₊˚✧ (@dghyuckswrld) August 3, 2021
The relaxing sensation you feel when you listen to xiaojun and renjun's soft voice while your eyes are close, feels like it will take you to heaven…while their soft voices singing along… it makes you feel euphoric.

— jiro ◡̈ (@acesneo) August 3, 2021
i'm so proud of huang renjun and xiaojun

yes yes yes
? ? ?

— yuaa. (@InjunieHRj) August 3, 2021
Best 4mins of my life, their vocals are so perfect… This is truly unbreakable!! NCT NEVER DISAPPOINTS!#Cover #RENJUN #XIAOJUN#永不失联的爱 #UnbreakableLove #Eric周兴哲#NCT #WayV #NCTDREAM pic.twitter.com/hUwsGDHD5A

— ackie ⚔️ Ten on 10th of Aug ? (@yeoltaoxi) August 3, 2021
After such a warm serenade, fans are looking forward to hearing more from Renjun and Xiaojun soon.
To see more of our favourite NCT performances, check out this round-up of EnVi's Top NCT Performance Picks!
Thumbnail courtesy of SM Entertainment.