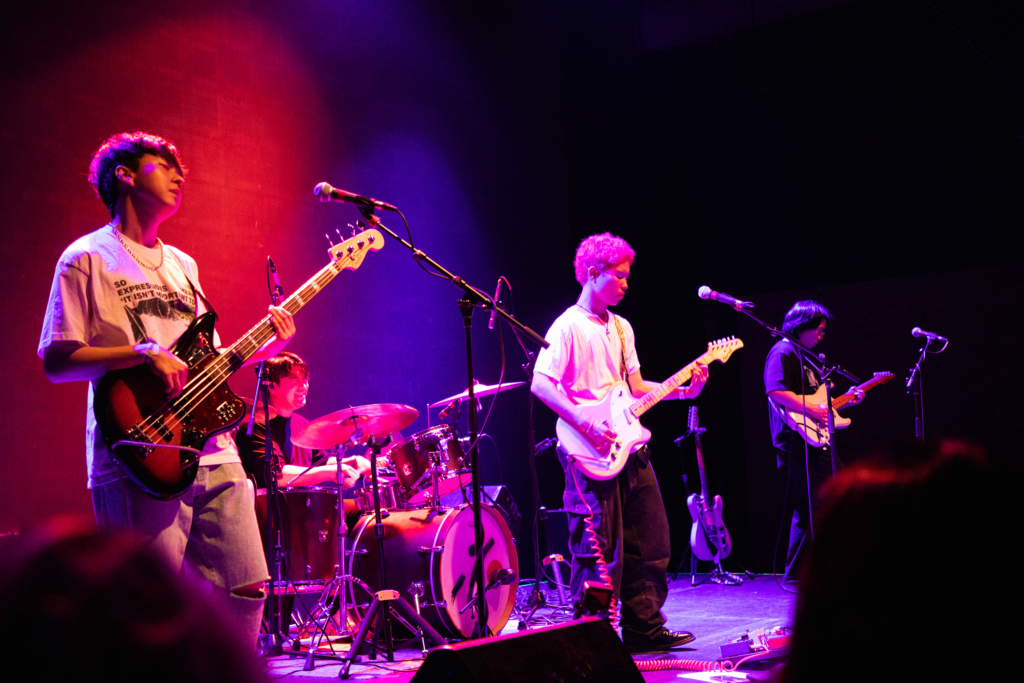 Korean rock band SURL (frontman and vocalist Hoseung, guitarist Doyeon, bassist Hanbin, and drummer Myeongseok) may appear unassuming at first, but behind well-loved instruments, you'll find a unique synergy between its members – high school friends turned bandmates — that's reflected in their magnetic music. SURL debuted in 2018 with "Stay Here" and have been consistently ushering out hits, from "Dry Flower" off their 2019 I Know EP to singles like "Don't Say No" in 2020. More recently, they've popped up across the world in music festival circuits – and even stateside with SXSW last year. But, on their first North American tour, "review of us," SURL is setting new strides for Korean "band musicians" and showing what else Korea has to offer musically in addition to K-pop.

EnVi caught up with SURL backstage ahead of their Chicago show on April 9. Although the members had flown into the city that morning following their Toronto show just the day before – and were understandably fatigued – their energy was bright and amicable, and they crowded around the green room table in anticipation.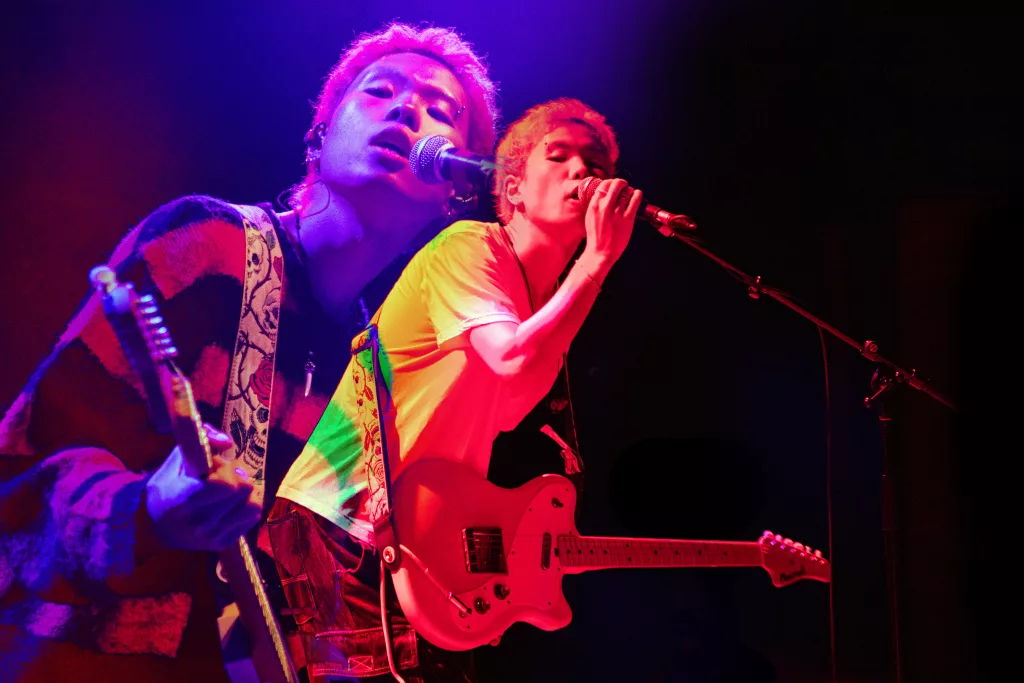 On Performing for North American Fans
Hoseung mostly took the lead, his bright red buzz cut and eyebrow piercing contrasting his calm demeanor. He later shared during the show that he had just dyed it three weeks ago, and joked that it was "like Wendy's." Unfortunately, he had not had a chance to try the American chain. The band, however, switching between Korean and English, candidly shared other new experiences they've had since touring in the U.S.
Despite nearing the end of their tour, SURL's excitement was not any less palpable. "I'm so excited before the show. It's really great and this is our eleventh show. It will be fun and I hope many people will come and enjoy it," said Hoseung.
Across shows, the fan turnout was surprising for the band, especially considering that their promotions are very heavily Korea-based. "We didn't expect that many people would come to our concert, and there's a lot of fans in the U.S. so we are really happy," confessed Myeongseok.
The cherry on top of the cake was their fans' love for the music. Although the rise of K-pop has made global audiences more accustomed to the Korean language, witnessing how language barriers can be transcended through music is no less shocking every time. "We are Koreans and wrote our song in Korean, but they sing it in Korean too," said Hoseung.
At the show, the adoration between the band and the fans seemed mutual. Upon entering the venue, there was a fabric poster and markers for fans to sign with that commemorated the tour stop. Little messages of encouragement filled the canvas, which was held up with pride for the band's ending group selfie.
During the interview too, Hoseung periodically worried about the drizzle outside while fans waited in line. A few minutes after doors opened, the band came out to get a brief look at everyone waiting. Fans were quietly shocked as they realized that it was, in fact, SURL who had just walked by, chatting amongst themselves afterwards to confirm if that really just happened.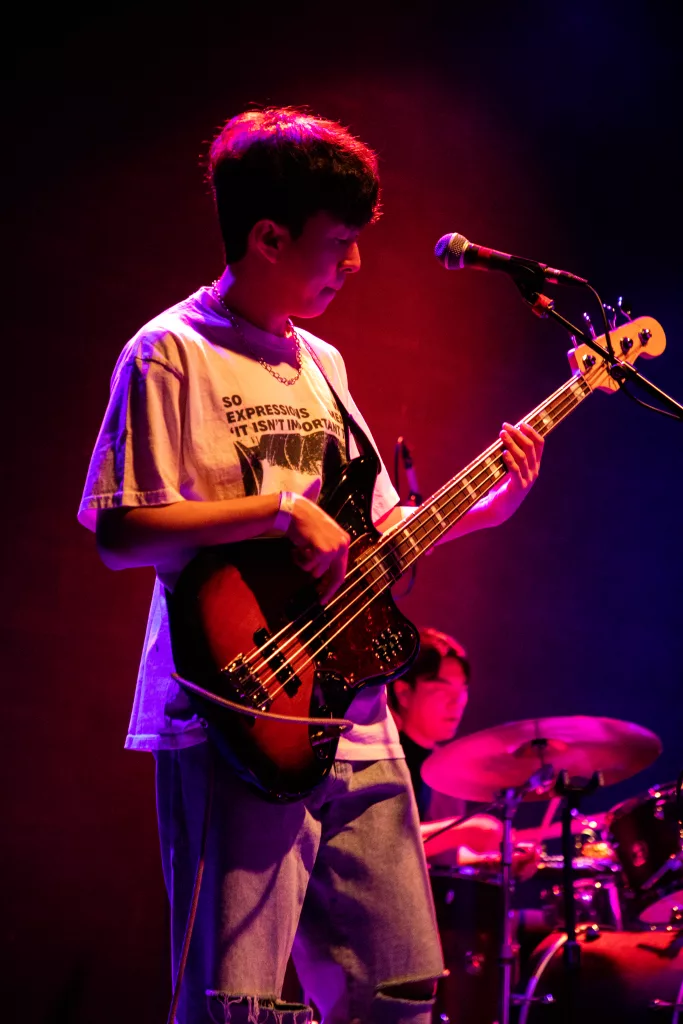 The Reality of Tour Life
As for what the members learned since touring, physical geography was an unexpected barrier to overcome, compared to tours they've done across Korea. The group went to Canada by plane, but for the rest of the U.S. stops, have taken the tour van life by the horns.
"This is our first experience that we drove so long. Actually stops in Korea are so much closer together, but in America it's much farther, so it's the first time we're doing something like this," Hoseung said.
Being away for so long has been bittersweet for the band, but it is also something they'll always remember. "[I've had a] little bit of homesickness. It's a very long tour, and it's our first time having been out of our house for such a long time, so that's been a little bit hard. But it's a lifetime experience, so we're having fun," Doyeon expressed.
But, at least now they're prepared for their next time around. "Next time, one day if we come again, I think we should rent a bigger van. Or an RV would be good," Hoseung mused.
When asked what other interesting things happened on tour, the band looked at each other in silent agreement before they broke out in chatter, "Congress, where was it? Tucson, Tucson."
Hoseung broke it down. "In Tucson, we went to Hotel Congress to perform and when I searched it in Google, it said it was haunted. I was really surprised that Room 220 was the haunted room, Vincent's room. I stayed in 219," he revealed.
No ghosts? "No," he replied. A pause, and then Hanbin chimed in mischievously. "Maybe." And the band members laughed.
The band was fortunately able to not just achieve musical goals, but culinary ones. Before their tour even started, Hanbin said in an interview that he really wanted to try each city's foods. When asked what their favorite memory on tour has been, this was what immediately came to his mind.
"In Texas, we had fried chicken. It was really delicious," he said.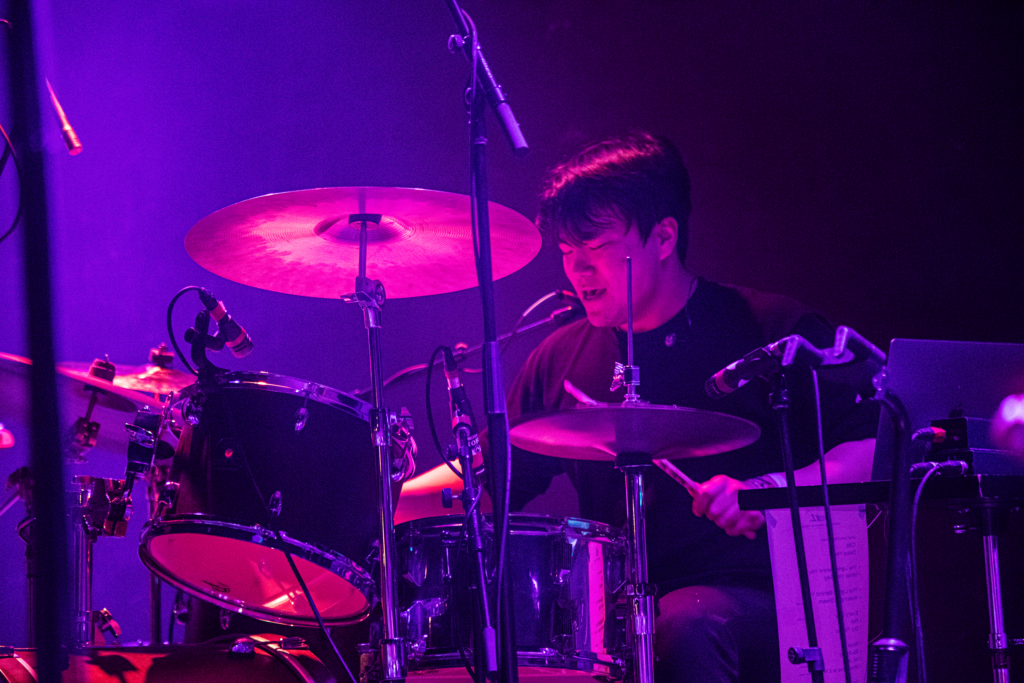 What's Next for SURL?
The show opened with Chinese-American singer Kaz Moon and Chicago-based band SMUT, anticipation filling the room as much as the innovative music did. When SURL took the stage, blazing, brilliant shades of pink, red, and blue pushed the atmosphere to a fever pitch and the members riffed off of the energy, with Hoseung even using his tongue to play a few guitar chords – characteristic of a true rock artist.
Between songs, Doyeon mentioned he was using a budget replacement guitar for this stop, because he had a problem with his original one. Yet, the sound was not at all compromised, which is evidence of the band's commitment to their music.
Even after a month-long tour, SURL's rest of the year is still packed with activities. "When we go back to Korea, I think we'll be working on a new single right away. We're going to make more demo songs," Hoseung said. "And after that, we're going to continue performing on stage since we're booked for more, and we plan to post an announcement about new songs later too."
And for their last word to fans…
"First off, even though they're Korean fans, everyone in the nation came to see our performance, so I was so surprised and thankful, and it'd be great to be able to meet more fans in the future. Thank you for having been with us for this tour," said Hoseung.
"It was so much fun coming to America, and I want to come back," said Myeongseok.
"We'll be back with a bigger concert next time," said Hanbin.
"I hope to be able to see you again. Thank you," said Doyeon.
The band was hypnotizing, and there was a certain kinship audiences could feel between members as they worked off one another to noodle heart-pounding finales. With new listeners floating in and out of the open venue space like moths to a light, and the lights themselves daring to shift from glaring to complete darkness to match their songs' build-ups and breaks, it felt like we were all enshrouded in something very special.
Translations provided by Karen Yi.
Want to know about more Asian artists making waves right now? Check out EnVi's guide to 88rising's Head In The Clouds 2023 festival lineup here.