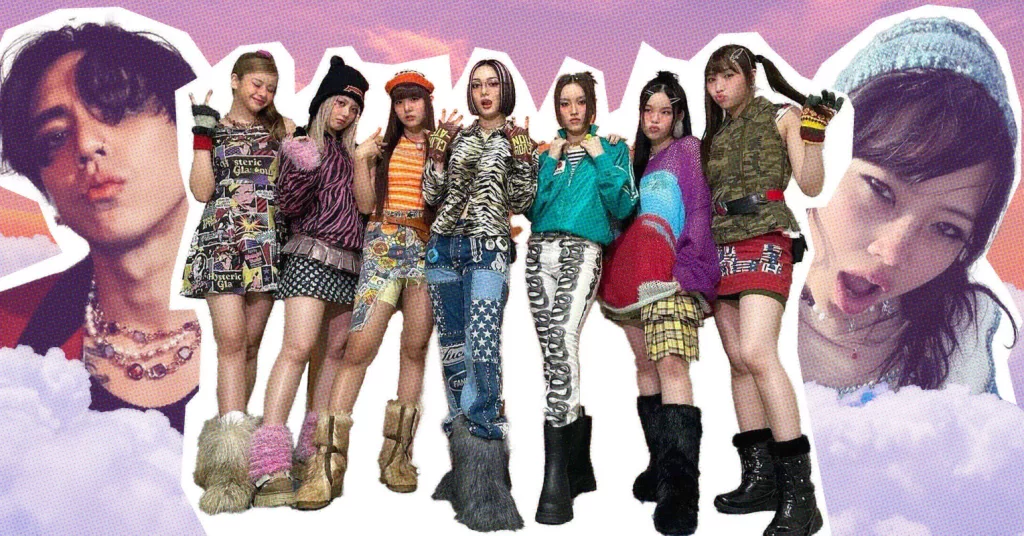 If you have been an active TikTok user at any point in time during the last year or so, you are probably familiar with viral hit songs such as "Glimpse of Us," by Joji and "LIMBO" by keshi. 88rising, the music company home to these and plenty of other talented Asian musicians, is returning with its annual festival this spring. As the festival is set to be held at Forest Hills Stadium in Queens, N.Y, the location takes 88rising back to its roots, making this year's occasion all the more special. Reminiscing on the journey from a parking garage in the Bronx to a global brand, CEO and founder Sean Miyashiro said of the event; "I'm beyond proud and to me it's only fitting that this was all born there. It's especially meaningful to be able to do it at an iconic venue like Forest Hills Stadium during its 100th anniversary!"
The Head In The Clouds (HITC) festival celebrates Asian music by bringing out a variety of talent each year. Taking place during Asian American and Pacific Islander Heritage month, this year's festival is set to bring forward representation. This HITC season, artists are set to perform on Saturday, May 20, and Sunday, May 21. There is no doubt that this year's lineup is going to blow the crowd away, and Team EnVi is here to guide you through it!
Day 1 (Saturday, May 20, 2023)
ITZY
ITZY is a K-pop girl group under JYP Entertainment consisting of members Yeji, Lia, Ryujin, Chaeryeong, and Yuna. On February 11, 2019, they debuted with the song "DALLA DALLA" which was released as a single under the album IT'z Different.
Within their first year of debut, they won several awards and rose to the top of many music charts. Since then, the girls have come out with various singles, EPs, and albums. Their most recent EP, CHESHIRE, was released on November 30, 2022, and won the group Artist of the Year at the Circle Chart Music Awards. In 2022, they announced their first world tour (Checkmate World Tour) which took them to 12 countries in Asia and 8 states in North America.
Rich Brian
Chinese-Indonesian rapper, Rich Brian, got his career started with a hit. On March 11, 2016, he released "Dat $tick," along with a music video that quickly started making waves on the internet. The track gained attention after the official 88rising YouTube channel uploaded a video featuring rappers such as 21 Savage, Ghostface Killah, Desiigner, and more, reacting to the music video.
Since then, he's collaborated with multiple artists including bbno$, Yung Gravy, and Jackson Wang, and has appeared in the official Shang-Chi and the Legend of the Ten Rings soundtrack. In addition, he's come out with three full-length albums. His most recent track, "Sundance Freestyle," was released on January 23 of this year.
beabadoobee
Known for her bedroom pop and grunge sound, beabadoobee has piqued international interest over the last few years. Taking her artist name from an old social media handle, she crafted a sound reminiscent of Kimya Dawson, Alex G, and Karen O. Whether it was her birthplace in Philippines' Iloilo City or her childhood home in London's Camden, Bea Kristi was surrounded by music. beabadoobee has come a long way, from her humble beginnings of teaching herself guitar, to eventually scoring several hits in her genre.
The commercial success of her hit song "Coffee" landed her a record deal with London's Dirty Hit label in early 2018. She released a pair of EPs later that year, Lice and Patched Up, as well as her debut album, Fake It Flowers in 2020. Shot from her hometown in Iloilo, the music video for her latest single, "Glue Song" shows the artist reflecting on a new relationship. beabadoobee recently joined Taylor Swift in her Eras Tour, becoming one of her opening acts in cities across America.
Milli
Danupha Khanatheerakul, better known by her stage name Milli, is a Thai rapper and singer. Beginning her career on the Thai TV show The Rapper 2, she first gained attention for her unique singing and rapping style. She became a prominent figure in the Thai rap scene in February 2020 with her debut single "Phak Kon." International audiences could not get enough of Milli, and with over 93 million views on her music video, she rose to fame. Performed in Thai (Northern and Southern Thailand), English, Isan (Northeastern Thailand), Lu (Southeast Asia) and Japanese, Milli's music introduced the world to her varying language skills. She is also part of 2021 Ratri, a famous Thai project group. As the new version of the 2002 Ratree, the five-member group consists of Gam Wichayanee, Waii, Lady Blossom, JingJing Yu, and Milli.
Notably, Milli has collaborated with international acts such as Tsunari for "Whip It," BIBI for "The Weekend," Jackson Wang for "Mind Games," as well as F.HERO, Nino, and Stray Kids' Changbin for "Mirror Mirror." As a K-pop fan herself, her collaboration with Changbin further solidified her love for K-pop and established her first steps in the K-pop scene. In April 2022, Milli became the first Thai solo artist to perform at Coachella, along with other 88rising artists. She wrapped up her set by eating Thai mango sticky rice on stage, which led to a surge in sales on the dessert 24 hours after her performance. In the latter half of the year, Milli appeared on BBC's 100 Women list as one of the world's most influential women of the year.
Akini Jing
Akini Jing returns to the spotlight with a new look, after undergoing what she calls "a firmware update." Singer, songwriter, and music producer, Akini, also known as Zhu Jingxi, is ready to take on the world with her new persona. Her newly revealed "cyborg persona" fits her sonic way into the Y2K renaissance, with heavy cyberpunk synths. Exploring the remnants of humanity through an outer perspective, her futuristic makeover masks an ever-changing artist persona. She released her first album At the End of the Sky in 2008 under Universal Music, which was later followed by a second solo album Equine Dreams in September 2014.
In 2020, she participated in Sisters Who Make Waves and began her own label, Akini Music. Four albums, three EPs, and a few singles later, Jing officially announced her association with 88rising in March 2023. Jing is not afraid to lean into her cyber aesthetic with the synth-heavy, multi-dimensional release of her song "Pump Up," featuring an otherworldly soundscape. By creating an artist persona, Jing has been able to express herself in a variety of mediums through unique aesthetics, interactive installations, wearable art, and AI creations.
DUMBFOUNDEAD
You have never seen an all-rounder like Jon Park, better known as Dumbfoundead. Podcast host of Fun with Dumb, founder of the film/TV production company Big Dummie, and a rapper featured in the Los Angeles Times, there seems to be nothing he can't do. Before releasing his own music, he was known for his rap battles and his iconic, fierce freestyles against his opponents. This would make him KOTD's 2015 most-viewed rap battle. After his debut in 2011, he has released multiple albums such as DFD, Take the Stares, Old Boy Jon, and We Might Die. He has collaborated with artists such as Epik High, Jay Park, and Keith Ape.
Not only are his raps sensational, they are also leaving his statement on the world. Dumbfoundead advocates for Asian-American representation through his work. "Safe," the song he claims is "the biggest song of his career," took the world by storm by making a statement on the lack of Asian Americans in Hollywood. Dumbfoundead continues to be a prominent voice in the industry, advocating for more Asian-American stories through storytelling one song at a time.
Did you know Dumbfoundead is also an actor? EnVi talks all about his role in one of Marvel's Shang-Chi soundtrack music videos here.
FiFi Zhang
The Shanghai-born, New York-based musician FiFi Zhang is nothing short of ethereal, dreamy, and graceful. If it isn't her lyrics, her creative direction also invokes a sense of nostalgia, grandeur, and magic. The auteur does everything from songwriting to makeup, to make her vision come to life. Her sound is similar to her creative direction: otherworldly and mesmerizing. By combining sounds from house, rap, drum and bass, and dream pop, she has created a unique and distinct style for herself.
The music video for her latest single "So Beautiful So Lonely" shows a futuristic New York City, yet its cinematography was inspired by the nostalgic feel and palette of Wong Kar-wai. The addictive song has a fast tempo with clean, airy vocals that take you to another world. In comparison, her other single "Nobody" details the loneliness she felt during the pandemic with a groovy and snappy beat. FiFi Zhang is not afraid to break out of the box and experiment. From mesmerizing glitters to floating jellyfish, her visual work as well as her music continually exceeds all expectations. We are excited to see what is next for this artist.
Hojean
Georgia-based, independent R&B artist, Justin Hojean Yi, better known as Hojean, is marking his own path in the indie scene with his viral hit, "Over 85" at over 23 million streams. His sound can be described as acoustic and Korean R&B-infused. Originally from New York, the 21-year-old Korean-American oversees all aspects of his music production and promotions. From writing, producing, and creating visuals, Hojean has been hands-on from all corners. His sound is reminiscent of artists such as Omar Apollo, Pink Sweat$, and Colde. Hojean is inspired by the stories around him, with recurring themes of love throughout his discography.
After a nine-month hiatus in 2018 from music due to anxiety over future possibilities, the artist picked up a guitar to start anew. Accumulating over a million daily listeners on Spotify, his hit songs include "You Feel Like" at 13 million streams, and "Pick Up Your Phone," at 12 million. His latest album Swing was released on December 28, 2022.
PARAVI
"I hate all men, but when he loves me," sang the Ohio-born, Indian-American artist, Paravi. The UCLA student took TikTok by storm with her melodic covers of BØRNS' "Electric Love," Frank Ocean's "Godspeed," and Beach Bunny's "Cloud Nine." The latter alone gained her over 40 million views and agents filling up her inbox. The self-made star signed to RCA Records in May 2021 and debuted with her song "Golden Child" in the following year, which was featured on Billboard's "10 Cool New Pop Song" roundup. In the first two weeks of its release, her powerful anthem "Angry" earned almost 2 million streams on Spotify. The singer recently added film soundtracks to her discography with her cover of Elvis Presley's "Suspicious Minds" in the film Elvis (2022).
Following her success, Paravi opened for fellow 88rising artist NIKI in 2022 and will headline her very first show at the Moroccan Lounge in Los Angeles. Only a year after her debut in July 2022 with RCA Records, the 21-year-old artist landed herself a performance at HITC. Paravi's success continues to leave a positive impact on the world by being an inspiration for others. As a role model for young Indian-American girls, Paravi empowers her audience to follow their dreams.
Raveena
Combining neo-R&B and South Asian spiritualism, Raveena Aurora, better known as Raveena, is an experimental, queer singer-songwriter. Born into an immigrant family in Queens, New York, Raveena has been surrounded by the Sikh faith her entire life, which inspires her music along with singers like Sade, Corrine Bailey Rae, and Asha Putli. In 2017, Raveena released her debut EP Shanti. She rose to new heights with her 2019 debut album Lucid, which was met with critical acclaim. You may know her from some of her breakout tracks, her 2017 single "If Only," her 2018 single "Temptation," and "Close 2 U" off of her 2020 EP Moonstone.
The artist released her latest album Asha's Awakening on February 11, 2022, which was followed by a nationwide tour. The lead single follows a character of Raveena's own creation. A "Punjabi space princess" named Asha is trained by aliens in advanced spiritual magic. After returning to Earth she builds a cult following "which leads to her eventual demise." In her own words, the album is "a magic trick, a time traveler, an oracle, a history lesson, [and] a temptress all in one." Asha's Awakening presents 15 tracks featuring artists like Vince Staples, TWEAKS, and her own role model, Asha Putli.
ISOxo
Known as ISOxo, Julian Isorena is a San Diego-based, multigenre artist. Dabbling in genres such as trap, house, dubstep, and wave, he has crossed between boundaries to create waves within the bass music scene. His artist name stems from the first three letters of his last name, with an added xo at the end. Beginning his producer career in late 2012, ISOxo began his musical journey in middle school. Later advancing to DJ-ing raves at 16 years old, he has connected with other young producers such as Knock2, FrostTop, and Midnight Kids. His latest record, "Angels Landing (Midnight Kids Remix)," was released on November 22, 2022.
Spence Lee
One of 88rising's latest additions, Spence Lee (formerly known as Shotta Spence), a Vietnamese-Chinese recording artist, creates music to "inspire, motivate, and elevate the masses." Inspired by his real-life experiences, the multi-dimensional artist seeks to unite individuals of all places through his music. Born and raised in Somerset, New Jersey, Lee was heavily surrounded by diverse cultures which, later, impacted his sound. Last year, Spence made his debut performance at Coachella under 88rising's Head In The Clouds Forever set. His most notable tracks are "Arriba," "Write My Name," and "Word of Mouth." His latest release, a single titled "On God," was released on October 28, 2022. Spence Lee expressed that the song reflects his story and works as a motivational track written through positive affirmations.
Warren Hue
First making his music debut on SoundCloud in 2018 under the name warrenisyellow at 16, Warren Hue has established himself as a rapper and singer. Already widely known in Indonesian rap circles, Hue made his burst into the global market with his work. Notably, Hue assisted in writing and producing Aminé's mixtape OnePointFive. He later released his debut album Alien, and in December 2020, became the fourth Indonesian artist to join 88rising. Hue's first track with the label was a collaboration with Atarashii Gakko! in "Freaks."
Hue released his debut single under 88rising, "Omomo Punk," on March 30, 2021, which was later selected as Best Song by an Asian Artist at BandLab NME Awards 2022. Since then, four of his songs were included in Shang-Chi and The Legend of The Ten Rings: The Album, including "Warriors," with an additional feature from Seori. Shortly after he finished his first headline tour last October, he released his album Boy of The Year. From Los Angeles to Toronto, he played his hits, "RUNAWAY W ME," "OK WORD!," and "Star in Love" in multiple venues across North America.
Day 2 (Sunday, May 21, 2023)
NIKI
Nicole Zefanya, who goes by the stage name NIKI, is an Indonesian singer-songwriter. Born in Jakarta, NIKI began her career by posting videos of herself singing acoustic songs as a teenager. Upon growing her fanbase on YouTube in her mid-teens, she released her first singles on the platform in 2016. While growing up primarily around the arts, NIKI draws from a musical background back in Indonesia. Taking inspiration from '90s R&B artists including Destiny's Child, Boyz II Men, TLC, and Aaliyah, her sound combines a variety of genres with her descriptive songwriting style.
She became the first female artist to join the 88rising roster, hence the title the "First Lady of 88rising." After making her debut under the label, she released Zephyr in 2018, Moonchild in 2020, and Nicole in 2022. Moreover, NIKI has previously performed at 88rising's past Head In The Clouds festivals, Coachella, and headlined her first international tour. She has been featured on 88rising's collective albums Head In The Clouds and Head In The Clouds II. As stated at her first HITC festival, NIKI has made it her mission to empower Asian and under-represented artists in the American music industry. Her most well-known songs include, "lowkey," "Oceans and Engines," and "Indigo."
DPR LIVE
Hong Dabin, who goes by the pseudonym DPR LIVE, is a South Korean rapper and singer. Along with DPR IAN, DPR CREAM, and DPR REM, he is one of four members and the co-founder of the independent record label Dream Perfect Regime. When he was drafted into the South Korean military, he planned to pursue a career in psychology and philosophy. However, after his mandatory duty, he realized that he wanted to pursue his passion for music instead.
From there, he began writing and experimenting with music until his official debut on March 15, 2017, with his EP, Coming to You Live. He released music videos for five out of seven tracks, including "Laputa," and "Right Here Right Now." He later came out with his first studio album, IS ANYBODY OUT THERE? on March 3, 2020, where he released music videos for "Kiss Me + Neon" and "Legacy." In his most recent project, an EP titled IITE COOL, his vibrant title track "Hula Hoops" featured Beenzino and MAMAMOO's Hwasa. He recently finished his second world tour, The Regime World Tour, where he and DPR IAN traveled to multiple cities in the U.S., UK/Europe, and Asia.
DPR IAN
DPR IAN is the stage name of Australian singer-songwriter, rapper, and director Christian Yu. Based in South Korea, he is one of four figureheads of the record label, Dream Perfect Regime. He made his debut with "So Beautiful" on October 26, 2020, before releasing "No Blueberries," in December of the same year featuring DPR LIVE and CL, former member of the K-pop girl group 2NE1. His first album, Moodswings in This Order (MITO), was finally released on March 11, 2021. It was also at that point that fans first learned about MITO, an alter ego he created to reflect his battle with bipolar disorder — a challenge that he's very transparent about.
Before he came out with his own music, he focused on directing all of the other DPR members' music videos. He's also done work for various artists outside of Dream Perfect Regime such as Taeyang's "Wake Me Up" and Mino's "Body." As he continues his directing work, he is now additionally behind the visual arts of his own projects. On July 29, 2022, he unveiled his second album, Moodswings In To Order (MIITO). He released a MIITO movie teaser, a short film created to tell the story of MITO, with Ballroom Extravaganza prior to uploading the first part of the MIITO movie which features four tracks: "Seraph," "1 Shot," "Mood," and "Ribbon." He recently finished his first world tour, The Regime World Tour, where he and DPR LIVE traveled to multiple cities in the U.S., UK/Europe, and Asia.
XG
Xtraordinary Girls, better known as XG, is a Japanese girl group mainly promoting in South Korea. The group consists of members Jurin, Chisa, Hinata, Harvey, Juria, Maya, and Cocona. They officially debuted on March 18, 2022, with their single "Tippy Toes." In the same year, they won the Rising Star Award at the MTV Video Music Awards in Japan. The music video for "Tippy Toes" now garners over 24 million views.
Following their debut, they released a second single titled "MASCARA" on June 19, 2022, which hit number one on the iTunes Chart in 17 countries. This year, they came out with "SHOOTING STAR" and "LEFT RIGHT." The group most recently released a remix of "SHOOTING STAR" featuring Rico Nasty on April 7. XG aim to empower young people from all over the world and want to be remembered as a "one and only" group. With each release, the girls continue to captivate the hearts of fans worldwide.
ATARASHII GAKKO!
J-pop and jazz-rock sounds mixed with striking choreography is what Atarashii Gakko! are best known for, and it's their rebellious, striking concept that makes them stand out even more. The group consists of members Mizyu, Suzuka, Kanon, and Rin. They debuted in 2015 under Victor Entertainment with their single "Dokubana," and had their U.S. debut on January 20, 2021, with their single "NAINAINAI." On March 15 of this year, the group released a music video for "OTONABLUE," which originally came out in 2020, as well as a new single "JANAINDAYO" on March 20.
Dabin
Dabin Lee, better known by his mononymous stage name Dabin, is a Canadian DJ, musician, and record producer. Signed under Kannibalen and Seeking Blue, the EDM artist has released three albums to date: Between Broken, Wild Youth, and Two Hearts. He has accumulated over a million streams with collaborations with notable EDM artists such as Seven Lions, Slander, Said The Sky, and remixes for Illenium & Gramatik. Best known for incorporating guitar into his live sets, Dabin steps forward to add his own take on the EDM genre. "The guitar has been such an integral part of my music career," he told Guitar World.
Knock2
Richard Nakhonethap, better known as Knock2, is a California-based EDM DJ and producer. He is most known for his 2021 single "dashstar*," which features a bass-house beat. Since his debut in 2018, the artist has released a wide range of singles, as well as two EPs, including the collaboration niteharts with ISOxo. Knock2 has performed his sets all around the world and has garnered the attention of electronic music legends like Skrillex, Diplo, and marshmello. Recently, Knock2 wrapped up a tour across the US along with the release of his remix of Goodies by fellow producer and DJ, Dillion Francis.
LØREN
Lee Seungjoo, best known by his stage name LØREN, is a South Korean singer, songwriter, DJ, and producer. In his late teens and early twenties, he sent original beats to different labels, including YG Entertainment's sub-label, The Black Label. They decided to sign him, and from there, he gained further experience with music production. In addition to being under The Black Label, he also runs his own independent company, Fire Exit Records.
He made his official debut on November 13, 2020, with his first single "EMPTY TRASH," then released a second single, "NEED." Both songs introduced fans to his now signature pop-punk and indie sound. He later came out with "All My Friends Are Turning Blue" in 2021. Recently, LØREN released his first EP, Put Up A Fight, on March 24 of this year with an accompanying music video for his title track "Folks." Among his other accomplishments, he worked on G-Dragon's "Bullshit" in 2020 and is credited as a co-writer on BLACKPINK's The Album for the tracks "Pretty Savage," "You Never Know," and "Lovesick Girls."
MaSiWei
MaSiWei is best known as the leader of the four-member Chinese hip-hop group, Higher Brothers. His musical journey began in high school where he began making his own beats. From there, he found a passion for music. In 2016, he and the other Higher Brothers members lived together and, with their free time, worked in their home studio every day. With unrecorded music in their hands, they decided to release various songs and eventually create a mixtape with the goal of going on tour and making money. Six albums later, they have continued to garner international success.
MaSiWei's debut solo album, Prince Charming, came out on February 28, 2020, with prominent themes about love, relationships, and success. Up until now, MaSiWei has come out with five albums: Dark Horse, Humble Swag, Humble Swag GT Mixtape, and 特别怪人 (Very Special Odd Person). He's also collaborated with various artists including step.jad, KnowKnow, TIA RAY, and most recently, CoCo Lee with "Candy."
P-Lo
Paolo Rodríguez, better known as P-Lo, is a Filipino-American rapper born in Pinole, California. He first began making beats in high school and found a passion for music that eventually led to him co-founding the HBK Gang (Heartbreak Gang). His production for other artists such as Wiz Khalifa, Kehlani, Trey Songz, and others, played a role in establishing his success in the music industry.
His first album, Moovie!, in collaboration with Kool John, came out on July 25, 2015. Since then, P-Lo has come out with four more albums: More Than Anything, PRIME, SHINE, and his most recent, STUNNA.
Veegee
23-year-old Chinese pop singer, Veegee, took part in the Chinese competition show The Coming One: Girls in 2019 and ranked 8th place. She later appeared in the reality TV program, We Are Blazing, in 2020 before debuting as one of three members of SIS on January 6, 2020 with "My Dear(出道问候曲)."
It was two years later, on June 16, 2022, that she released her solo single "主人 (The Owner)" featuring DAYDREAM. Her second single, "Baby's Couch," was released a few months later on November 22, 2022. Most recently, on December 2 of the same year, she came out with her debut album Hit The Road with a music video for "Don't Look Up."
Wolftyla
The Vine star from 2014 has come a long way. In 2015, Wolftyla debuted as a musician with her song "Feels" which garnered 4 million streams on SoundCloud. Shortly after, she co-produced with Timbaland to create her first EP, Wolf in Color, in 2020. Since then, she has been releasing R&B hits like "The Baddest" for K/DA, "Butterflies" featuring Jay Park, and "All Tinted" — the latter earned her over 10 million streams on YouTube. When the Korean-American artist isn't writing her own killer tracks, she is collaborating with stars like Megan Thee Stallion on "Simon Says" and Ella Mai on "How." Her talent is remarkable, but don't take it solely from us. The star has been praised by K-pop artists like Rosé from BLACKPINK and V from BTS.
Wolftyla has described her hit single "All Tinted" as a euphoric and airy piece that serves as her summer anthem. Recorded in Korean, the dreamy "All Tinted" is a mix of R&B, K- pop, and Bobby Brown where Wolftyla wanted to get in touch with her Korean roots. Her latest EP and single, Trust Fall, features mesmerizing harmonies with a soulful tone and futuristic feel.
If you like Wolftyla, check out EnVi's spotlight of must-listen Black AAPI artists.
Yeek
Filipino-American singer-songwriter and producer, Yeek, is best known for his unique, experimental beats. Growing up, he was surrounded by instruments at home and was even in a few bands before releasing his own music. So far, he's come out with two EPs (Blackheart and IDK WHERE), and three albums (Love Slacker, Sebastian, and his latest, Valencia). He's collaborated with various artists through the years such as Dominic Fike, Jesse Rutherford, Duckwrth, and UMI.
His most recent album, Valencia, represents his South Florida background and the color orange, two things he's said he incorporates a lot into his music. With no set genre embodied by his work, Yeek continues to experiment with his music as a "genre-bending" artist.
With a diverse lineup, this year's Head In The Clouds Festival continues to honor Asian culture and creativity. As the anticipation rises, attendees can guarantee memorable performances from all.
Going to attend the festival? Check out EnVi's favorite fashion moments from HITC 2022 here!